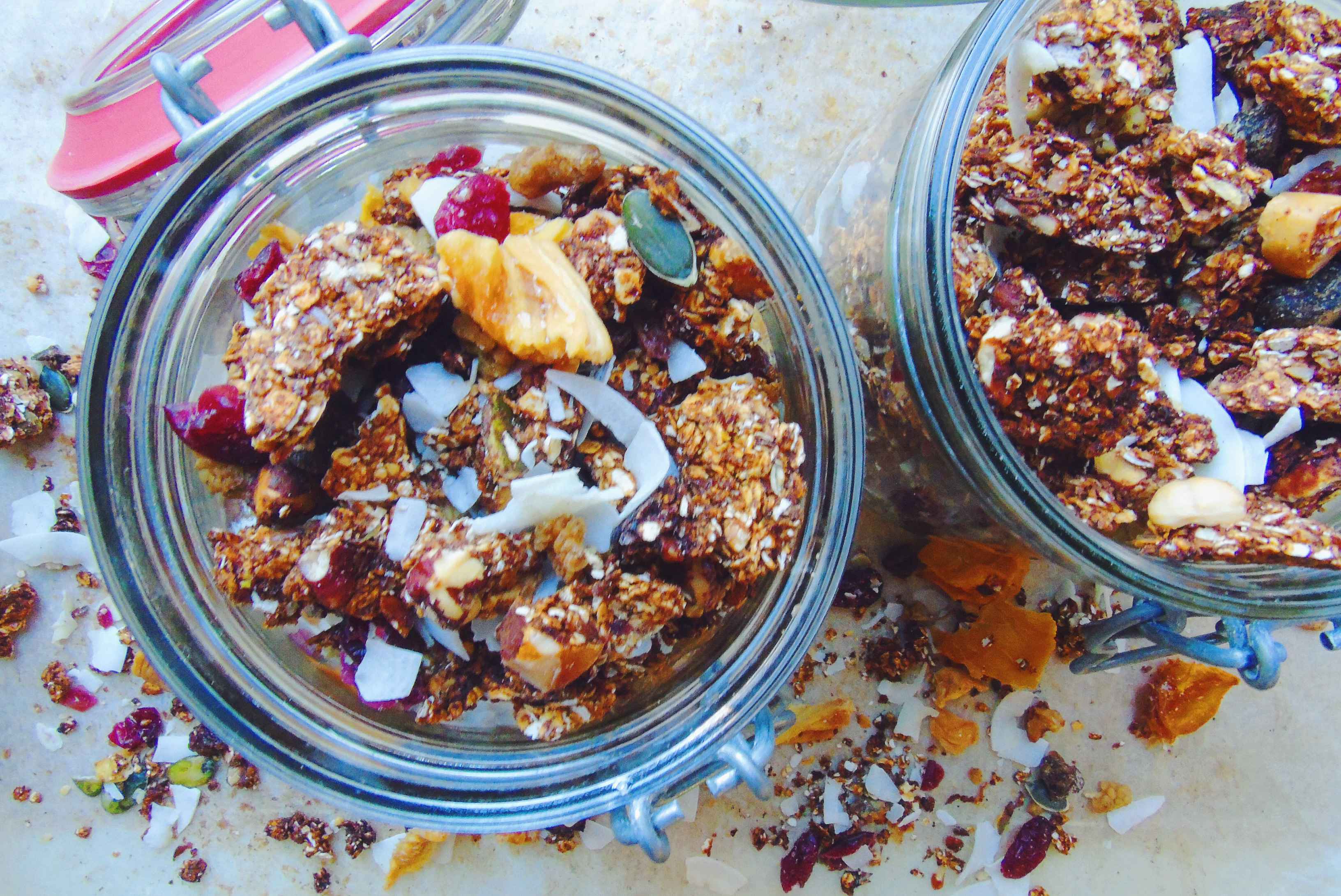 The other day i was playing around in the kitchen and accidentally made these granola clusters, long story short, i wont be getting store bought granola anymore. I like granola, but i love big clusters of granola that are super crisp, these clusters definitely fulfilled my crunchy cravings.
Many times story bought granola contains honey (not vegan) and oils, but not this granola, this granola is filled with whole foods only. I swapped the syrups and oil for date paste and it turned out magnificent, it got crunchy and the sweetness was on point. From now on i will always be making my own granola.
Here in the northern hemisphere the summer just finished and now were welcoming autumn. During autumn and winter i am obsessed with chai and pumpkin spiced goods, for this granola i chose to go for chai. But again this recipe is very customisable, you can add dried fruits, seeds or whatever you in your granola. Maybe you don't even like chai, then just add cinnamon and call it a day.
In this recipe i used a mix of different types of nuts. I used am mix of walnuts, pecans, brazil nuts and hazel nuts, the types of nuts you want to use is all op to you.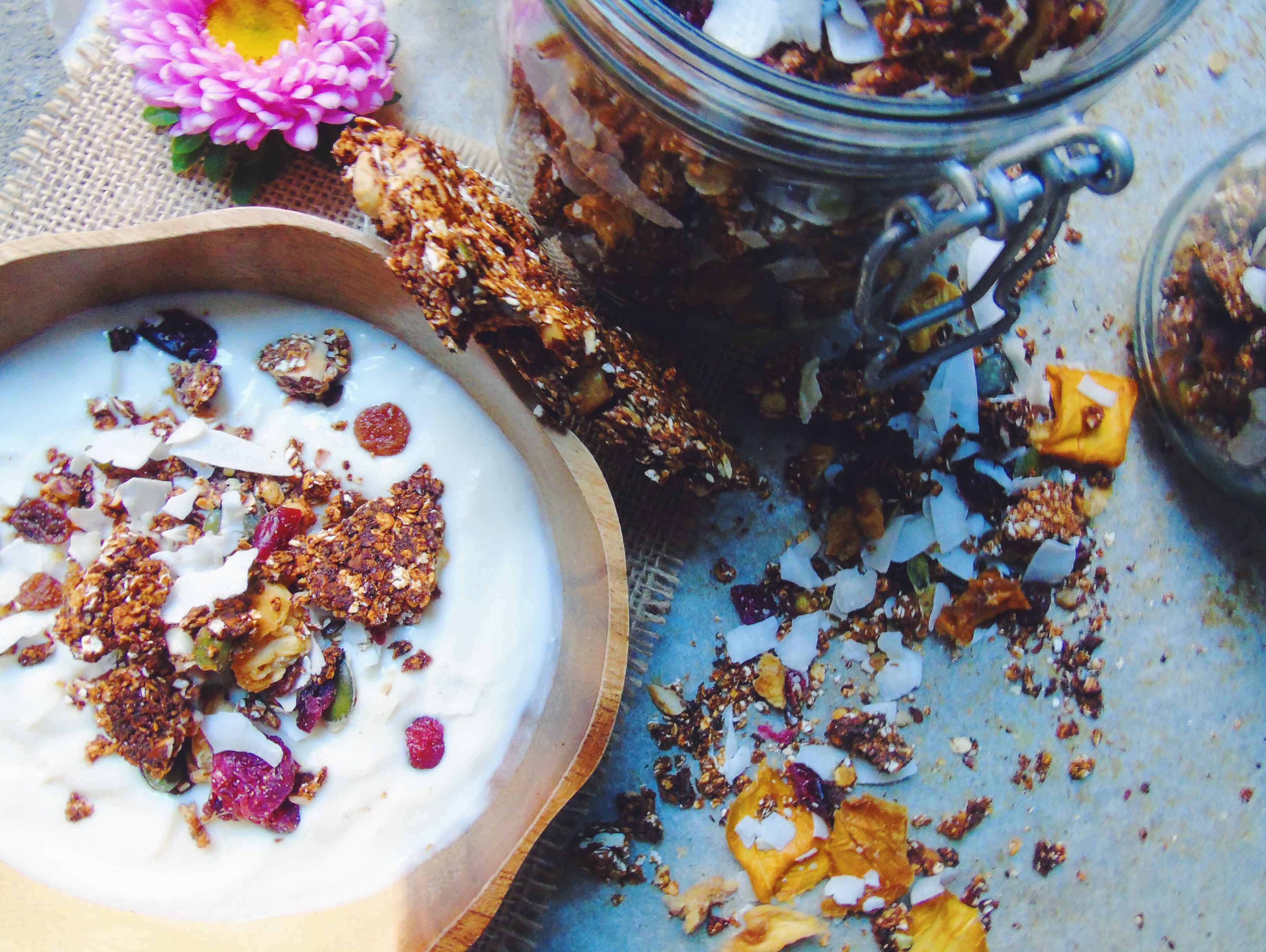 I love to eat this granola with some non dairy yoghurt or non dairy milk, but they will also make a great snack on their own. And when you are enjoying these in a bowl with your favourite non dairy milk you'll end up with a delicious chai spiced milk at the end.
Store this yummy granola in an air tight container to keep it fresh and crunchy for up to 2 weeks, if it will even last for that long. I hope you'll enjoy this recipe as much as i did!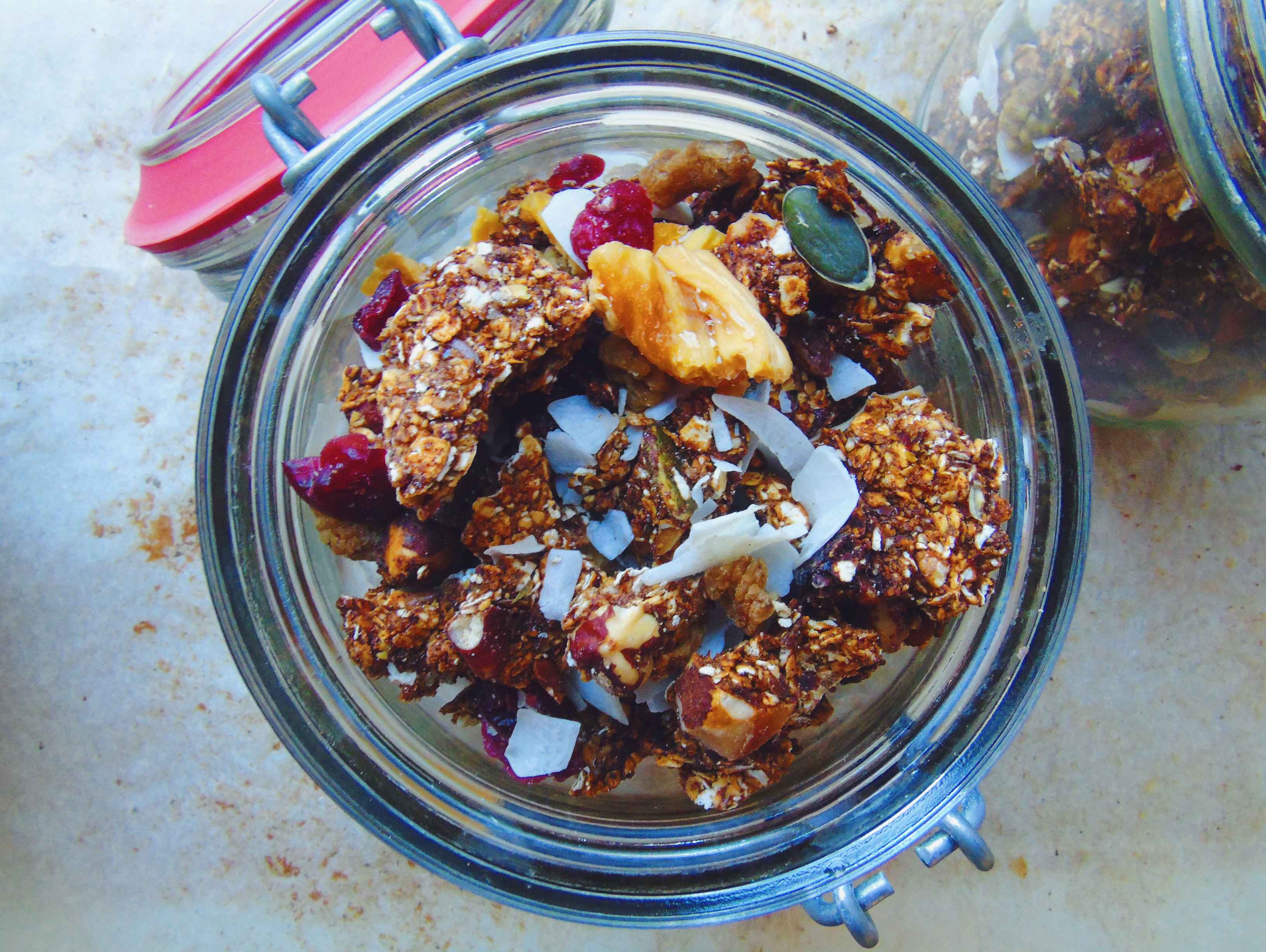 preheat your oven to 300 degrees F (150 celcius) throw your dates in a food professor or blender and process until it becomes like a very thick paste. You might need to scrape down the sides from time to time. If you are using nuts then chop them up into small pieces.

In a bowl combine the oats, nuts, spiced and seeds and mix them until every things combined.

Now add the date paste to the bowl and mix well until everything's combined. Don't be afraid to get in there with your hands.

Lay a piece of parchment paper on a baking tray and add the granola mixture spread it out until its a little under 1 inch thick. the thinner the crunchier.

Now place the tray in your preheated oven and bake anywhere between 25 to 35 minutes (depending on the oven) until golden brown. check on the granola from time to time to make sure it doesn't burn. Let the granola cool completely before breaking into little clusters.

now add your dried fruits and put your granola in an air tight container to last for up to 2 weeks.
Instead of making your own spice bland you can also use 1 tbsp store bought chai mix.
You can play around with the dried fruits. I used a combination of dried coconut flakes, cranberries, mulberries and dehydrated mango.