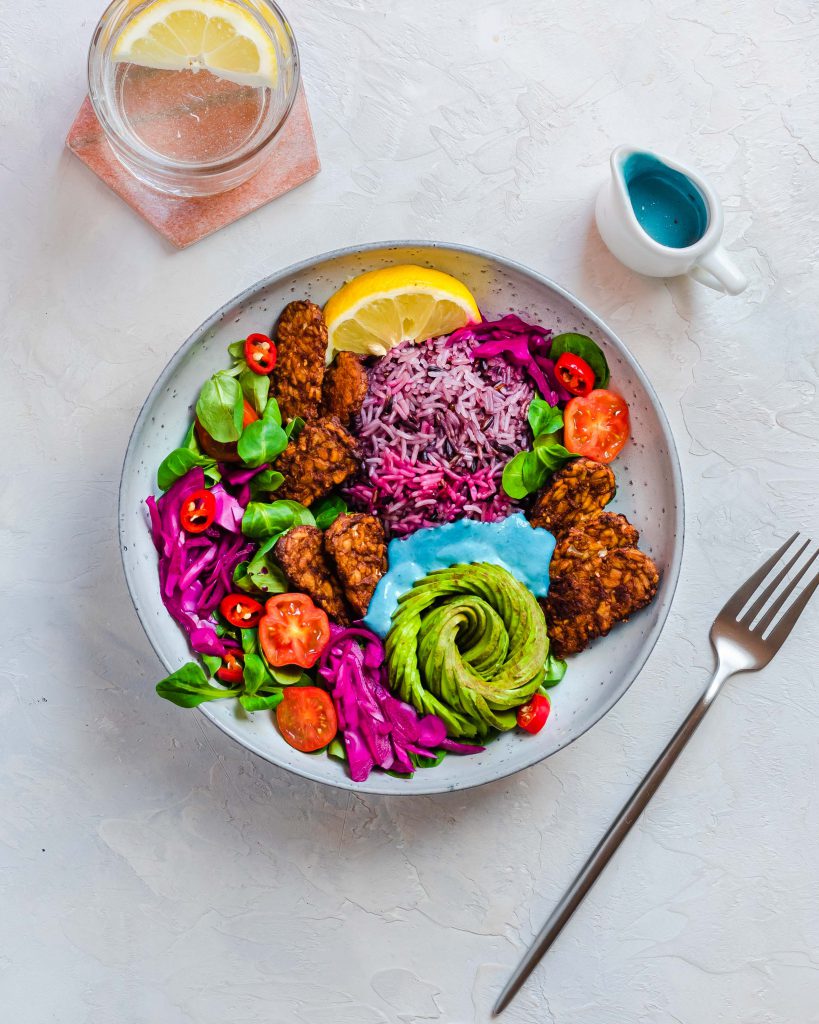 Looking for a comforting lunch that's also high in protein? I've got you covered. In this recipe we're making a baked tempeh that's crispy and full of flavour. You can customize this easy baked tempeh bowl to your own liking. This doesn't require you to marinade so there's no waiting, just turn on the oven and you're good to go.
Tempeh is full of nutrients and a great source of plantbased protein.
One of the more frequent questions related to plantbased eating is "how do you get your protein?". In this bowl we'll be using one of the many source of plant based protein, tempeh. This fermented soy bean cake is full of protein and rich in nutrients.
Normally I would fry the tempeh in some oil and then add a sauce. This time I decided to cut down on the oil and baked it in the oven. It still became crisp and packed with flavour.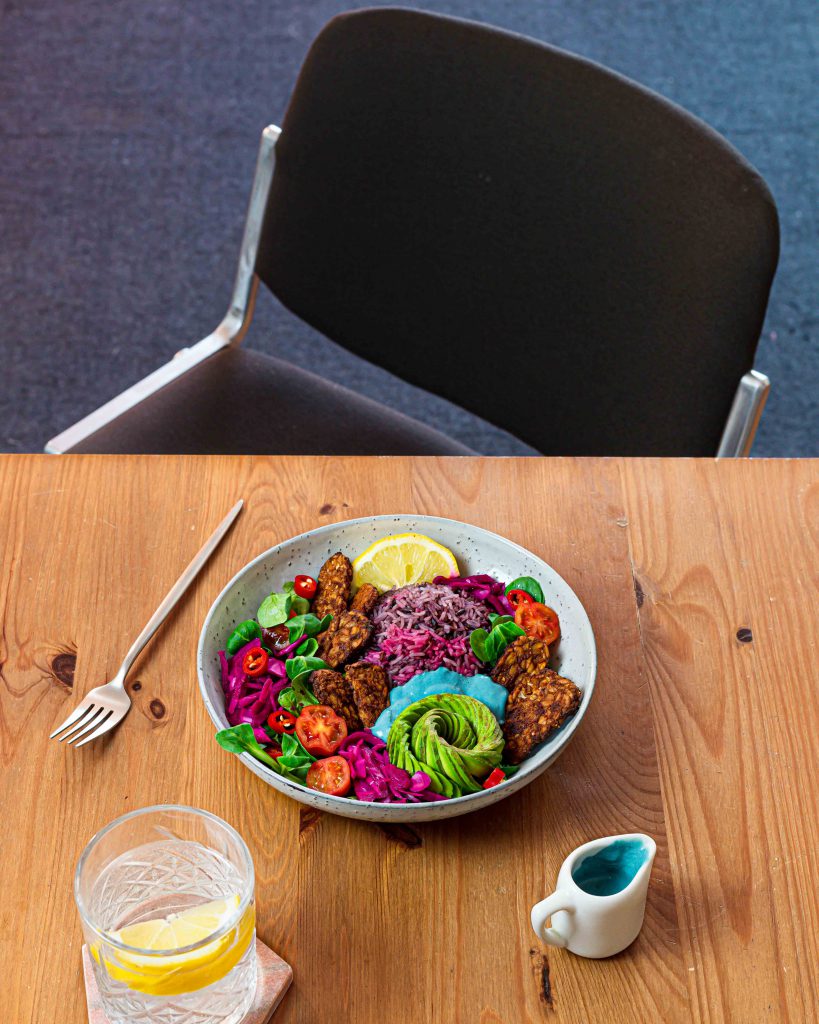 This baked thempeh bowl comes packed with protein and colour.
If you are familiar with my Instagram account you may already know that I love using natural food colouring in my dishes. This adds an extra boost of micro nutrients while also being fun for the eyes. For this bowl I used blue spirulina to turn the tahini dressing from light brown to neon blue. To make the purple rice I added 10% black rice to 90% regular basmati rice.
If you like colourful dishes you should try out these unicorn noodles. These are blue colour changing noodles and are also nice to have with the tempeh, veggies and a creamy sauce.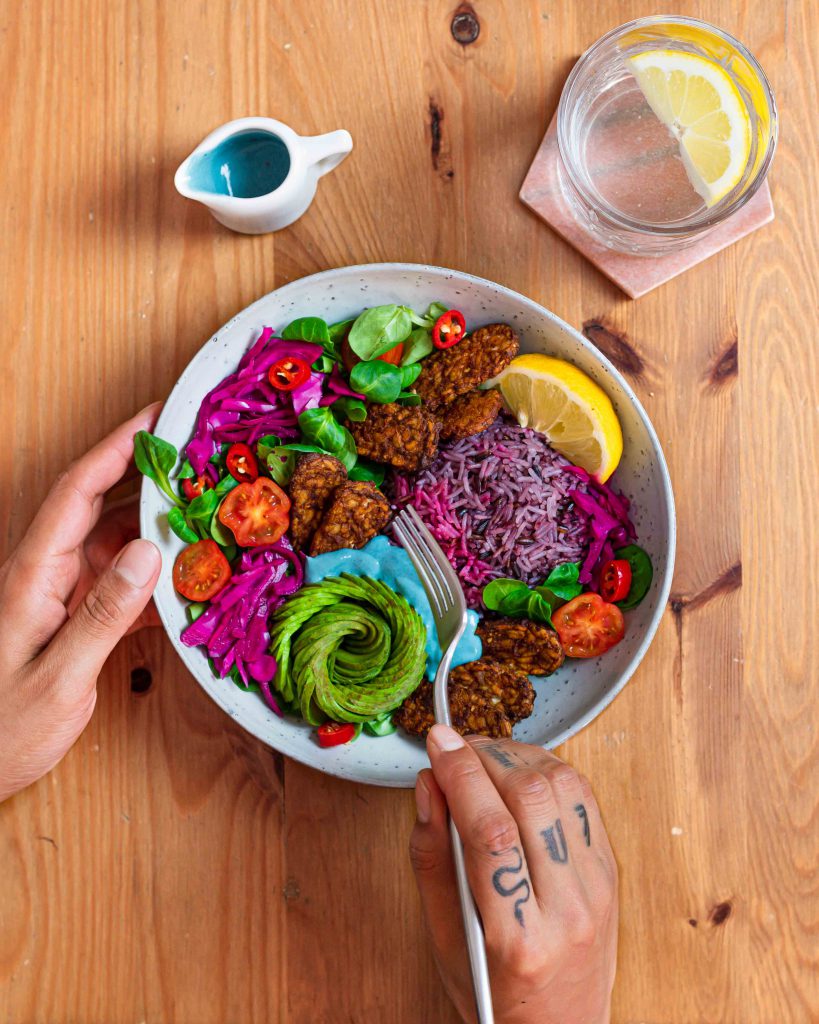 You can choose to make this easy baked tempeh bowl as a whole or just make the tempeh and have it on a sandwich or in a salad. So take this recipe and tweak it to your own liking. Maybe swap the tahini sauce for a peanut sauce or skip the avocado and add some nuts and seeds for healthy fats. The options are endless therefore I invite you to play around with your favourite flavours.
Be sure to check my Instagram for cooking stories and food inspiration. There I share my dishes and food photography. Now it's time to bake some tempeh.
One Love, Jason
Preheat the oven to 200 celcius. Mix all the ingredients, apart from the tempeh in a bowl. Add the tempeh to the bowl and cover them in the marinade. Place them tempeh on a parchment lined baking sheet. Bake it for 15 minutes, flip them and bake for 5 more minutes.
Mix all the ingredients except from the water in a bowl. Add the warm water and mix it well.
To make the purple rice you cook 10% black rice with 90% white rice. Assemble the bowl by adding the rice, greens, tomatoes, avocado and tempeh together. Optionally add extra nuts, seeds or vegetables.