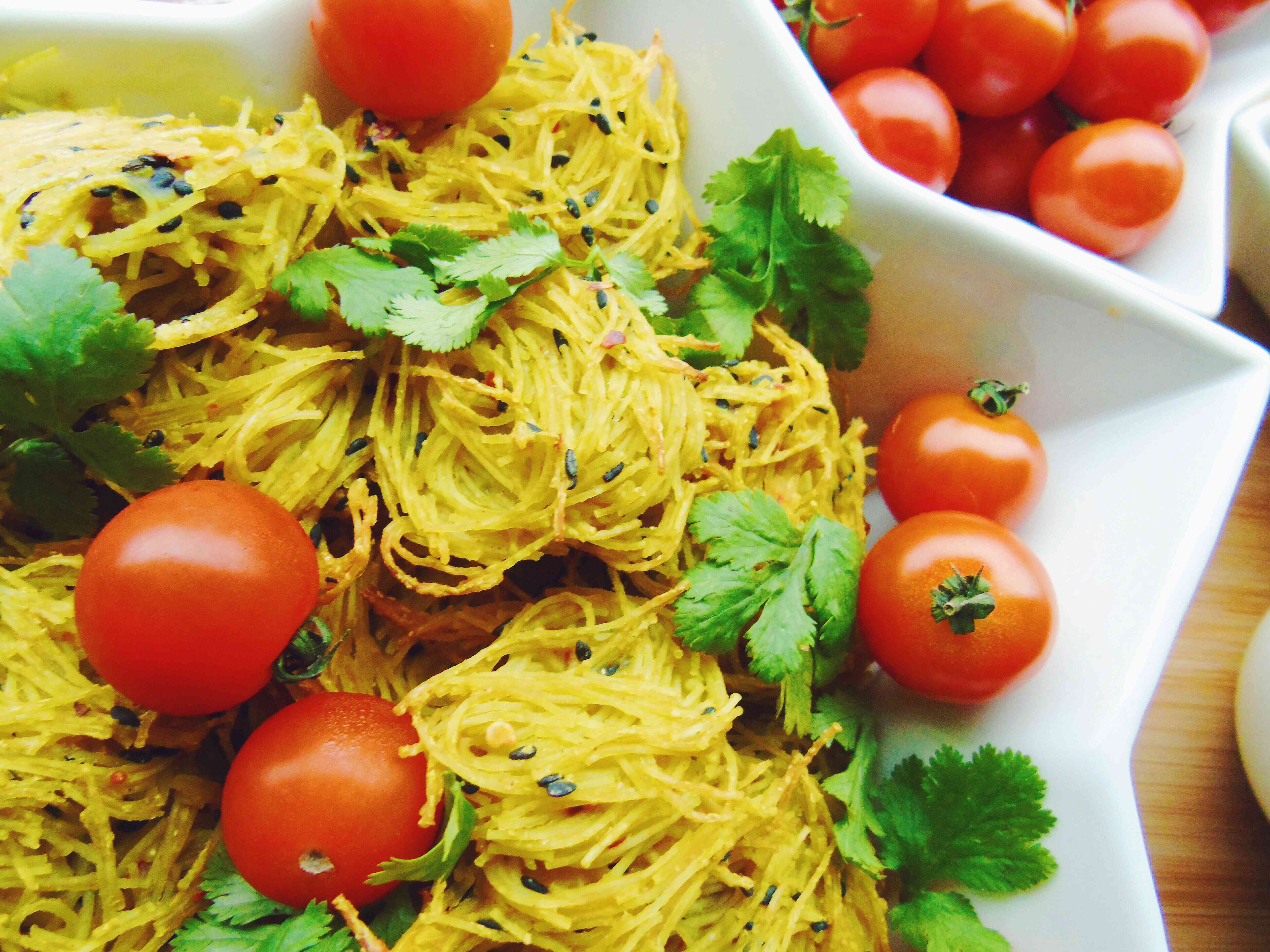 New years eve is around the corner and who doesn't like a good snack!? With these noodle swirls you're sure to please a major crowd. They are quick and easy to make and of course fun to eat, i mean 30 minutes to make some delicious snacks, sounds like a good deal right?
This recipe is inspired by onion bhaji, an indian side dish made from onions and a gram batter which is deep fried to perfection. Whenever i go out to eat at an indian restaurant i always have onion bhaji as a starter, they are one of my favourites! Since i like to do things a little different i though "why not combine two of my favourite things" and so i did. I combined rice noodles with the spicy onion bhaji batter, jackpot!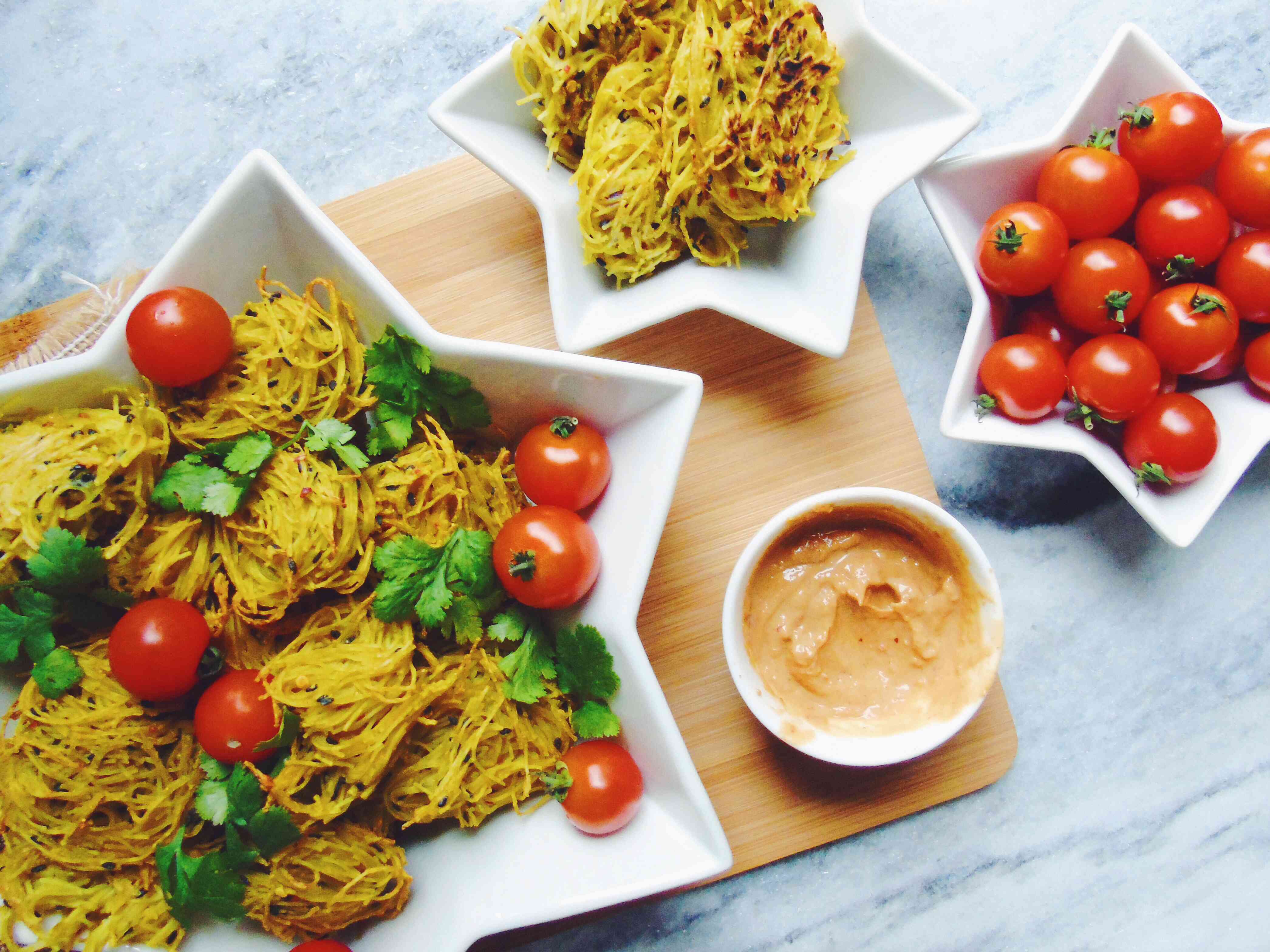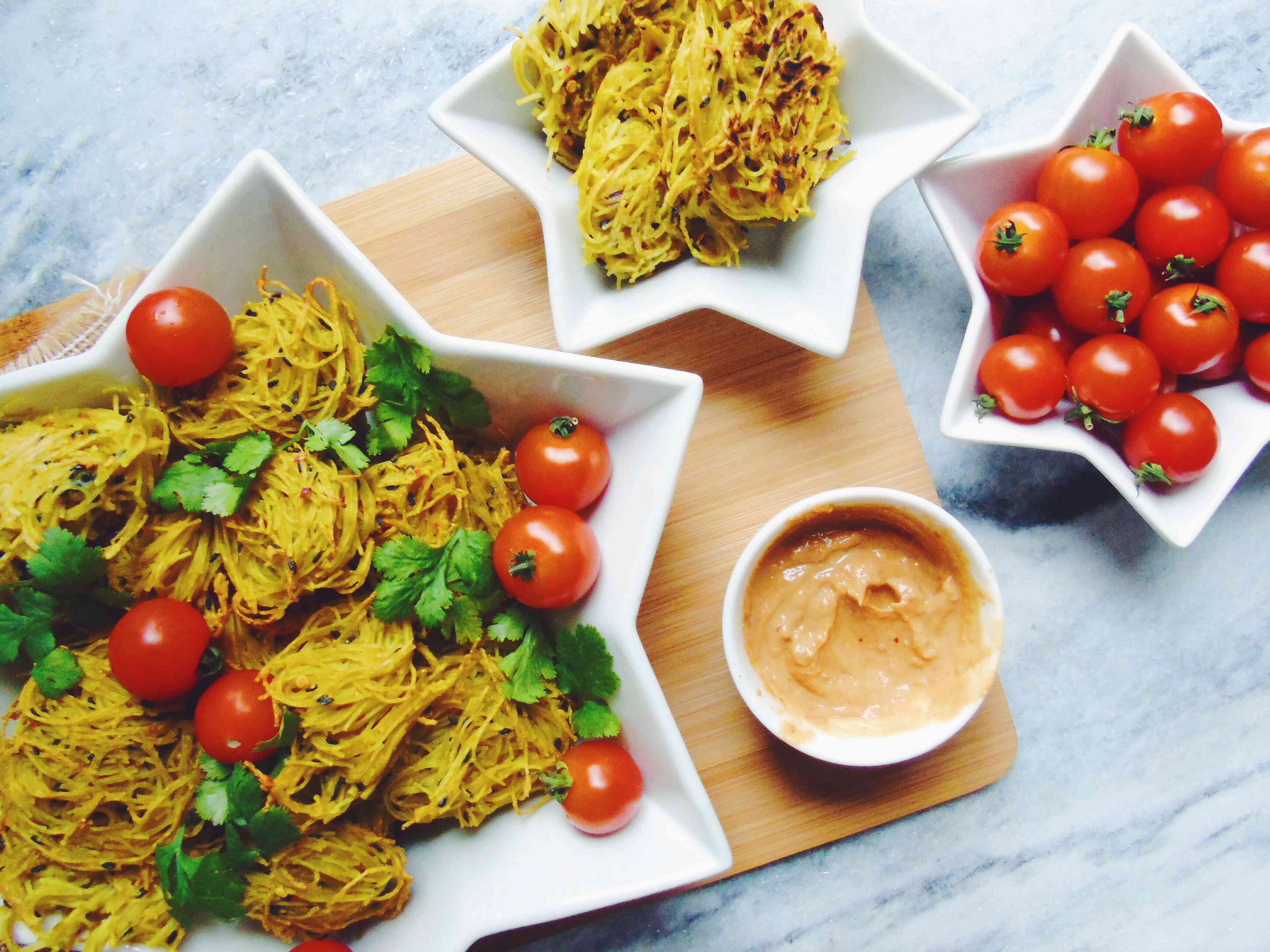 The fact that these little bundles of joy are free from most allergen makes them an ideal party snack. In this recipe i've substituted onion and garlic for asafoetida powder, which is also known as food of the gods, stinking gum and devils dung, to name a few. Its not called stinking gum and devils dung without a reason, this stuff smells! But this "food of the gods" is a great onion and garlic substitute as it has the same kind of taste once cooked, and a little bit goes a long way. You can find this flavour enhancer in most asian or indian grocery stores.
Also note that you shouldn't be a rebel and taste the batter before its cooked, cause if you do, you'll be filled with regret. Chickpea flour is amazing and has many uses, but raw it'll taste like dirt, don't be scared of though cause as soon as its cooked or toasted it will taste delicious. You can eat these as is or with a dipping sauce or chutney, this time i ate them with a home made satay sauce which ill post a recipe for later.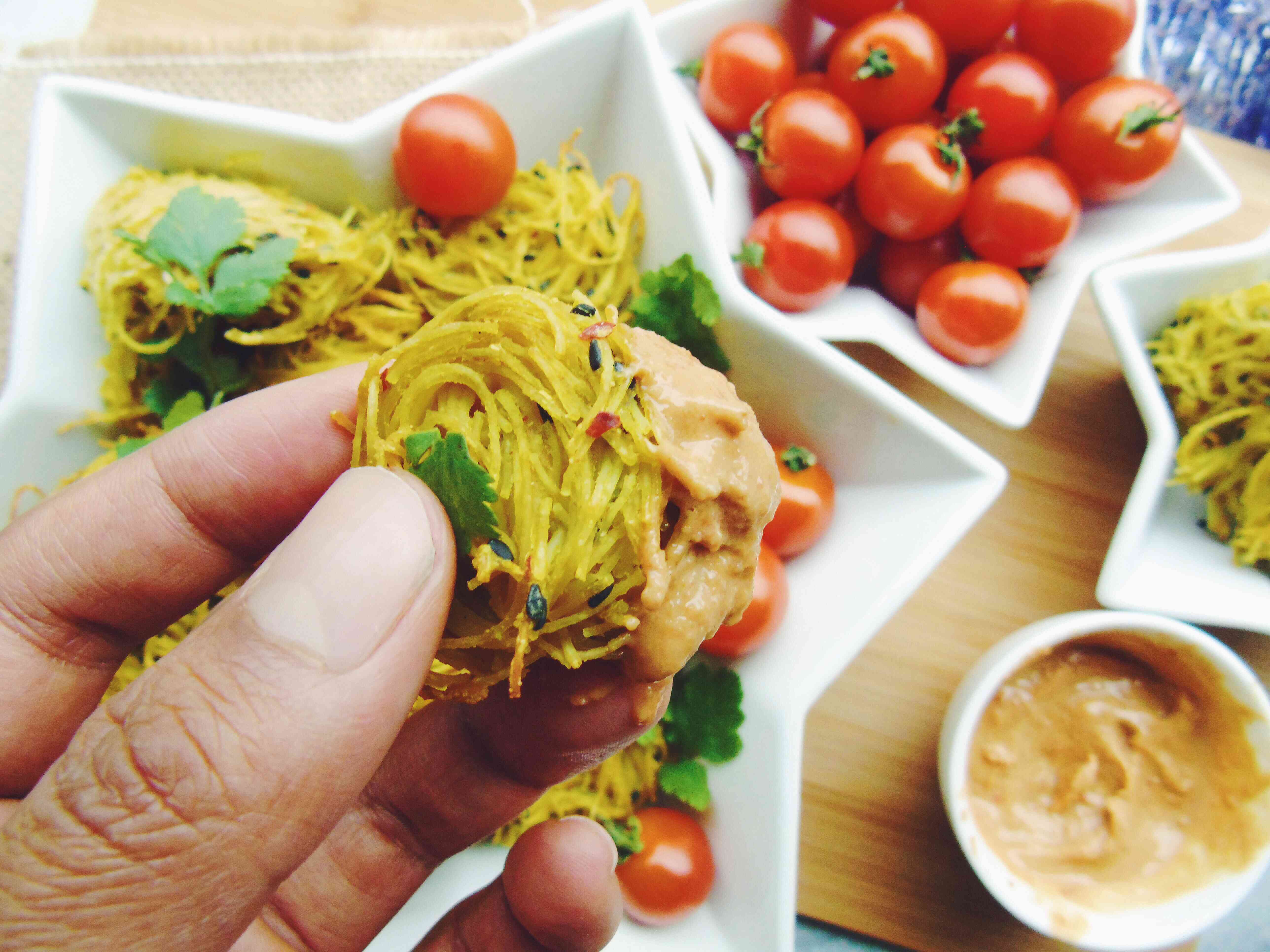 Now its up to you to snack yourself to a new year!
bless.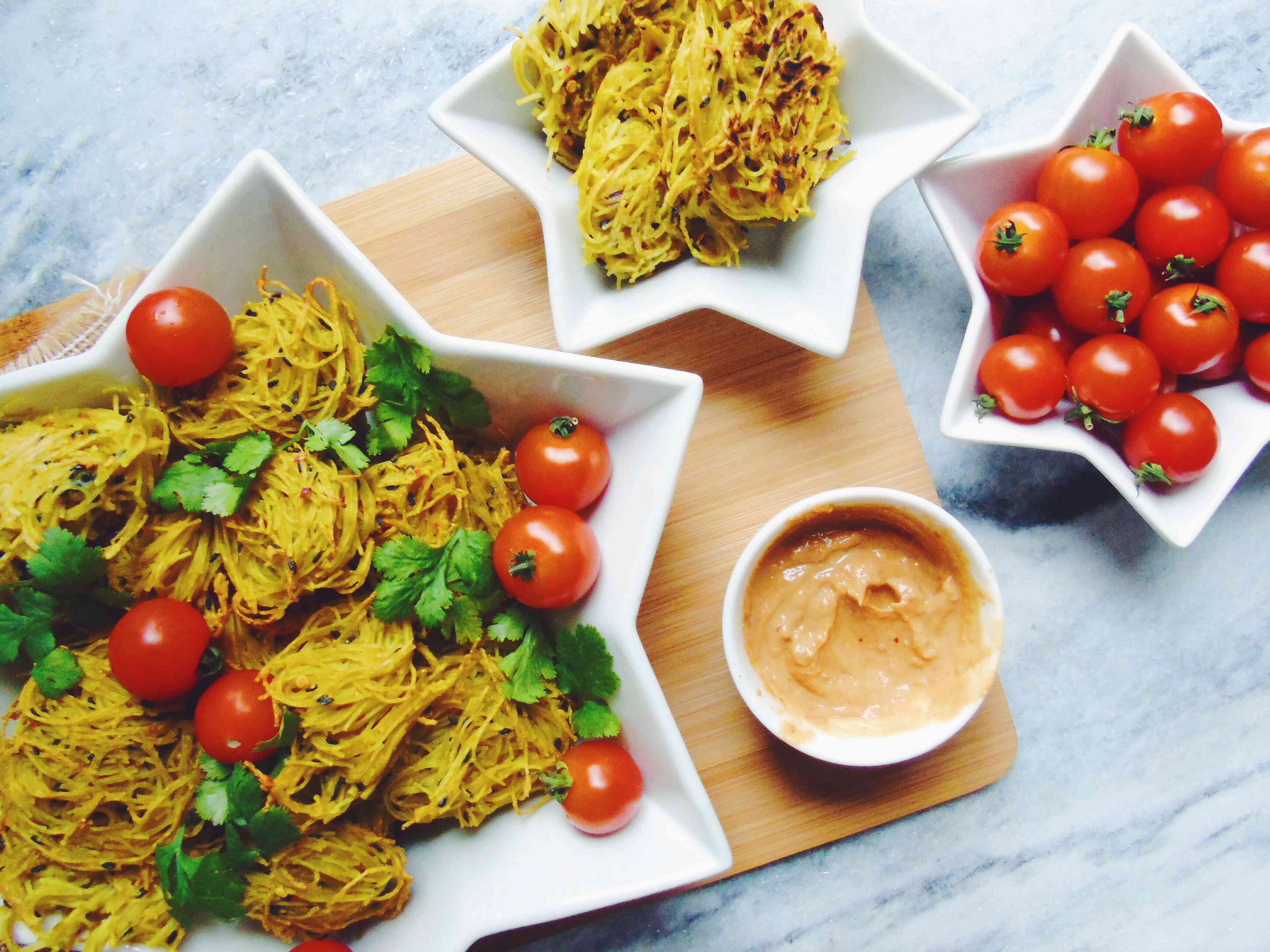 Baked Rice Noodle Swirls
These noodle swirls are deliciously spiced and crunchy on the outside. they are a perfect snack for your (dinner) party.
Ingredients
150

gram

rice noodles

1/2

cup

Chickpea Flour

6

tbsp

water

1/2

tsp

turmeric

powder

1

tsp

coriander

powder

1

tsp

crushed chillies

salt

to taste

1

pinch

asafoetida

(optional)

1

tbsp

black sesame seeds

(optional)

1

pinch

cardamom

(optional)
Instructions
Baked Noodle Swirls
preheat your oven to 200 degrees Celcius or 392 Fahrenheit. Cook your rice noodles by following the instructions on the packet. after cooking them rinse them with some cold water to stop the cooking process. I never boil the noodles, i bring a pot of water to a boil and turn down the heat and soak the noodles for 3 to 5 minutes.

in a mixing bowl add the dry ingredients and whisk them all together. now add the water and mix it well. After that you can add the noodles and mix until everything's well combined.

place a piece of parchment paper on a baking tray. swirl a bunch of noodles around a fork and place it on the baking tray, do this until all the noodles are on the baking tray. Bake them for 15 minutes (you could flip them half way through).
(pan) fried Noodle Swirls
you can also pan fry the noodles for a couple of minutes until golden brown on each side.