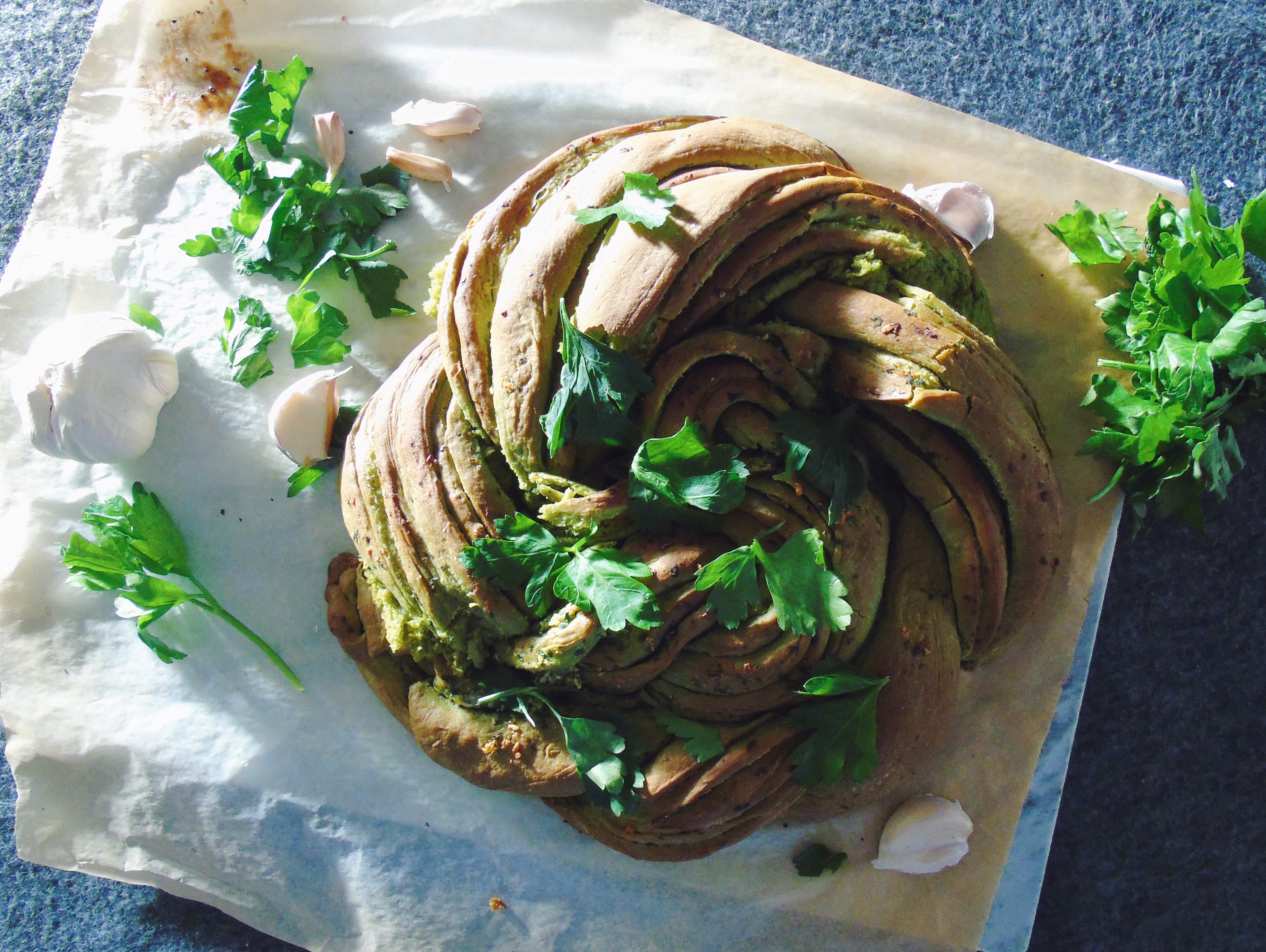 It's the holiday season which means tons of food and festivities. I decided to work on some festive dishes to impress my family these holidays, and of course share them with you so you can do the same!
For this dish i combined some of my favourite things (spirulina, turmeric, garlic and bread) into one heavenly piece of bread. Trust me this dish will be a showstopper on your next dinner party, it surely caught the attention of my family. Yes, it's a bit of work, but its totally worth it! Although it requires some of your time, the recipe itself is not that difficult, if i can make it, a three legged unicorn can too. All you really need to do is whisk, knead, wait, roll, braid and bake, trust me you can do this!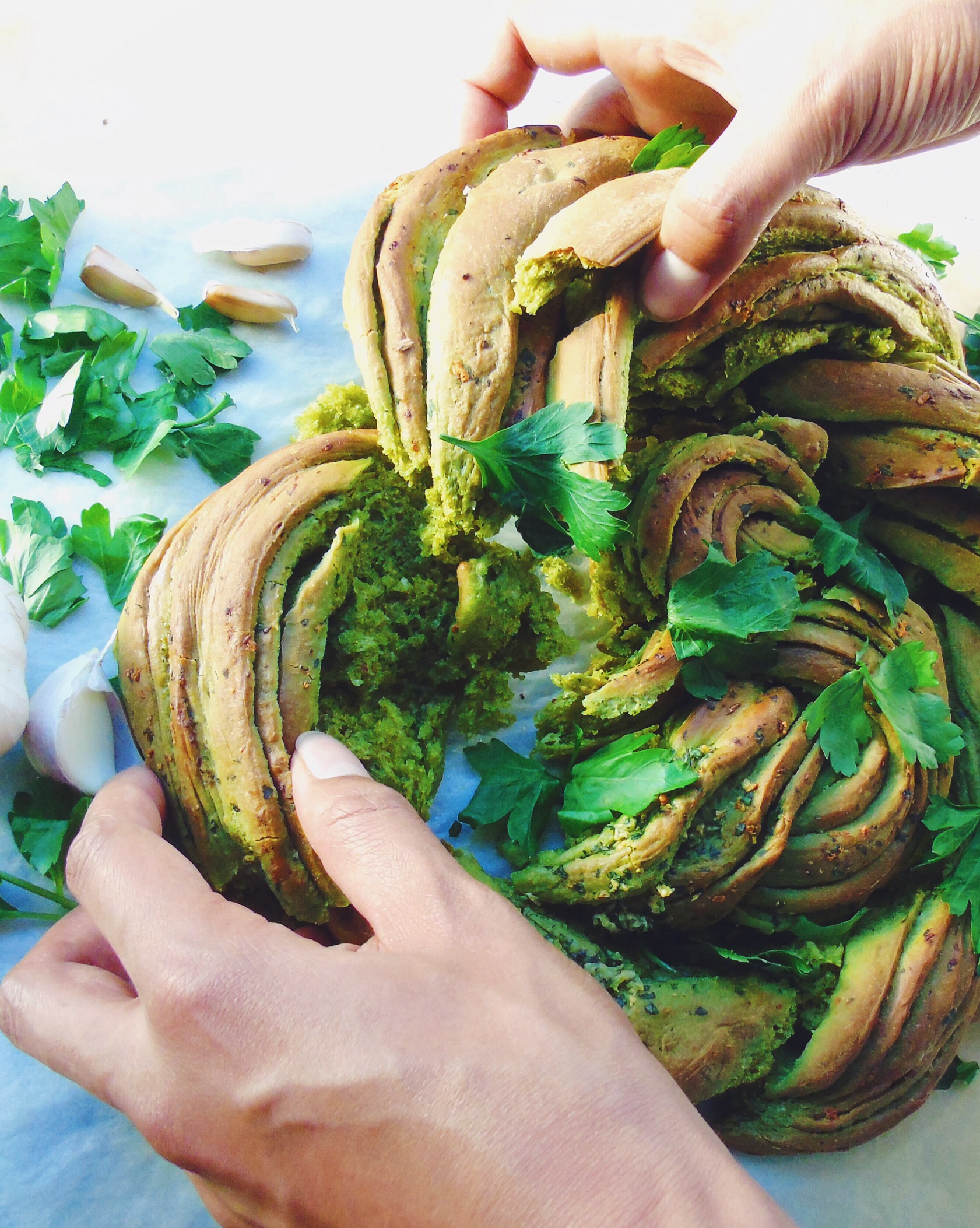 Ive been wanting to make a garlic bread recipe for a while now, but it never really came of it, until now. The timing is perfect really cause now i can throw spirulina in it and pretend i did it because of the "holiday seasons", and wanting to make it look "festive", yes im a spirulina enthusiast. Since im making a holiday menu for to serve my family these holidays i did have some requirments for this garlic bread.
It has to be festive and mystical
It has to be green, cause spirulina…
I have to be able to kill vampires with my breath (but not really cause that would be cruelty!)
It has to be crazy delicious
I think i've succeeded on meeting my requirments, and I have yet to see a vampire.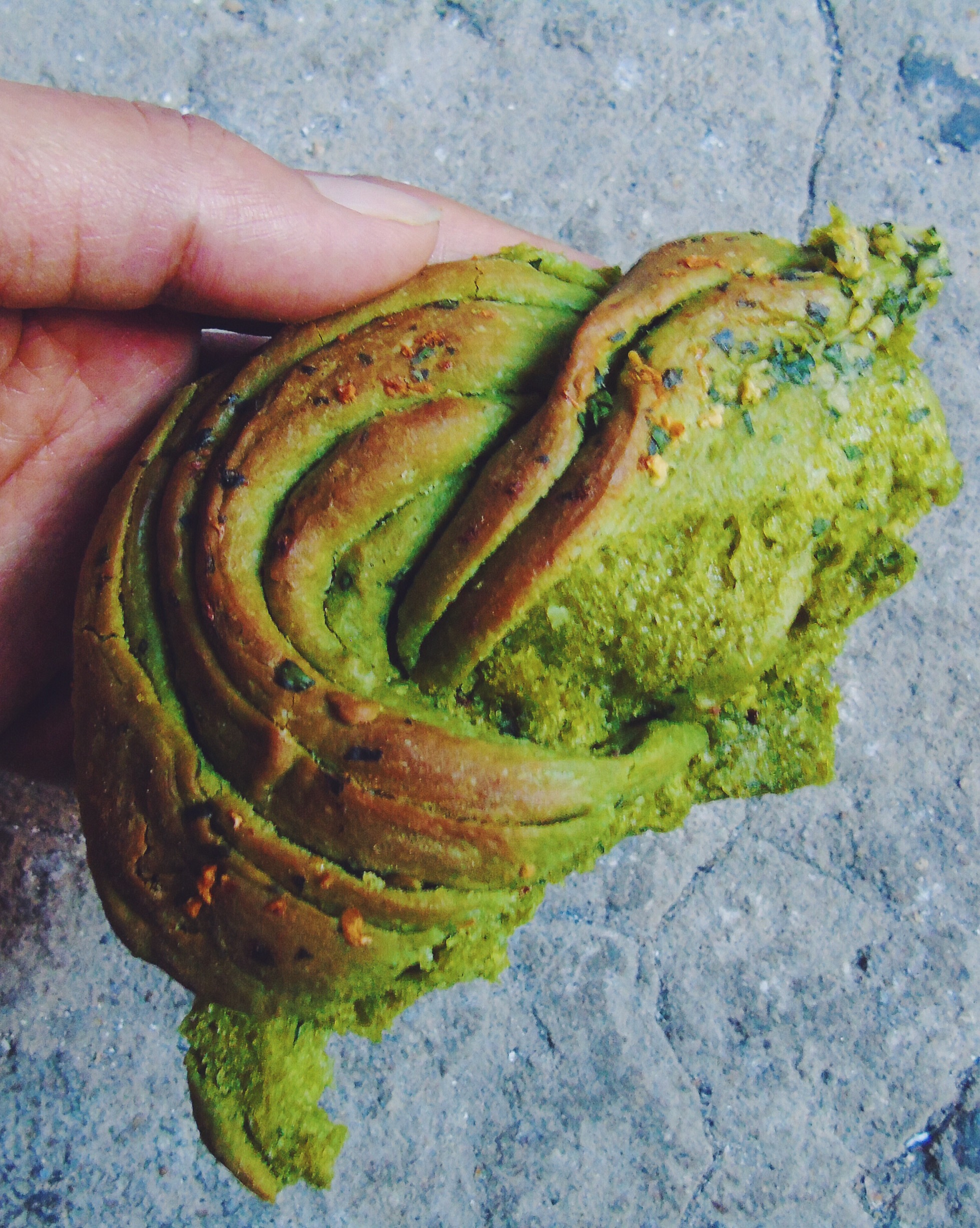 But for real, i'm really stoked to share this recipe, it's very high on my list of favourites and just look at that colour, isn't it amazing! If you don't have spirulina feel free to leave it out and just use turmeric, or neither. The reason i used the spirulina/turmeric combination is to give it that light green shade, where only adding spirulina would give it a darker green colour. Feel free to play around with the colours, its your party, playing around with the measurments of spirulina and turmeric will give you different shades of green, or maybe you want it red, then add some beet powder.
Story time: While removing this baby from the oven i dropped it on the floor (which i had just cleaned) thus breaking it, my heart sank to the floor. For a moment i thought that all my planning had been for nothing, and i'd had to wait for another sunny day to make pictures for this recipe. I guess that just coming home from a great yoga session helped me keep my cool, cause normally i'd freak out. I took a deep breath and quickly gathered myself (and the bread) from the floor and wished for the best (1000 second rule right?!) To be honest dropping the bread actually made it more rustic – not recommended –
The moral of the story: when things are falling apart you gather the pieces and make the most beautiful mosaic this world has ever gazed its eyes upon!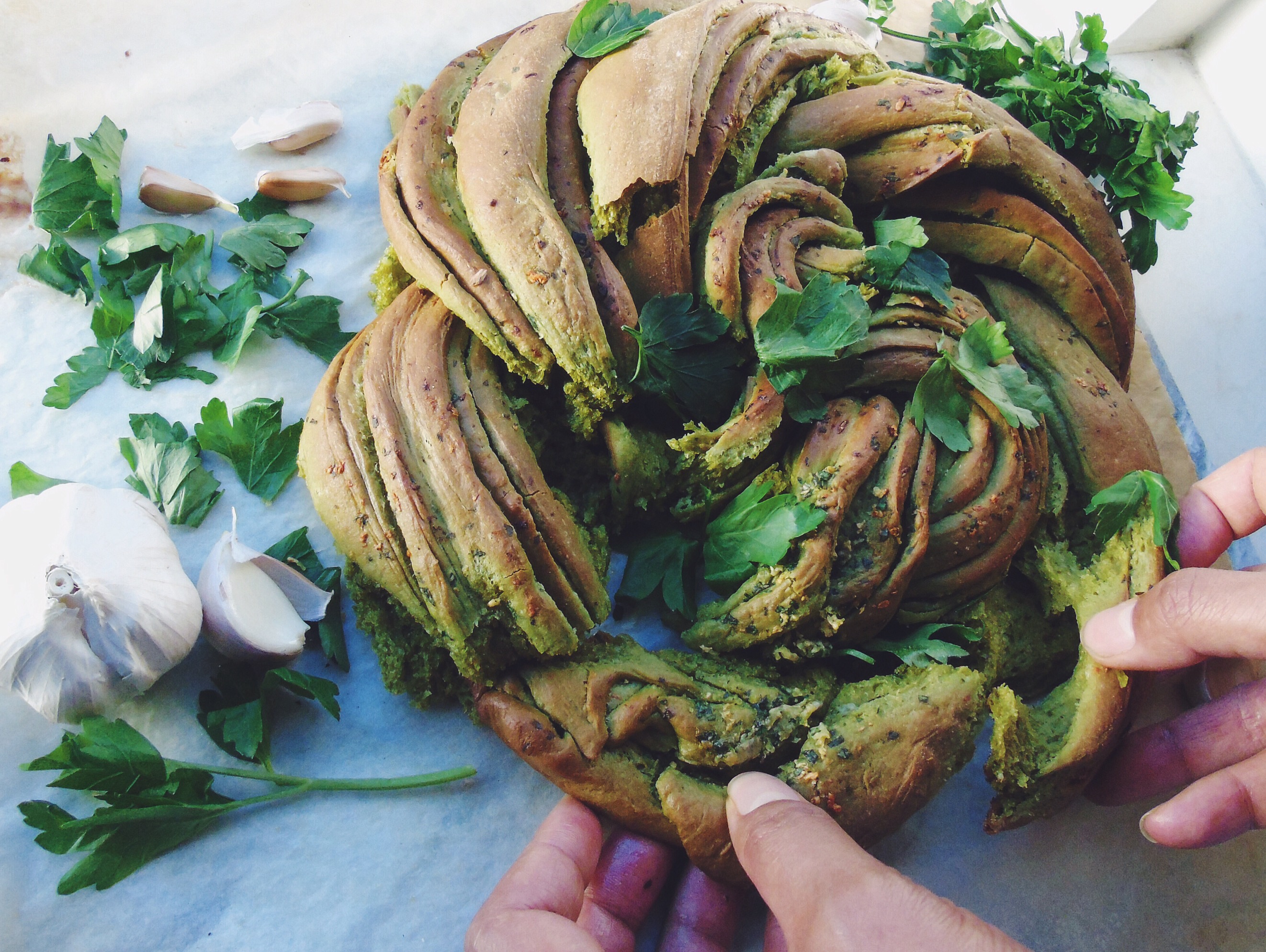 I can't wait to share what else i've got planned but for now you this garlic bread has to do. I also promised a burger recipe which you can expect this or next week (it needed a little extra tweaking).
Bless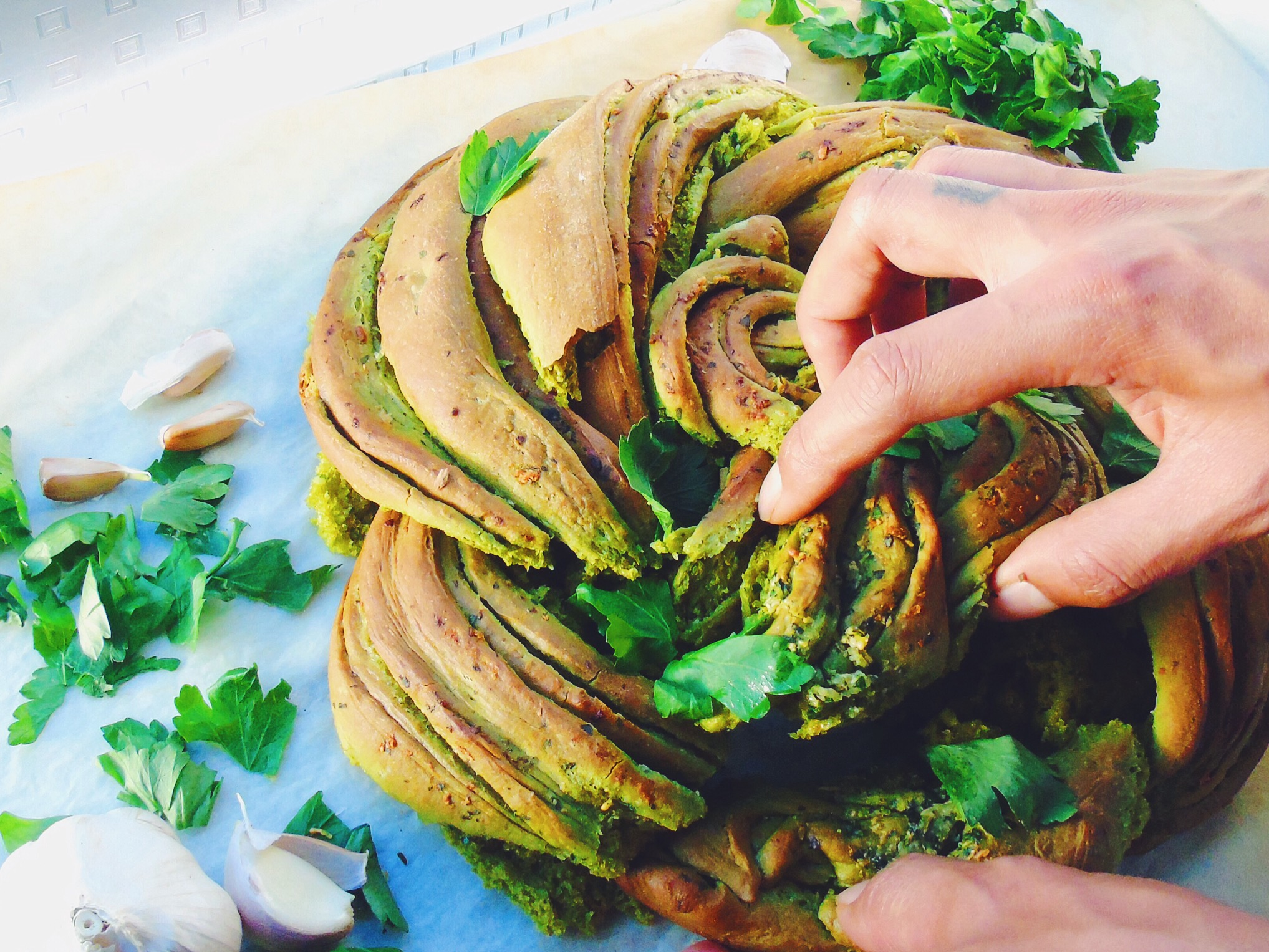 Green Braided Garlic Bread
This is the garlic bread that elfs have for dinner.
Ingredients
Bread
1

cup

water

luke warm

1

packet

yeast

a little under 1 tbsp

1

tbsp

sugar

1

pinch

salt

2 1/2

cups

flour

2

tbsp

olive oil

extra virgin

1

tsp

spirulina

1/2

tsp

turmeric
Garlic Oil
5

cloves

garlic

minced

3

pinch

salt

1

handful

flat leaf parsley

chopped

1/4

cup

olive oil

extra virgin
Instructions
Garlic Oil
Mix the olive oil with the garlic, salt and chopped parsley and put it aside until we need it.
Dough
In a big bowl add the warm water (make sure its not to hot or it will kill the yeast) and add the sugar and yeast. tip: i boiled a pot of water for tea and added my bowl with water on top to warm the water. Let the yeast activate, which will take approximately 5 minutes

Once the yeast has activated you can add the oil, salt, spirulina and turmeric and mix until combined. Now add your flour 1/2 cup at a time, after each cup you'll mix the dough until you get a dough that you can knead. Knead the dough on a floured surface until smooth. note: try to use as little flour as possible. roll the dough into a ball and dust lightly with flour before putting it back into the bowl and covering with cling film or a damp towel. Now let the dough rise for 45 minutes. Preheat your oven to 200 celcius or 400 farenheit.

Once the dough has doubled in size you roll it into a square shape and spread the garlic oil with a brush over the surface. Now start rolling down from the top of the square until you get a log.

With a knife split the log in the middle horizontally, leaving the 1 inch on the bottom. Now braid the two pieces of dough and roll it into a circle. Put the bread on a backing tray covered with parchment paper and Cover it with a big bowl, let it rest for another 30 minutes before putting it in the oven.

Now put your bread roll in the oven and bake it for approximately 12 minutes (depending on the size of your oven) or until the top is golden brown. tip: you can brush some of the oil on top of the bread before putting it into the oven.