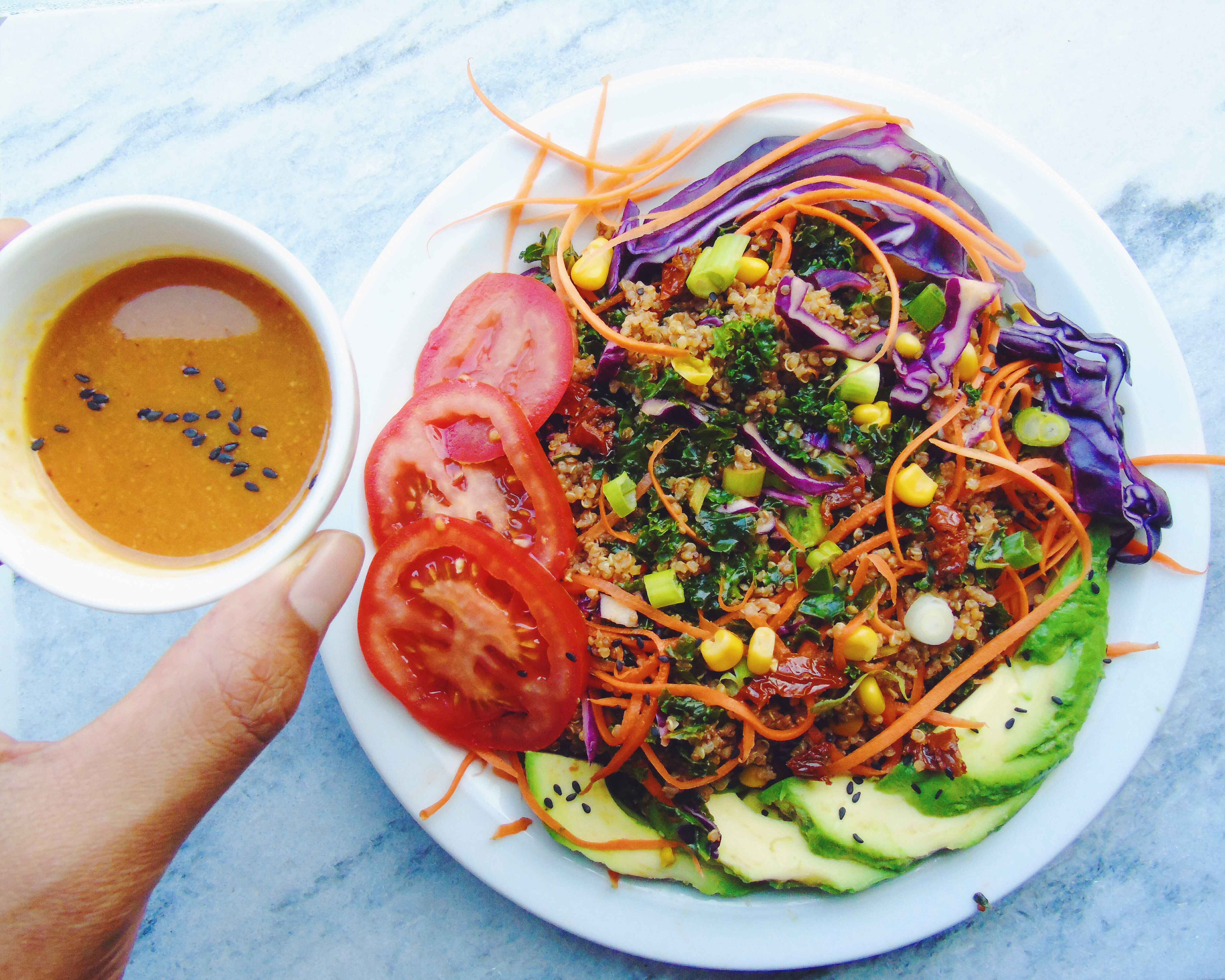 The last couple of weeks i have not been giving my body the rest it has been needing, thus it didn't come as an surprise that last week my body decided to protest against me. So i decided to take a few days to give my body some rest and also filter out all the junky food that didn't do my body any good. Fast forward two days and i'm up and running once more! So take a lesson from me everyone and always listen to your bodies. Besides not taking enough i also might have had a bit to many junky vegan food.
Sometimes it's just to convenient to order that fried falafel or eat other processed foods, and i'll be the lying if i'd say i eat 100% clean. Some days, especially the ones where i am either physically or mentally drained (or both) and i have to choice between standing in the kitchen and whipping up something nutritious or pushing some buttons and getting a falafel, 75% of the time i'll go for the fried falafel. Although i find absolutely nothing wrong with eating some vegan junk food from time to time, it should not become a habit. So for the days when i'm not feeling my best i'm trying to make take that extra effort to whip up something delicious and nutritious, so you can expect some fast and easy recipes in the near future. And when your body does need that extra bit of loving this salad will do the job!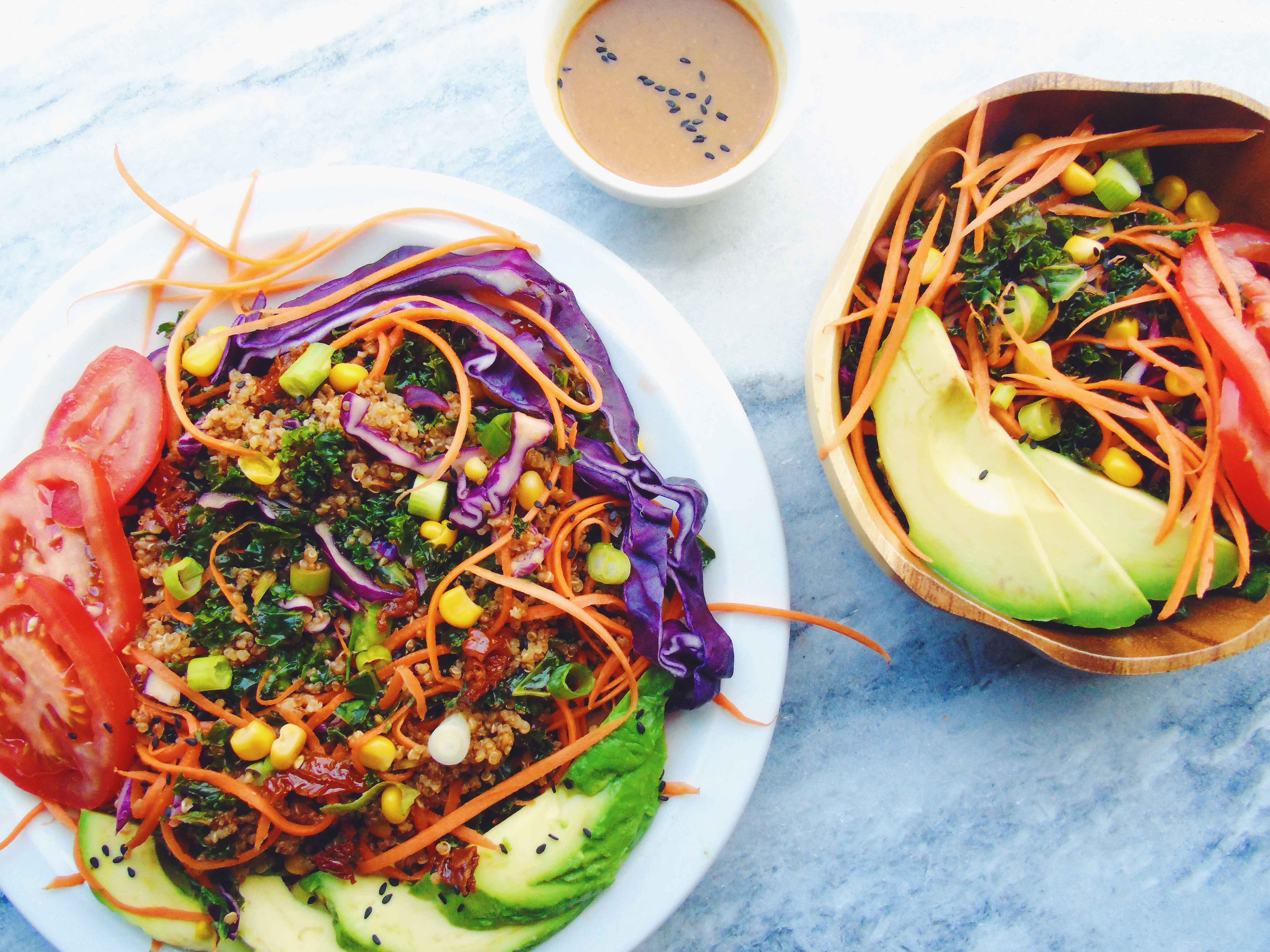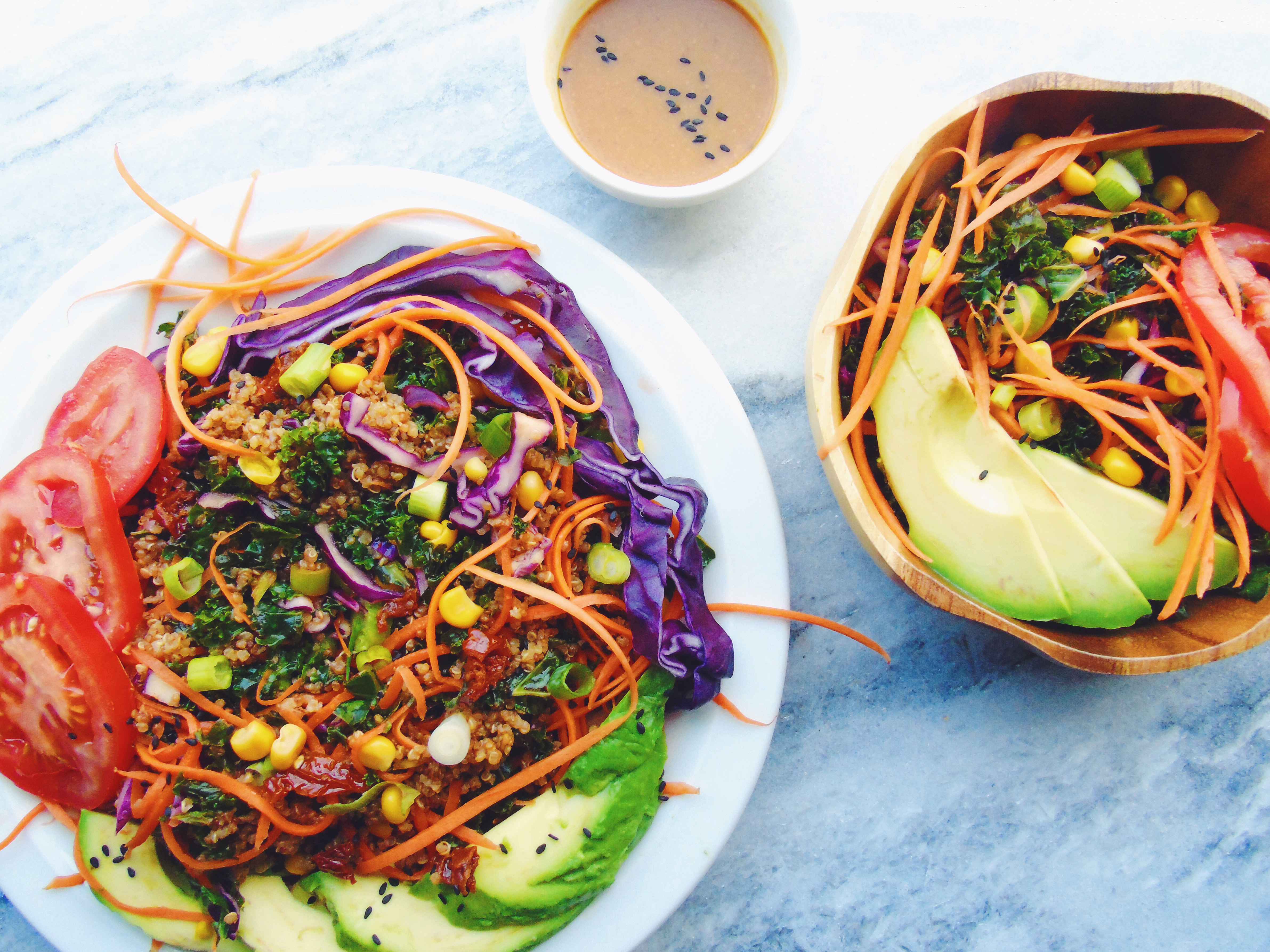 I'm a big fan of probiotics or good bacteria! I simply love them, and the great thing about probiotics is that they love you back! For this dish i chose to use gochujang (optional) and miso paste for their probiotic cultures. When my body decided it needed its rest i also caught a stomach flu, so i thought "let me be wise and increase my intake of healthy bacteria". Besides that, on the first day i fell ill, i couldn't stomach anything other then coconut yoghurt with some fruits. so the days after that i had to be extra careful with what i'd eat. This is where this salad came in to safe the day.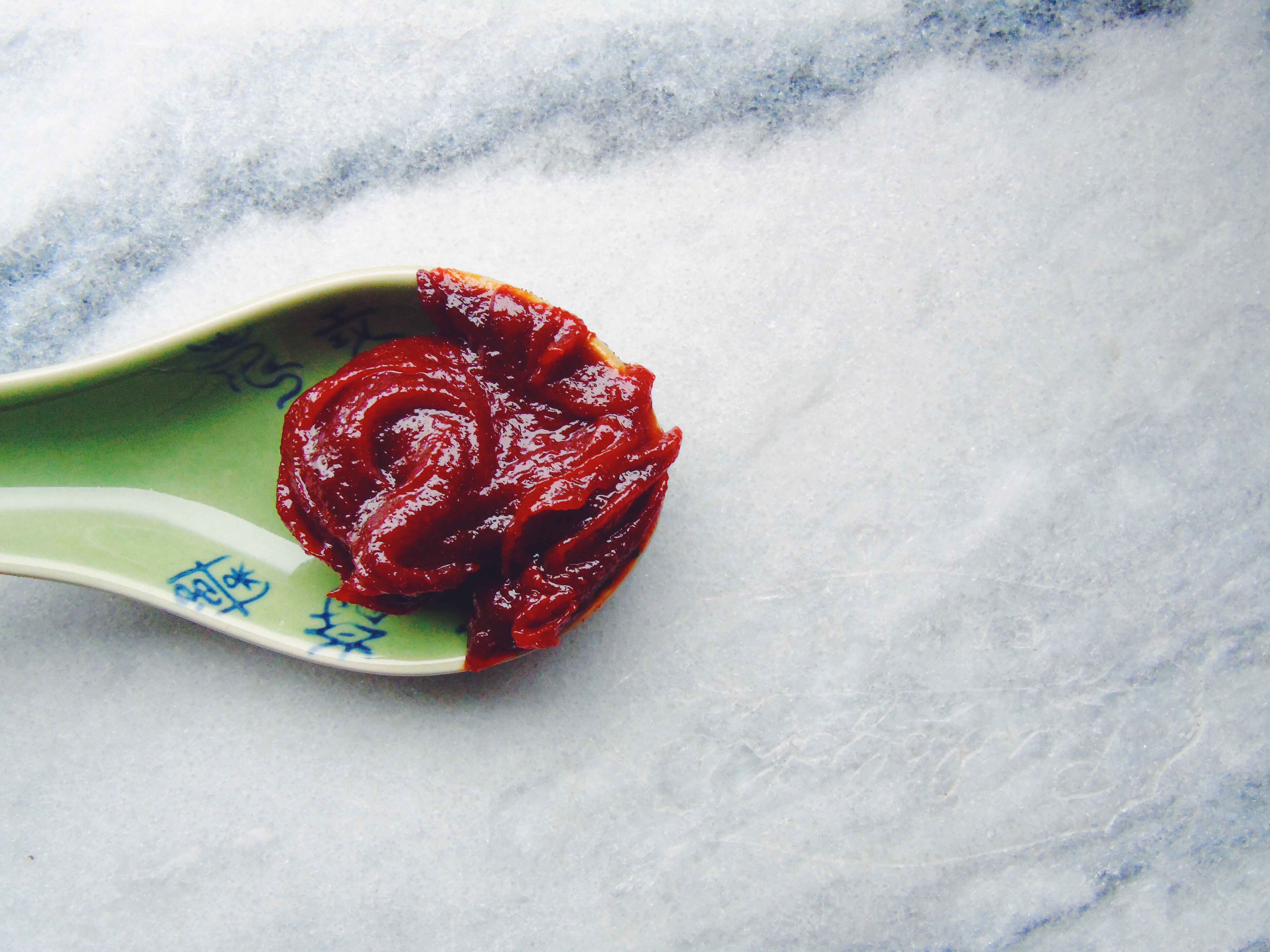 Pictured above is gohujang, a paste that is made by fermenting chillies, glutinous rice, soy beans and salt. You can find this paste together with miso in most asian grocery stores. This spicy and slightly sweet paste is a Korean condiment that adds an interesting depth of flavour to this salad, but if you cant get your hands on some you can skip it and massage your kale with just lemon juice and a pinch of salt. Yes you heard me well, you should massage your kale. Massaging your kale will take away some of its bitterness and make it less though to chew on.
What you cant skip is the miso dressing, its what brings this salad to a whole new level, plus we want those good bacteria, right!? And any leftover dressing can be stored in the fridge, in a jar or container and used on another salad.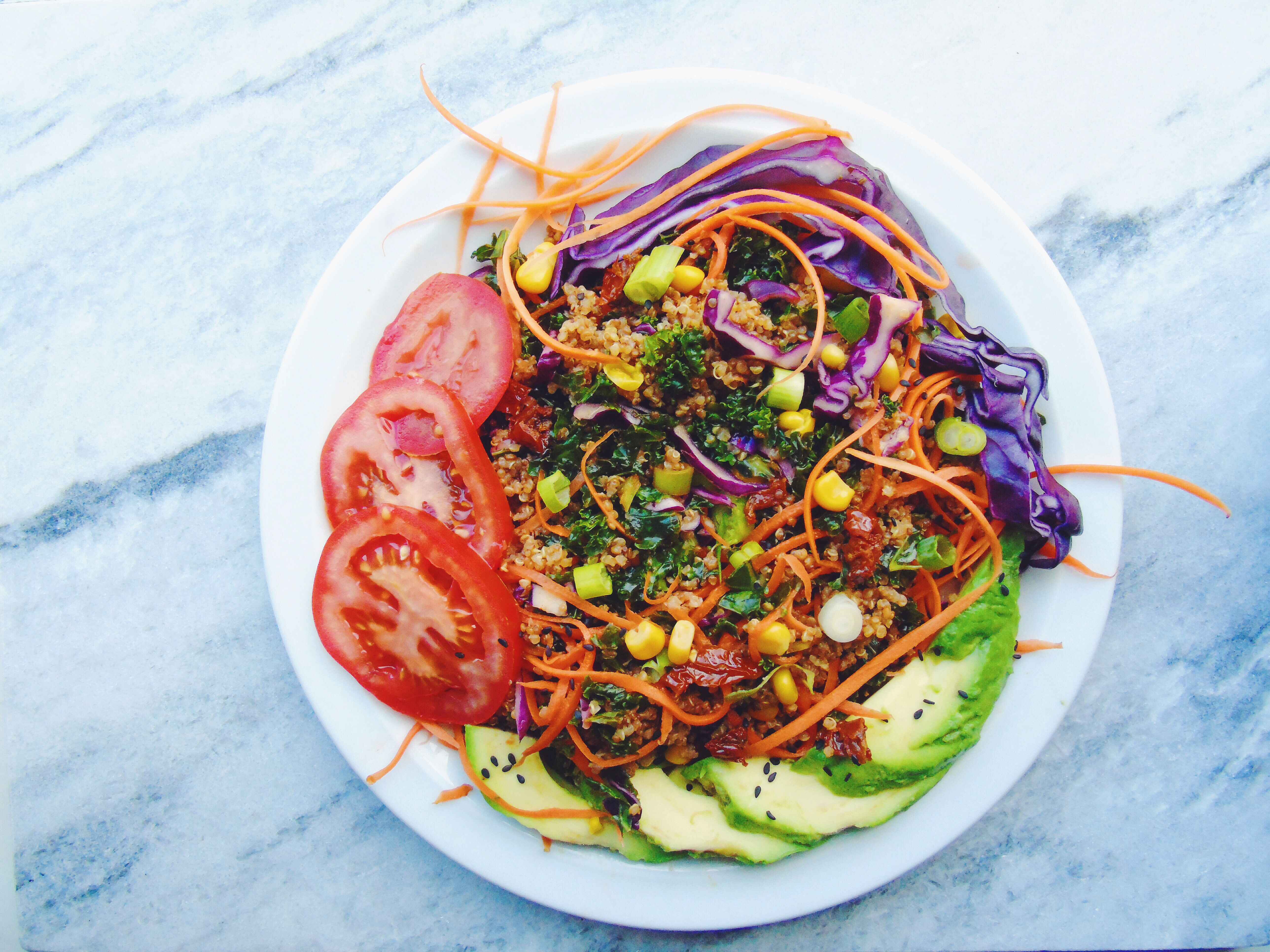 Apart from kale and the miso dressing i also added some quinoa to give this salad even more nutrients and body. I also added shredded carrots, red cabbage, corn, spring onions, tomato, sundried tomato and avocado. At the end of the day this is your salad so feel free to make it as complex as you like. Now give your body some extra loving and eat your probiotic kale salad and let me know if you liked it.
Bless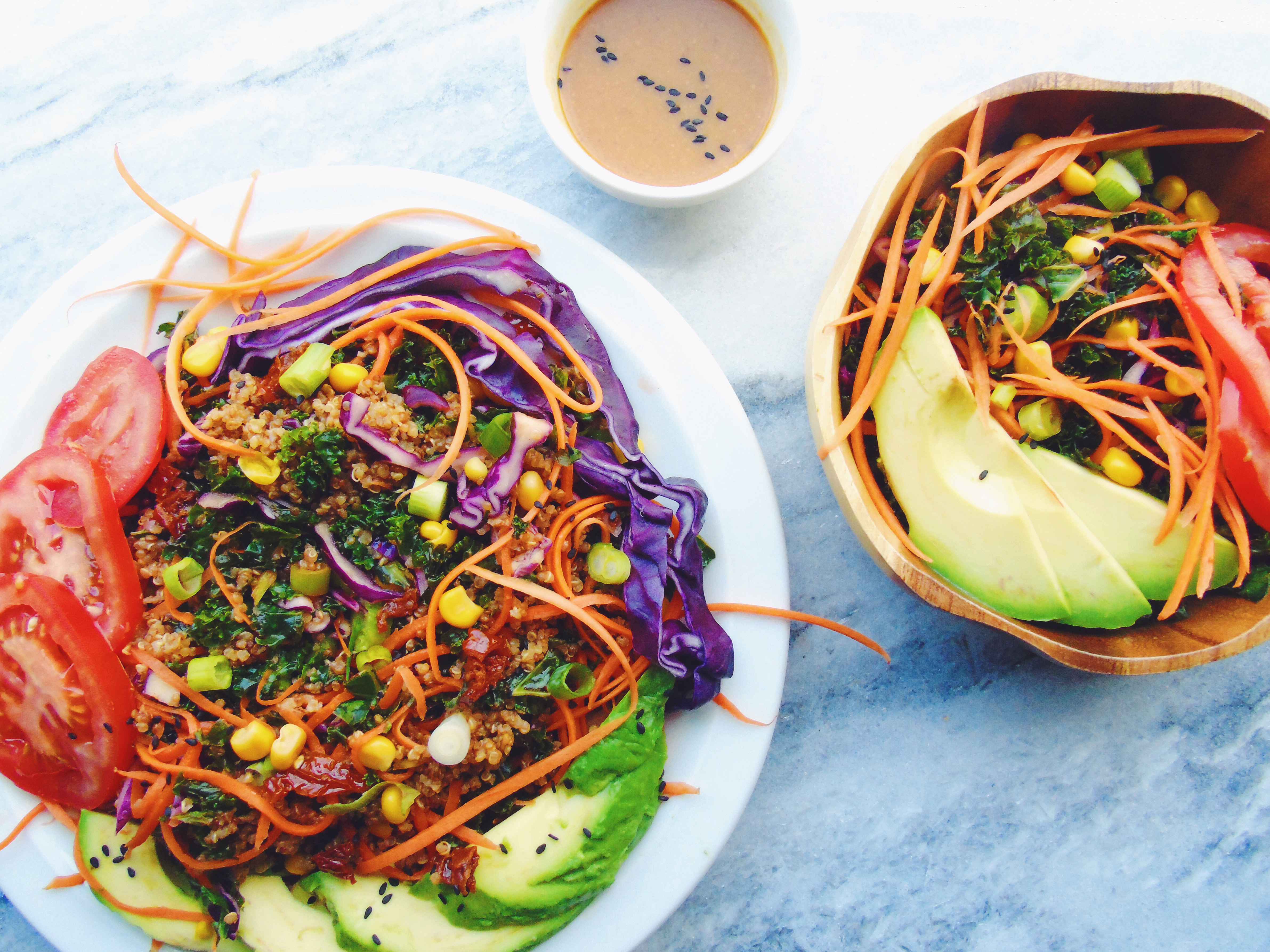 Probiotic Kale Salad
Ingredients
Kale Salad
7

cups

kale

shredded and loosely packed

1

lemon

juice

1

tbsp

gochujang

(optional)

1

cup

quinoa

cooked
Dressing
3

tbsp

white miso

3

tbsp

rice vinegar

1

tbsp

cane sugar

1

tbsp

toasted sesame oil*

1

tsp

mustard

1/4

cup

orange juice

1/4

tsp

garlic powder
Instructions
Kale
Chop your kale and put it in a big bowl, add the lemon juice and gochujang. Now massage your kale until everything is well combined and let it rest for a while (i left mine overnight, but you can eat it as soon as you want).

You can cook your quinoa with some veggie broth or in water 1:2 ratio. Bring the quinoa to a boil and then turn the heat to low and cover the pot, let it simmer for 15 minutes.
Dressing
Combine all the ingredients in a small container and mix until everything is combined.