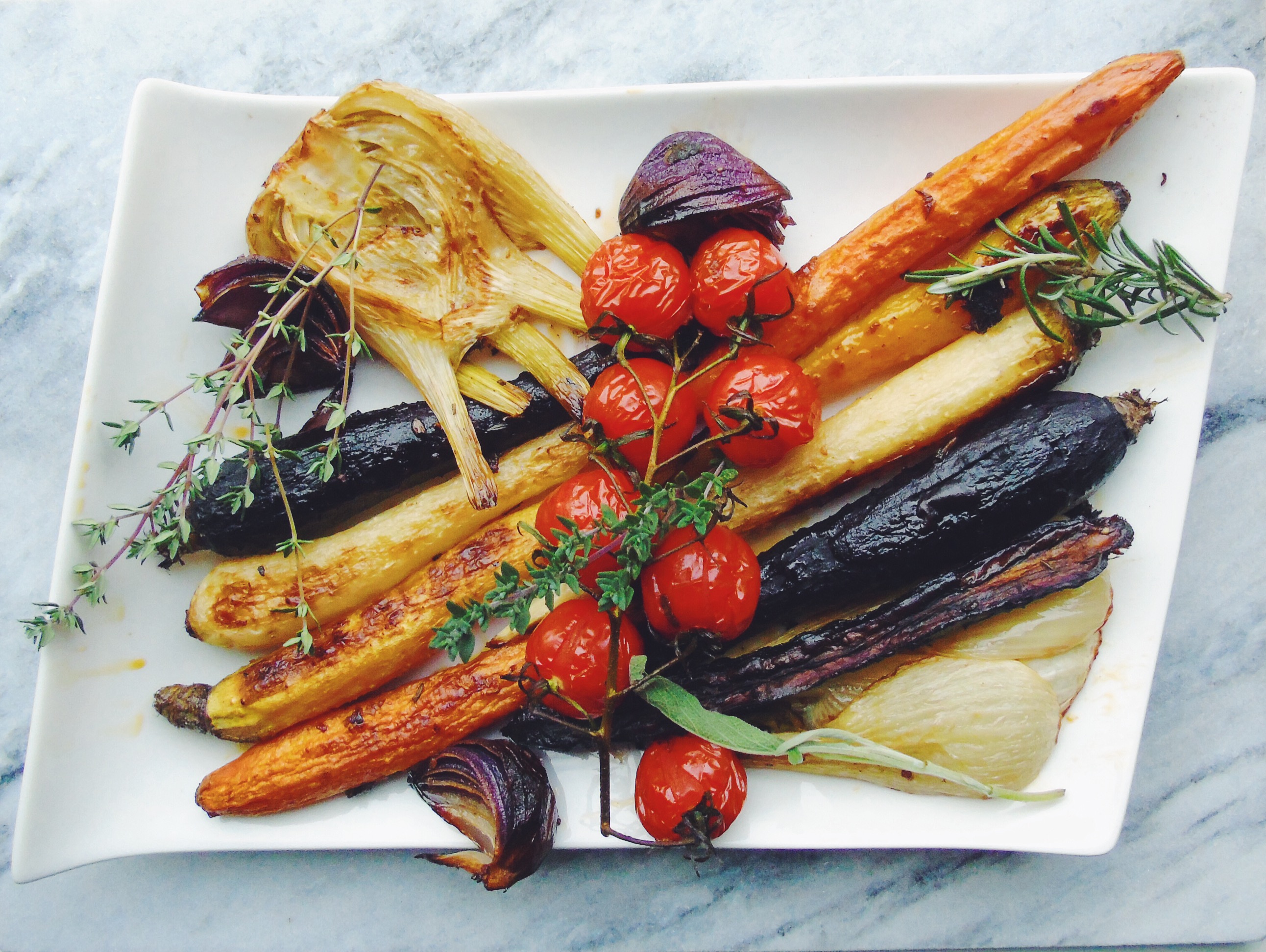 These holidays i'm making sure me and my family our gonna get a good dose of deliciously roasted vegetables, cause even the veggie haters cant resist a good vegetable roast. Not only does it taste really great, they also look festive, making them a perfect dish for the holidays. And feel free to play around with your favourite vegetables as this is your dinner and your rules!
This was also the first time i tried fennel, i've seen it a million times before but i just didn't know what to do with it. While ingredient shopping for this recipe the fennel was staring at me and before i knew it the fennel found its way to my grocery bag. the moment i cut the fennel i was surprised by its smell "is it me or am i smelling liquorice" i thought, but i was right it did smell like liquorice my mother confirmed. I myself am not a big fan of liquorice but loved the taste of the roasted fennel, id did have a slight liquorice taste but nothing overwhelming, it's simply delicious.
When it comes to dinner our family never has a specific kind of cuisine were working with, we always mix things up, so to accompany the roasted vegetables i made some curried rice. Some of the perks from coming from a mixed family is that the table is always filled with dishes from around the world. After the holidays i'm gonna work on veganizing some of my favourite dishes growing up, cant wait to share those with you!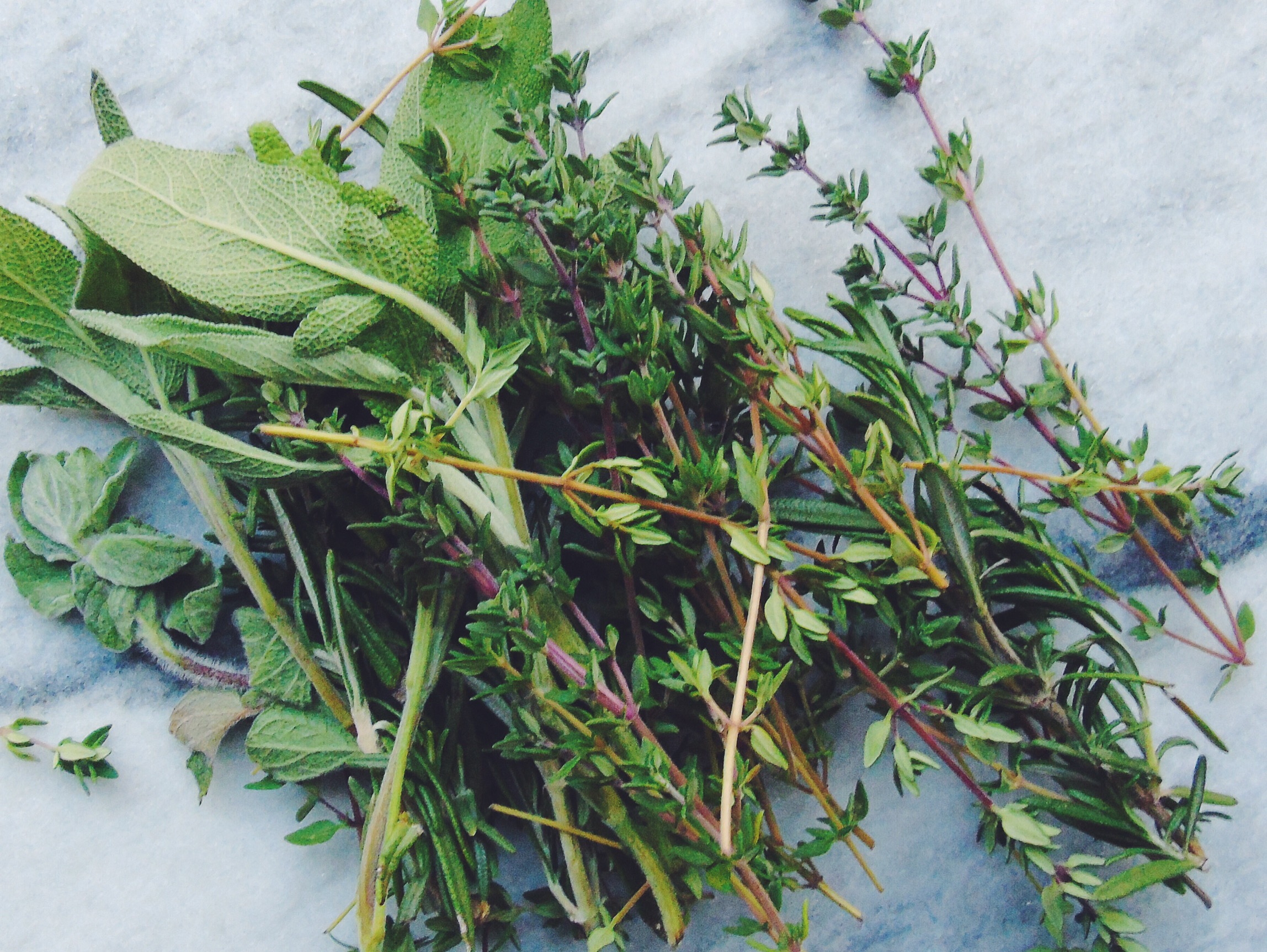 I love fresh herbs, and what's a better excuse to go wild with fresh herbs than a roast? You guessed right, nothing! You can really use any herb you love but i especially loved using thyme and sage in this recipe. And lets be honest garnishing your food with fresh herbs will only add to the presentation and festiveness of the dish. It also doesn't hurt that thyme and sage are the herbs with the highest amount of antioxidants, i am in love!
Now i've added another dish to my holiday menu, you can find the fun and creative recipe for garlic bread here. I hope you'll love this recipe as much as i did.
bless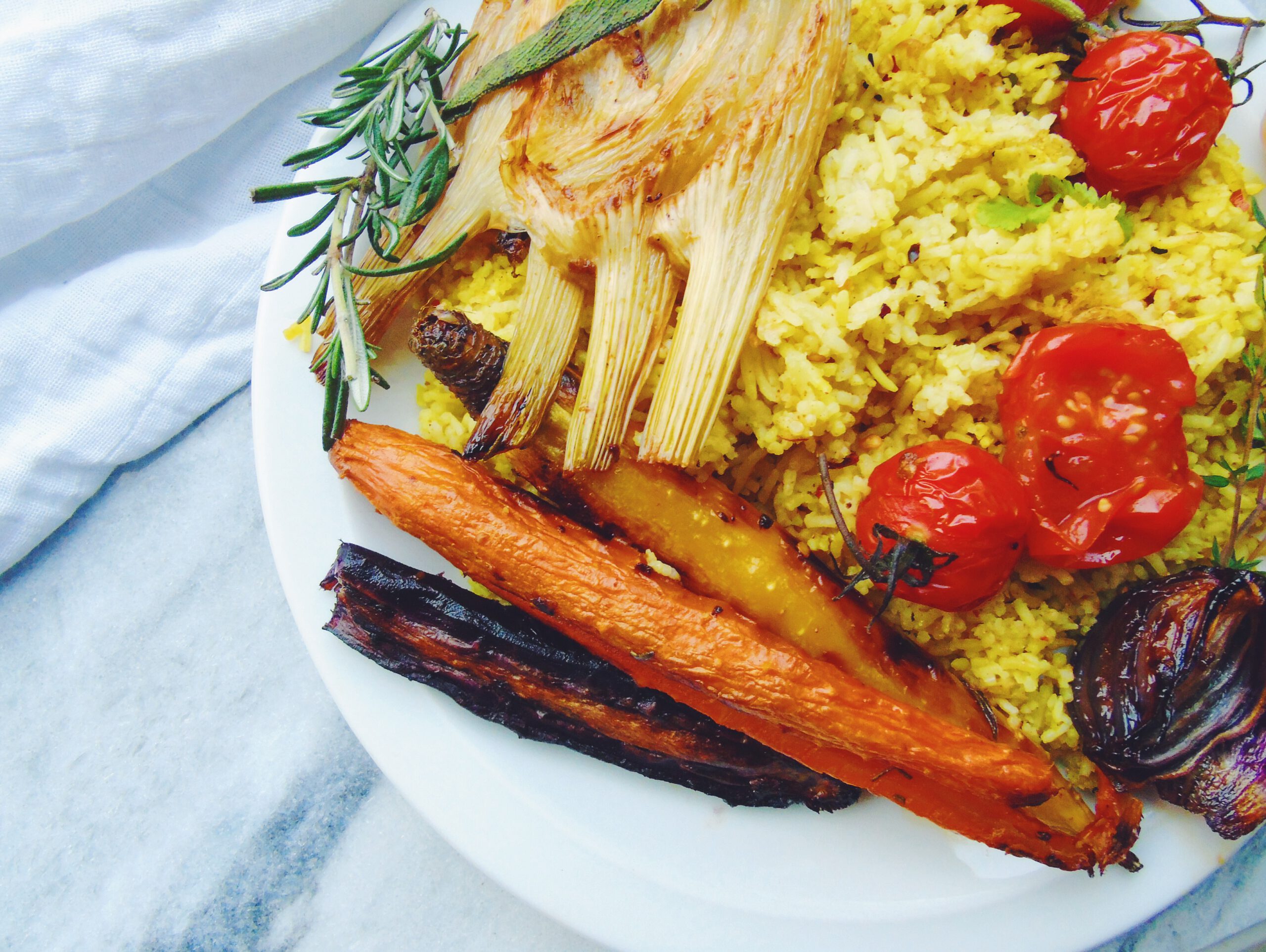 Roasted Vegetables with Curried Rice
Turn any veggie hater into a lover with roasted vegetables and curried rice. Easy and delicious!
Ingredients
Roasted Vegetables
9

carrots

1

fennel

1

red onion

1

bunch

cherri tomatoes

3

tbsp

extra virgin olive oil

5

thyme

branches

chopped

5

cloves

garlic

minced

6

sage

leaves

chopped

1

tsp

balsamic vinegar

1/4

tsp

smoked paprika

(optional)

salt

to taste
Curried rice
1

tsp

currie powder

1

cup

rice

1

onion

2

cloves

garlic

1

tsp

chillies

(optional)

cilantro

(optional)
Instructions
Vegetables
Preheat your oven to 200C or 390F. In a bowl combine the olive oil, thyme, sage, salt, balsamic vinegar and smoked paprika and mix it all together. You can also add other herbs like rosemary or oregano.

Now cover all your veggies with the marinade and place them on a baking tray (i lined mine with parchment paper). Put them in your preheated oven and after approximately 25 minutes flip the over and roast for another 35 minutes or until you've got crips edges (not burnt). Time varies depending on the size of your oven so check on your veggies every now and then.
Curried Rice
While your vegetables are in the oven you can make the rice. wash your rice and drain the rice. In a pot sauté the onions and garlic and at the end add the curry powder and chillies, cook for another 15 seconds before adding the rice. Once the onions got translucent you can add the rice and water and bring the pot to a boil. Once the water is boiling turn the heat to low and cover it for about 17 minutes. serve with cilantro (optional)