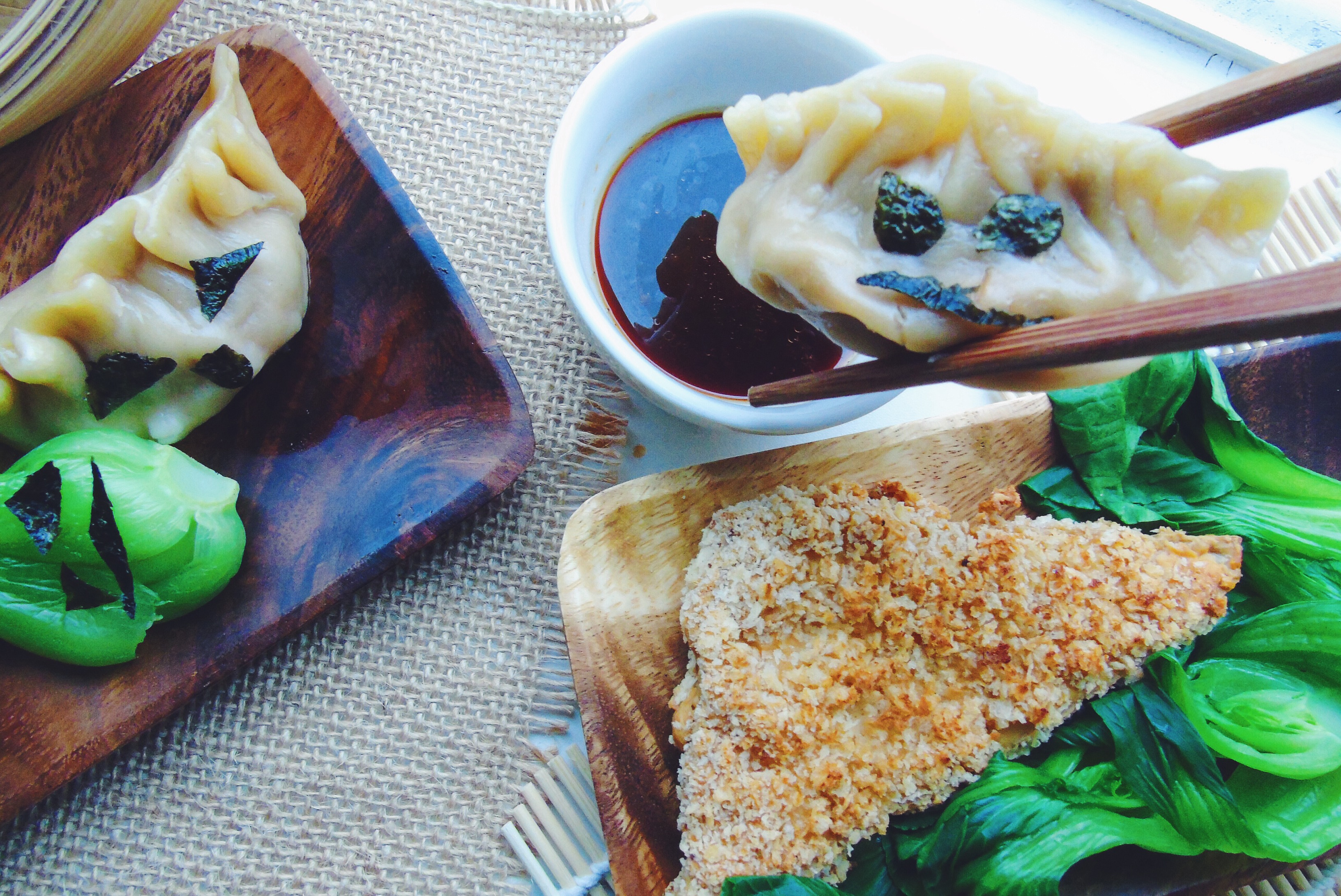 Since i'm a dumpling lover i chose to make spooky dumplings as my second halloween themed dish, for you to serve on your party! If you are a dumpling addict as i you can find another dumpling recipe over here. The thing i love about dumplings is that you can make a huge batch, freeze them and cook for quick and delicious meals or snacks. They are the perfect party snack, you can make them days in advance, they take minimal effort to cook and almost everyone loves them. Personally i find the process of making dumplings to be very relaxing and its something i really like to take my time for it. Of course you can speed up the process by using store bought wrappers, but i like to make them from scratch.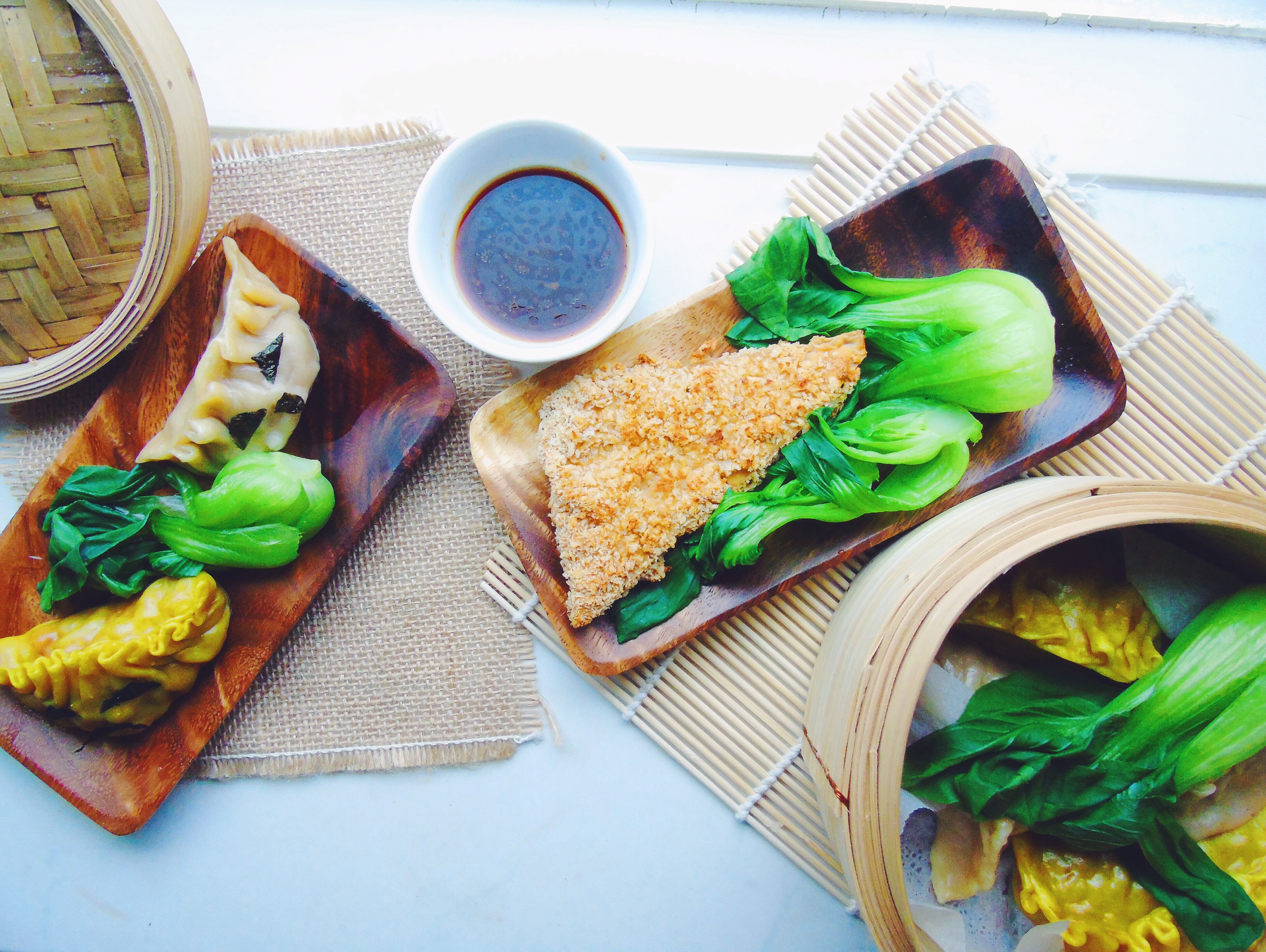 The first recipe had a bloodier filling then the final recipe, i found the flavour from the beets to be a bit overwhelming (but if you love beets feel free to use 2 instead of 1). I did compensate the loss of colour by giving the dumplings some spooky faces, using toasted sheets of nori. When my dumplings are almost done steaming i love to add some veggies to the steamer, this way when my dumplings are done i've also got some delicious and nutritious veggies to eat them with. For this dish i chose to use these adorable mini shanghai bok choy i picked up from the chinese supermarket. I also had some crispy tofu on the side, i'll share the recipe for that as soon as i've perfected it.
Look at me devouring this poor little bok choy! These dumplings might be spooky, but trust me you'll scare them more then they will you.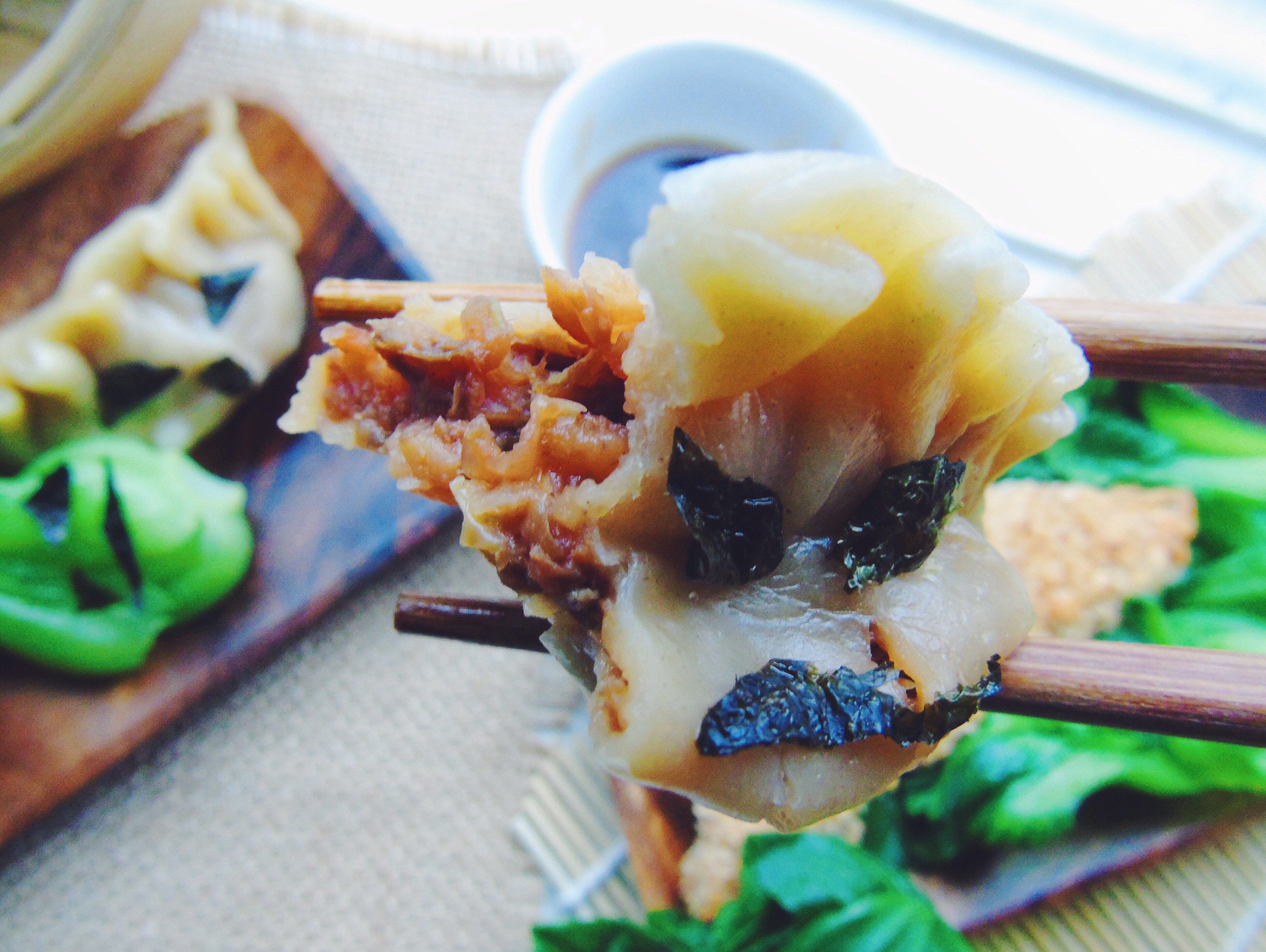 I must admit i was very tempted to use spirulina to make green wrappers, but chose to go for turmeric for a yellow colour, since there are other colours beside green. But feel free to play around with colours if you're making your own wrappers. You could turmeric for yellow, or spirulina for green, beetroot powder for red or pink you can even choose to use some purple cabbage juice to go for a purple colour, be bold, be wild, be colourful!
I hope everyone will enjoy this recipe, much love!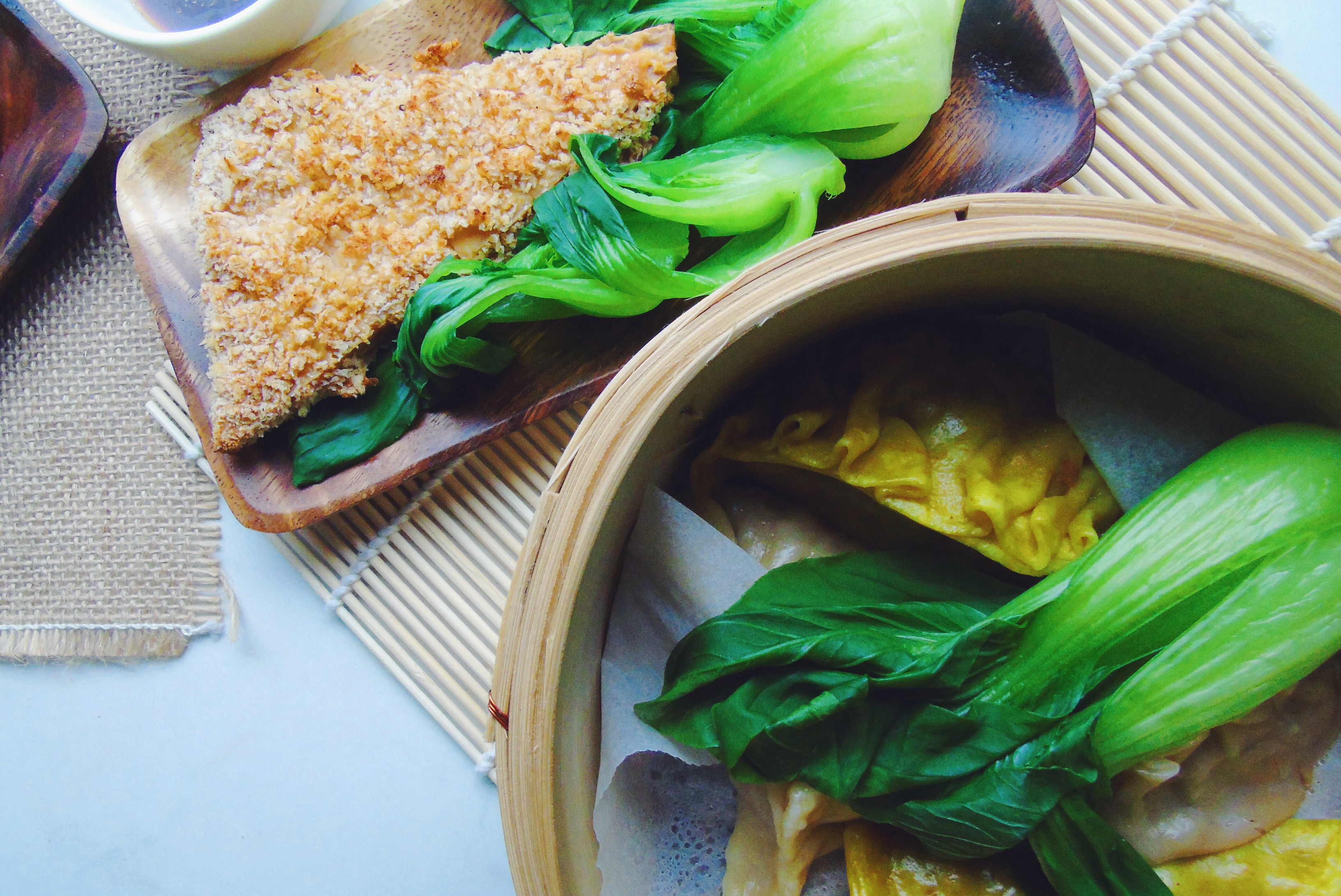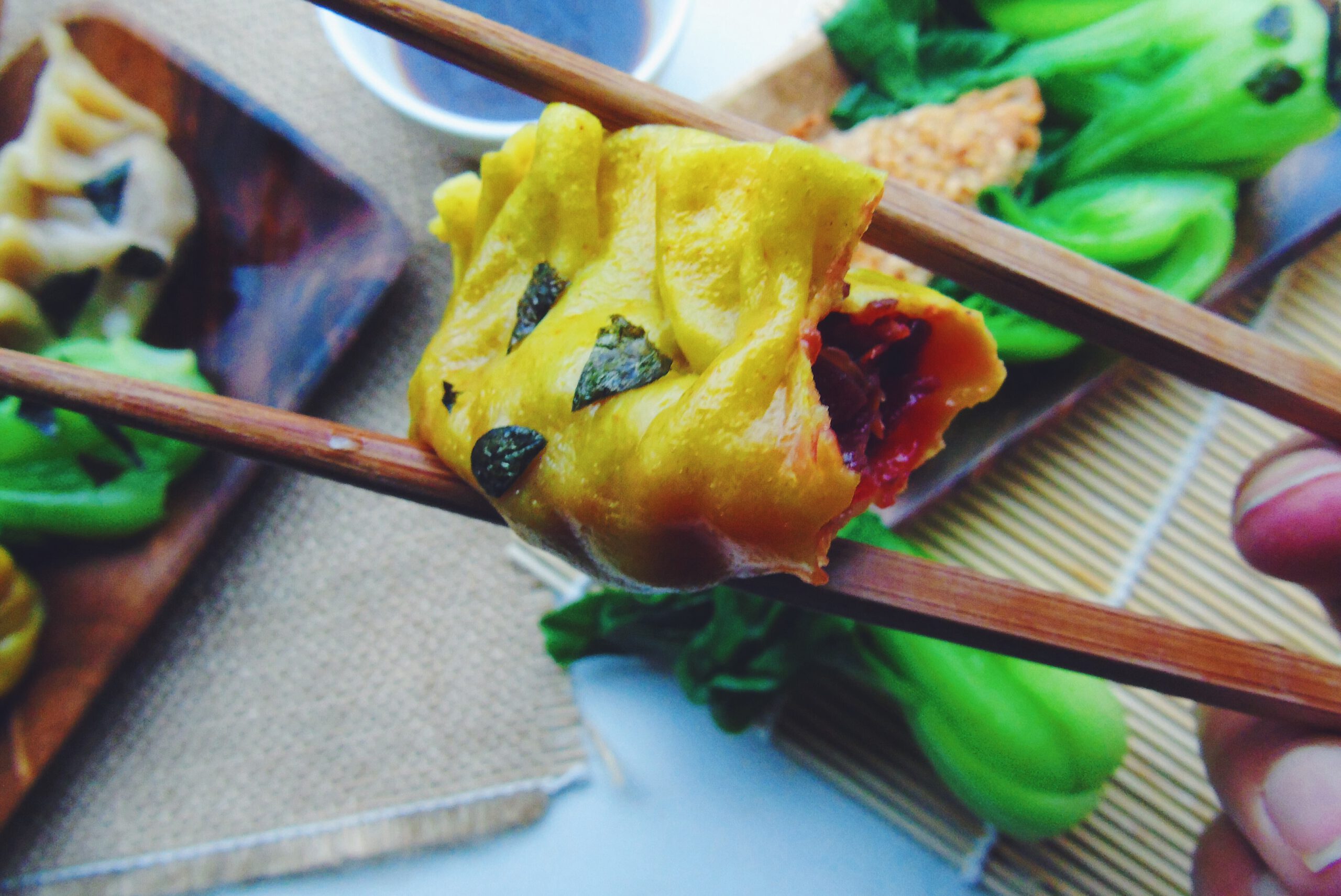 Spooky Beet - Lentil and Mushroom Dumplings
Ingredients
1

beet

peeled

250

grams

mushrooms

1/2

napa cabbage*

2

spring onions

1

jar

lentils

1/4

tsp

coriander

ground

1/4

tsp

black pepper

ground

1/2

tsp

cumin

ground

2

tbsp

soy sauce

1/4

tsp

toasted sesame oil*

1

sheet

toasted nori
Instructions
Wrappers
You can make your own dumpling wrappers (you can find the recipe on my previous post, i'll put a link in this post) or use store bought.
Filling
Add the beets to a food processor and pulse a few times until chopped, now add the mushrooms and chop those and finally add the lentils and chop it one last time. After taking out the filling add the cabbage and chop it. If you don't have a food processor you can chop it all by hand.

in a pan warm a small amount of coconut oil, or water if you're avoiding oil, on medium heat. Add the filling, spices and soy sauce to the pan and cook over medium heat. After ± 5 minutes add the cabbage and cook for another ± 3 minutes or until most of the moisture is gone.

After you've cooked the filling add it to a bowl and add the spring onions and sesame oil and mix until everything's well combined. Now let it cool down before you fill your dumplings.

Now add your filling to the centre of your dumpling wrapper, fold it closed and put them on a platter covered with parchment paper (the platter has to fit in the freezer). After filling all the dumplings put the tray in the freezer and freeze the dumplings for about an hour. After an hour you can put them in freezer bags and store them until you're ready to eat them.

To steam the dumplings put them in a steamer and let the frozen dumplings steam for about 15 minutes. put a face on them with some toasted seaweed and serve them with some soy sauce.
Toasted Nori
you can also make your own toasted nori by covering the shiny part of the sheet with a small amount of oil (i used sesame) just enough for it to hold the spices. I sprinkled some salt and ground chilli flakes on them. Once done cut the sheet in 4 pieces and heat up a cooking pan on medium/low. Place the nori (shiny part down) in the pan and after 20 seconds place the other piece of nori on top the nori in the pan and flip both. Keep adding nori until you've toasted all pieces. and flip them every now and then until they are a bit crisp. Now cut your sheets of nori with some scissors and stick them on the dumplings.
Notes
Instead of napa (chinese) cabbage you could use regular cabbage.
If you are strict high carb low fat you can skip the sesame oil.