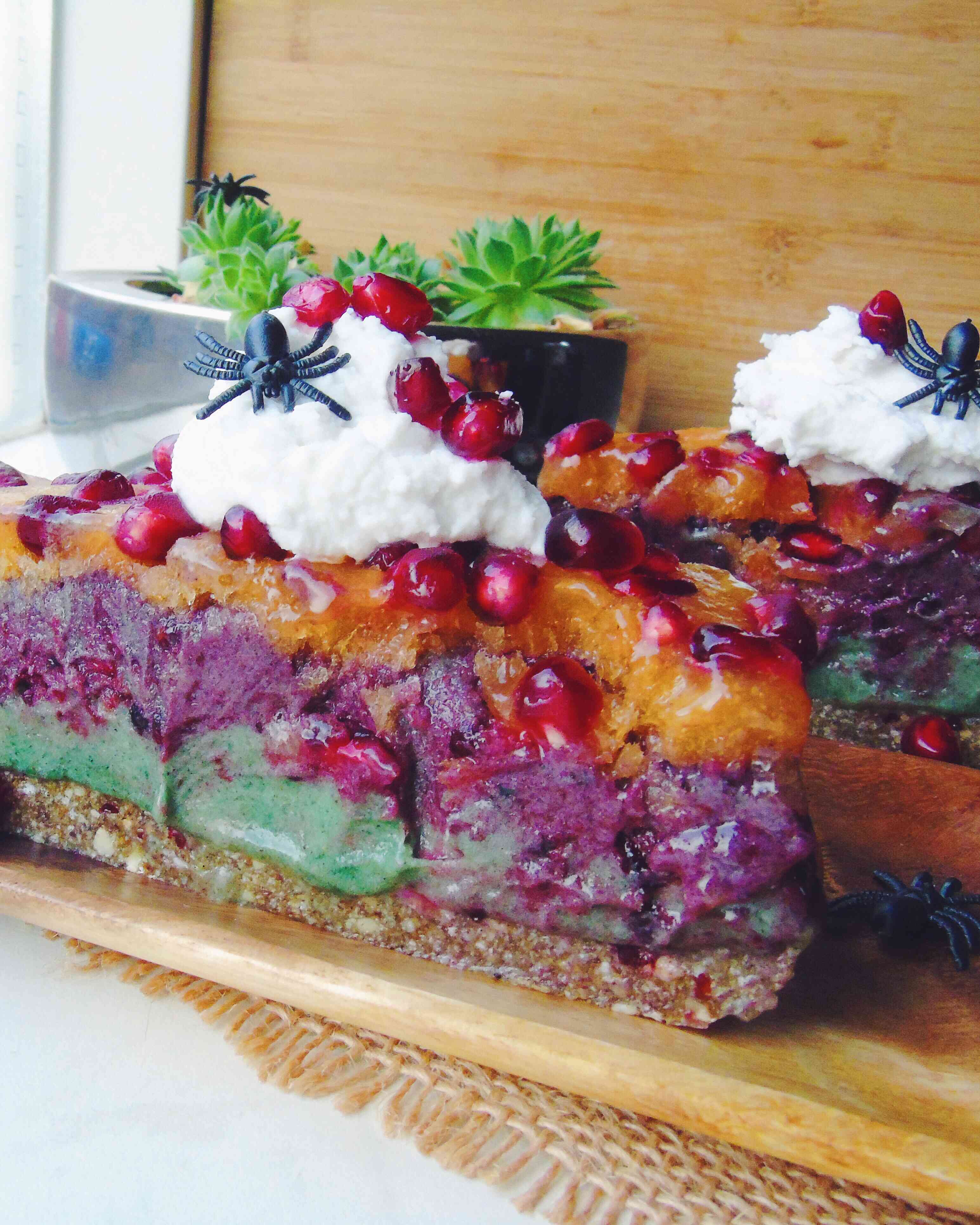 For a while now i've been craving ice cream cake and since halloween is around the corner i took my chance and decided to make a recipe for vegan ice cream cake. Best, decision, ever! Now ok what makes this recipe spooky you might ask? Well it's green, purple, orange and attracts spiders, spooky right!? And yes i know its autumn and its getting colder, but i don't care i, this cake is so delicious i could eat it while building a snow man. Ok lets do some pros and cons.
Pros:
Ice cream cake that you could have for breakfast.
Its raw vegan
Its takes only 15 minutes to make. Minimal effort, maximum reward.
A perfect dish for a warm summer day (or winter, who cares)
You can customise it to your own liking.
Cons:
Seriously, this has no cons, its raw vegan ice cream cake.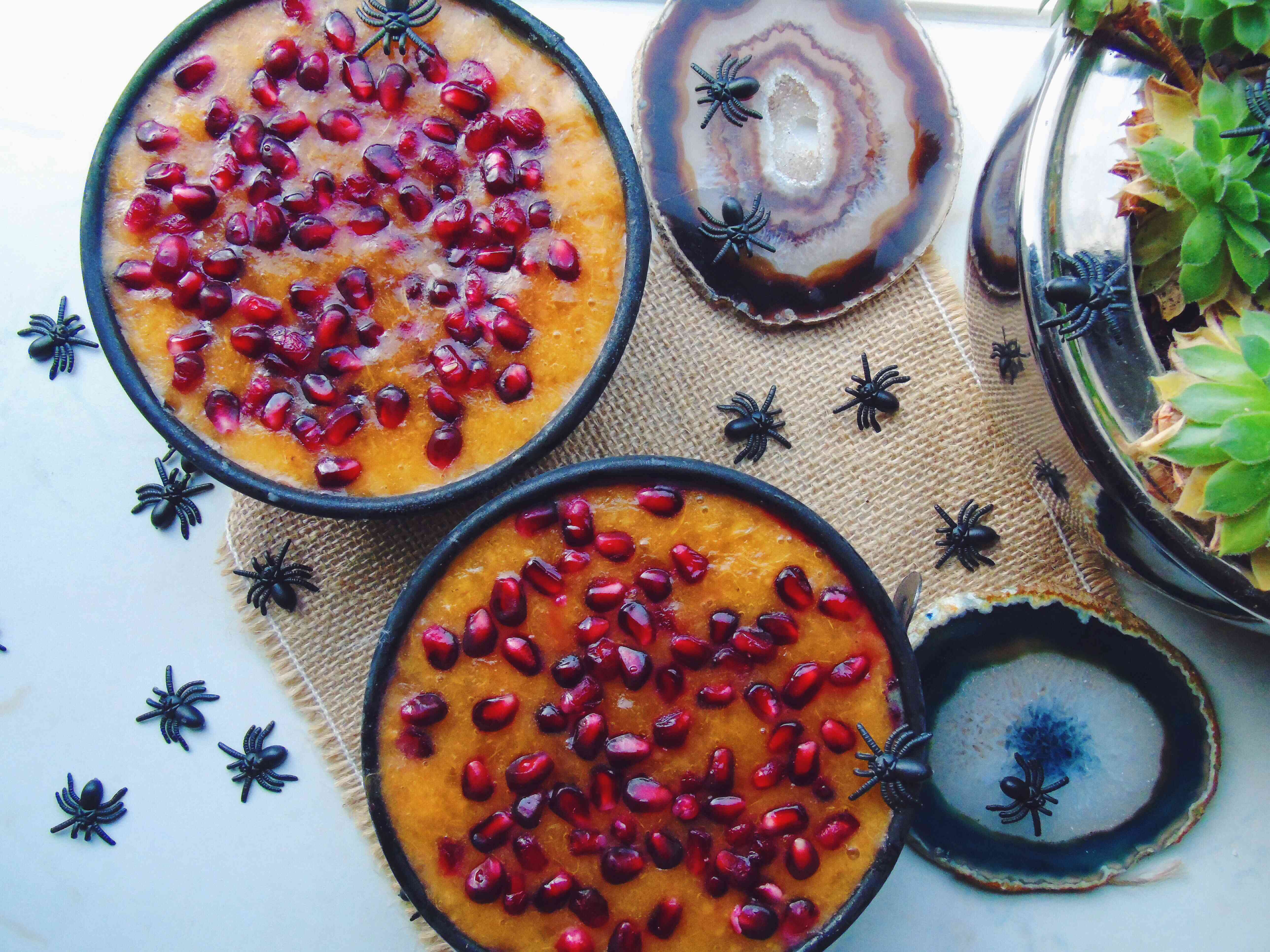 This week i've been testing this recipe a couple of times (i actually just used it as an excuse to eat this for breakfast a few days in a row) and couldn't wait to share the recipe with you! This is another dish to have on your halloween party. Just serve it as soon as you take it out of the freezer, otherwise you'll end up with a smoothie. This recipe will give you two mini cakes and after taking them out the freezer you can easily cut them into halves or quarters.
As usual you can play around with the ingredients. For this recipe i used a mix of cinnamon, cloves, and allspice but feel free to use other flavours like cacao, vanilla or mango by adding some frozen mangoes while processing the bananas. For the purple layer i used blackberries but you can definitely swap those for blueberries or other fruit. If you don't have spirulina you can use matcha powder, spinach or wheatgrass to make the green layer. The crust of this ice cream cake is made using raw cashews, but if you or the person you are serving this to is allergic to nuts you can substitute the cashew nuts for oats or double the coconut. Also the persimmon layer is totally optional, but since they are in season and some extra ripe persimmons broke on the way home i thought "What the heck, why not throw some super ripe persimmon jelly on top ".
Now i definitely know you'll impress your family and friends when you make them this ice cream cake. And if they don't like it, just give them a hug, they obviously need it!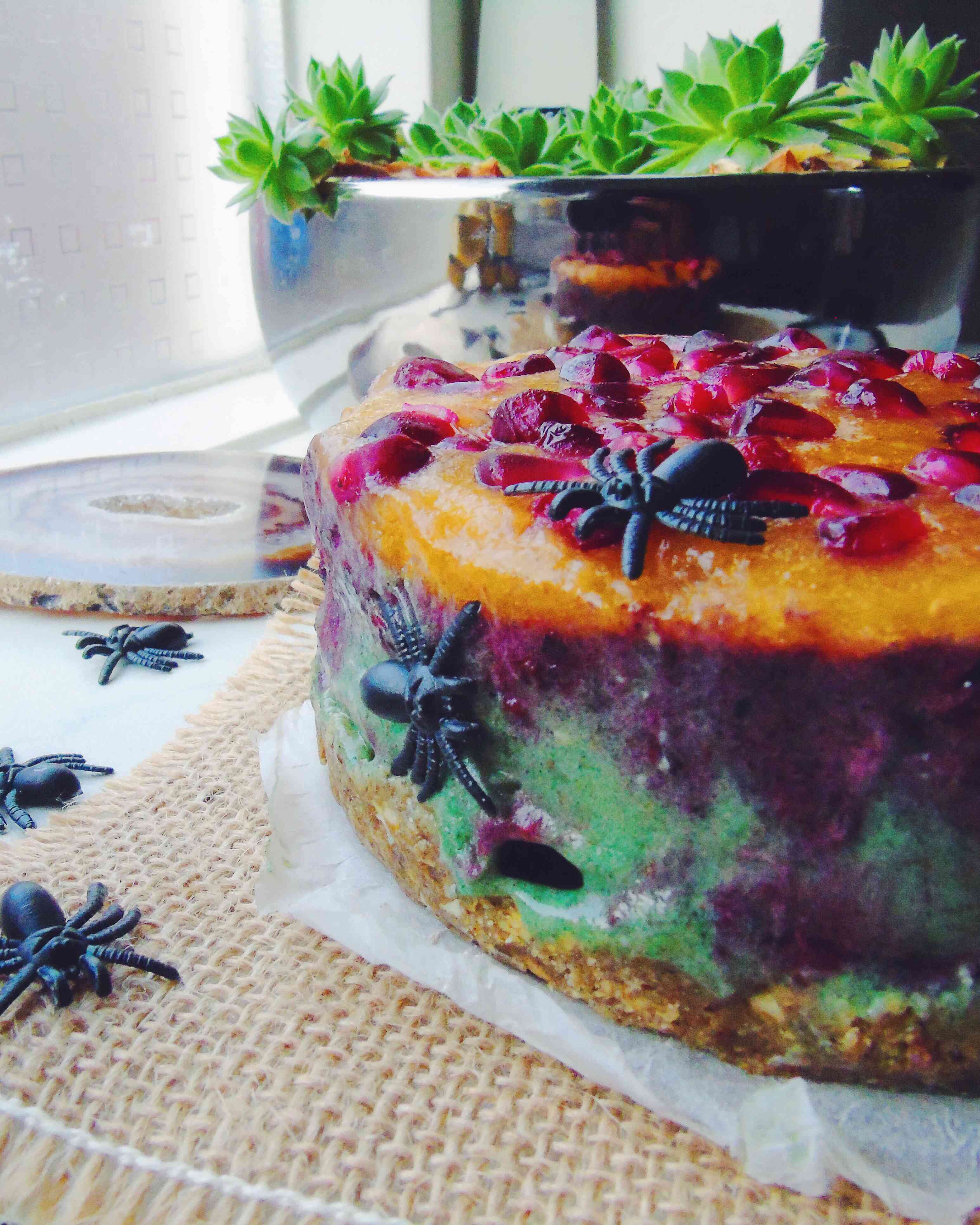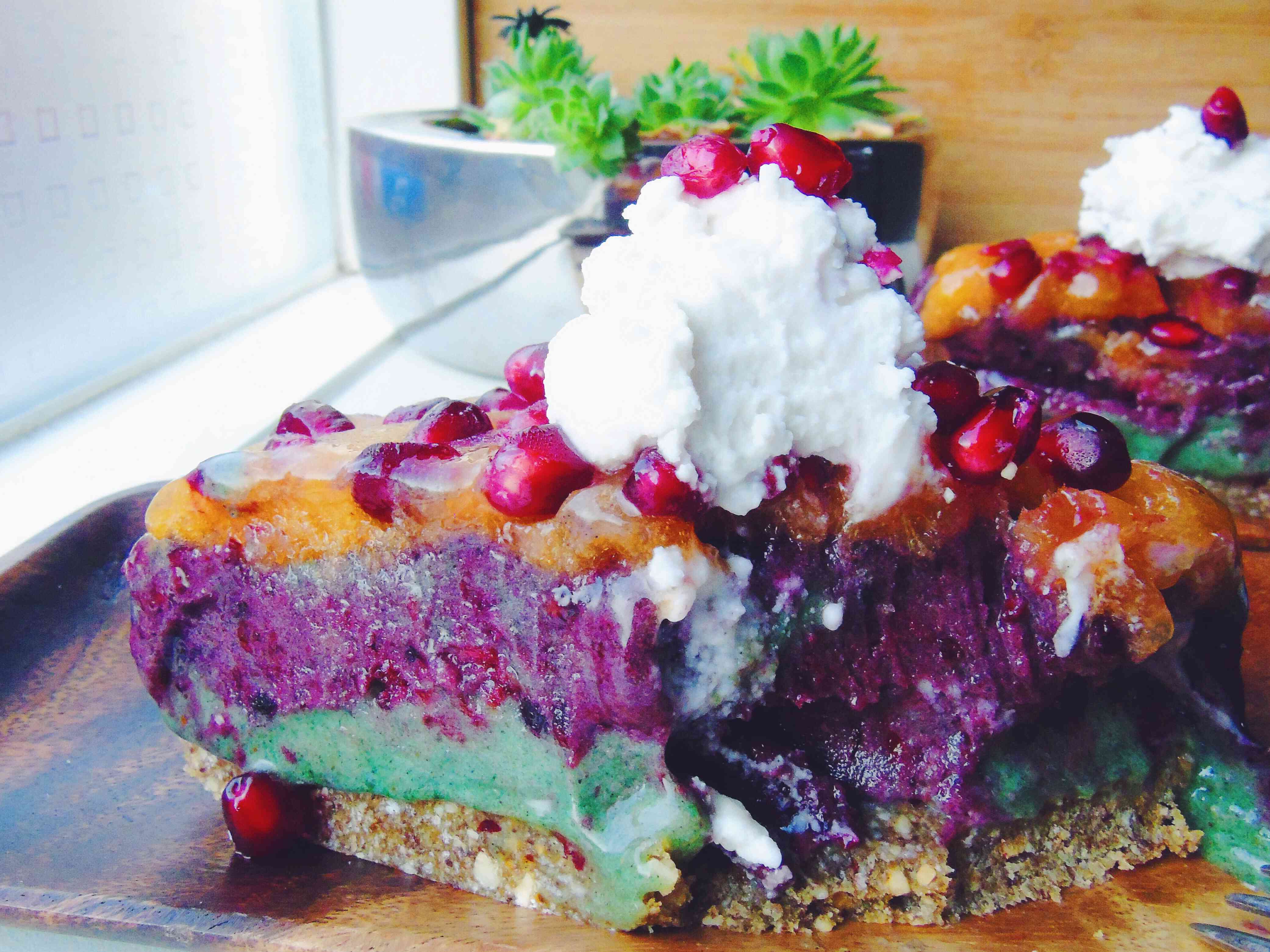 Spooky Pumpkin Spiced Ice Cream Cakes
Ingredients
Crust
1

cup

dessicated coconut

1

cup

cashew

1

cup

dates

1/4

tsp

cinnamon

ground

1/8

tsp

cloves

ground

1/8

tsp

all spice

ground
Ice Cream Layers
3

big

bananas

frozen

1/2

cup

blackberries

frozen

1/4

tsp

spirulina

ground

1/4

tsp

cinnamon

ground

1/8

tsp

cloves

ground

1/8

tsp

all spice

ground
Persimmon toppings
2

persimmons

(optional)

1

pomegranate

(optional)
What u need
parchment paper

5 inch cake tins

12,5 cm

food processor/blender
Instructions
crust
Put parchment paper on the bottom of your pie tins. Add your cashews, dates, spices and desiccated coconut to your food processor or blender and pulse a few times until everything comes together and you can form a ball.
Green ice cream layer
Add your frozen bananas, spices and spirulina to your food processor and process until you get a soft serve consistency. Spread halve of the batter on top of the crust.
Purple ice cream layer
Add the blackberries to the remaining ice cream and pulse until everything is well combined. Now add this on top of your green layer and place cake tins in the freezer.
Persimmon layer
Clean your food processor or blender and add in 2 very ripe persimmons and process until its like jelly. Add this on top of your purple layer and sprinkle with pomegranates. Put your ice cream cakes in the freezer for a couple of hours, and you are ready to eat!
Notes
if you don't like pumpkin spice then just use spices you prefer, like cinnamon or vanilla.
You can also use a storebought pumpkin spice mix