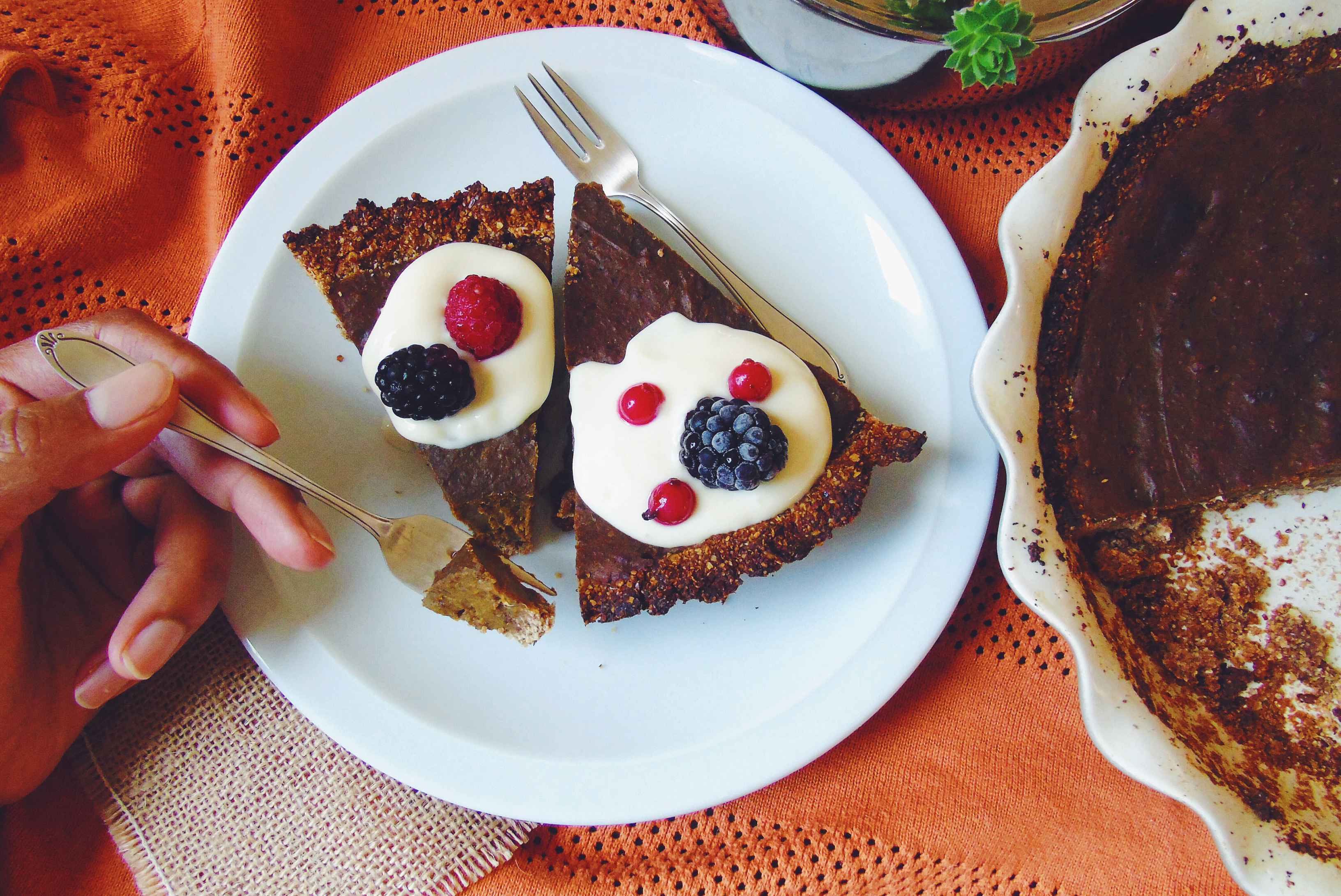 Its October, which means its the start of the holiday season! The end of the month halloween is celebrated, so i decided to make some halloween themed recipes for your halloween party. The first dish i wanted to turn spooky was pumpkin pie and after tons of tweaking i'm finally able to share this recipe with you! This pie is gluten free, refined sugar free and cruelty free, a great dish to serve at your party (or eat by your own, like i did)
What makes this pumpkin pie spooky? well it looks green… yeah thats all. Well i think that a green pie is very scary! Of course i used this recipe as another excuse to use spirulina. Im obsessed with the colour green, also spirulina has tons of nutrients, so its a healthy obsession! And i know what you're thinking the pie does look a bit brown on the pictures, but in real life is has a very dark green colour. Again this recipe is adjustable so feel free to tweak it to your own liking.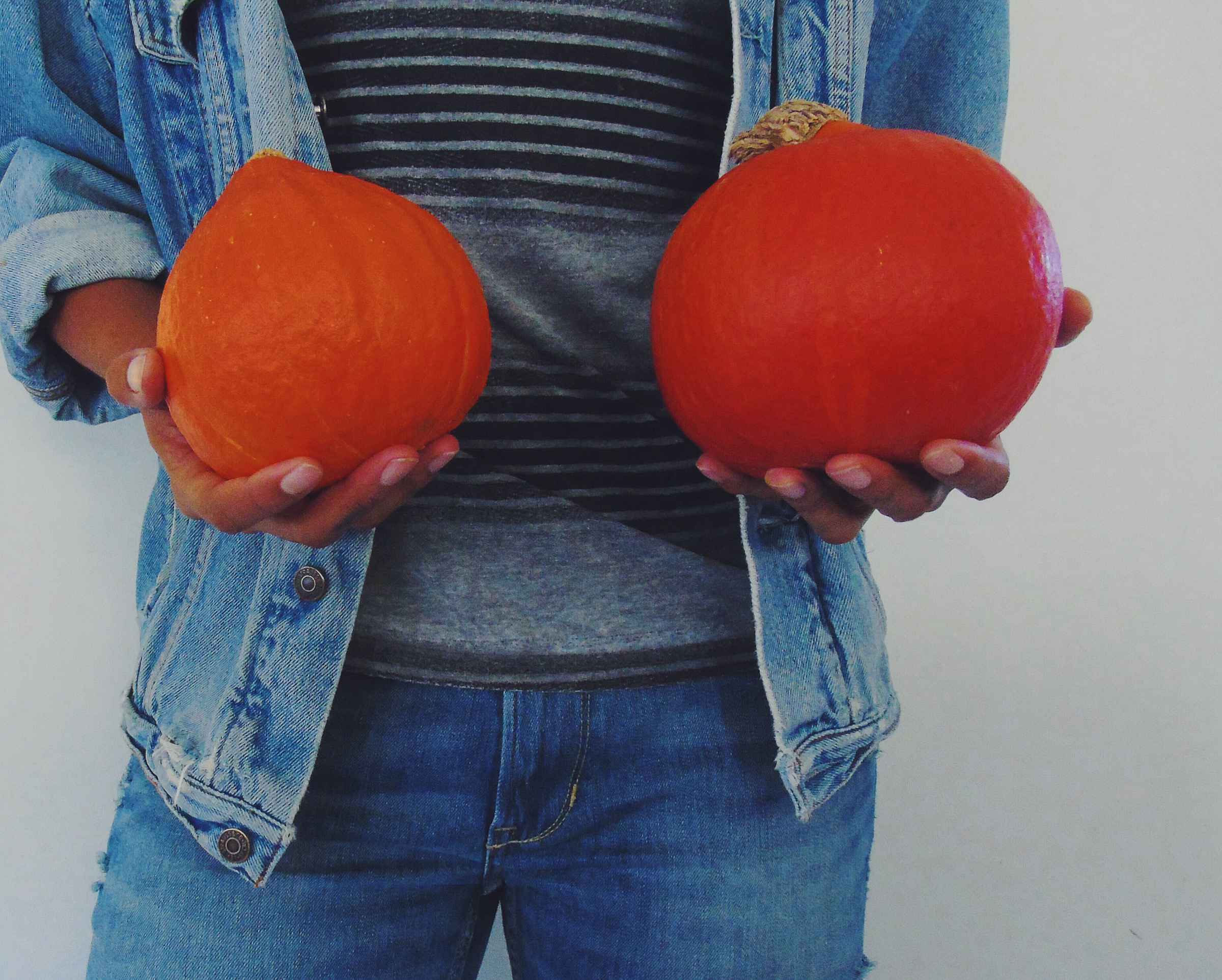 In all honesty, i've never been a big fan of pumpkin, not even pumpkin pie. I chose to go for a pumpkin pie because i wanted to give pumpkins another chance. This recipe was a lot of trial and error and i was scared i'd never like pumpkin pie, until i woke up this morning and tasted the deliciousness of this final pie, it is a winner! Its creamy, yet stiff and the crust is moist on the bottom and crunchy on the side, in my opinion, its perfect!
This was pie number three look how scary it is with the bat on top… The past week i've eaten so much pumpkin pie i thought i'd never be able to eat it again, until i made the final pie, i'm obsessed! And just because i made this halloween themed you should feel free to make this for your thanksgiving dinner, or just because you feel like it. And don't throw away those pumpkin seeds! You can roast them to make a yummy and healthy snack.
Ive been working on another fun and spooky recipe which i can't wait to perfect and share with all of you. Here is a little sneak peak of my next recipe.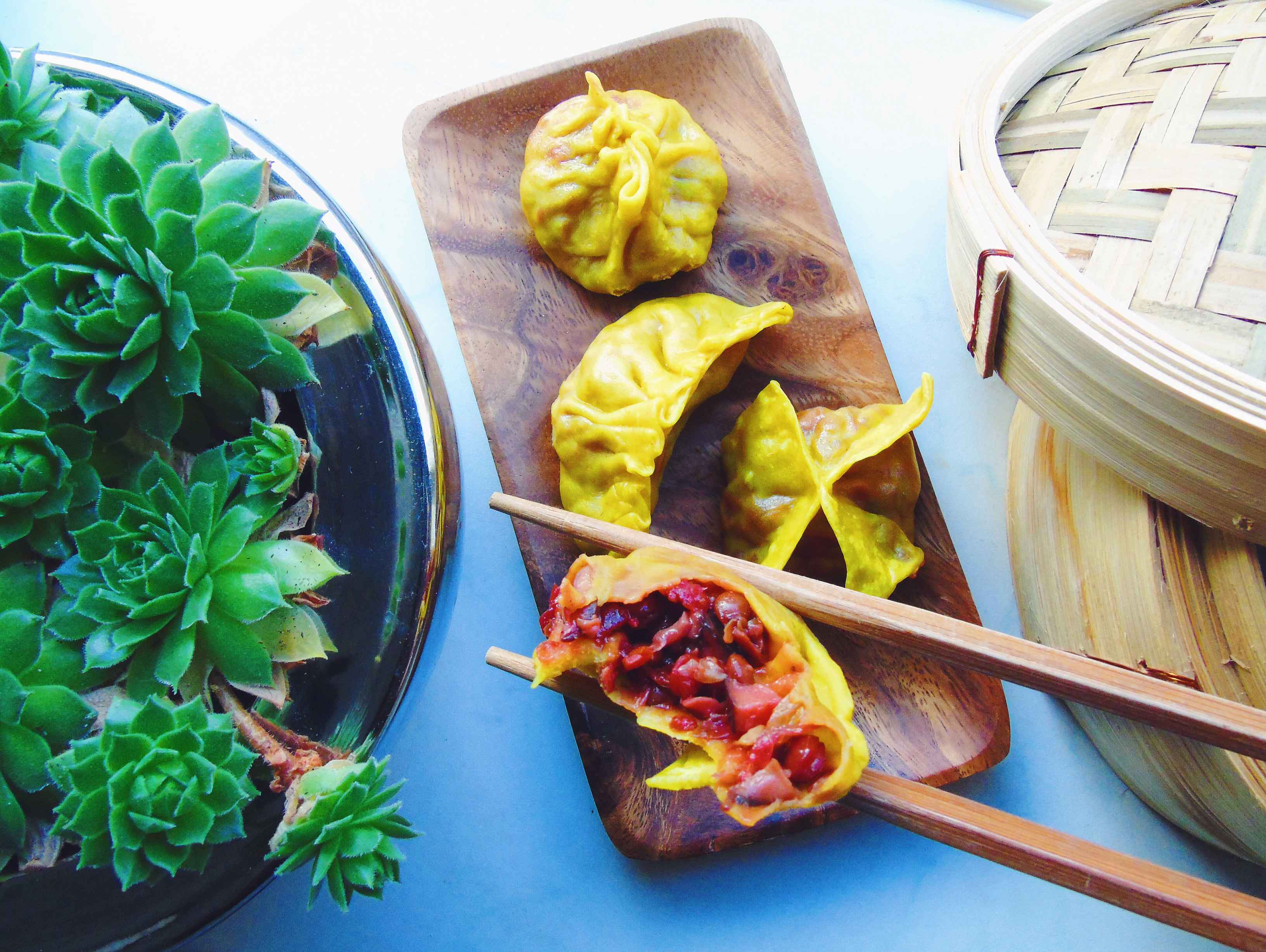 Who is ready for some bloody dumplings!?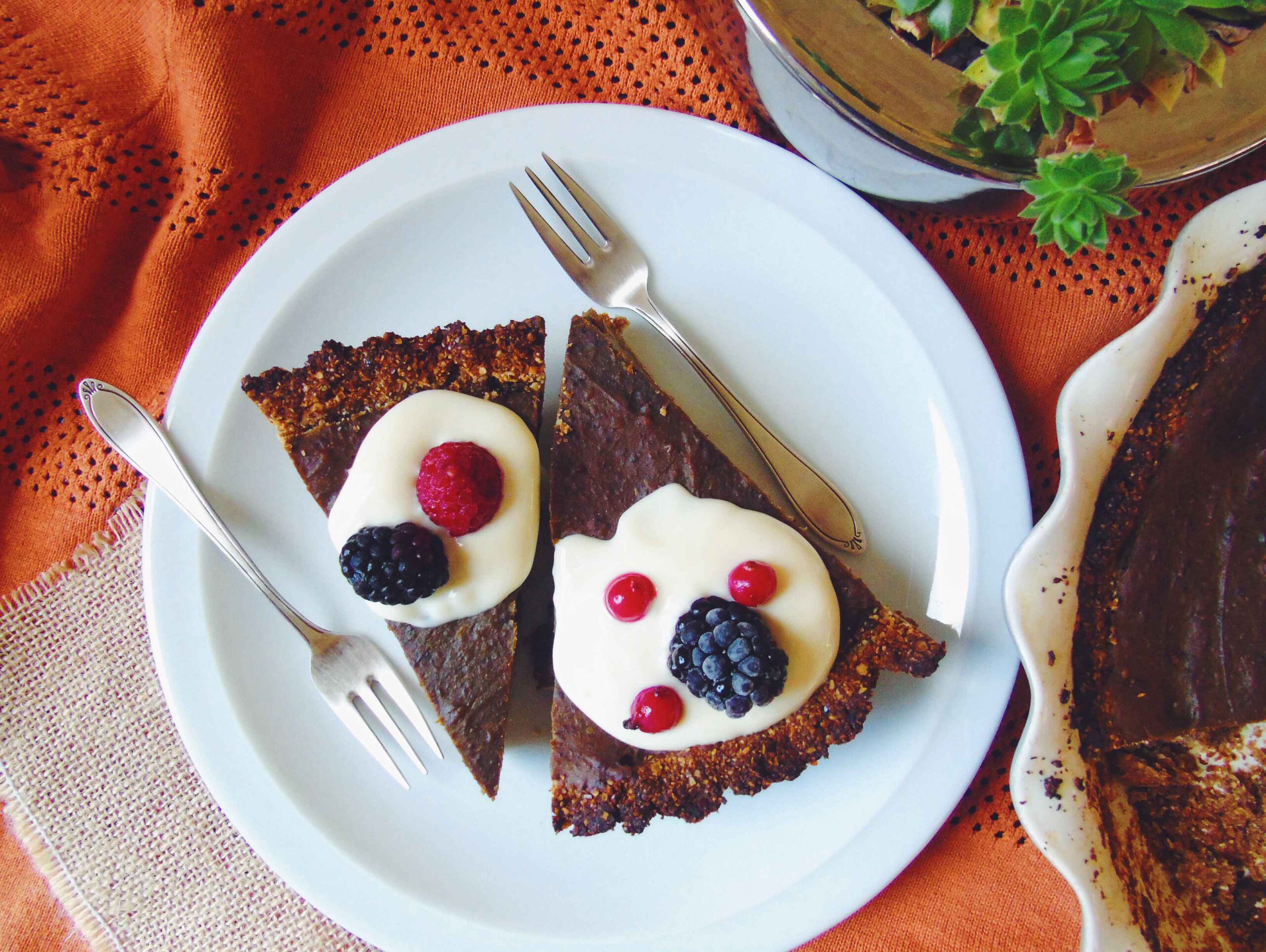 Spooky Pumpkin Pie - Glutenfree & Refined Sugar Free
Add this gluten free, refined sugar free, cruelty free and spooky pumpkin pie to your halloween party menu.
Ingredients
Crust
3

cups

oat flour

1/2

cup

pecans

ground

1/2

cup

dessicated coconut

optional

1/2

cup

date paste

2

tbsp

flax eggs

2 tbsp flaxseed + 4 tbsp water

2

tbsp

coconut oil

1

tsp

cinnamon

powder

1/4

tsp

star anise

powder

1/4

tsp

cloves

powder

5

tbsp

water
Filling
2

cups

Pumpkin puree

1

can

coconut milk

1

cup

date paste

3

tbsp

cornstarch

1

tsp

spirulina

2

tsp

cinnamon

1/4

tsp

cloves

powder

2

tbsp

peanut butter

(optional)

1

tsp

vanilla extract

(optional)
Instructions
Crust
Preheat your over to 350 Fahrenheit or 175 Celcius In a bowl combine all the dry ingredients and whisk them all together. After this you add the date paste, flax eggs and coconut oil*. Now wash your hands and start kneading it all together, adding a tablespoon of water at a time until the mixture holds together and you can shape it into a ball.

Take your pie dish, grease it with some coconut oil or vegan margarine. Now using your hands spread the crust all over the pie dish until its spread out evenly. Now pop the crust in your preheated oven for about 5 minutes.
Filling
Cut your pumpkin, scoop out the seeds, cut it in strips and take off the skin. Now put them on a piece of parchment paper in your preheated oven and roast until they are fork tender. Or you can skip this step all together if you are using canned pumpkin puree.

Take the roasted pumpkin and mash it up (or open your can of pumpkin puree) now in a food processor add all the ingredients except the cornstarch and pulse until everything's well combined and smooth.

Now put the puree in a large saucepan and turn the heat to medium. Keep stirring so it doesn't stick to the bottom and when hot add the cornstarch (i mixed my cornstarch with some water beforehand to avoid lumps of cornstarch in the filling) and mix until incorporated.

Now spread your mixture on top of the crust and pop it in the oven for about 40 to 45 minutes. After taking it out of the oven let it cool for at least 3 hours or overnight (this is very important)