I'm at a point that I've drifted so far from the original recipe of a sushi roll, that I'm not even sure if I can technically call this sushi, but what the heck!? let just call this sushi, I'm pretty sure it isn't gimbap either, the sushi chefs will forgive me!
When it comes to "sushi" I love experimenting and coming up with new recipe ideas, it's always a fun and yummy adventure, leaving my kitchen cluttered and my belly stuffed. You can find some of my older sushi recipes through these links, for a rainbow sushi click here and I've also got a more tropical gimbap recipe over here.
Now when it comes to this recipe I was inspired by heat, lots of heat! People that know me know I have a crazy tolerance for spicy food, growing up I would put cut up pieces of adjuma pepper on my bread and call it a sandwich (true story), at this point my stomach must be lined with sheets of metal. So its only natural that I had to come with a recipe for a spicy sushi roll, it surprises me it took me this long too make one!
Knowing that I can take things overboard I kept these rolls hot but not insanely hot, you can always decide to skip on heat, or add some if you like your food hot and spicy. To make them spicy I used gochugaru which are Korean red pepper flakes, but feel free to try using chilli flakes! Another ingredient that should get some recognition is the black rice, which by some is considered the most healthy grain of rice, with a high amount of antioxidants, even more than blueberries. They have a unique chewy texture and get a bit sticky, which in my opinion works perfectly with the creaminess of the coconut milk and spices.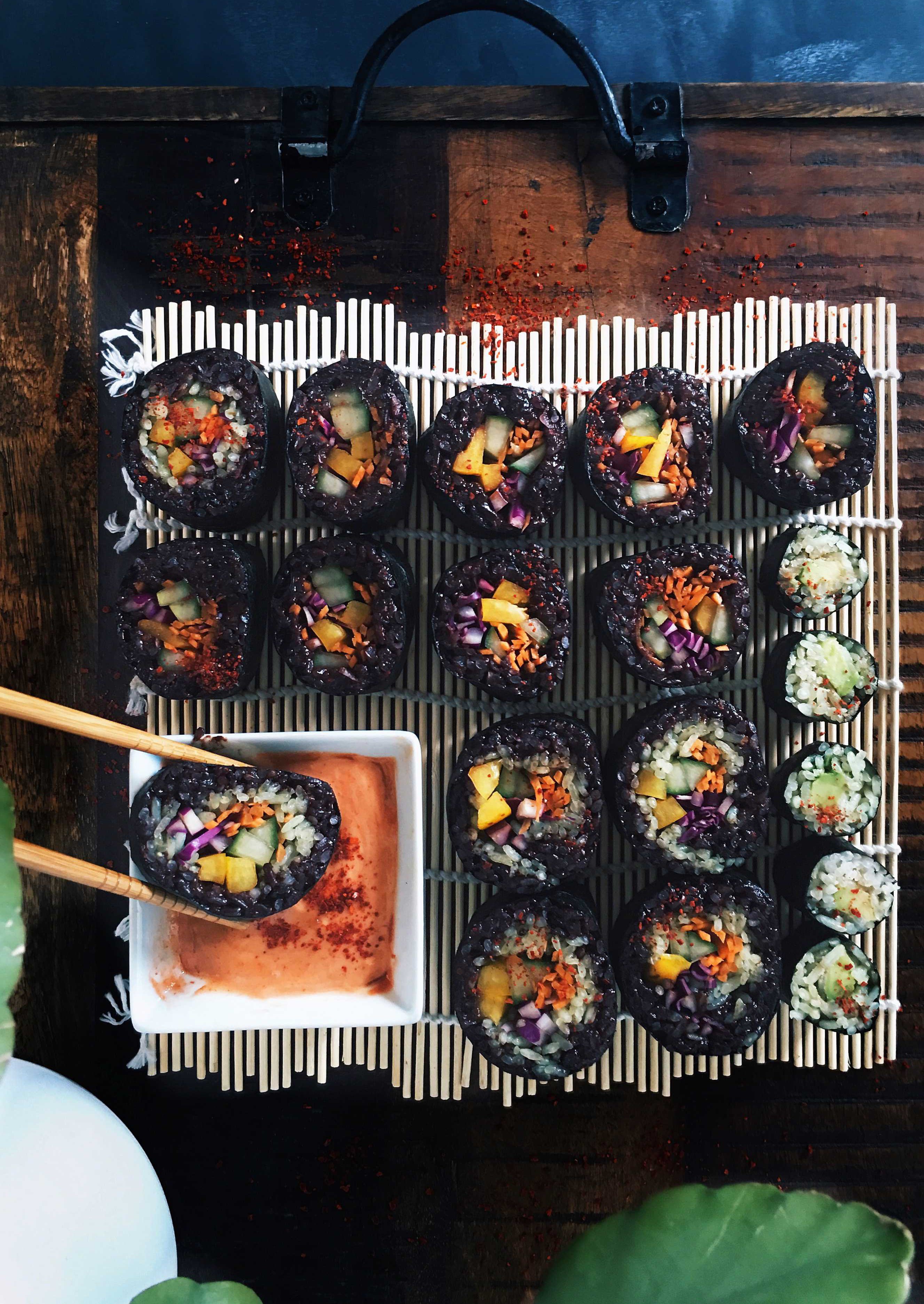 You can have these rolls as is, because the rice is seasoned with garlic and onion powder, combined with the heat and sweetness of the sugar they are perfectly enjoyed on their own. Of course if you can add some heat by having some hot sauce on the side, if you are a true lover of spicy food you should definitely have some hot sauce on the side.
I also had some simple maki rolls with simple short grained rice seasoned with sesame oil and filled with some avocado, because why not?
Now its your turn to make these rolls and if you do feel free to leave a comment below and I'd love to see your recreations which you can show me by tagging me into your pictures on instagram.
Much Love and Enjoy,
A.J.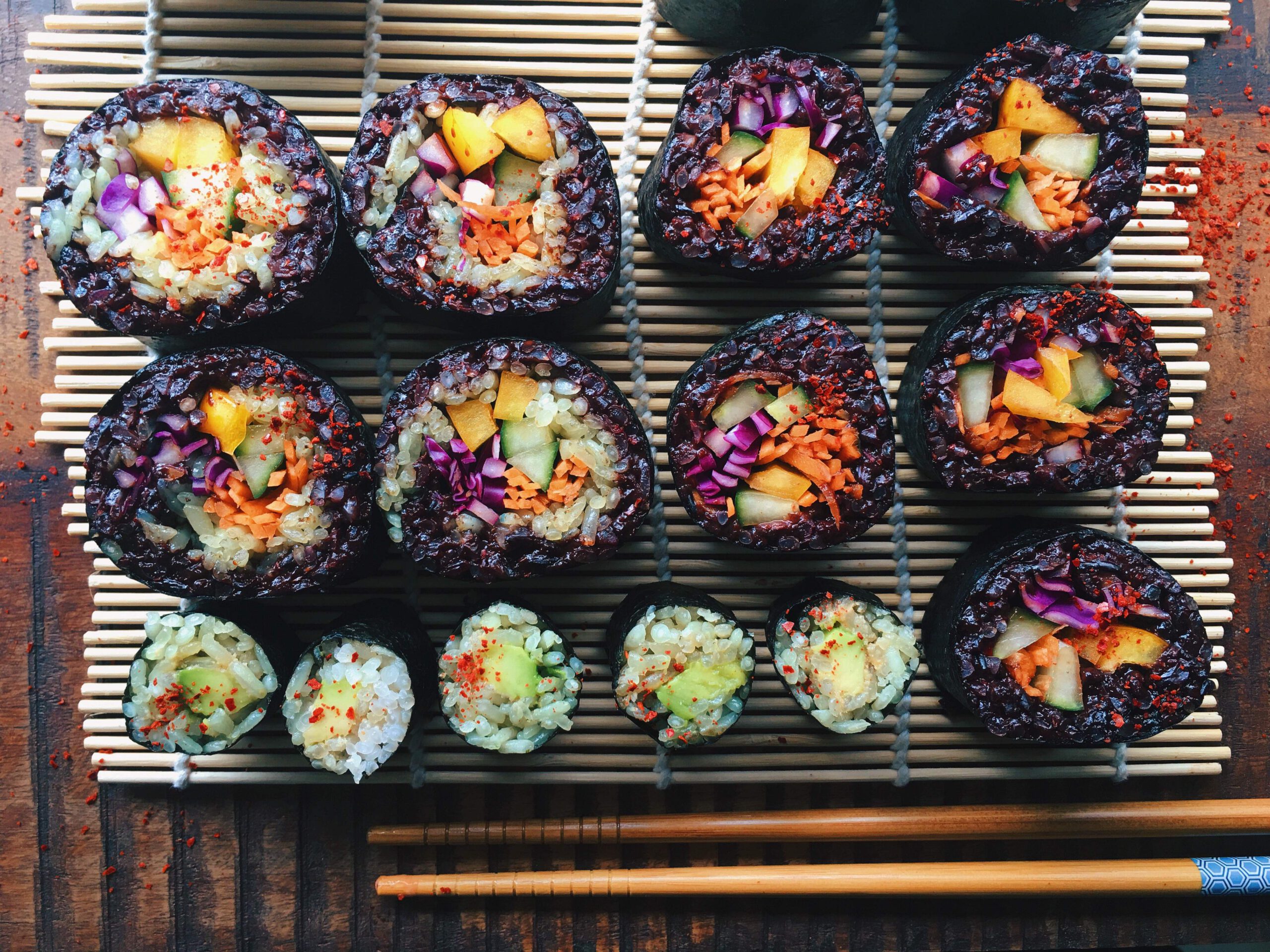 Sweet & Spicy Sticky Coconut Sushi
Ingredients
1

cup

black rice

1

cup

water

1

cup

coconut milk

full fat

3

tbsp

gochugaru

or hot chilli flakes

2

tsp

raw cane sugar

1/4

tsp

onion powder

1/4

tsp

garlic powder

1

cucumber

1

carrot

1

yellow bell pepper

purple cabbage
Instructions
Wash the rice at least 3 times. Now add the water and the coconut milk to the rice in a pan and bring it to a boil, cover the pan and turn the heat to medium/low and let the rice simmer for about 30 minutes. You should be left with a sticky but not wet rice, if it is still to wet let it steam/simmer for another 5 minutes, making sure the bottom doesn't burn.

Add the rice to a bowl to let it cool and add the hot chilli flakes, sugar, onion and garlic powder and mix to combine, using a wooden or rice spoon.

Once the rice has cooled you can place a sheet of nori (shiny side down) on a bamboo rolling mat or clean dish towel en place the rice on top of the nori leaving about one inch without rice, top the rice with the veggies and tightly roll to form the roll. You can wet the end of the nori a bit to make it stick. After letting them sit while you roll the remaining rolls you can cut them with a very sharp and or wet knife to make perfect slices. Enjoy.