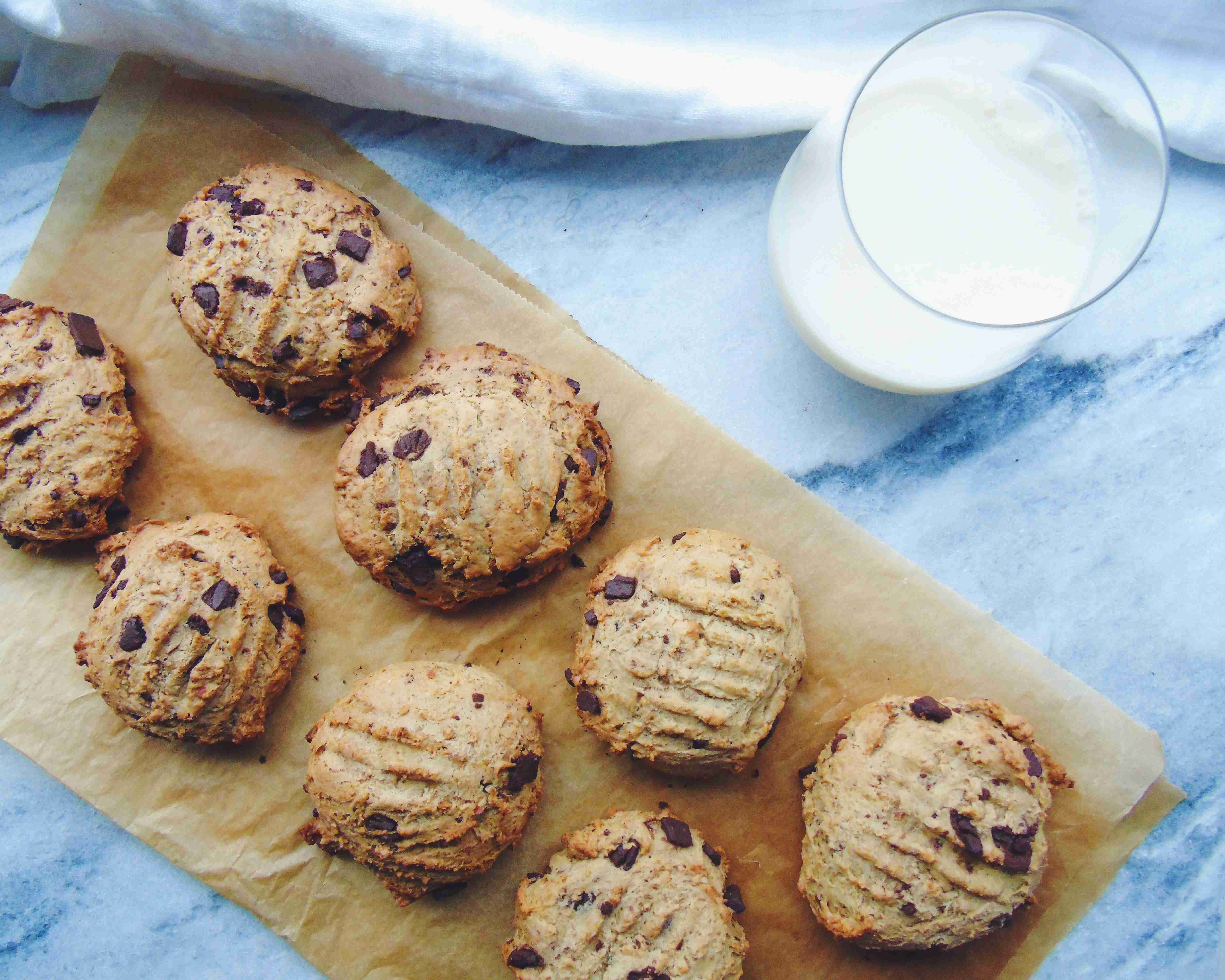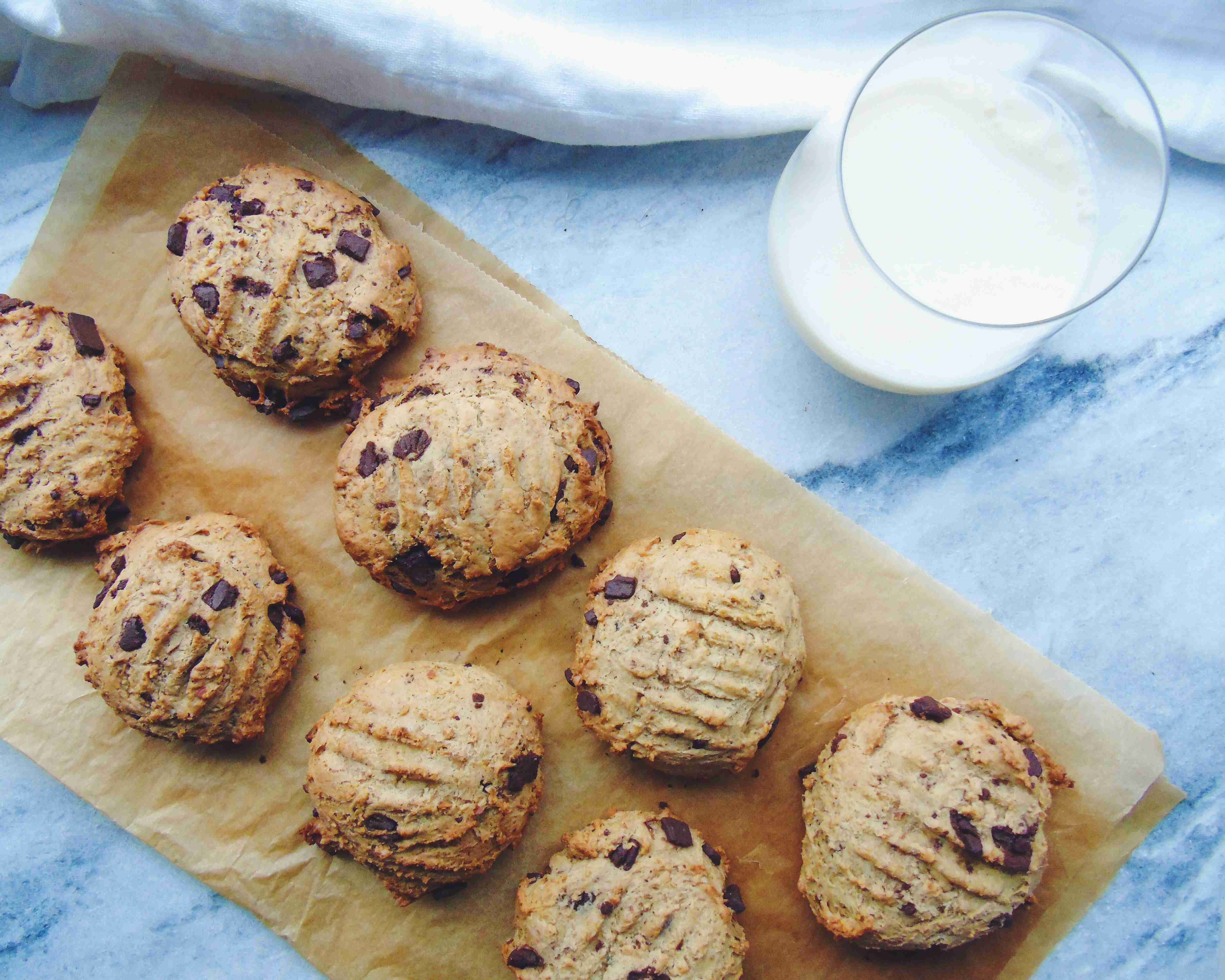 Chocolate chip cookies and almond milk, yes vegans can have it all! I really love chocolate chip cookies, but many store bought cookies either have unnecessary ingredients, are not vegan or are too expansive. I found myself (as usual) standing in the kitchen thinking what to make and then i thought "let me just look at what ingredients i have by hand, bake some cookies and hope for the best" one word, success! This recipe is super easy and quick to make, i mean fresh chocolate chip cookies in less then 20 minutes, sign me up!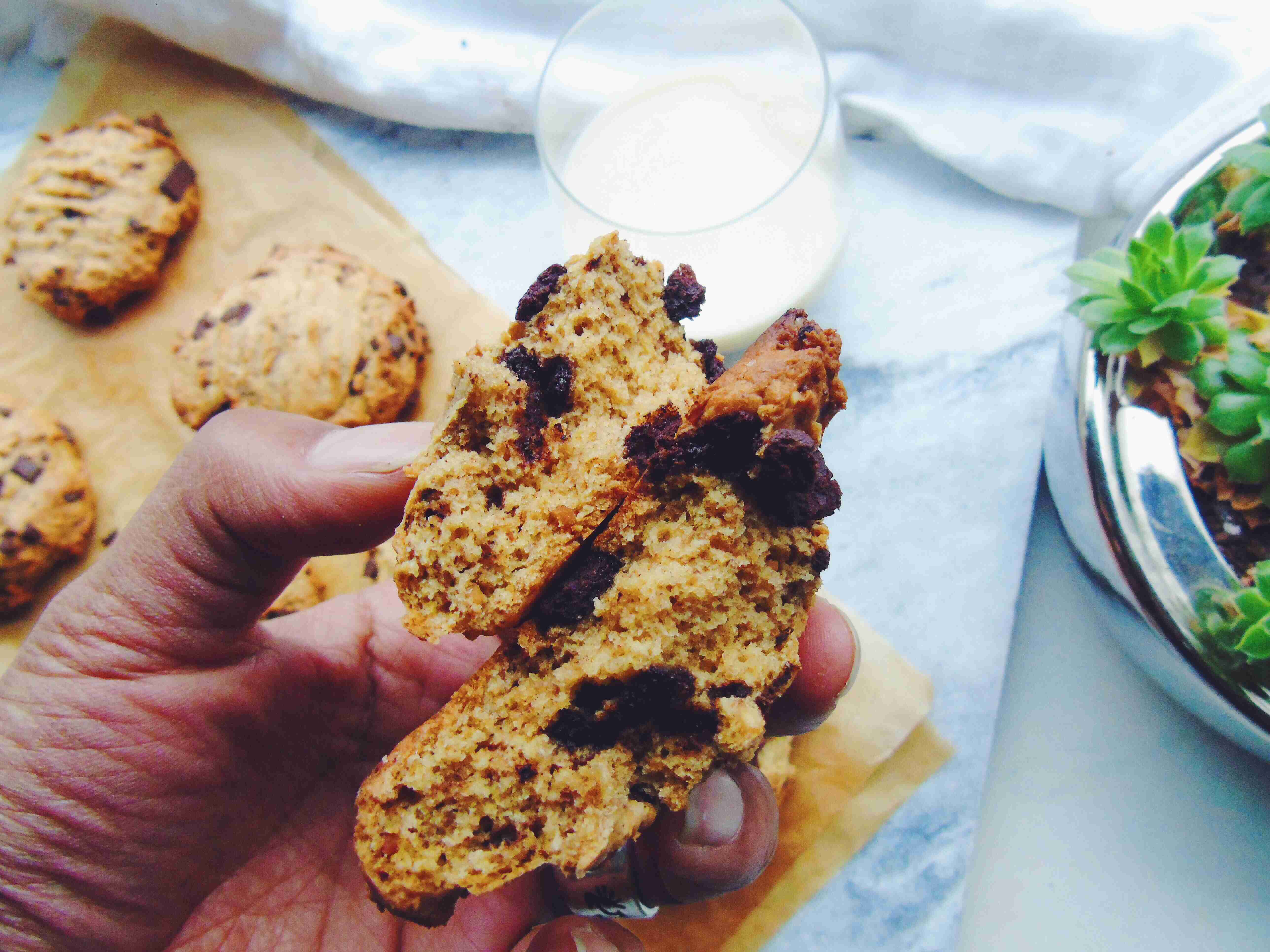 These cookies are really thick, crisp on the outside, cakey on the inside with an exotic twist, they are magical. I found that the combination of peanut butter, cinnamon and cardamom works extremely well in this recipe, but if you dislike cardamom you can definitely leave it out.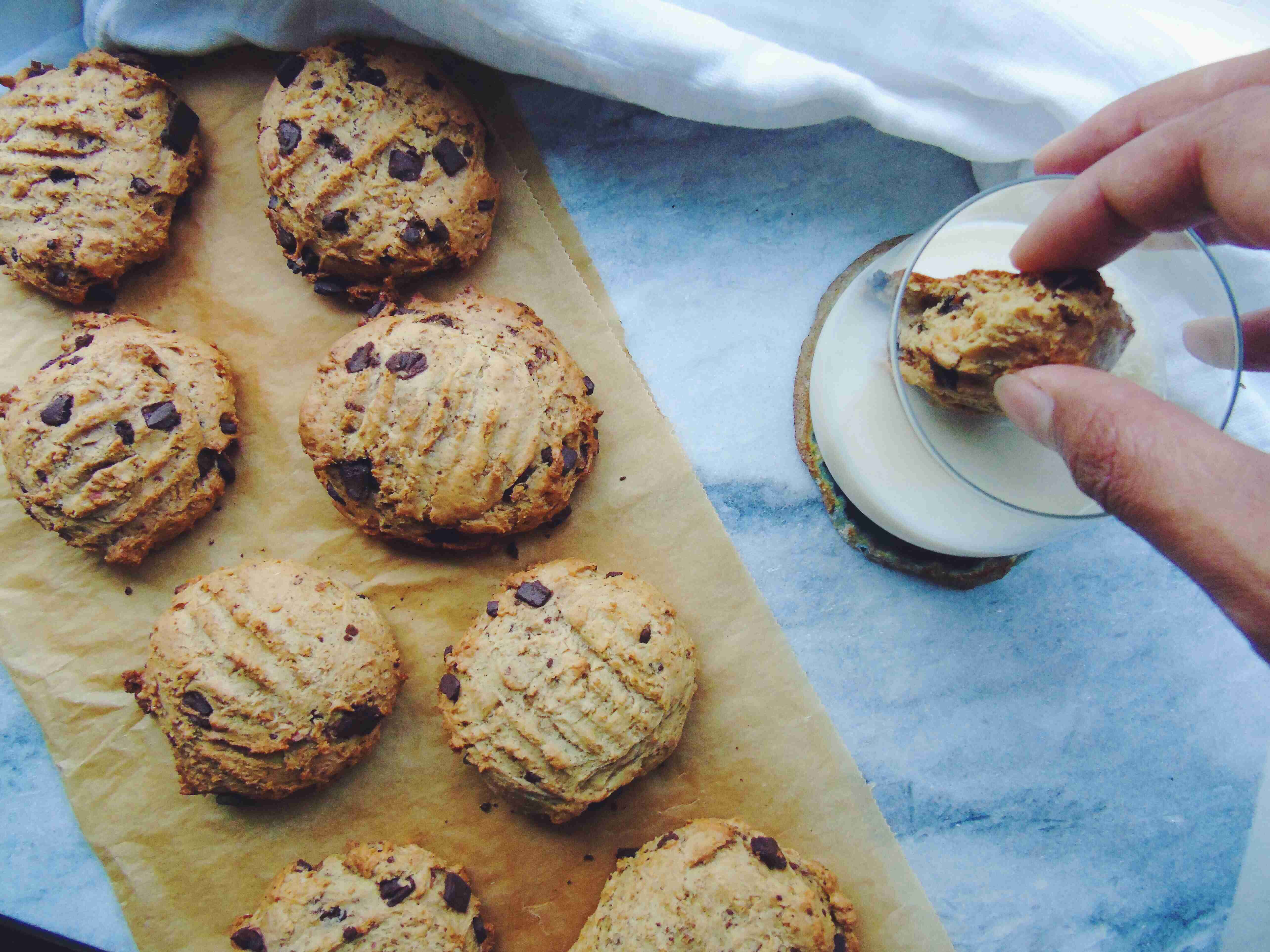 Another thing (or ingredient) that makes these cookies the bomb is peanut butter. Because peanut butter is naturally fatty this recipes doesn't require extra oils or butter. If you are allergic to peanut butter you can also try to make these using other nut butters, maybe even sunflower seed butter? if it works let me know. I also used applesauce as an egg replacer. Also note that you can take any vegan chocolate, chop it up and use it as chocolate chips (this is actually what i did).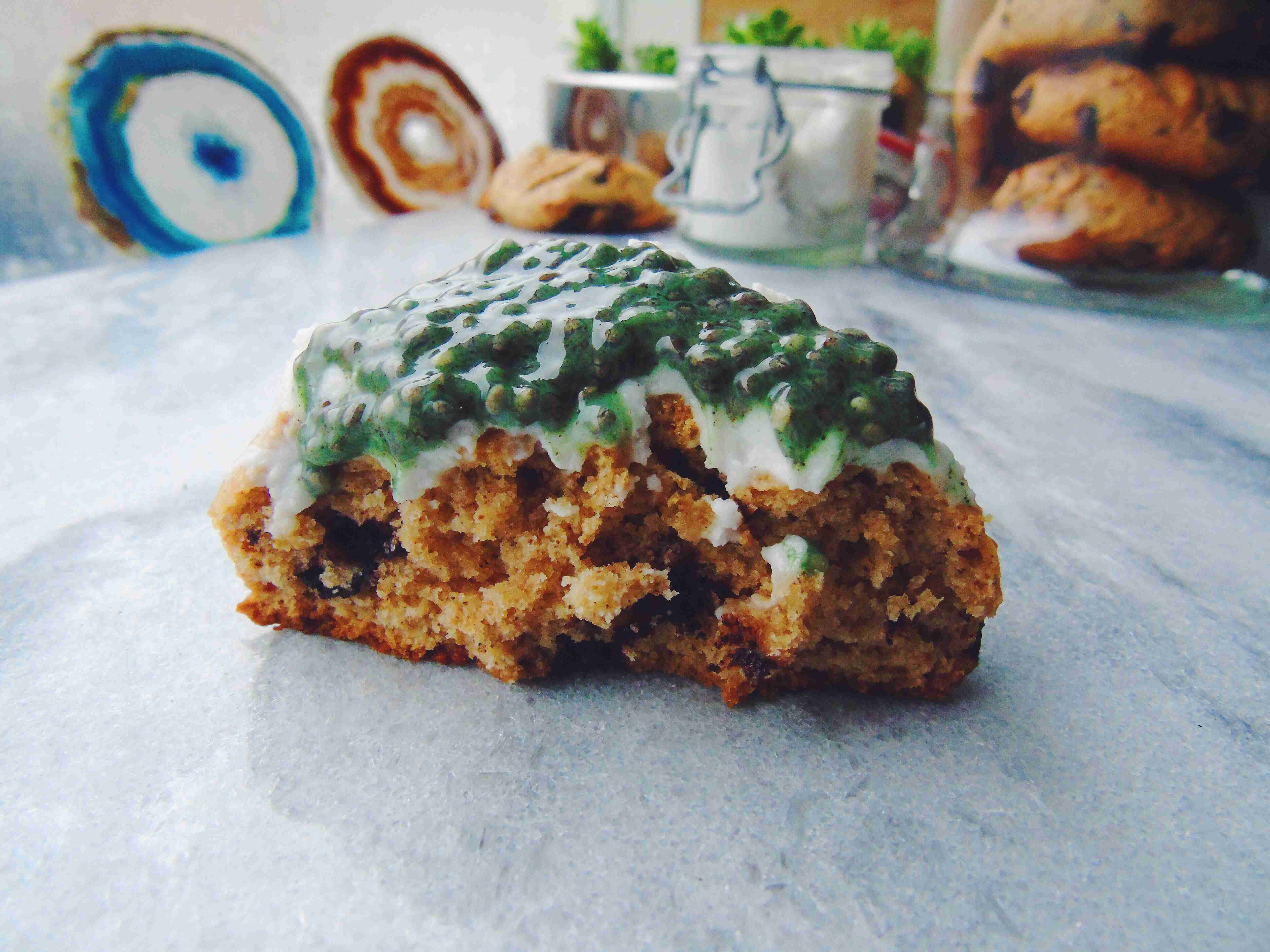 Take a look at this beauty, i topped it with coconut whipped cream and spirulina chia pudding, heaven! I love to eat these by dunking them into some non dairy milk or, as pictured above, have them with coco whip.
Coconut whipped cream is so easy it doesn't even need a recipe. Just take a can of full fat coconut milk (not the low fat kind, this will not work) and refrigerate it overnight so the fat can separate from the liquid. Once chilled flip your can of coconut milk and scoop the cream into a bowl, now with a whisker you need to fluff it up a bit and you are done. You could also add a sweetener of choice, this time i used agave.
If you make these cookies and let me know if you liked them!
Bless.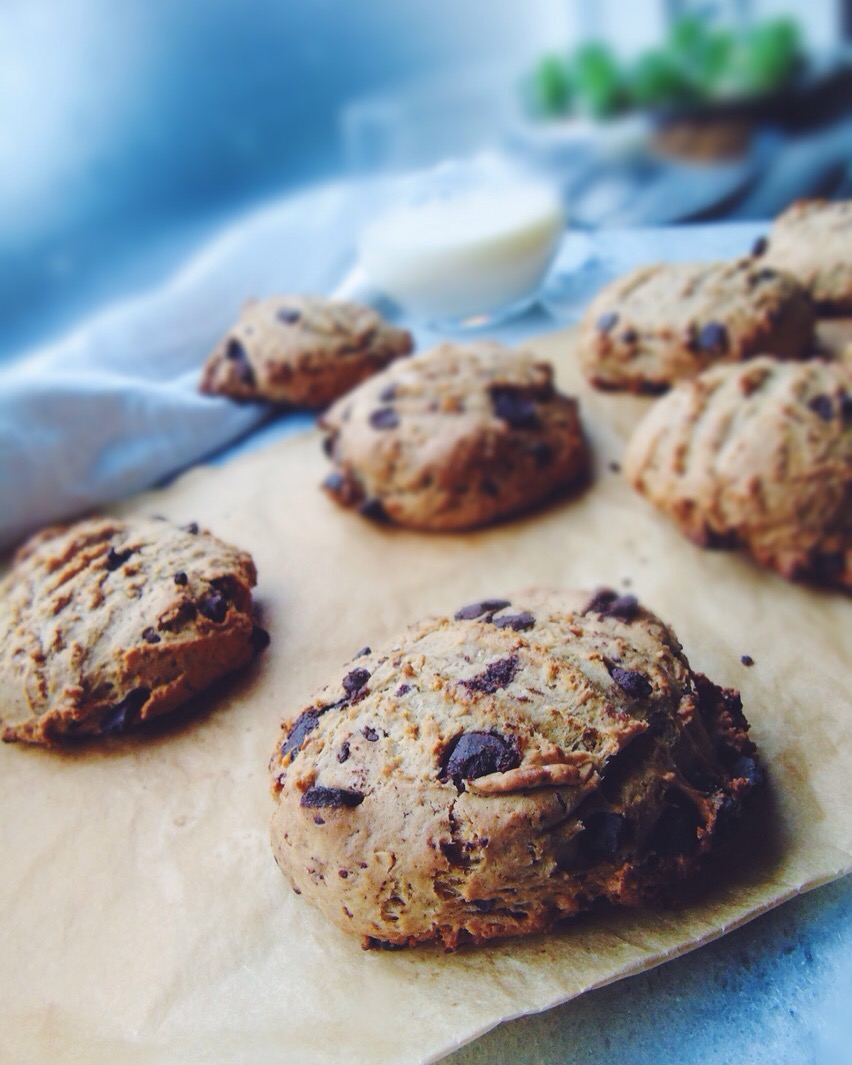 Peanut Butter Cardamom Chocolate Chip Cookies
These cookies are really thick, crisp on the outside, cakey on the inside with an exotic twist, it's pure magical.
Ingredients
1/3

cup

non dairy milk

5

tbsp

peanut butter

1/2

cup

cane sugar

or sugar of choice

2

tbsp

apple sauce

1 1/2

cup

flour

1/2

tsp

baking powder

1/4

tsp

cardamom

ground

1/2

tsp

cinnamon

ground

1

handfull

chocolate chips
Instructions
Preheat your oven to 350F or 175C. Add the sugar, milk, peanut butter and apple sauce to a bowl and mix until combined.

Now to a sifter add 1/2 cup of half of the flour and then add the baking powder, cardamom, cinnamon and add the rest of the flour on top. Sift the flour into the bowl of wet ingredients and mix until well combined. Be sure to not over mix the dough cause this will cause the cookies to become gummy.

Now with an ice cream scoop (or spoon) even sized balls onto a baking tray covered with parchment paper. Place into your preheated oven and after about 6 minutes take a fork and mash press it on top of the cookies to flatten it out a bit.

After approximately 15 minutes (depending on your oven and how thick you made your cookies) your cookies are done!