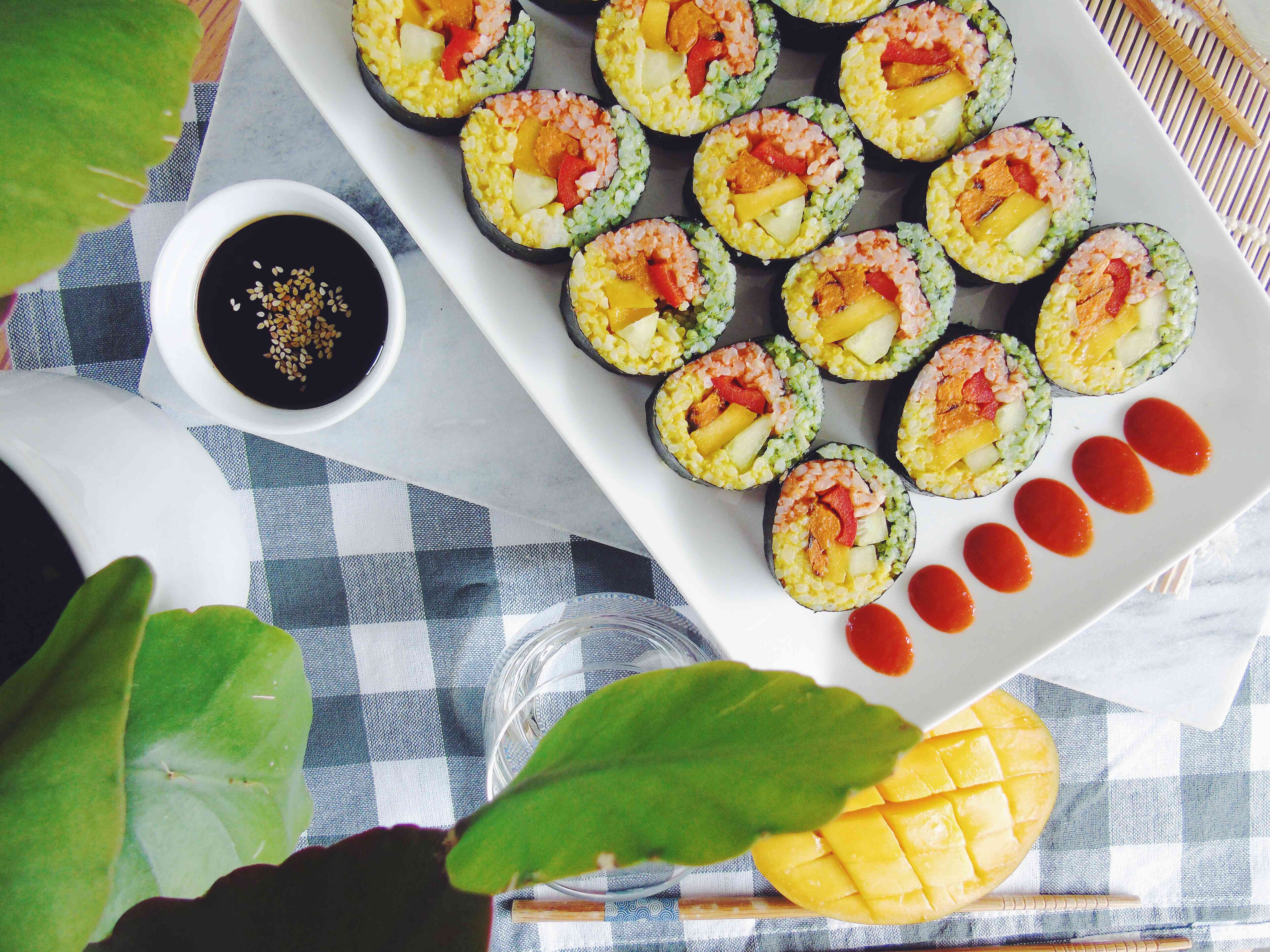 This is not the first and definitely wont be the last colourful Gimbap/Sushi recipe appearing on this blog. This recipe could be considered sushi as I use rice vinegar to season the rice, but is also influenced by Korean cuisine because of the gochujang and sesame oil, so you might as well consider this to be a Gimbap. No matter what you call it, these rolls are delicious.
These rolls are very special in particular because they are inspired by the Caribbean and my surinamese roots. How you might ask? The colours of course! And of course the curry roasted sweet potato and mango I used as a filling. I basically grew up listening to Reggae and eating lots of spicy foods, as for spice I went with gochujang one for its colour and two because it has a mild spiciness. Believe me when I tell you that my tolerance for spicy food is non human, this is why whenever I cook for others I have to stay very mindful of this fact and use minimum to no hot peppers, but rather serve hot sauce, hot chutney or sambal on the side. In my opinion is gochujang mildly spicy (depending on the brand), so safe for most to consume.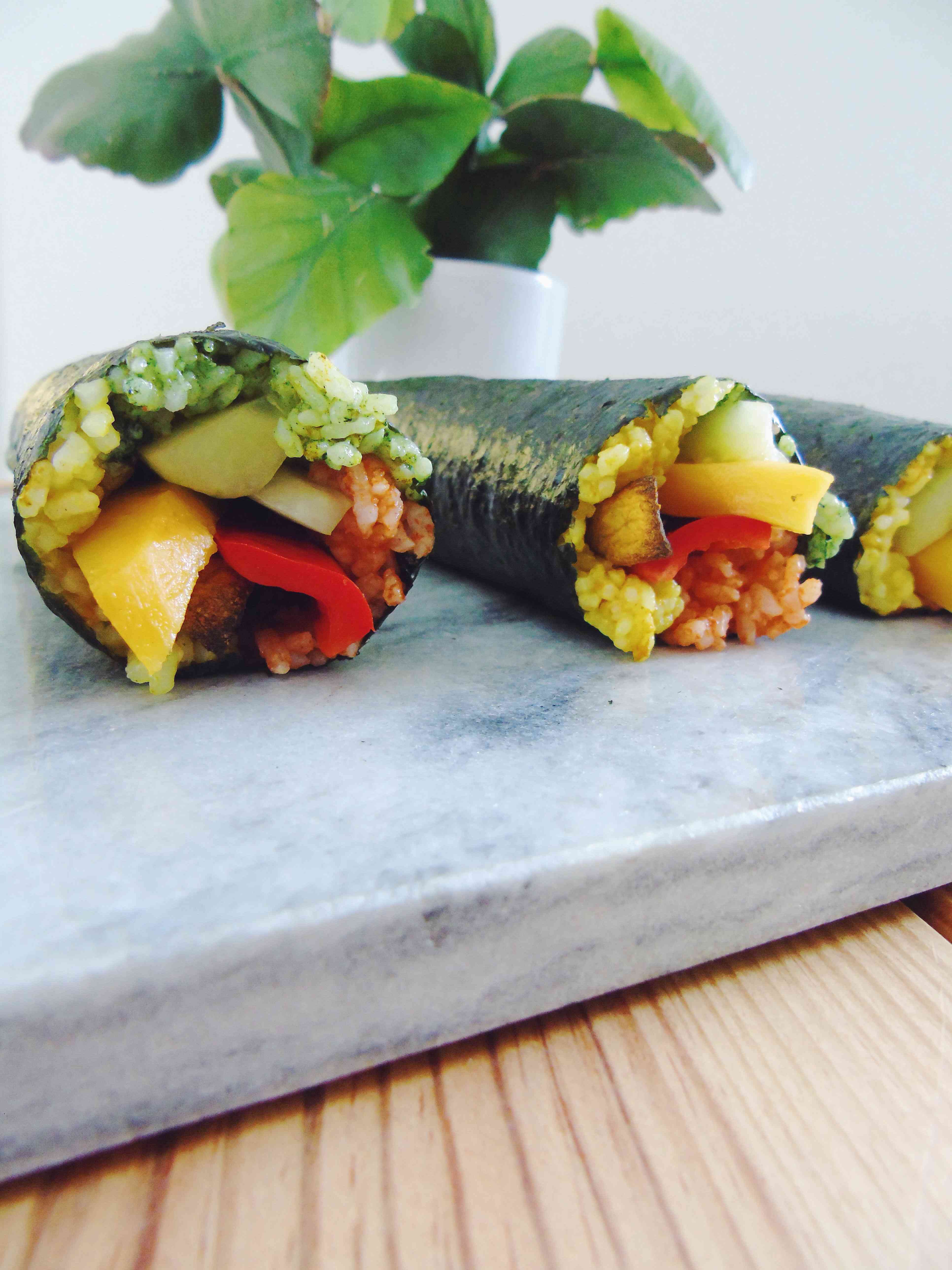 This is a recipe where I do recommend using the rasta colour scheme, they will rock your dinner party! I promise. If you think gochujang is to spicy go for beet powder instead, this will create an even more distinct red colour. When it comes to fillings you can play around with whatever you like, but I do recommend to incorporate this with the mango and sweet potato.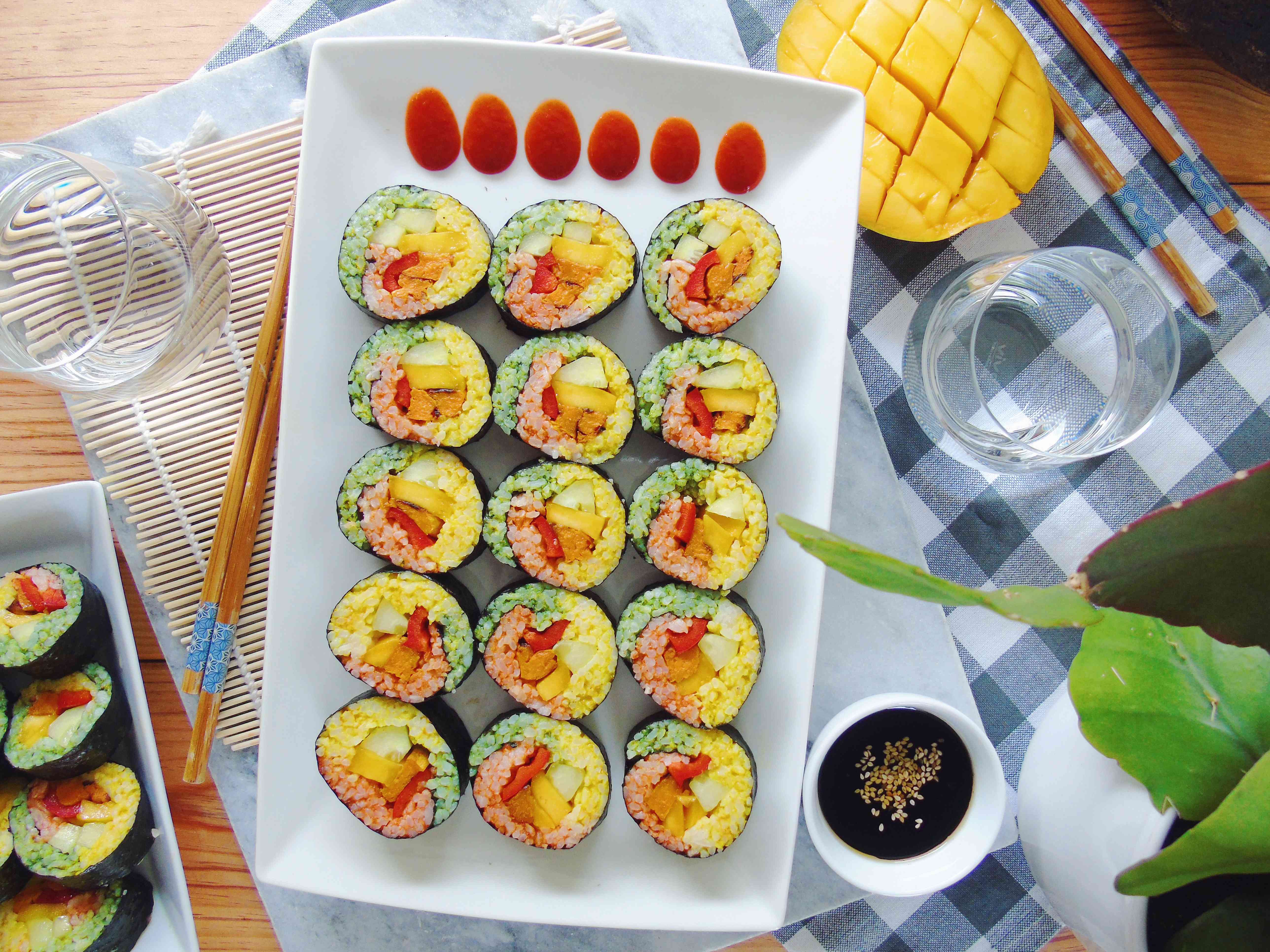 The sweet potato and mango go together so well, the thought still has me drooling. This dish will be a perfect addition to your (dinner) party or any other occasion to be honest. Take it on a picnic or bring it as a lunch, maybe even have it for breakfast, I wont judge!
I hope you enjoy these fusion dishes as there are many more to come! If you make this dish tag me in your pictures as I'm curious to see your twist on this colourful dish, or leave a comment below.
One Love!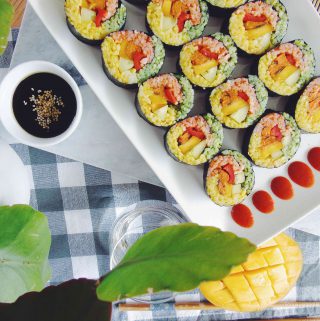 Tropical Rasta Sushi
Ingredients
Sushi Rice
2

cups

uncooked sushi rice

3

tbsp

rice vinegar

2

tsp

sesame oil

1

tbsp

gochujang

turmeric

spirulina
Fillings
1

sweet potato

Medium/Big

1

tbsp

oil

1

tsp

curry powder

1

mango

1

cucumber

1

red bell pepper
Instructions
Sushi Rice
Cook your sushi rice following the instructions on the package. Before you divide the rice add it to a bowl and mix in the rice vinegar and sugar using a wooden spoon or spatula. Divide the rice in three and start colouring: Red - Add a tbsp of gochujang yellow - Add enough turmeric to make it yellow + 1 tsp sesame oil Green- Add enough turmeric and spirulina + 1 tsp sesame oil
Filling
Preheat your oven to 200 degrees Celcius and cut your sweet potato into strips. Cover them in a bit of oil and coat them with curry powder and a pinch of salt. Bake these for about 20 minutes. Cut the remaining ingredients into strips and eat the core of the cucumber, this is only gonna make the sushi soggy.

Now place a piece of nori on a rolling mat and start placing the rice from top to bottom, now place the fillings on the rice and roll the nori tightly. wet the end and place it with the closed part down, repeat this with all the rolls. When all the rolls are done cut them with a wet knife and eat them with hot sauce, soy sauce or however you like them. enjoy.