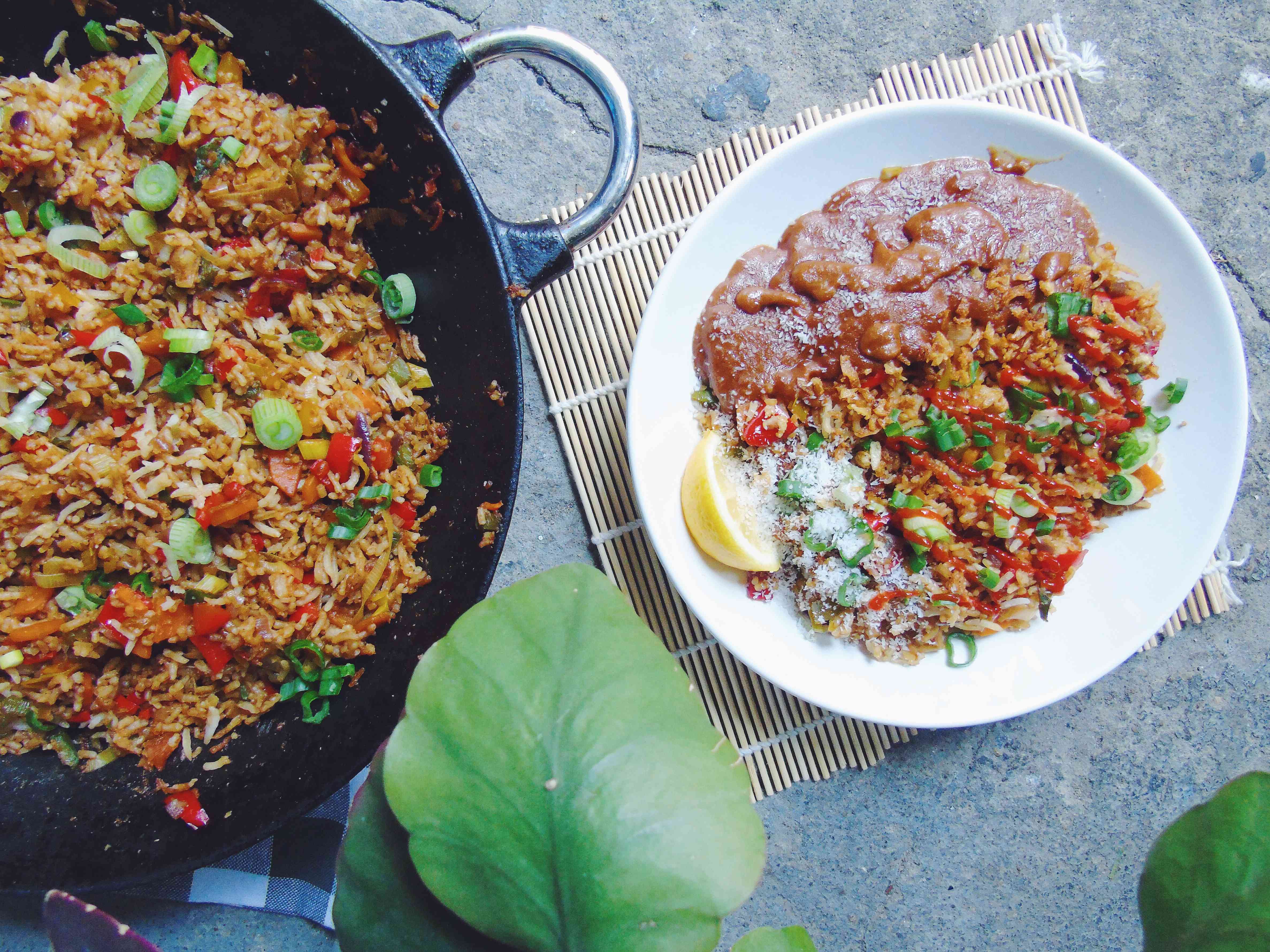 One of the things I try to avoid at all cost is spoiling food, so dishes that use leftovers and kitchen scraps are high on my list of favorites. Vegetable fried rice is one of those dishes that allows you to use your imagination when it comes to vegetables and spices, you can really use whatever vegetable scraps you've got stashed in your fridge. Besides using scraps you can also use your leftover rice to make this dish. Often I catch people throwing away their leftover rice, which makes me gasp, because its perfect for making fried rice, and a ton of other dishes.
Growing up fried rice used to be one of my favorite meals, I loved the spices and didn't mind eating all the vegetables, ofter I didn't even notice them, this was awesome because I was kind of a picky eater. Luckily I grew to absolutely love vegetables and dishes like this always surprise me because of the amount of vegetables you can stuff in them.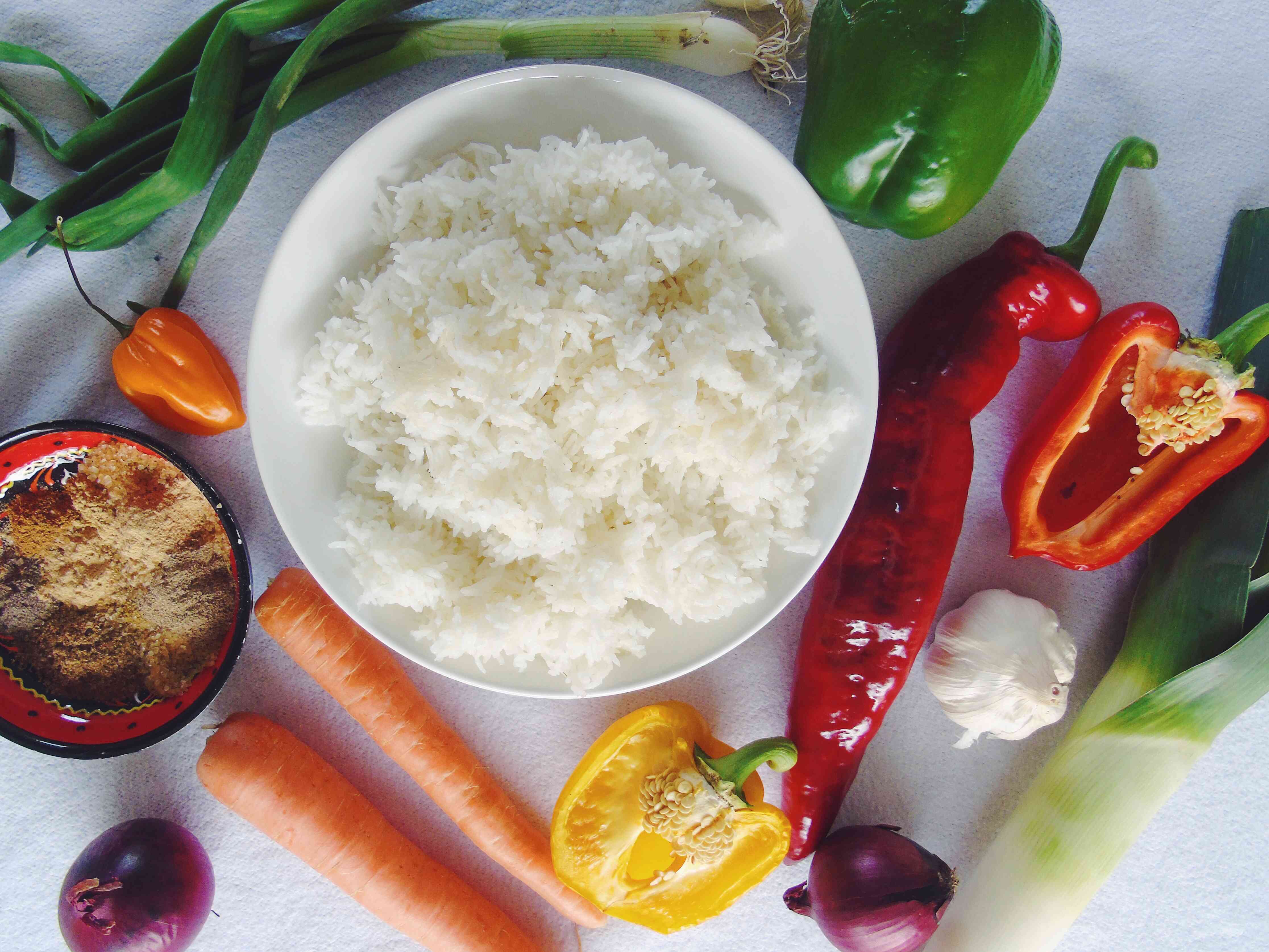 These are the vegetables I used, but feel free to try different kinds of vegetables. I often throw some corn, celery leaves and mung bean sprouts through the mix or even some chopped purple cabbage, you can really use your imagination. Some other options are broccoli, mushrooms, cauliflower, bamboo, jackfruit, and whatever else floats your boat!
I made my own spice blend, you can make the one I used or make your own. Everyone loves different things so if you want it to be less spicy, make it less spicy. You can use store bought spice blends or just keep it plain and simple, again this is your dish, so customise it to your own liking. To make things even more easier you can cheat and use store bought satay sauce, just make sure it's vegan.
I'll work on more dishes and ideas for saving your kitchen scraps and leftovers, because I like to keep the spoiling of food to a bare minimum. Now you know what to do with your leftover rice, if you'll try this recipe let me know how it turned out by leaving a comment below or tagging me on Instagram. Have an awesome day and bon appetite!
Bless,
A.J.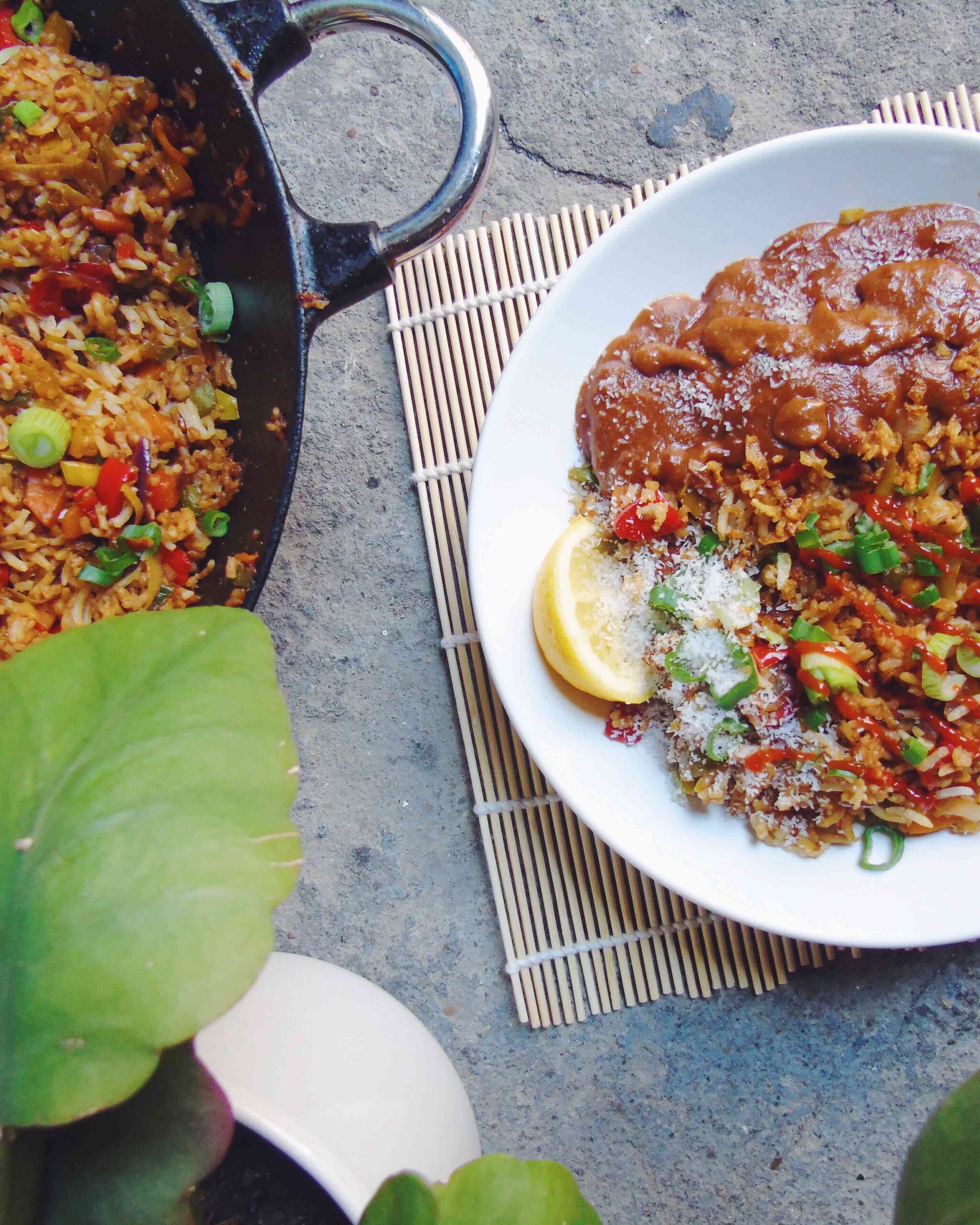 Vegetable Fried Rice and Satay Sauce
Make a delicious fried rice using kitchen scraps and leftover rice.
Ingredients
Rice and Vegetables
1

cup

uncooked rice

1

leek

chopped

2

onions

diced

6

cloves

garlic

minced

2

Bell peppers

diced

2

spring onions

chopped

2

carrots

chopped

1

hot pepper

i used adjuma (optional)

1/4

cup

baked onions

(optional)
Spices
1/4

tsp

5 spice

1/4

tsp

ginger

powder

1/4

tsp

cardamom

powder

1/2

tsp

lemon grass

powder

1/2

tsp

cumin

powder

1

tsp

corinader

powder

1

tbsp

sugar

1

tbsp

soy sauce
Satay Sauce
3

cloves

garlic

minced

1

cup

full fat coconut milk

1

tbsp

soy sauce

1

tbsp

sugar

5

tbsp

peanut butter

1

tsp

corn starch

1/4

tsp

ginger

powder

3/4

cups

water

1

tsp

lemon juice

1/2

hot pepper

(optional)
Instructions
Fried Rice
First cook your rice and once the rice. After your rice is cooked sauté the onion, garlic and pepper for about 5 minutes on medium/low , after this you can add the rest of the vegetables, the spices, sugar and soy sauce and cook for another 5 minutes. Keep in mind that you can use whatever spice blend and vegetables you prefer. Now add the cooked rice and cook for another 5 minutes while mixing it to combine all the ingredients. Now you can add salt and pepper to taste.
Satay Sauce
Sauté the garlic (and optionally some hot pepper) for about 1 minute over low heat and add the coconut milk, soy sauce, ginger, peanut butter, sugar and lemon juice and 1/2 cup water. While this is coming to a boil in a seperate bowl add the cornstarch and 1/4 cup of water to mix before putting it in the pot (this will prevent lumps). Now add the cornstarch mixture to the pot and stir until the sauce becomes thick. Now add salt to taste.