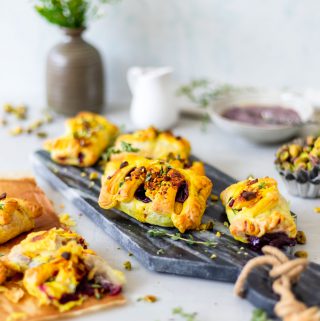 Cherry Pockets
Simple golden puff pastry pockets with a cherry filling. Topped with roasted pistachios, a turmeric glaze and fresh lemon thyme.
Filling
250

grams

(frozen) cherries

Pitted

80

grams

cane or coconut sugar

1

tsp

vanilla extract

1/2

tsp

almond extract

1/2

cup

water

about 250 ml

2

tbsp

cornstarch
Assembly
1

pack

puff pastry

5

sprigs

lemon thyme

optional

2

tbsp

Pistacios

chopped (optional)

1

tbsp

vegan butter/margerine

melted

1/2

tsp

turmeric
Cherry Filling
Start by adding the pitted cherries, sugar and water to a sauce pan. Bring it so simmer over a medium to low heat. Let it simmer and stir until the cherries are starting to break up a bit (takes about 3 to 5 minutes).

Add the two tablespoons of cornstarch to a small bowl with the vanilla & almond extract and just enough water to dissolve the cornstarch. Mix it well and add it to the sauce pan with the cherries.

Turn the heat to low and keep stirring the cherry filling until it becomes thick (about 5 minutes). Turn of the heat and let it cool to thicken up.
Assembling
Preheat your oven to 175 degrees. Roll out the puff pastry and cut it in 8 to 10 rectangular pieces like pictured. To every piece you add a dollop of cherry filling to one side of the rectangle. After this you flip the dough over to close it with a fork. Your pockets don't have to be perfect.

Before placing them in the oven mix the melted vegan butter or margarine with the turmeric and brush it on top of the closed pastries. Optionally top add some chopped pistachios.

Bake for about 25 to 30 minutes (depending on the oven) or until the pastry turns golden brown. Optionally add some fresh lemon thyme before serving. If you're feeling really indulgent serve with some condensed coconut milk or vegan whipped cream. Enjoy