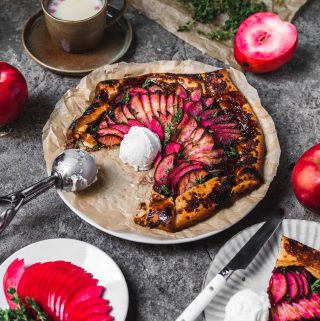 Cinnamon & Apple Galette
We're saving time on dessert with this delicious apple cinnamon galette. Delicious, simple and quick.
1

pie dough

store bought or home made

3

apples

optionally red love apples

1

tbsp

cinnamon

1

tbsp

vegan butter/margerine

2

tbsp

brown sugar

2

sprigs

thyme

optionally lemon thyme
Preheat the oven to 175 celcius or 350 farenheit. cut the apples into small wedges so you can easily place them on the pie dough.

Roll or place the homemade, or store bought pie dough on a piece of parchment paper and spread the vegan butter or margarine in the middle, leaving about 2 inches on the sides free. Sprinkle the cinnamon and brown sugar on top of the middle of the pie dough you just covered.

Place the apples on top of the middle in your own design and fold the edges on top of the apples to close the galette. Optionally add some vegan butter and brown sugar on top of the edges before placing in the oven.

Bake in the oven for about 25 minutes or until the sides become golden brown. Remove from the oven and let it cool or have it warm. Optionally serve it with your favourite vegan Ice Cream. Enjoy.