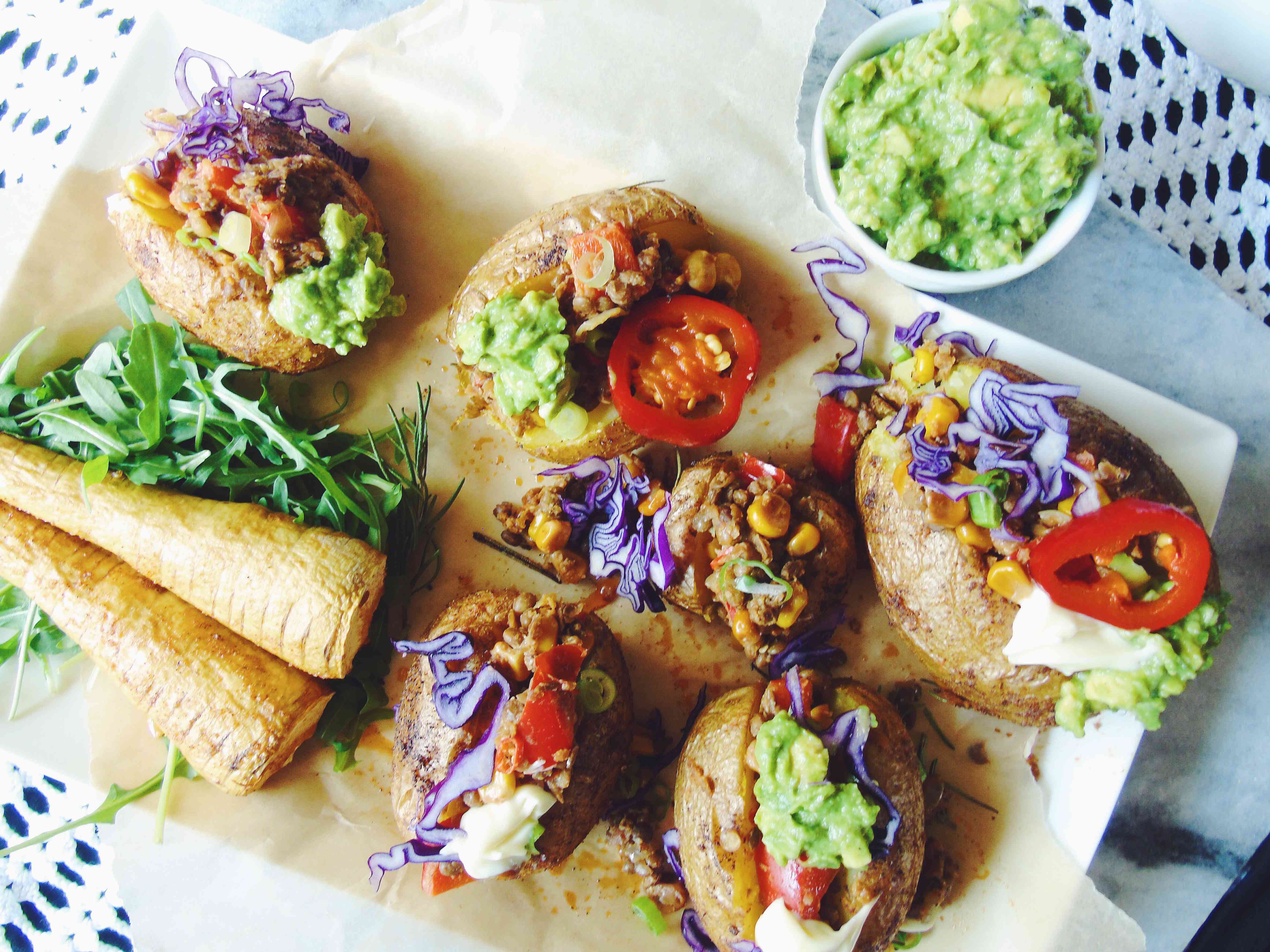 Stuffed Potatoes
Easy recipe for stuffed potatoes with a mexican(ish) twist.
potatoes
7

medium

potatoes

1

tsp

olive oil

1

sprig

rosemary

(optional)
Lentils
250

grams

cooked lentils

(about 8,8 ounces)

1

onion

diced

1

tomato

1

cup

corn

3

cloves

garlic

1

red bell pepper

1/2

tsp

smoked paprika

powder

1

tsp

cumin

powder

1

hot pepper

(optional)

3

tbsp

nutritional yeast

(optional)

1

spring onion
Potatoes
preheat your oven to 200 celcius or about 390 farenheit. Coat your potatoes with the olive oil and sprinkle with salt and pepper. You can also add additional spices to taste, I used smoked paprika and garlic powder, but this is completely optional. Also if you want you can add sprinkle the potatoes with some rosemary. Now place the potatoes on a baking dish and put them in the oven for about 20 minutes depending on the size of your oven and potatoes. When you can easily poke them with a fork and the skin is a bit crisp, but not burnt, they are done. While the potatoes are in the oven you can make the lentils and avocado.
Lentils
Warm up a pan over medium heat. Once the pan is hot you add the diced onion and minced garlic and saute them for about 2 minutes over medium/low heat. Now add the remaining ingredients besides the nutritional yeast and spring onion. cook everything over medium heat for about 10 minutes and add salt and pepper to taste. Turn of the heat and add the nutritional yeast and mix it through the lentils. Use the spring onions as garnish and some extra flavour.