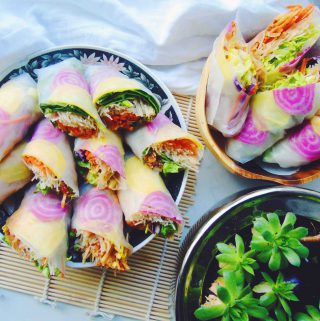 Pulled Jackfruit Spring rolls
Vibrant spring rolls filled with delicious pulled jackfruit.
Pulled Jackfruit
Drain the jackfruit and squeeze out most of the moisture. chop and sauté the onions, and garlic until the onions turn translucent. Now blend the tomatoes or chop them really fine and add them to the onion and garlic. Cook this for a couple of minutes and then add the spices, pepper, water and jackfruit. Turn the heat to medium/low and cover the pan. Let it simmer for at least 30 minutes. Keep stirring every once and a while to prevent sticking on the bottom of the pan. If you need you can always add more water. Once the water has mostly evaporated you can turn of the heat and let the jackfruit cool off before using in spring rolls.
Spring rolls
Take a piece of rice paper and hydrate it with some lukewarm water. place it on a plate and place your fillings on the rice paper

Start by rolling away from you and tuck in the filling, then fold in the sides en tightly roll up the rice paper. You can also add some other thin sliced fillings at the end of the roll so they show on the outside of the finished roll. Try doing this with beets, edible flower petals or avocado.