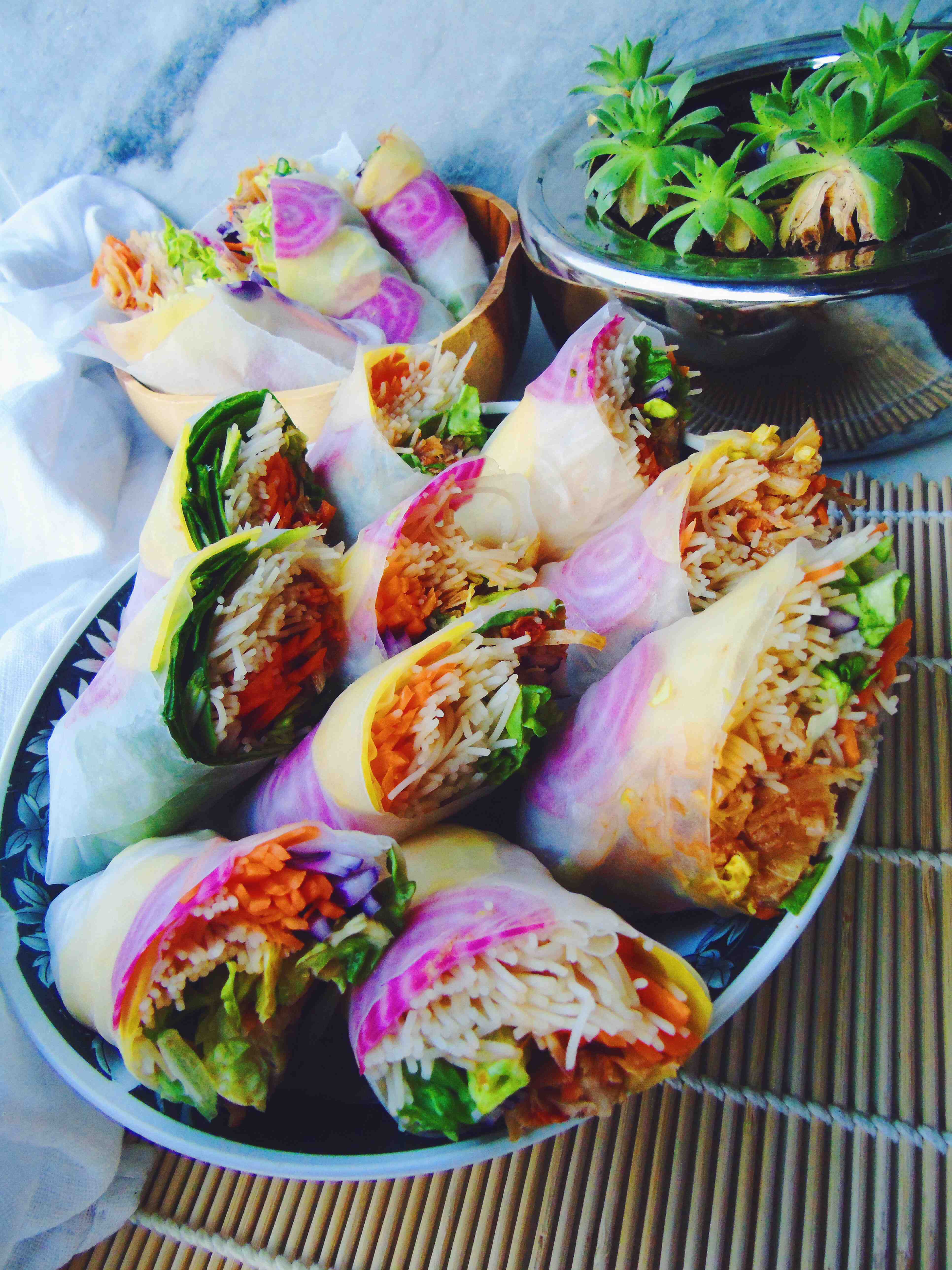 Spring rolls are one of those foods that really lets you be creative and play around with fillings and dips. They are a vietnamese delicacy that are basically rice papers filled with ingredients like carrots, tofu and other delicious goodness! Apart from being delicious and nutritious, they are also pretty easy and quick to make. I'll be sharing some ideas for fillings and add a recipe for pulled 5 spice jackfruit to this post.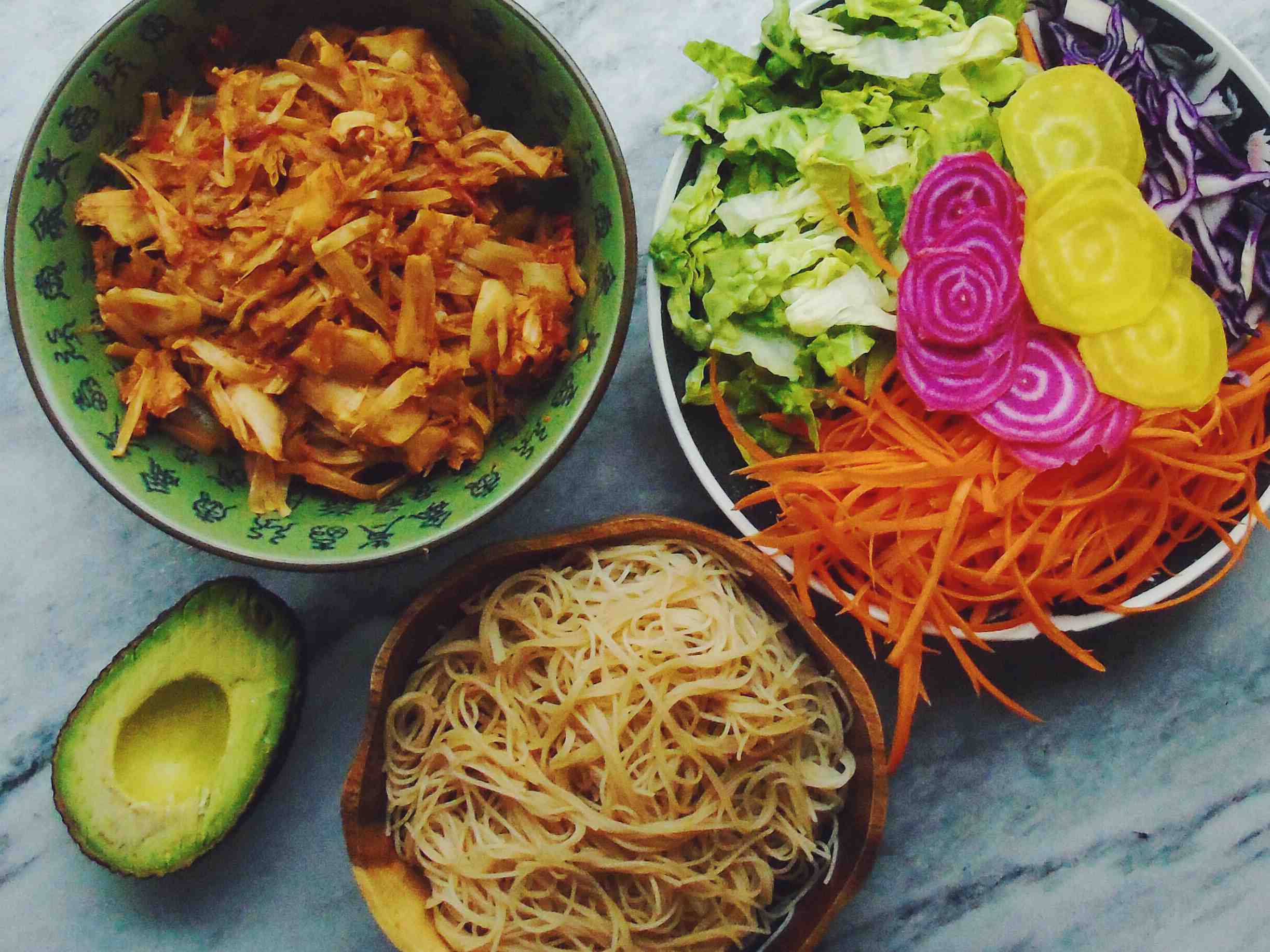 There are hundreds if not thousands of ways to fill spring rolls, this is one of the things that make them even more awesome in my opinion! Some of my favourite fillings for spring rolls are:
Herbs: cilantro and basil.
Vegetable: carrots, bean sprouts, lettuce, beets, pepper, spring onions and purple cabbage.
Fruits: mango, avocado, jackfruit and strawberries.
Other: tofu, tempeh, rice noodles and seitan
these are just a few of the many ingredients you can use to fill your spring rolls, you can really use your imagination and fill it with whatever you like! I like to eat my spring rolls with satay sauce or sriracha, but feel free to use other dips and sauces.
To make a simple satay sauce you just take some peanut butter, add a splash of soy sauce and season with some garlic (powder), onion powder, sambal (optional) and thin it out with a little bit of boiling water and maybe add pinch of sugar and a splash of lime juice. Voila you just created your own delicious satay dipping sauce.
This time i decided to try and add some 5 spice pulled jackfruit to the rolls and i really liked how they turned out! Jackfruit is an extremely big fruit that when ripe is delicious and sweet and almost tastes like bubble gum, but thats not what i used in this recipe, in this recipe i used unripe jackfruit. Green (unripe) jackfruit has a fibrous meat like texture and can take on almost any flavour, which makes it a great substitute for pulled pork. You could also just eat it on a tortilla or with some rice.
The rice noodles you can keep as is or toss with a bit of sesame oil and soy sauce.
When i'm making spring rolls i'm always trying to get as many colours in as i possibly can, i always like to eat the rainbow! But honestly there are so many ways to make spring rolls, there are no rules! the one pictured above has falafel and edamame, the only thing that matters for me is that its gonna be tasty, so pack it with whatever you like!
These are delicious while eaten fresh, but don't be scared to store them for a later munching session. You can wrap them to keep from drying out and store them in the fridge, keep in mind that you don't want them to really touch each other otherwise they'll likely rip when you pull them apart. And when they are to dry when u want to eat them just rub them with a little warm water to rehydrate the rice paper.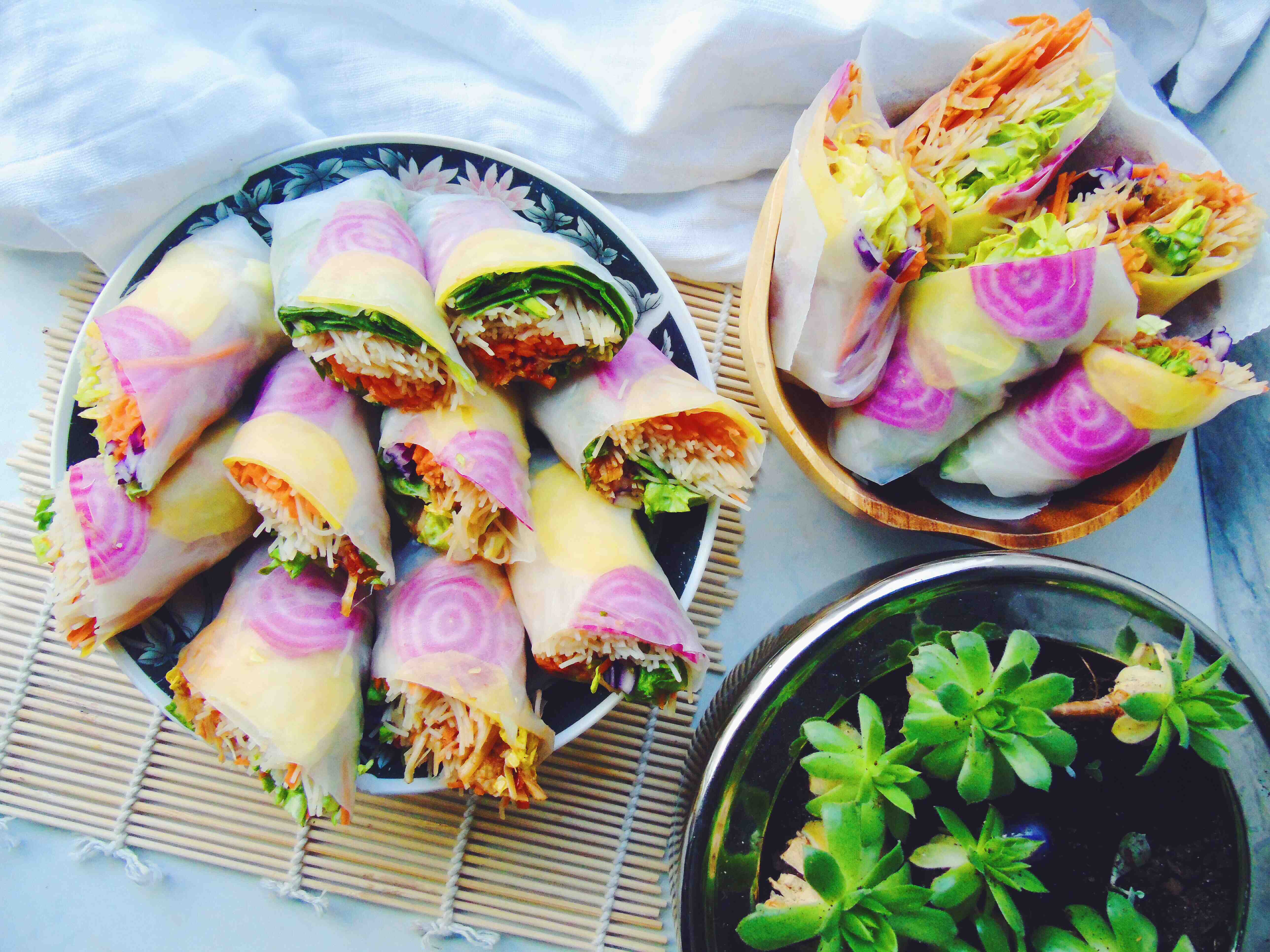 Show me your spring rolls on instagram, i'm curious to know what you put in them!
Bless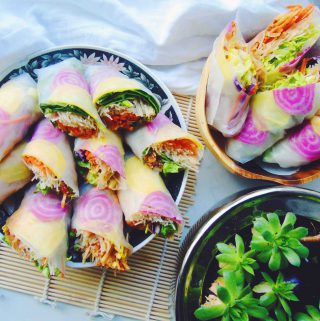 Pulled Jackfruit Spring rolls
Vibrant spring rolls filled with delicious pulled jackfruit.
Ingredients
1

can

young jackfruit

1

onion

4

cloves

garlic

1

pepper

2

tomatoes

1/2

tsp

5 spice

1/4

tsp

cumin

salt

to taste

1

pinch

unrefined cane sugar

(or other sweetener of choice)

1

cup

water
Instructions
Pulled Jackfruit
Drain the jackfruit and squeeze out most of the moisture. chop and sauté the onions, and garlic until the onions turn translucent. Now blend the tomatoes or chop them really fine and add them to the onion and garlic. Cook this for a couple of minutes and then add the spices, pepper, water and jackfruit. Turn the heat to medium/low and cover the pan. Let it simmer for at least 30 minutes. Keep stirring every once and a while to prevent sticking on the bottom of the pan. If you need you can always add more water. Once the water has mostly evaporated you can turn of the heat and let the jackfruit cool off before using in spring rolls.
Spring rolls
Take a piece of rice paper and hydrate it with some lukewarm water. place it on a plate and place your fillings on the rice paper

Start by rolling away from you and tuck in the filling, then fold in the sides en tightly roll up the rice paper. You can also add some other thin sliced fillings at the end of the roll so they show on the outside of the finished roll. Try doing this with beets, edible flower petals or avocado.