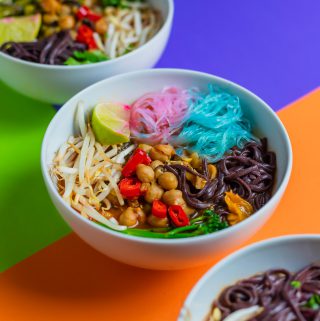 Spicy "flu fighting" Soup
This spicy "flu fighting" soup will help you sweat it all out
Start by warming a large cooking pot over medium/low heat. Add about a tbsp of oil and lightly cook the onion until it's translucent. Now add the garlic, ginger and chili and cook it for two minutes.

Add about 1 1/2 liters of water to the pot and add the dried shiitake, wakame, gochujang, adjuma*, chickpeas and vegetable bouillion. Bring it to a boil and let it simmer for 30 minutes.

Remove the mushrooms and chop them into pieces. Add them back to the pot of soup. Now add the broccoli and add salt and pepper to taste. Serve this in a bowl over some bean sprouts. Optionally add some noodles, herbs and lime.
Some people choose to keep the adjuma whole. You can score it or chop it to make it more spicy. Leaving it whole will make the dish less spicy.