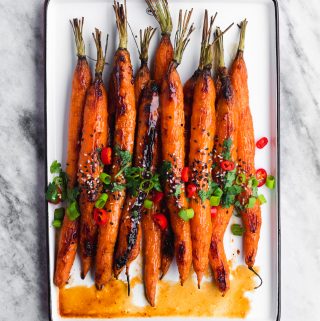 Miso Glazed Carots
It's all about those side dishes! These glazed carrots are simple and packed with flavour.
1

kilo

carrots

1

tbsp

sesame oil

1

tsp

garlic granulates

1

tsp

chili powder

3

tbsp

maple syrup or agave

1

tsp

ginger powder

1

tbsp

miso
Preheat your oven to about 200 degrees celcius or 400 farenheit mix all the glaze ingredients in a bowl and clean the carrots Cut the carrots in your desired shape or leave them whole, cover them with the glaze (saving about 1/3) and place them on a piece of parchment paper.

Roast the carrots for about 30 minutes or until tender when poked with a fork. Cover them with the rest of the glaze and roast for another 5 minutes. enjoy!