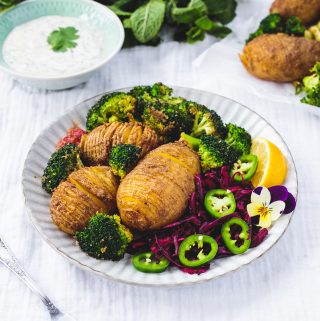 Garam Masala Hasselback Potatoes
Potatoes infused with a delicious spice mix to create a comforting classic.
1

kilo

potatoes

2

tsp

garlic powder

1

tsp

onion powder

2

tsp

garam masala

2

tsp

coriander powder

3

tbsp

nutritional yeast

4

tbsp

extra virgin olive oil

to taste

salt
preheat the oven to 190 degrees Celcius or 375 Farenheit (Gas Mark 5). To a bowl add the spices and olive oil and mix to create the spiced oil to coat the potatoes with. Start cutting vertical slits in the potatoes, leaving about 1 quarter attached.

Cover the potatoes with the oil and leave the remaining oil to roast additional vegetable like carrots and broccoli. Bake the potatoes for about 45 minutes or until they are golden brown. You can keep the leftovers in the fridge for later in the week, enjoy!