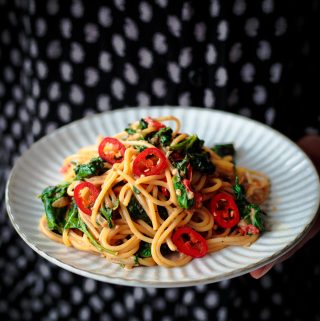 Creamy Spinach Pasta
A pasta dish jam packed with flavour, served in less than 20 minutes? Sign me up!
Start by cooking the onions over medium/low heat until they turn translucent (about 1 or 2 minutes). Now add the garlic and tomatoes and cook for about 2 minutes before adding the coconut milk, black bean sauce, chili, soy sauce and nutritional yeast. Let it simmer for a couple of minutes while the pasta is cooking. Now put the cornstarch in a small bowl/container and dissolve it with some water, set aside.

Now add the spinach and cook until it's wilted, add the cornstarch mixture and mix well. Add the pasta, mix and serve. Season with salt and pepper to taste.