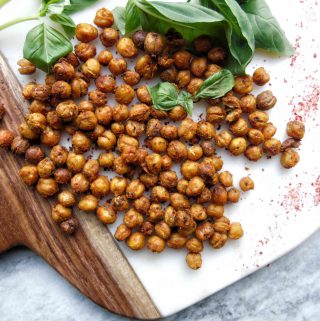 Spice Roasted Chickpeas
These roasted chickpeas are super easy to make, and a nice snack without the guilt. 
1

can

chickpeas

about 215 grams

3

tsp

extra virgin olive oil

2

tsp

ras el hanout

1

tsp

dried basil

1

tsp

gochugaru

(or chille powder)

salt to taste
Preheat the oven to 175 degrees celcius or 350 farentheit. Rinse the chickpeas and dry them by rubbing them between a clean kitchen or paper towel. While doing so you can remove most of the skins.

Add the chickpeas to a bowl and add the olive oil and spices, make sure they are all coated and place them on a piece of parchement into your pre heated oven. Roast them for about 40 to 45 minutes or until they are a little crisp, time varies depending your oven. Check every now and then to make sure they don't burn. Now remove them from the oven and if you want to keep them in a container let the chickpeas cool of completely before doing so. Enjoy.