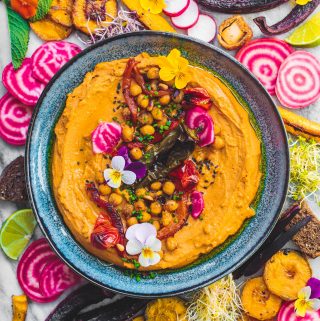 Roasted bell pepper hummus
A delicious hummus, with a healthy shade of green.
Roasting Bell Pepper
to roast the bell peppers, preheat a oven with broiler on maximum heat or roast them over a flame until the skin has blackened and burned. When using the oven turn the bell pepper every time the side close to the heating element has turned black. When using the stove top flame, also turn until all of the skin has blackened.

Once all the skin has burnt, add the bell peppers to a bowl and cover to let them steam. This way you can easily peel of the burned skin once cooled down.