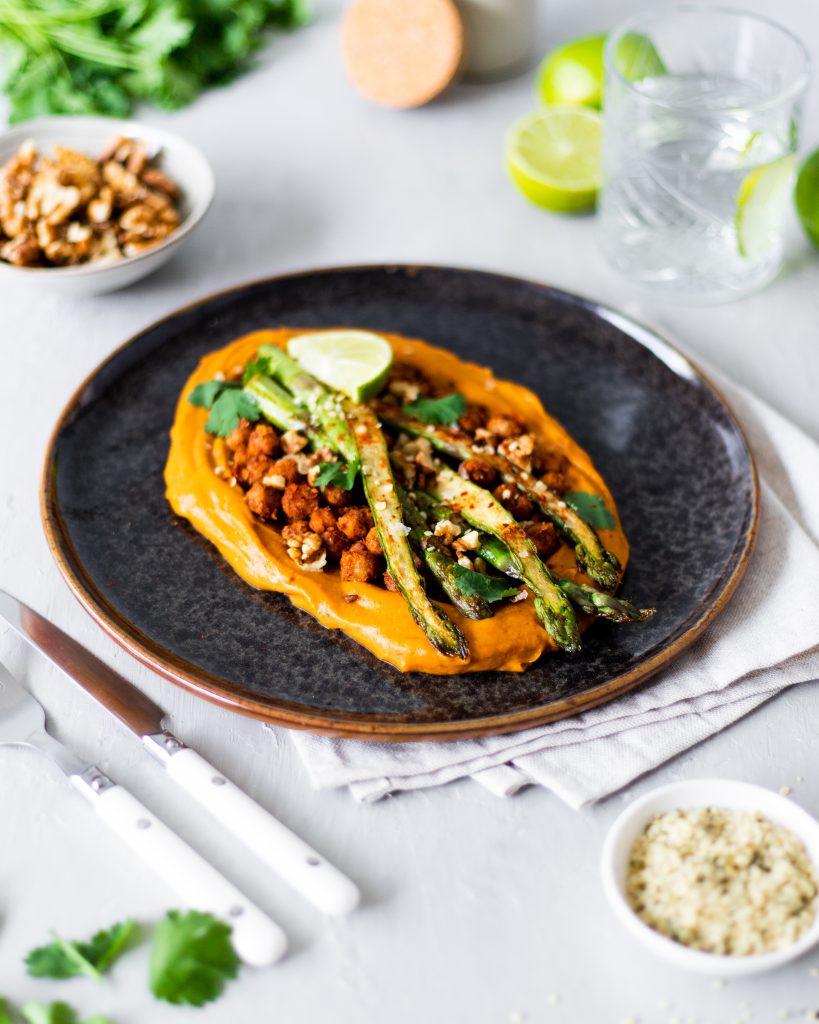 We're in the middle of asparagus season so it's about time we created a recipe to shine some light on this delicious veggie. There different types of asparagus, but for this recipe we're using the green ones. Did you know that they're actually the same. White asparagus are covered so they won't produce any chlorophyll, which is what turns them green.
To create this dish we're pairing the earthy vegetable with a creamy and spiced sweet potato mash. Topping it of with some fresh ingredients and smoky pan cooked chickpeas for some extra texture and flavour.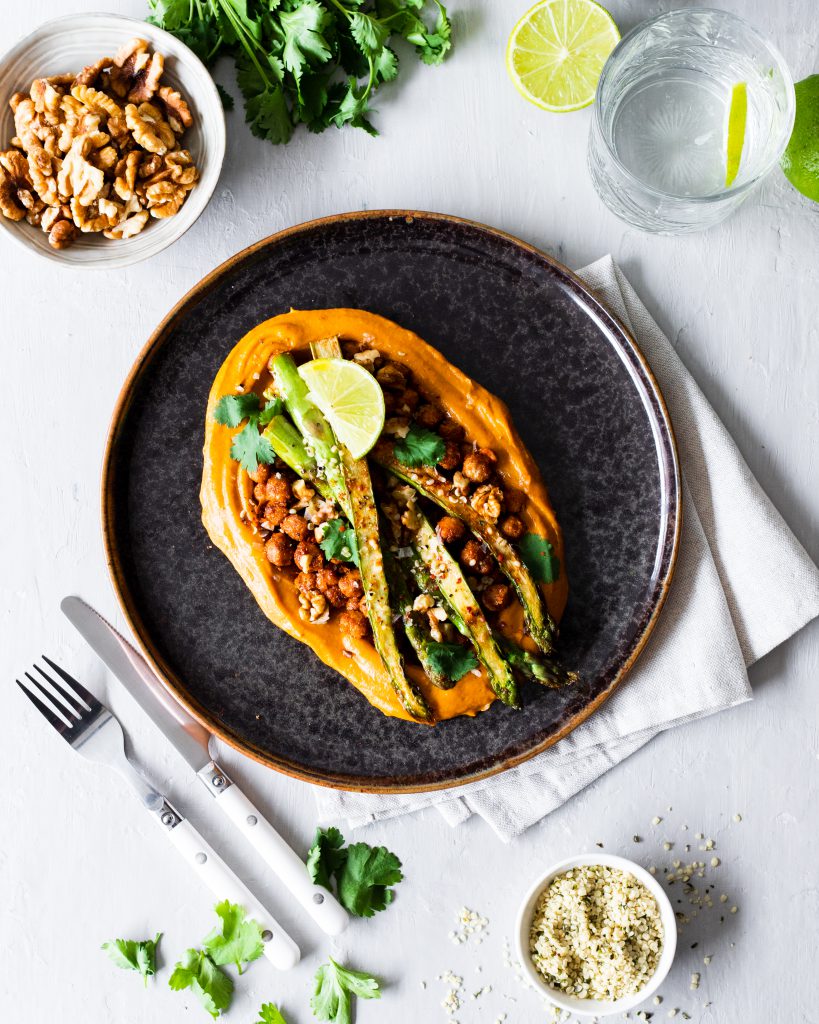 This spring time recipe will be one I'll be recreating plenty of times. It's easy, fun and filled with delicious flavours and textures.
As usual you can tweak it to your own liking. I for example add more chili pepper to the dish and also prefer to have an extra smoky chickpea by adding just a splash of liquid smoke while cooking. You could also try adding some toasted sesame seeds or hemp seeds like pictured above.
When you make this dish be sure to tag me on Instagram so I can see your recreations!
One Love,
Jason
Start by steaming or boiling the sweet potato (cut in chunks) until soft. Once cooked add the sweet potato, the spices and oat milk to a blender or food processor and mix until you get a smooth mash. Add salt and pepper to taste.
Drain and rinse the chickpeas. Cut the asparagus in half (length wise) Warm a cooking pan over medium/low heat. Once warm add the olive oil to the pan. Add the chickpeas and stir them for about 4 minutes.

Add the nutritional yeast, smoked paprika, garlic granules & cumin and cook it for another 3 minutes. Add salt and pepper to taste. (tip: for extra smoky chickpeas you could use a few drops of liquid smoke) Once done remove the chickpeas from the pan and keep them in a bowl.

To the same pan add the asparagus (optionally with an extra drizzle of oil). And cook this over medium heat for about 3 to 4 minutes or until tender and browned. Make sure to flip it every now and then to ensure an even cook. Sprinkle some salt and pepper to taste at the end
Place a generous amount of the sweet potato mash on your plate. Make a well in the centre of the mash. Add the chickpeas to the center and top it off with the asparagus, walnuts, cilantro & a squeeze of lime. Optionally add other toppings such as tomato, other nuts and seeds & peppers. Enjoy!