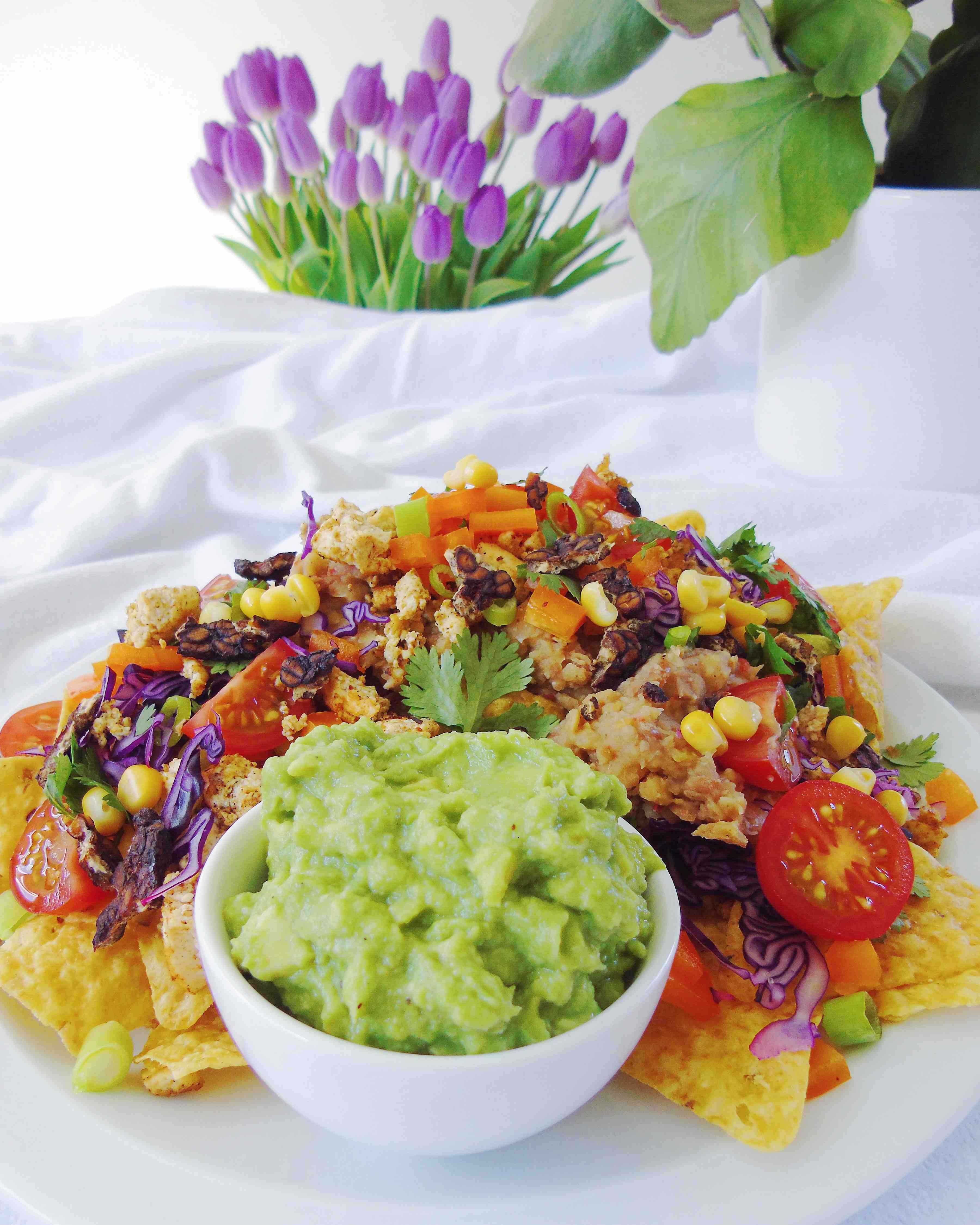 Some times you just need to indulge and this is the dish to do just that! We all need a loaded nacho plate every now and then, right? This is the perfect snack/dish for a lazy Sunday afternoon when all you want to do is watch Netflix and chill! Its basically just a plate of nacho chips topped delicious toppings. The only thing that might be considered a cheat food in the recipes must be the tortilla's, so lets call it a meal shall we.
This dish is perfect to share with friend or devour by yourself, which is what I did. No regrets, ok maybe a little, but who cares right, we all need to life a little!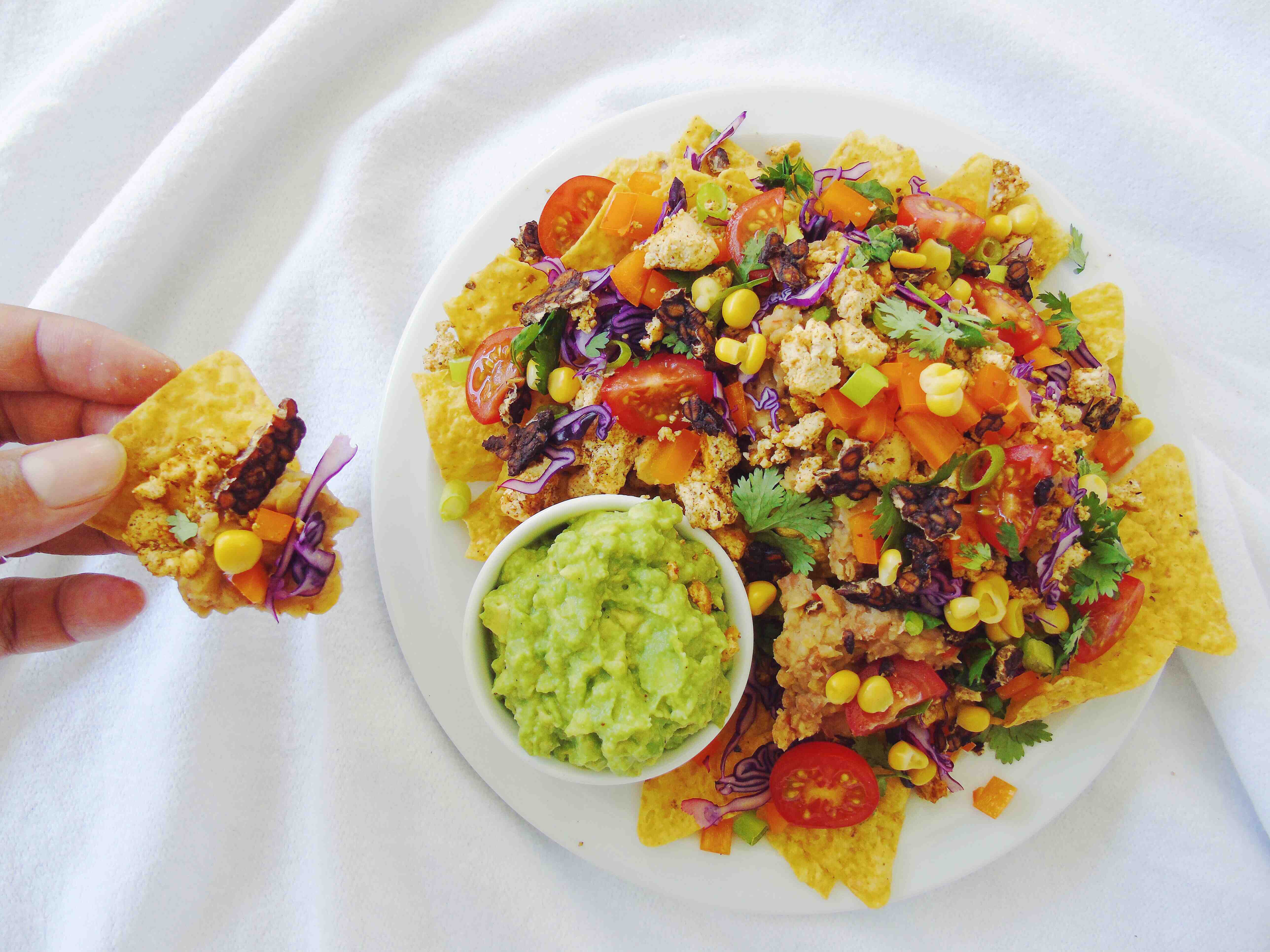 The main stars on this filled plate must be the avocado mash and spicy refried beans are like peanut butter and jelly! The freshness of the avocado and richness of the refried beans are not to be underestimated. And lets not forget about the tofu, honestly who needs ground beef when you can cook up some deliciously spiced cruelty free tofu.
Of course these are awesome but we need toppings to call these loaded nachos, so I went with very thinly sliced purple cabbage, cilantro (duh), corn, cherry tomatoes, spring onions, orange bell pepper and last but not least some pieces of tempeh bacon.
The tempeh bacon recipe can be found here. Its a recipe by Jenny Mustard's boyfriend David. I promise you its absolutely delicious and be sure to check her out she has an awesome blog and Youtube channel where she shares awesome vegan recipes and lifestyle tips. They have an awesome minimalistic style, which is very soothing to the eye. Whenever I watch her videos I suddenly feel this sudden sense of calm, I highly recommend them!
Again as most recipes this is completely customisable to your own taste. You can choose to use a vegan nacho sauce, same vegan ground meat, jalapeños, nutritional yeast, or whatever else your heart desires. Besides all this you can also choose to warm your nachos in the oven or have them cold, its all up to you!
Now its time to indulge, shall we. Let's dig in!
Bless,
A.J.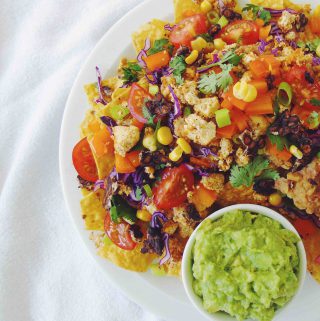 Loaded Nachos
Sometimes you need to indulge and have a loaded plate of nachos, am i right?! This simple recipe will satisfy all your nacho cravings.
Ingredients
nachos

200

grams

tofu

200

grams

brown beans

cooked

200

grams

chickpeas

cooked

1

onion

chopped

4

cloves

garlic

chopped

1

avocado

1/2

lemon

cilantro

cumin

smoked paprika

all spice (piment)

1

hot pepper

(optional)
Instructions
Refried Beans
Over medium/low heat sauté the onion and garlic until the onion turns translucent. Now add the pepper (optional), cooked brown beans and cooked chickpeas and cook them for a couple of minutes, add cumin, smoked paprika, all spice (piment), salt and pepper to taste. Now add about a cup of water, turn the heat to medium and keep stirring the beans to prevent sticking on the bottom. Once most of the water has evaporated mash the beans using a potato masher.
Avocado
Mash a rips avocado with the juice of half a lemon, add the minced garlic and add salt and pepper to taste.
Tofu
Warm a pan to Medium heat, once the pan turned hot crumble about 200 grams of tofu and add salt, pepper, cumin and smoked paprika to taste. Cook the tofu until most of its moisture has evaporated and the tofu is dry.