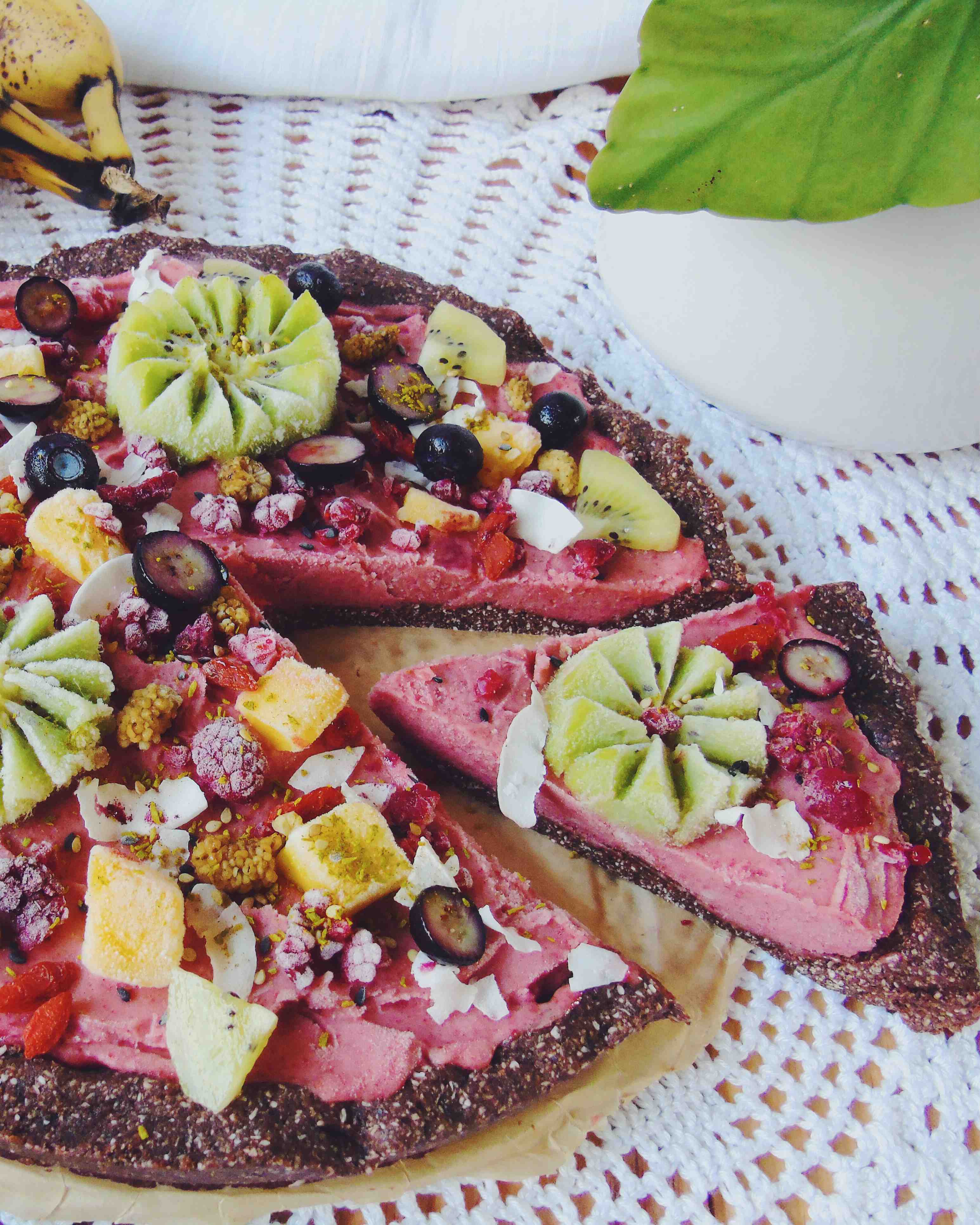 The title says it all! Who doesn't want a slice of ice cream pizza that you can eat for breakfast, lunch and dinner without feeling guilty!? Not only is this dish completely raw, it is also super easy and fast to make, all you need to do is throw some things in a food processor and voila, ice cream pizza. No kneading of dough, cooking and baking involved, it's the simplest thing ever. Also did you know this recipe is gluten, nuts and refined sugar free, besides being raw and vegan, awesome right?
Now that spring has arrived and the days are getting warmer, I've started craving more and more cold and raw foods, making this dish perfect for these warmer months! I would have never thought I'd be eating frozen "pizza" for breakfast. Fun fact: Did you know that growing up I hated pizza, ugh they disgusted me. Oh how the tides have turned.
Assembling the pizza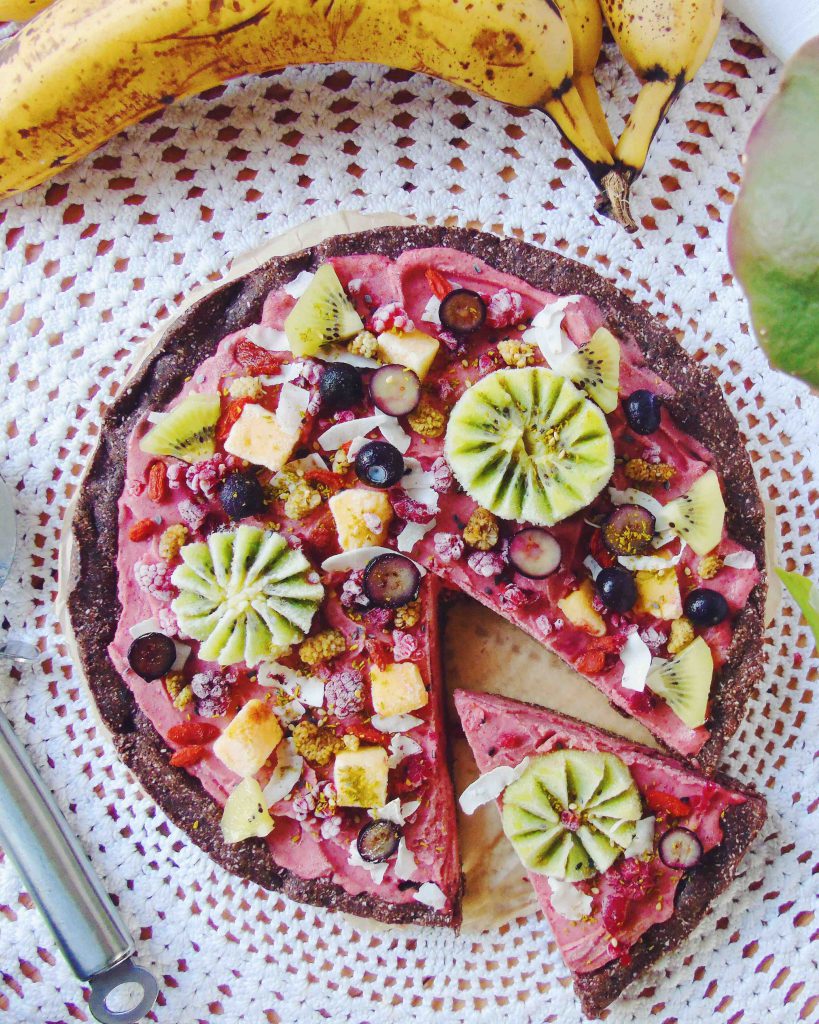 This is another one of those dishes you can completely customise to your own taste.
I decided to go for a chocolaty crust by adding some cacao powder, but feel free to skip the cacao and add cinnamon instead, or add nuts to the crust. You can also keep it plain and just stick with the coconut.
As for the ice cream filling I went for strawberry/beet so it would be red like tomato sauce (fail). You can choose to follow my recipe and go for the same or go your own route and try something different.
The basic ingredient is banana and to that you can add whatever you like. You can add cacao and make it a chocolate ice cream, or add mango and passion fruit to make it more tropical. If you want to make it extra healthy you can even decide to add some Spirulina and turmeric to make it bright green and the most healthy ice cream you have ever had.
Now lets talk toppings! You can literally top this with whatever you like. For this particular pizza I went with, mango, kiwi, blueberries, goji berries, mulberires, raspberries, coconut and sesame seeds. But feel free to use whatever you liked and try topping it with things like:
edible flowers
passion fruit
dragon fruit
grapes
pineapple
This recipe is simply a guideline, have fun with it and create something beautiful!
This is your pizza party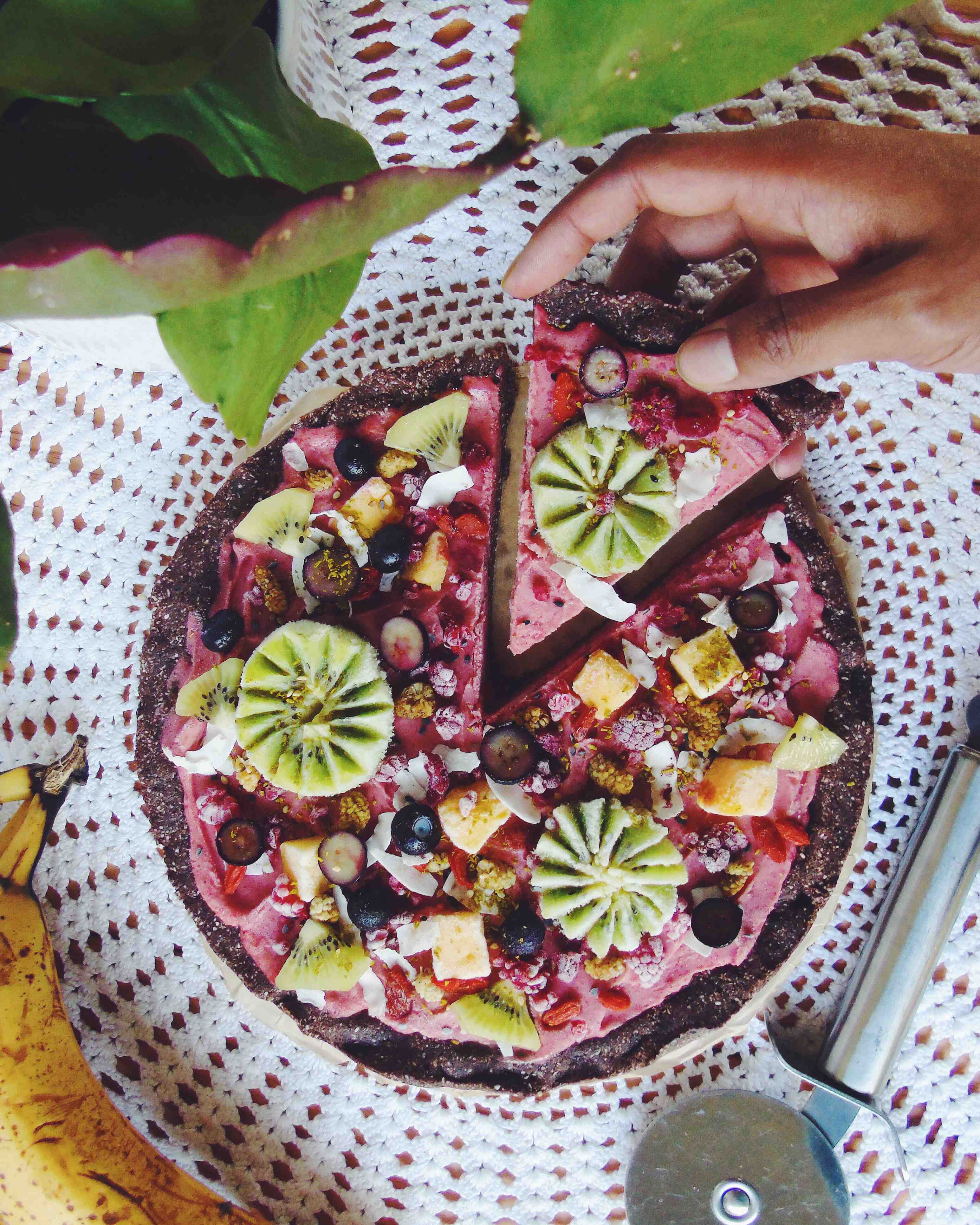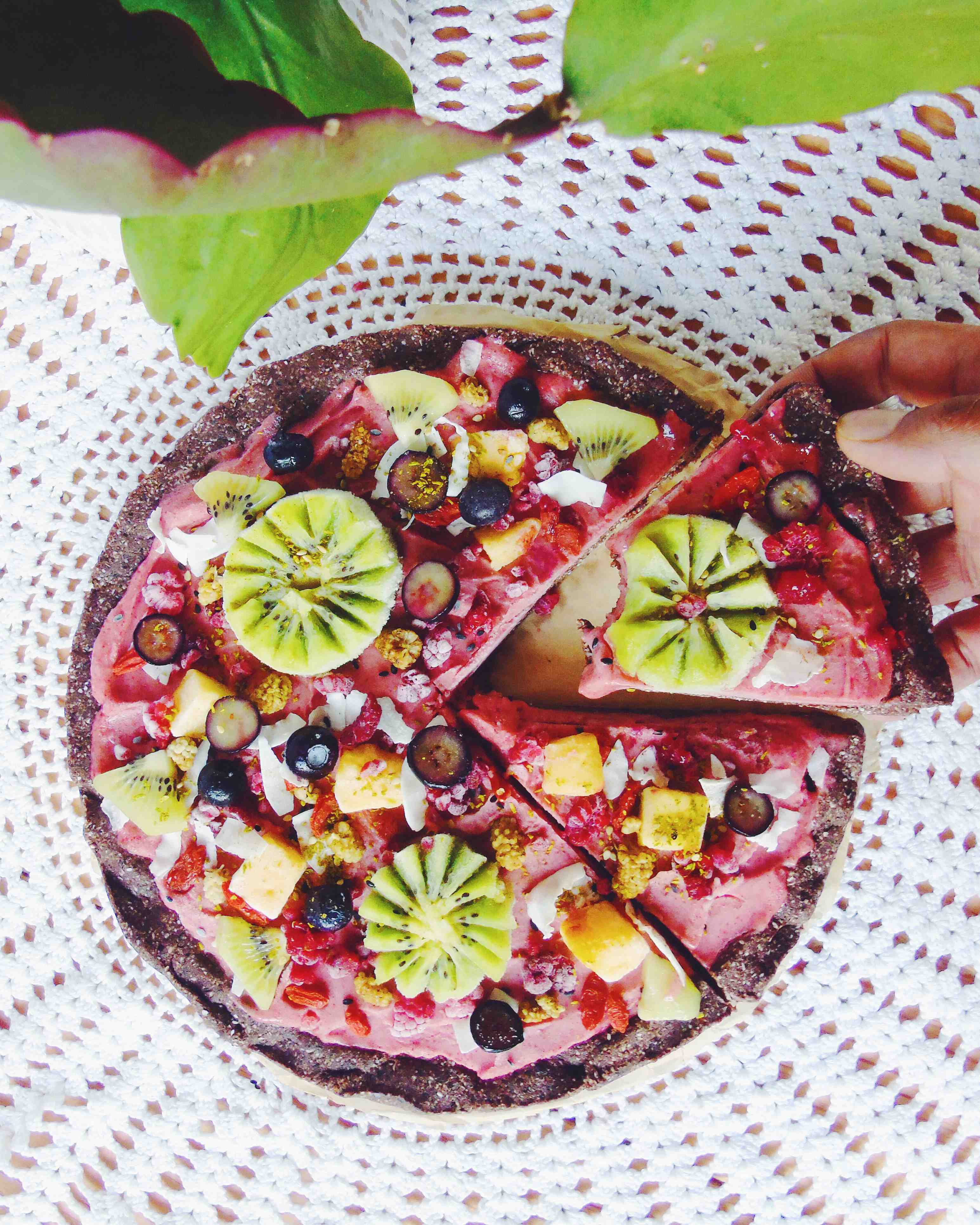 Who knew eating fruits could be this much fun? If you have trouble eating enough fruits you should definitely try this fruit pizza! Cut some slices and share them with your friends!
Namasté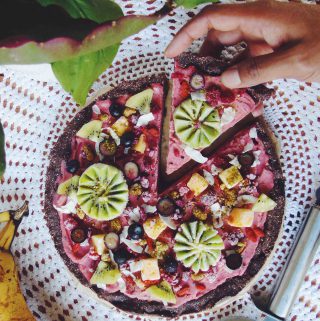 Raw Ice Cream Fruit Pizza
This ice cream fruit pizza is Gluten Free, Nut Free, Refined Sugar Free, Raw and Vegan. A perfect treat to share with your friends, family and children.
Ingredients
Crust
1

cup

dates

pitted

2

cups

desiccated coconut

1/4

cup

cacao powder
Ice cream
3

big

bananas

frozen

2

tsp

beet powder

(optional)
Instructions
Crust
to make the crust you put all the ingredients into a food processor and pulse until everything's combined and you can form a crust. I used a cake tin and lined it with parchment paper. Make sure that the edges of the crust are raised.
Ice Cream
To make the ice cream layer you will need 3 frozen bananas, strawberries and beet powder, and add them to a food processor or high speed blender. Now pulse them until they get the consistency of a soft serve ice cream.

Now to assemble you place the ice cream on top of the crust and decorate it with your favourite fruits, nuts or whatever you want to top it with. Once you've done this you place the "pizza" into the freezer and let it set for a couple of hours. When you want to have a slice just remove it from the freezer and slice yourself a piece, pizza cutters work perfectly!
Notes
Make the Ice Cream whatever flavour you like, try adding raspberries or mango instead of strawberries. Or whatever kind of flavouring you like, or simply keep it plain!