Cheese, for many one of the most difficult things to give when going completely plant-based. Personally I didn't have much problem removing meat and eggs from my diet, but cheese was one of the things I missed for quite some time. Rest assured that this craving diet after about a couple of months, which isn't very surprising because that stuff is addictive. Oh you thought I was joking? Well regardless of this being true or not, I'm staying away from it!
Although my cheese cravings have disappeared there's always place for a cheesy spread, I even enjoy the occasional vegan cheese! I try to keep processed foods at a minimum so those are a rare treat, but this cheese spread is make using whole, (raw) food. I even tried fermenting it like a proper vegan cheese, but this is totally optional, and to be honest I still need to do some experimenting when it comes to making a proper fermented nut cheese, but know that it's coming your way sooner or later.
I'll be making a fully raw fermented cheese when I've mastered the fermentation process, but for now you can modify it to make your own fully raw version! you could make this raw by using raw garlic (or not). I'm not sure if pickled jalapeños are considered a raw food, if they're not you could swap that for lemon juice, it does add a distinct flavour, but it's totally optional! You could also leave out the smoked paprika to keep it fully raw.
You can eat it just as is, I left it out of the fridge overnight in a dark and warm (but not warm enough) place and it didn't do too much with the flavour, but then again I still have to experiment further with fermenting nut cheeses. Regardless of what you'll do the spread will be a flavour explosion.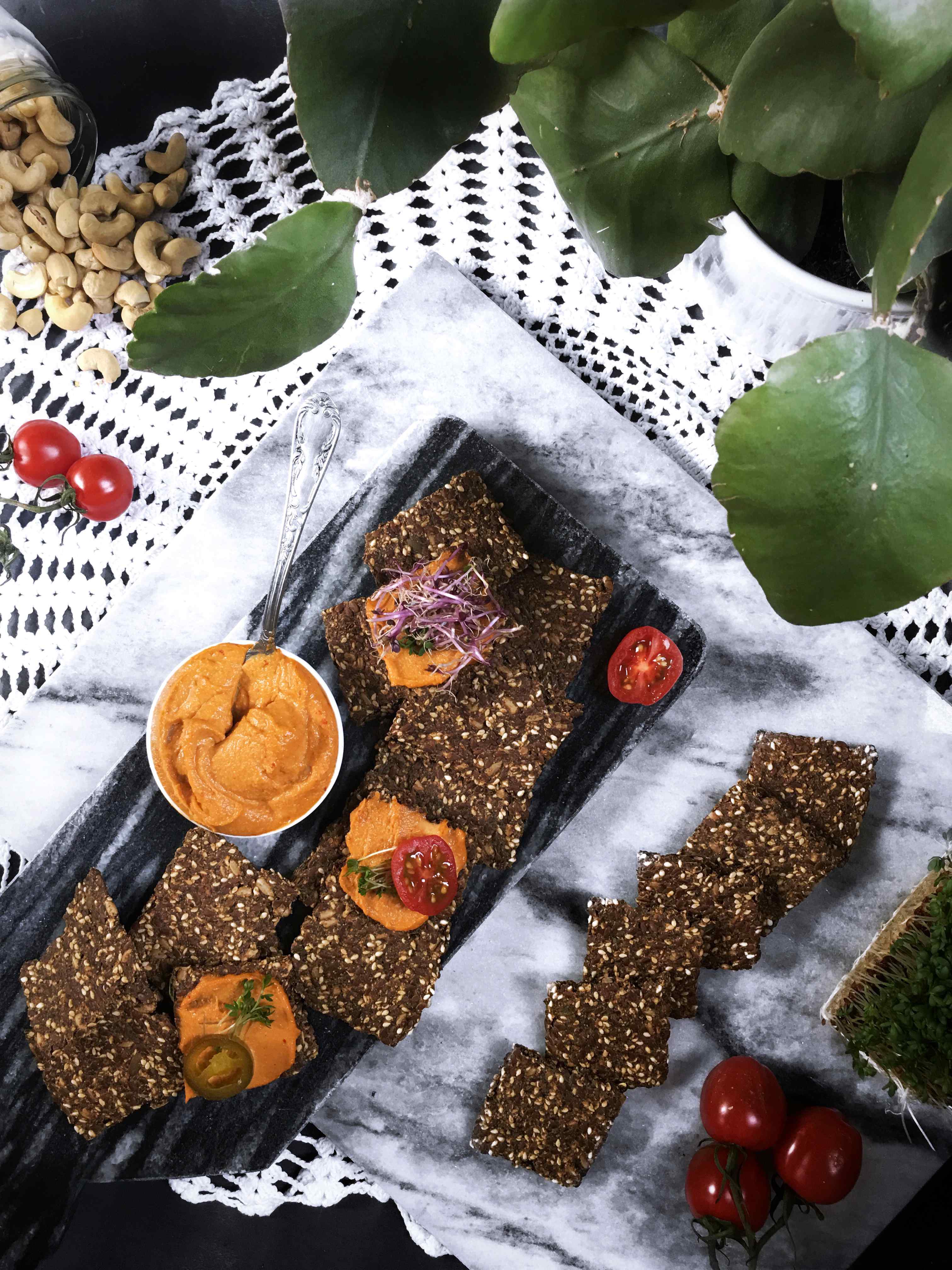 These go great on some flax crackers or as a dip with some veggies, think cucumber and carrots (which I'm allergic to btw). Well enough blabber, you'll just have to try them!
Let me know if you liked the recipe in the comments below and if you decide to recreate this dish feel free to tag me on Instagram as I'd love to see your creations, and find me on Facebook!
One Love,
A.J.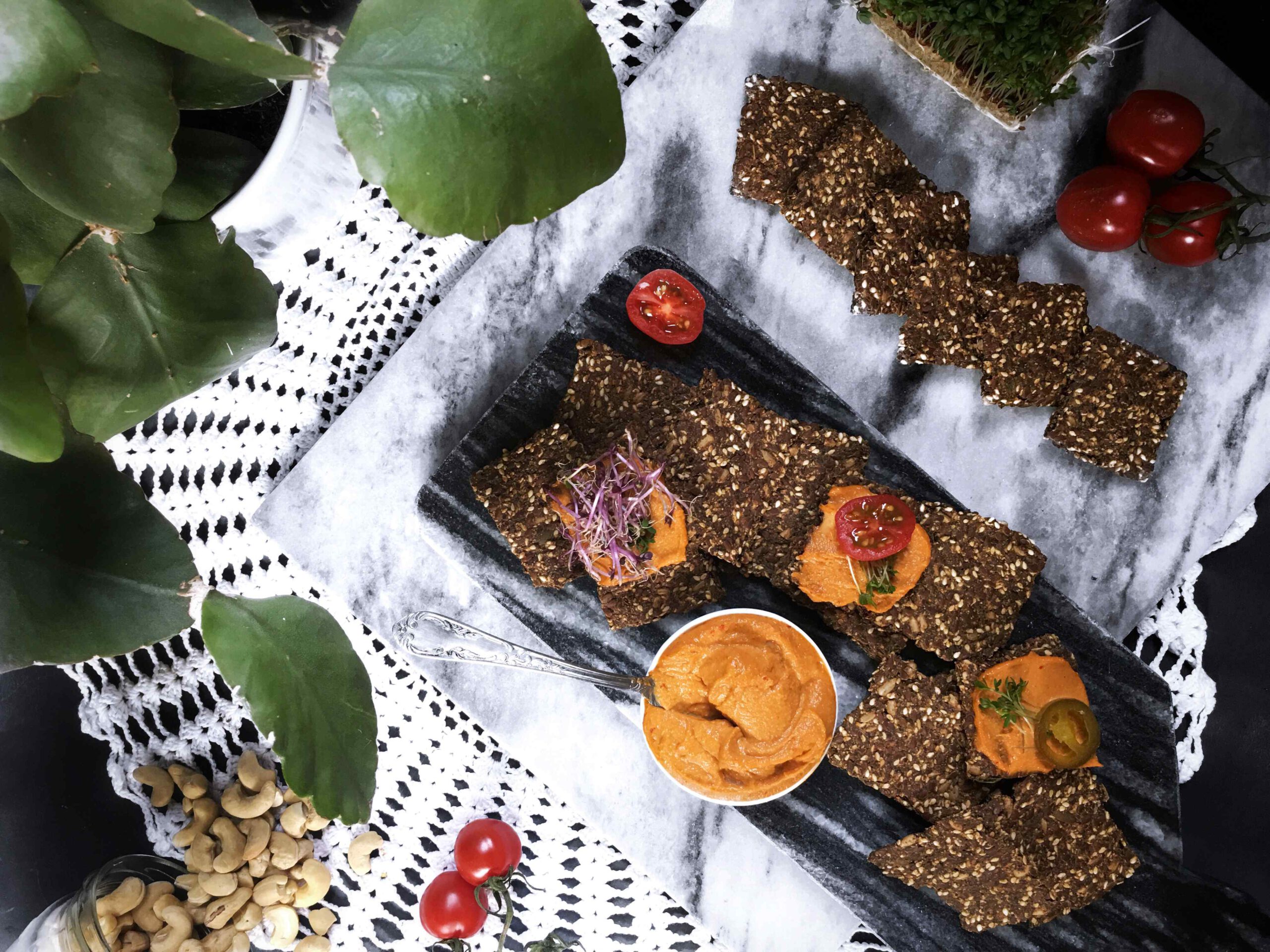 Spicy Cheese Spread - w/ Raw Option
A savoury and cheesy spread great for on a flax cracker or as dip.
Ingredients
1/2

cup

raw cashew nuts

2

tbsp

coconut oil

1/2

cup

nutritional yeast

3

tbsp

kimchi liquid

or sauerkraut

1

tsp

garlic powder

or 1 clove raw garlic

3

tbsp

jalapeno liquid

or lemon juice

5

pickled jalapenos

(optional)

1

tsp

smoked paprika

(optional)
Instructions
Soak the cashew nuts somewhere between half an hour in warm water to overnight to make them soft. I soaked mine for half an hour.

Drain the cashews and add them to a blender* (or food processor) Add the remaining ingredients and blend until smooth.

The spread is pretty much done now, put it in a container and store in the fridge. You could to ferment it by storing it in a dark and warm place, which is what I did, but it's by no means necessary, and we'll go more in depth in the fermenting process in the near future! Enjoy!
Notes
I used a nutri bullet blender jug, no fancy high speed blenders.