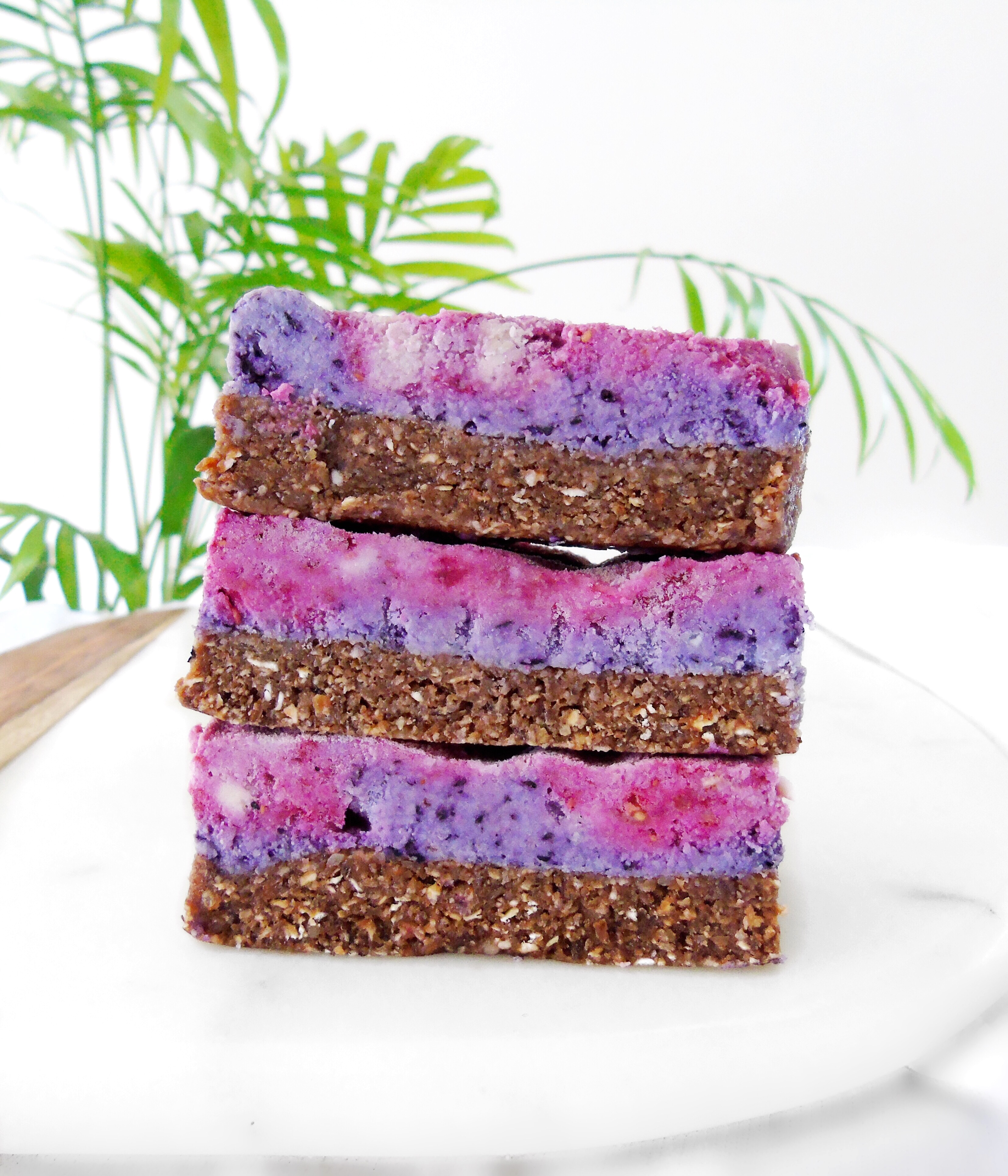 There are all types of dietary restrictions, wether it is gluten, refined sugars, gmo's, processed foods or oils, it always comes as a nice surprise when you find dishes that fit your dietary needs at a party, restaurant or any other occasion where there is food. Since I'm celebrating my one year anniversary I wanted everyone to celebrate it with me, I've already uploaded a recipe for blackberry bars but for those who are gluten and/or refined sugar free I've made another recipe for blueberry/raspberry coconut bars, oh and did I mention they are raw as well! Whenever it comes to food I want everyone to enjoy, and yes even if you're not vegan I'll make you enjoy these vegan treats with me, because they are just as tasty!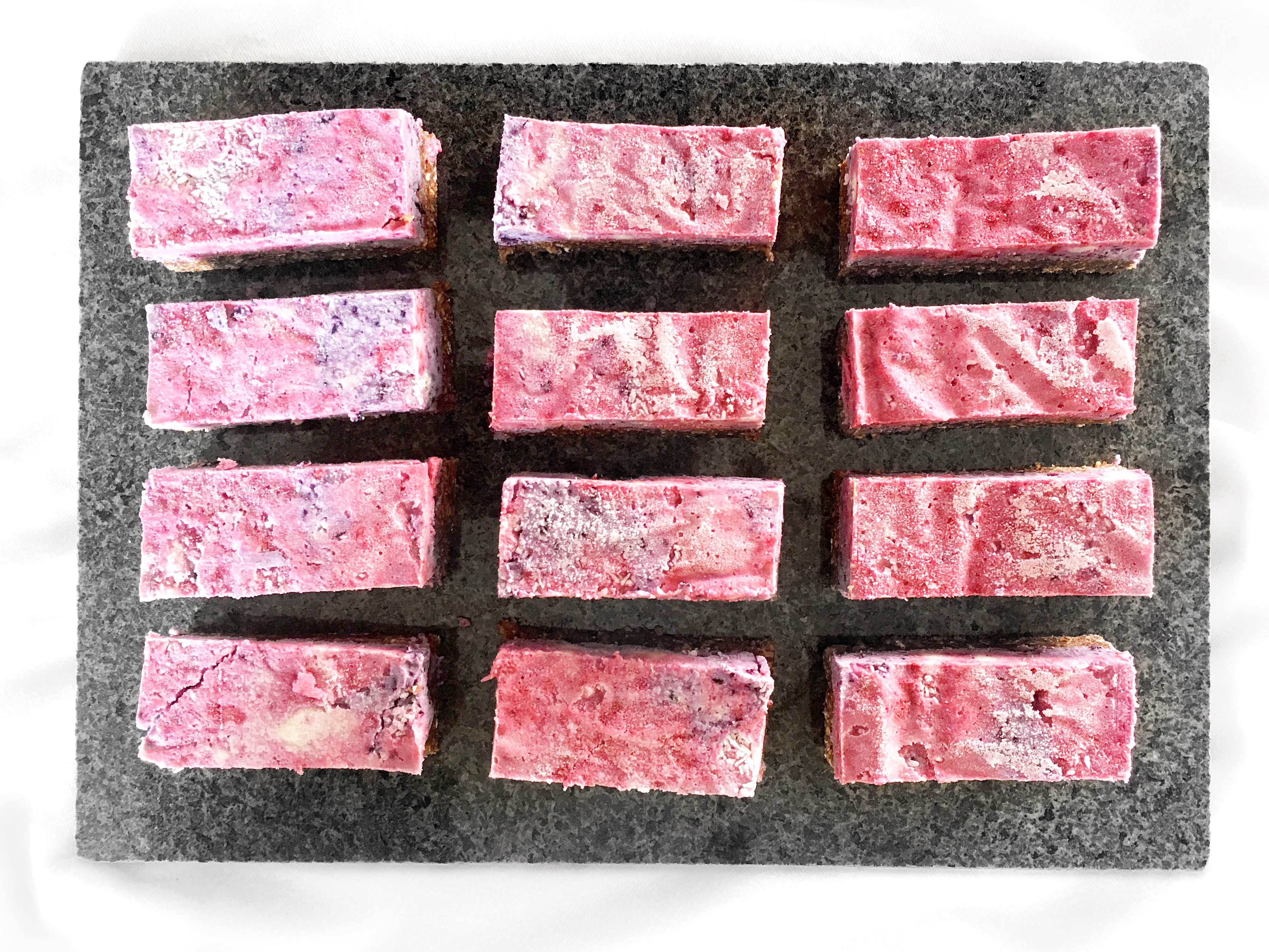 These bars are quite simple to make, the only time consuming thing is soaking the cashew nuts (this will make them nice and soft) and letting it all solidify in the freezer, but all of this won't cost you any effort, the making of the recipe though takes about 10 to 20 minutes depending on how fast you work. Minimum effort, maximum reward, these are the types of recipes are the most convenient, of course I like spending hours in the kitchen and don't mind getting my hands dirty, but not everyone has the time, or patience, so this one is for you!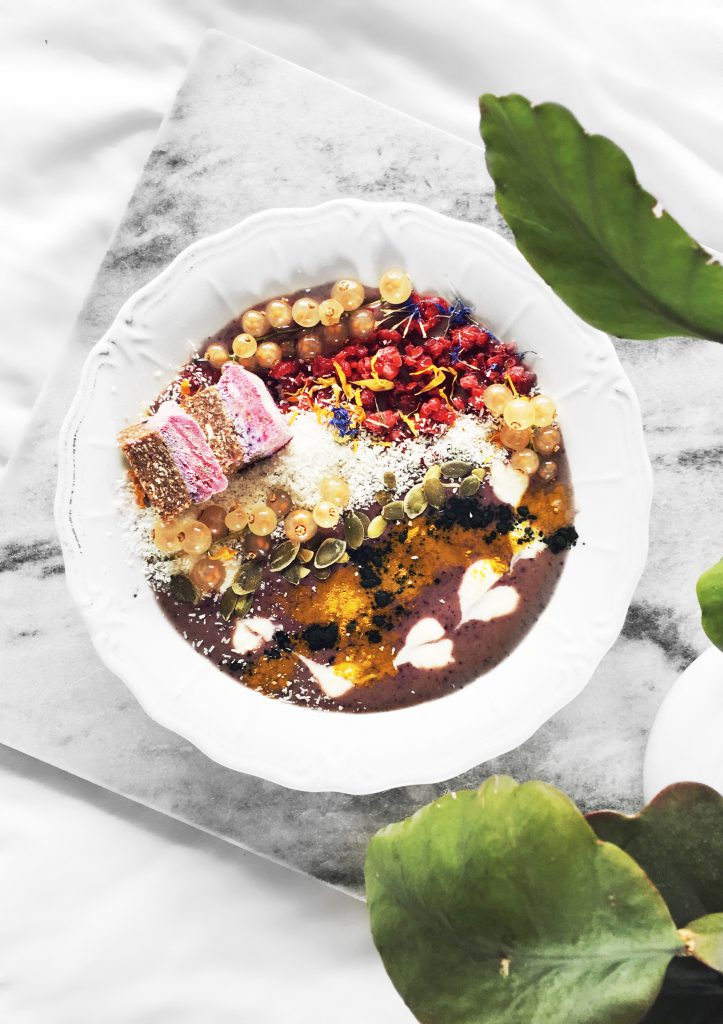 You can have these bars with a cup of tea, on a smoothie bowl like I did or just eat them as they are.
You could also try adding toppings before they are solid like fresh fruits, such as berries, figs or mango, or maybe you want some hemp seeds on top!? They are your bars so make them however you like.
These bars will stay good for a while if stored in the freezer, which is what I would recommend. If you want to have one just take it out of the freezer and let them come to room temperature a little. Or take some out and keep them in the fridge, this way you'll never have to wait for them to get soft.
If you make this dish leave a comment below to let me know how you liked them, or tag me in your creations on my social media accounts.
One Love,
A.J.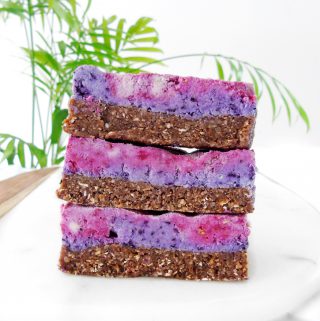 Raw Berry Slices
Ingredients
Base
1

cup

soft dates

1

cup

walnuts

3/4

cup

desiccated coconut

1

cup

oats

2

tbsp

cacao powder

2

tbsp

flax seed
Filling
2

cups

soaked cashews

1/2

cup

coconut oil

2

dates

1

tbsp

lemon juice

4

tbsp

non dairy milk

1

cup

raspberries

1

cup

blueberries
Instructions
Base
Add everything to a food processor and pulse it until everything gets together and you can form a ball. Line a baking or pie dish with parchment paper and divide the dough evenly while flattening it out.
Filling
Soak the cashews for at least 3 hours but I always leave them overnight. In two separate bowls mash the blueberries and raspberries with a fork until they are all mashed up. Drain your soaked cashews and add them to a high speeds blender or food processor with the coconut oil, dates, lemon juice and non dairy milk. Blend this until you get a nice creamy texture. Now add 1/2 of the cream to the mashed blueberries and the other half to the raspberries and mix them well.

Add both of the mixtures to the base and you can cover it with parchment paper to freeze in the freezer for about 3 hours or overnight. After it all has solidified you can remove them from the freezer, cut them in bars and store in the freezer, when your want to have a piece let it come to room temperature or if you can't wait you can risk breaking a tooth on a frozen piece like I do most of the time. Enjoy!