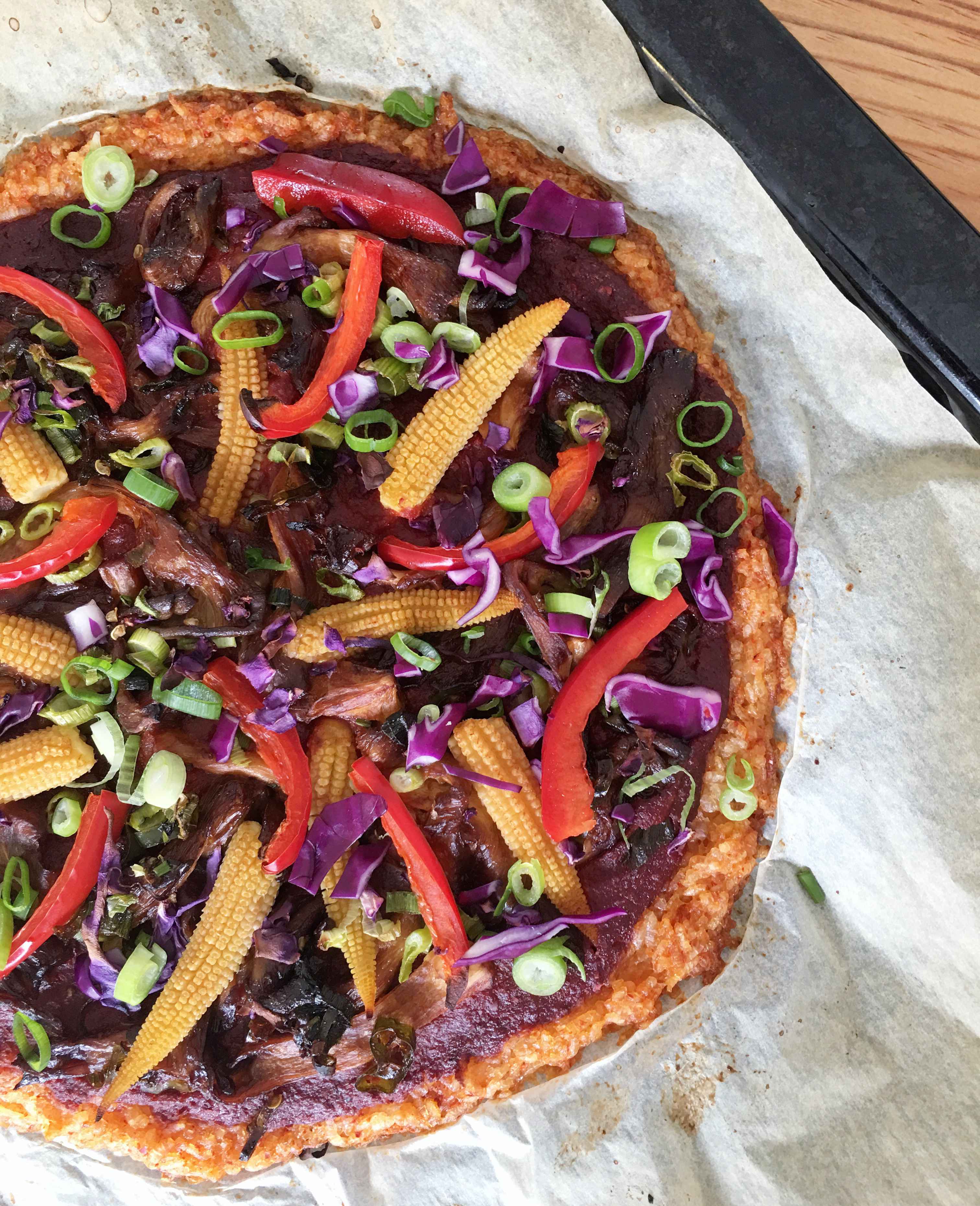 I've been wanting to make a gluten free pizza for the longest time now, but always got turned off by the thought of all the work it would take for me to make a perfect gluten free crust, so I let the idea rest. Then again I was planning to make an attempt this week and it just came to me, a crust made out of sticky rice, it sounded easy and delicious so I went for it! I still want to make a proper gluten free crust though, but until then these will do, and trust me this pizza will hold its own, it is a winner!
Forget about that delicious dough crust and make a rice crust, its nice and crips on the edges and deliciously soft but firm in underneath the toppings. The trick it to pre bake the crust and to make it not to thin but about 1 centimeter or 0,4 inches thick. I love a traditional pizza crust, but this one is just as amazing in its own rights.
Because of the pizza is made with rice I decided to keep the asian theme going and used spring onions, gochugaru (Korean chilli flakes) and oyster mushrooms sautéed with soy sauce, you can use shiitake to make it even more "asian". Keep in mind that I have a very high tolerance for spicy foods so if you prefer a more mild heat or non just use less or non of the chilli flakes. As usual you can customize it to your own liking so feel free to top this pizza with whatever you'd like such as tomatoes, onion, vegan cheese and any other topping you love!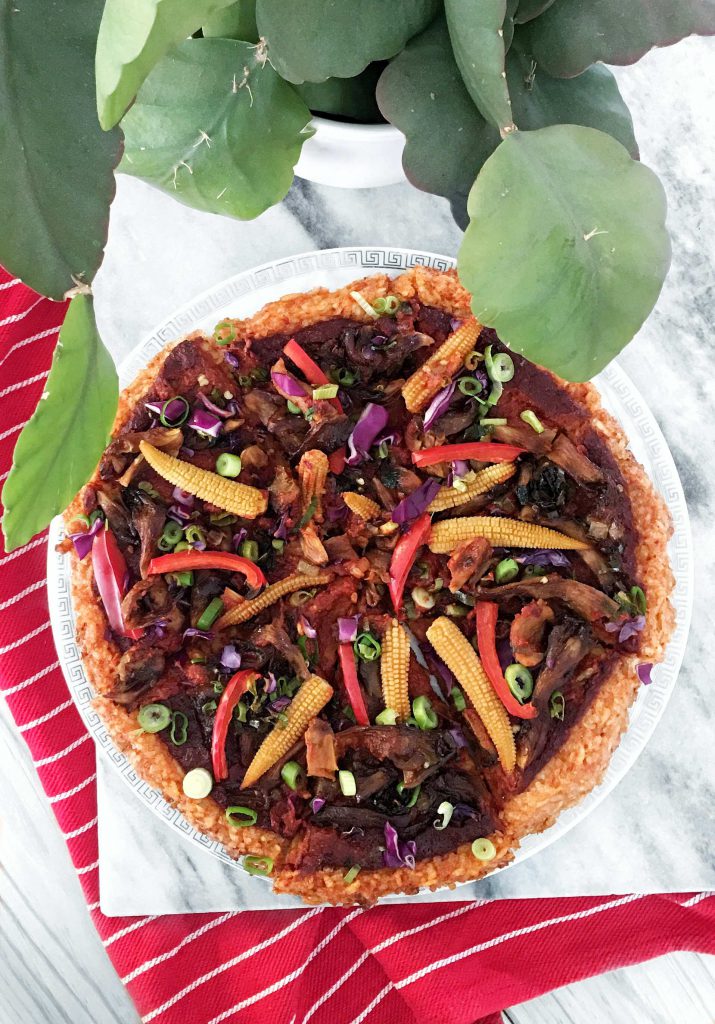 If you make this dish leave a comment below to let me know how you liked them, or tag me in your creations on my social media accounts.
One Love,
A.J.
Rice Pizza
Ingredients
Crust
1 1/2

cup

uncooked rice

short grain

2 1/2

cup

water

1

tsp

sugar

(optional)

1

tbsp

chilli flakes

I used gochugaru (optional

1/2

tsp

garlic powder

(optional)
Sauce
1/2

cup

passata

tomato sauce

1

tsp

soy sauce

1/4

tsp

ginger

1

tbsp

chilli flakes

I used gochugaru

1

tbsp

nutritional yeast

1/4

tsp

garlic and onion powder
Toppings
150

grams

oyster mushrooms

1

tsp

soy sauce

1

tsp

sugar

2

scallion

1

chilli pepper

baby corn
Instructions
Asian Style Pizza
Wash and rinse the rice about 4 times. Bring the rice to a boil with a about 2 1/2 cups of water. Once the water starts to boil turn down the heat and cover the pot and let it simmer for about 12 minutes. Turn of the heat and remove the rice from the pot and place it in a bowl. Add the garlic powder, chilli flakes and sugar to the rice and mix it well. let it cool down before making the crust.

preheat your oven to 175 Celcius or 350 Farenheit. Place the rice on a piece of parchment paper, wet your hands and shape the rice into the shape of a pizza or if you're feeling adventurous you can form it into a rectangle, or square even, just make sure the crust isn't to thin and the edges a little thicker. Place the crust in a oven and cook it for about 20 minutes. While this is happening were gonna prepare the toppings.

After about 35 minutes remove the crust from the oven and add a layer of the sauce and Add the toppings. Put the pizza back in the oven for about 15 minutes and its done. you can cut it with a pizza cutter. and your pizza is done. Enjoy!
Oyster Mushrooms
Sauté the mushrooms in a pan with some oil over medium/low heat. After about 3 minutes add the soy sauce, sugar and chilli pepper and cook for another 2 minutes.
Notes
This will not work with long grain rice.