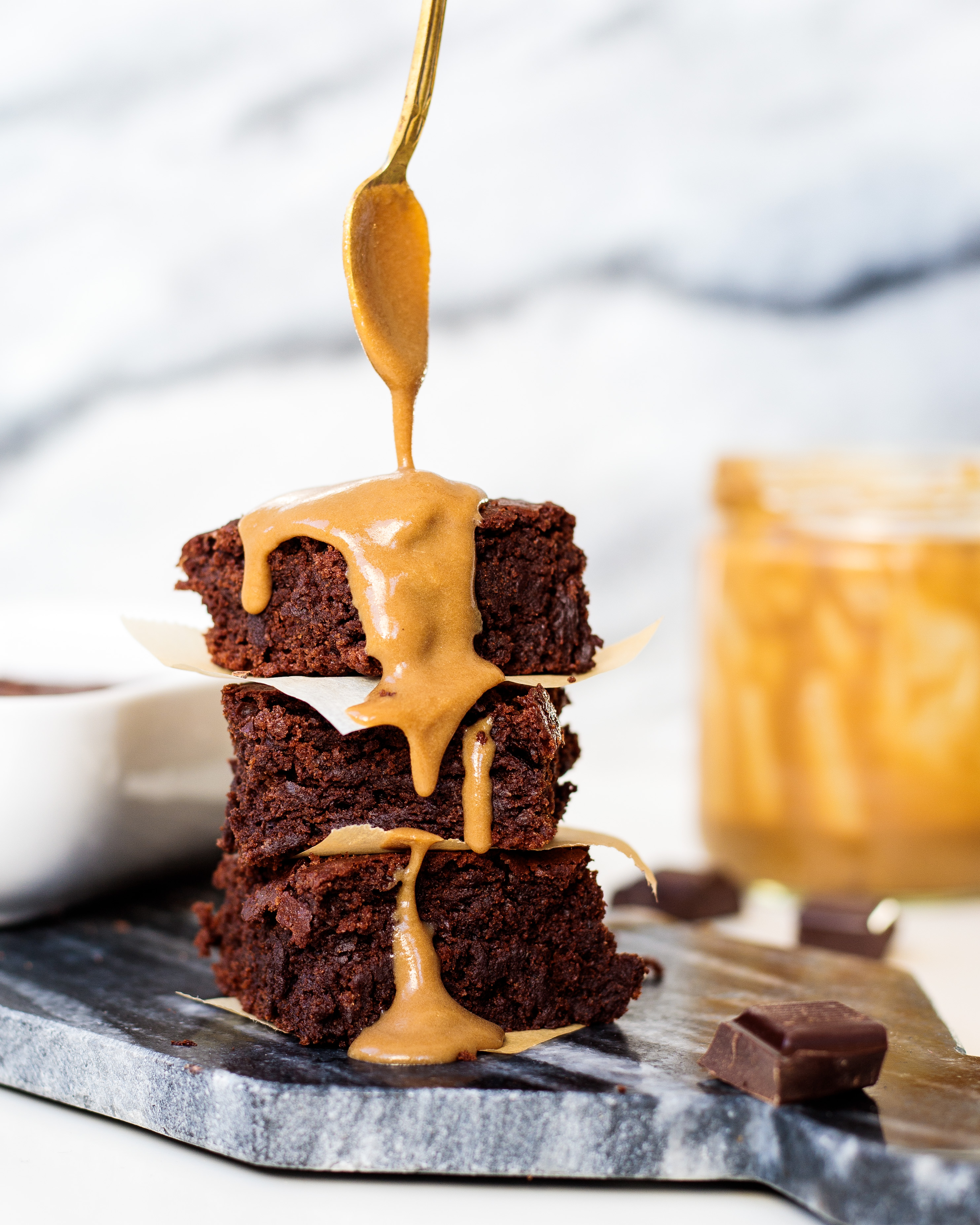 You may or may not know that I do not have much of a sweet tooth, well that all changed with this recipe…
For me the combination of the sweet chocolate brownie and salted caramel sauce creates a perfect balance between salty and sweet. The sauce itself is still sweet, but salty enough to somehow satisfy my savory needs, it's a magical combination!
These are extremely indulgent and should be enjoyed every now and then. If you're looking for a more healthy brownie you can try the raw vegan version of this recipe. Having said that, these are still decently healthy because we swapped regular sugar for coconut sugar. I know, it's still sugar! But it's a healthier alternative compared to the white variety with a lower Glycemic Index.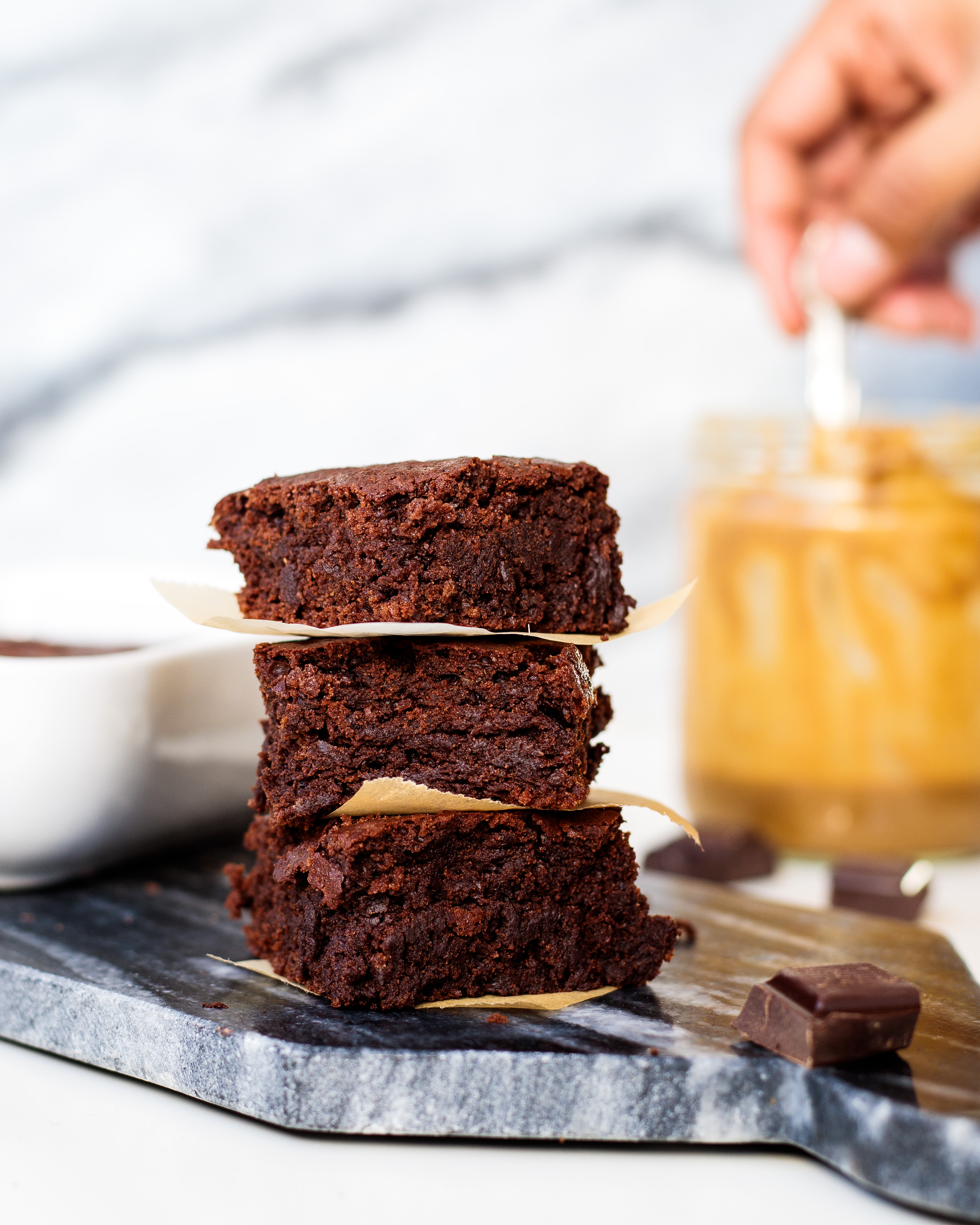 The past two weeks I've made this recipe four times to test it and every time they disappeared in thin air. This also means that I had way to many brownies, so the next recipe is probably going to be a salad.
You can half the caramel sauce recipe, but I like to make a bigger batch so I can use it multiple times, it's also great on ice cream! Another adjustment you can make is leaving out the salt to make a simple caramel sauce.
If you recreate this recipe don't forget to drop a comment down below and feel free to tag and follow me on instagram and facebook.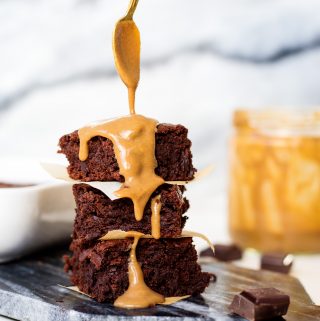 Salted Caramel Brownies
Ingredients
Brownies
1

cup

flour

150 grams

2

tsp

baking powder

10 grams

4

tbsp

cacao powder

25 grams

1

cup

coconut sugar

1 1/2

cup

non dairy milk

5

tbsp

coconut oil

1

tsp

vanilla

2

flax eggs

2 tbsp crushed flax seeds w/ 4 tbsp water

200

grams

Chocolate
Salted Caramel
2

cans

full fat coconut milk

1 1/2

cup

coconut sugar

1/2

tsp

salt

I used himalayan rock salt

2

tsp

vanilla extract
Instructions
Brownie
Preheat the oven to 175 Celsius Start by making 2 flax eggs by mixing 2 tbsp crushed or ground flax seeds with 4 tbsp water. Let it sit to thicken.

Now melt the chocolate over a double boiler or by using the microwave. Set it aside to cool.

To a large bowl add sift in the flower, baking powder and cacao powder. Add the coconut sugar and mix well.

Add the oil, melted chocolate, flax eggs and non dairy milk to the flour and mix well. Pour the batter in a parchment lined baking dish and cook in the oven for about 30 minutes. Serve with the salted caramel drizzle, enjoy!
Salted Caramel
After bringing it to a boil, lower the heat and let it simmer until the sauce has started to thicken while stirring occasionally. In between stirring you can prepare the brownie batter.

Stir while simmering for about 35 to 40 minutes depending on how much liquid the coconut milk has. Once you get a thick coating on the back of your spoon, the sauce is done. Turn of the heat and let it cool to thicken even further. This makes enough for 2 batches of brownies. Add salt to taste (I added 1/2 tsp Himalayan rock salt)