Since I've been doing some major indulging lately I'm planning to do a massive cleanse to reset my body. We're still in the middle of the holiday season I'm giving myself a pass, meaning I'll start my cleanse in January! Since I've still got two weeks of indulging ahead I thought why not try some more "healthy" versions of super indulging recipes to prepare myself for detoxification. So here it is a gluten and nut free recipe for brownie bites.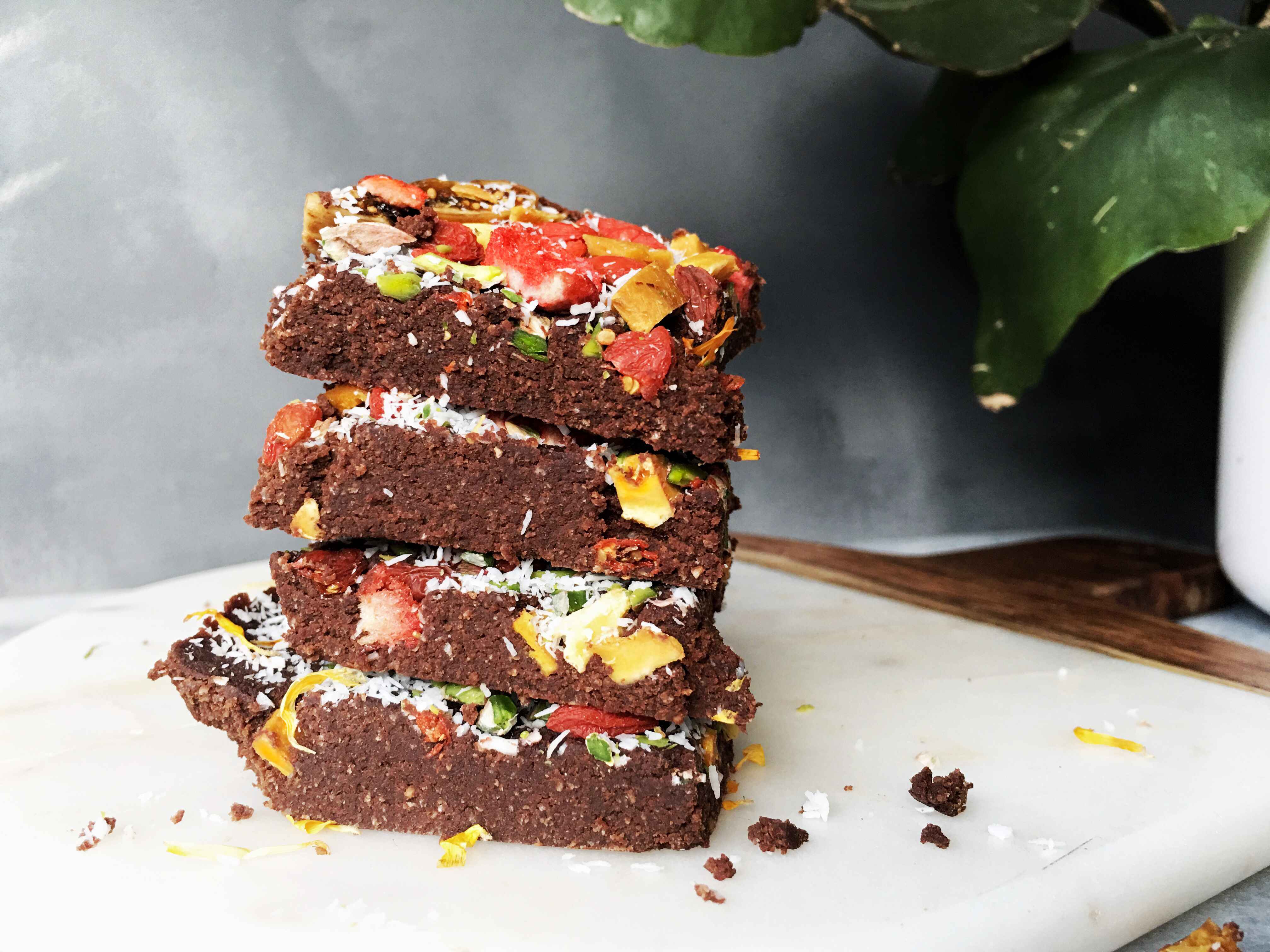 Fun fact: this recipe was actually a fail that I tried saving, and thus turned into a win!
This recipe asks for only three ingredients and no baking. Yes you read that good, no nuts, wheat flour and dates were used, just plain Ol' dark chocolate. You might ask yourself "How is this not indulgent?", well they are indulging treats, but a lot healthier than regular brownies that have tons of oil and extra sugar. Now is this as moist and rich as a regular brownie? No it's not, but considering the facts, it's a damn good brownie!
Since you can top it with whatever your heart desires these are perfect if you want to make something festive for the holidays!
I added ground cardamom to the batch, but keep in mind that cardamom has a very distinctive taste, that's not very subtle. So you might want to leave it out, it's totally optional. Also go wild with whatever toppings you like. I went with:
Desiccated coconut
Crushed Pistachio
Dried strawberries
Dried Mango
Goji Berries
Dried Figs
Golden Chrysanthemum Flower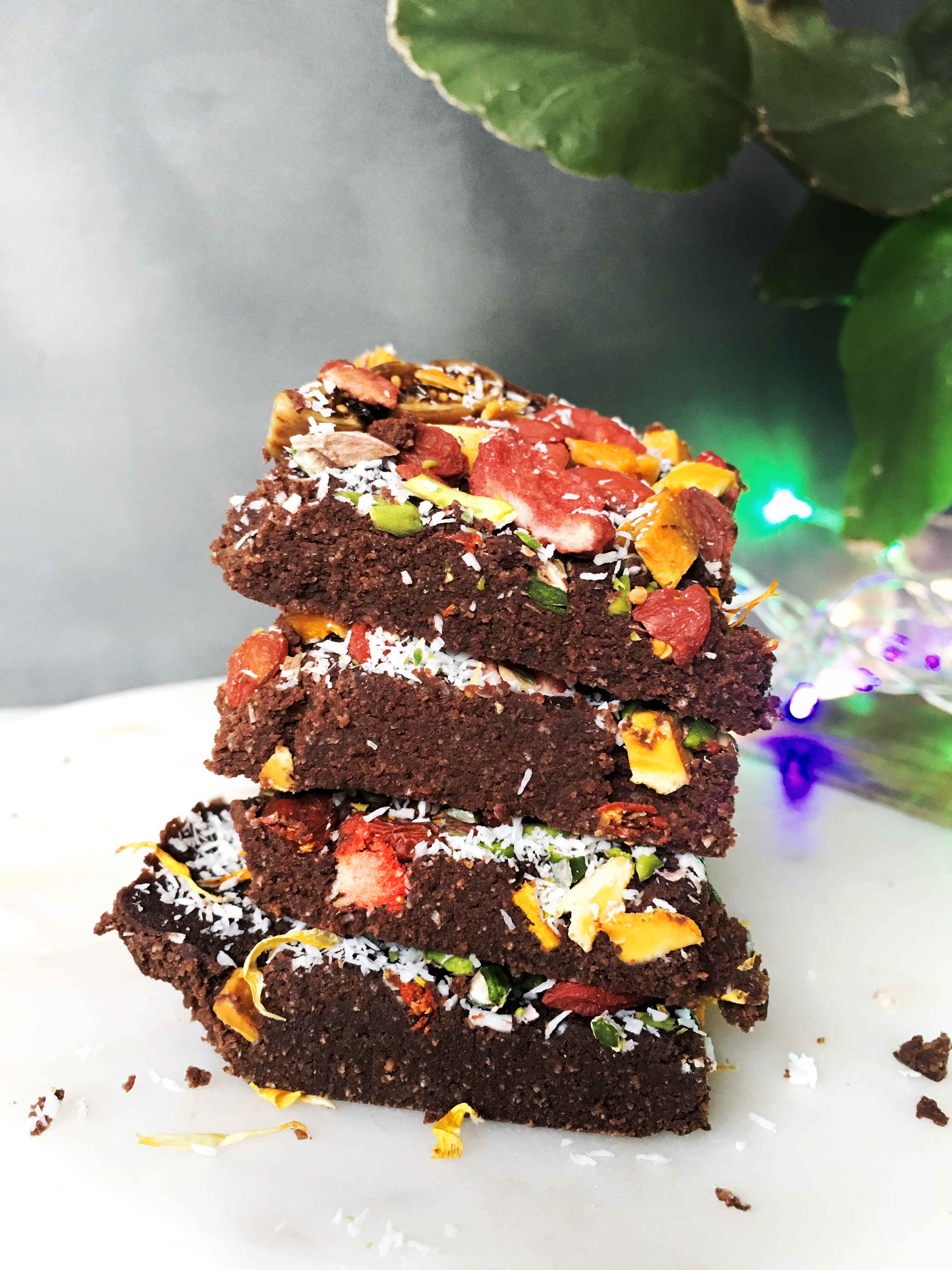 You can also choose to add other dried fruits, dried flower petals, nuts and seeds of choice. Also if you do not like cardamom but do want to spice it up you can add cayenne pepper, chai spices, cinnamon or maybe some pumpkin spice. Go wild and do your thing!
I really hope you like this recipe, now let's get to it! Feel free to leave a comment below or to tag me in your recreations on Instagram and don't forget to like my Facebook page.
One Love,
A.J.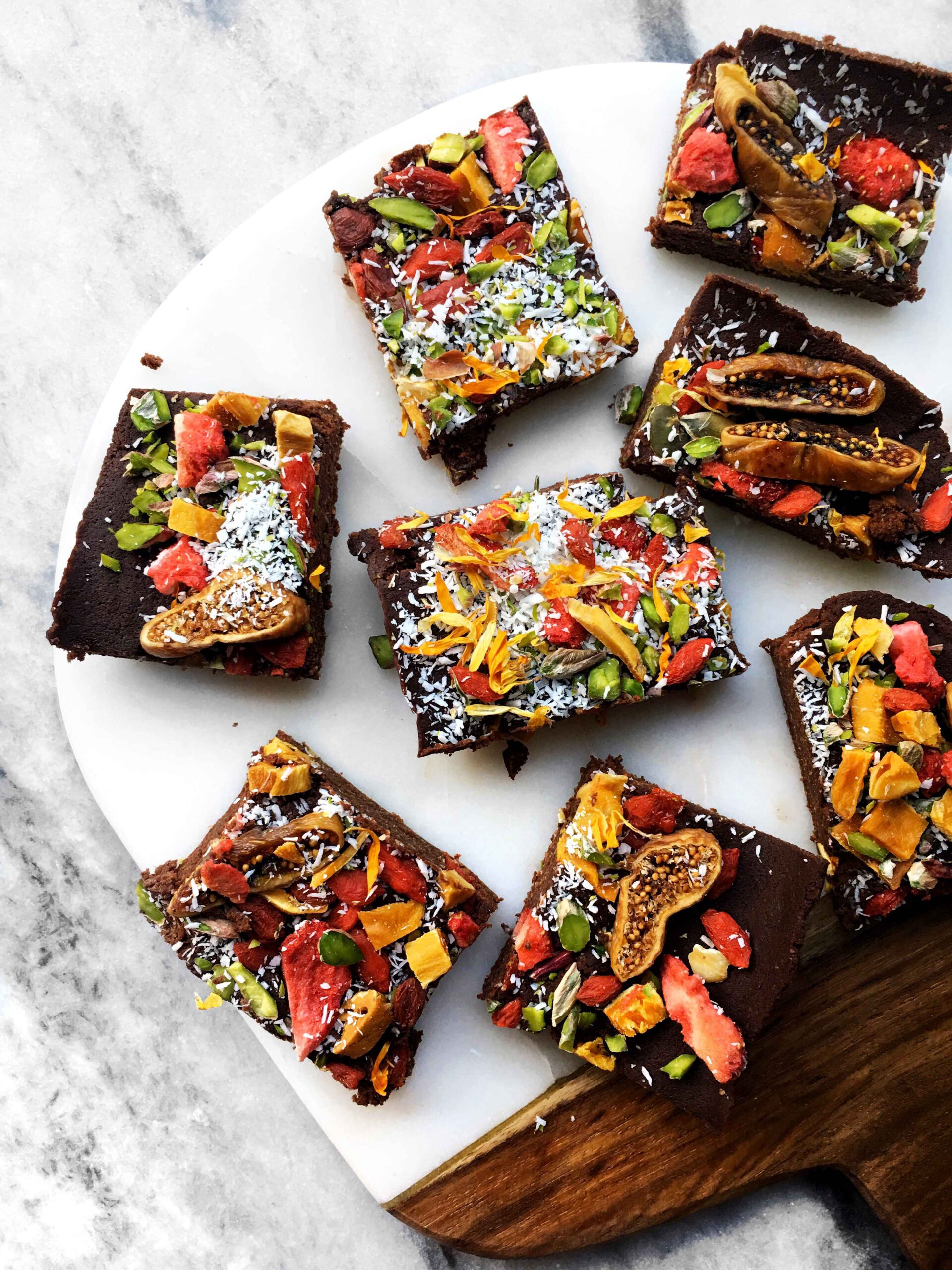 No Bake Festive Coconut Brownies - Gluten & Nut Free
Ingredients
200

grams

dark chocolate

7

tbsp

non dairy milk

1/2

cup

coconut flour

1/4

tsp

cardamom

(optional)

toppings of choice
Instructions
If you're adding toppings, prepare those first. And line a small baking dish with parchment paper. Now over a double boiler melt the chocolate with the non dairy milk and ground cardamom (optional). Once it has melted add the coconut powder and whisk to well.

Add the chocolate mixture to the parchment paper and add another piece of parchment paper on top to spread it out. Now add the toppings and use the other piece of parchment paper to press it all in. Now put it in the freezer for 45 minutes and you're ready to have yourself a slice! Enjoy!