Move aside cinnamon rolls, there is another roll in town, one that can definitely hold it's own against you, a much loved dessert! But for real though, I am a huge lover of cinnamon rolls, but it's about time to switch things up. So let me introduce to you, the bounty roll! The name is quite self explanatory, these perfectly golden buns are filled with a coconut, cacao mixture and instead of using vegan butter as a filling, we of course used extra virgin coconut oil. I was planning on sharing this recipe about 10 months ago when I served them at my birthday, but you know what they say, better late than never, right!?
These rolls are perfect to bring to a holiday dinner or to serve on any other occasion to be honest, I often make these for family and friends, trust me, it's a crowd pleaser.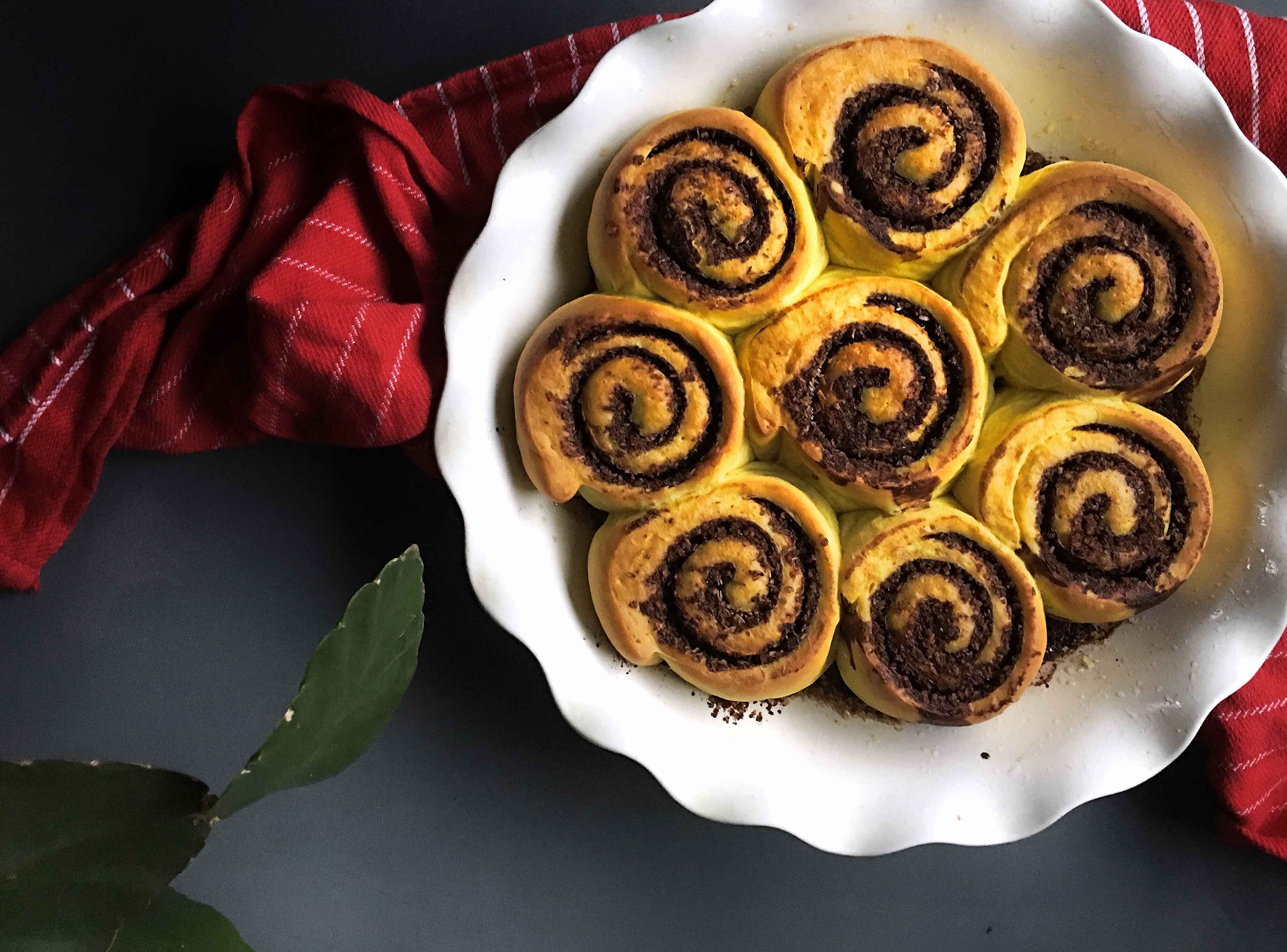 You can eat these bun's straight out of the oven as they are or top them with whatever frosting you like. For this batch I made a simple vanilla "butter" cream frosting, by whisking about two heaping table spoons of vegan butter with powdered sugar, vanilla with a pinch of turmeric and spirulina for colour.
I also decided to top them with some crushed pistachios, goji berries and desiccated coconut for that extra festive look.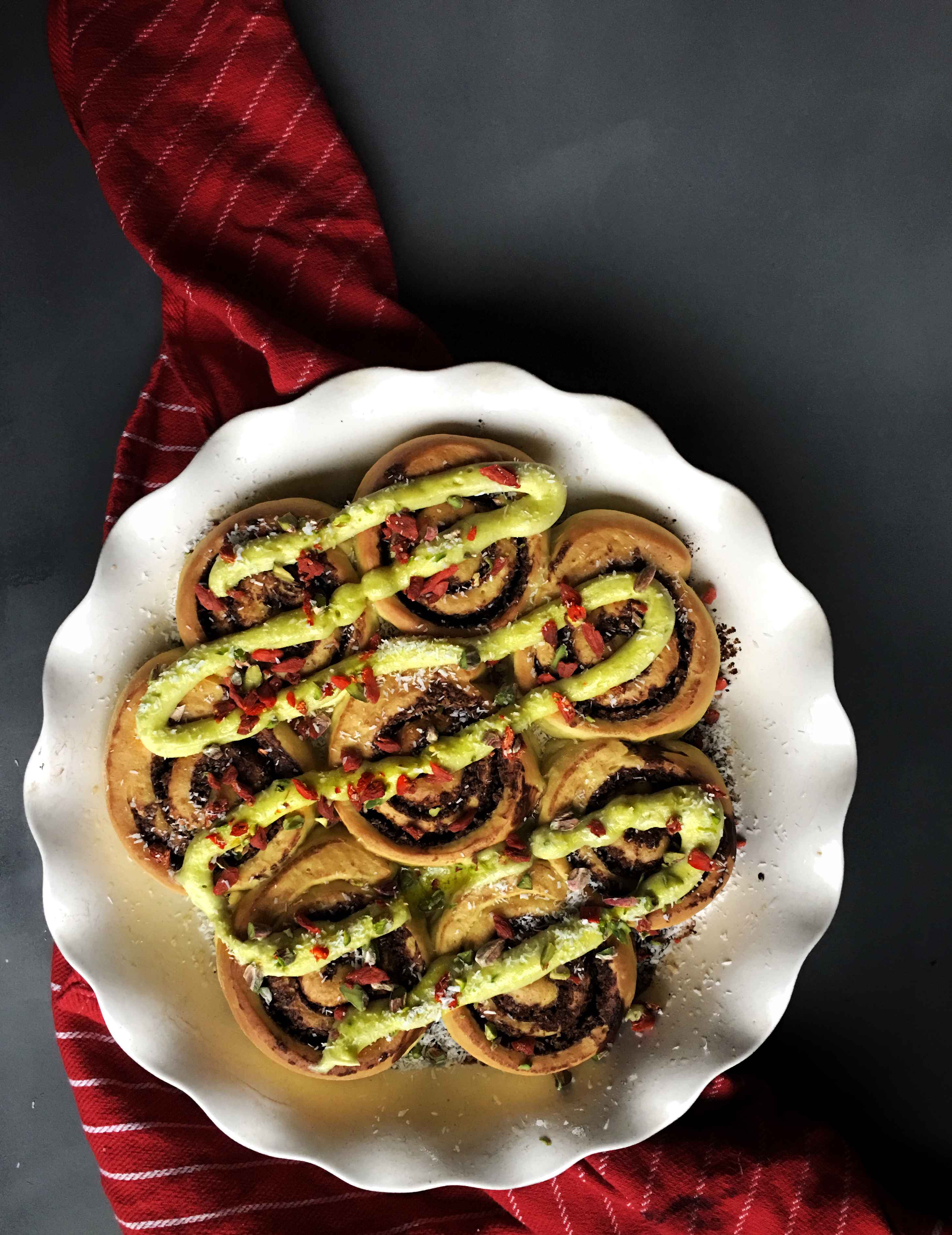 You know what's funny, I'm just now noticing that lately the recipes have been sweet treats, don't worry I've got something savoury coming your way!
really hope you like this recipe, now let's get to it! Feel free to leave a comment below or to tag me in your recreations on Instagram and don't forget to like my Facebook page.
One Love,
A.J.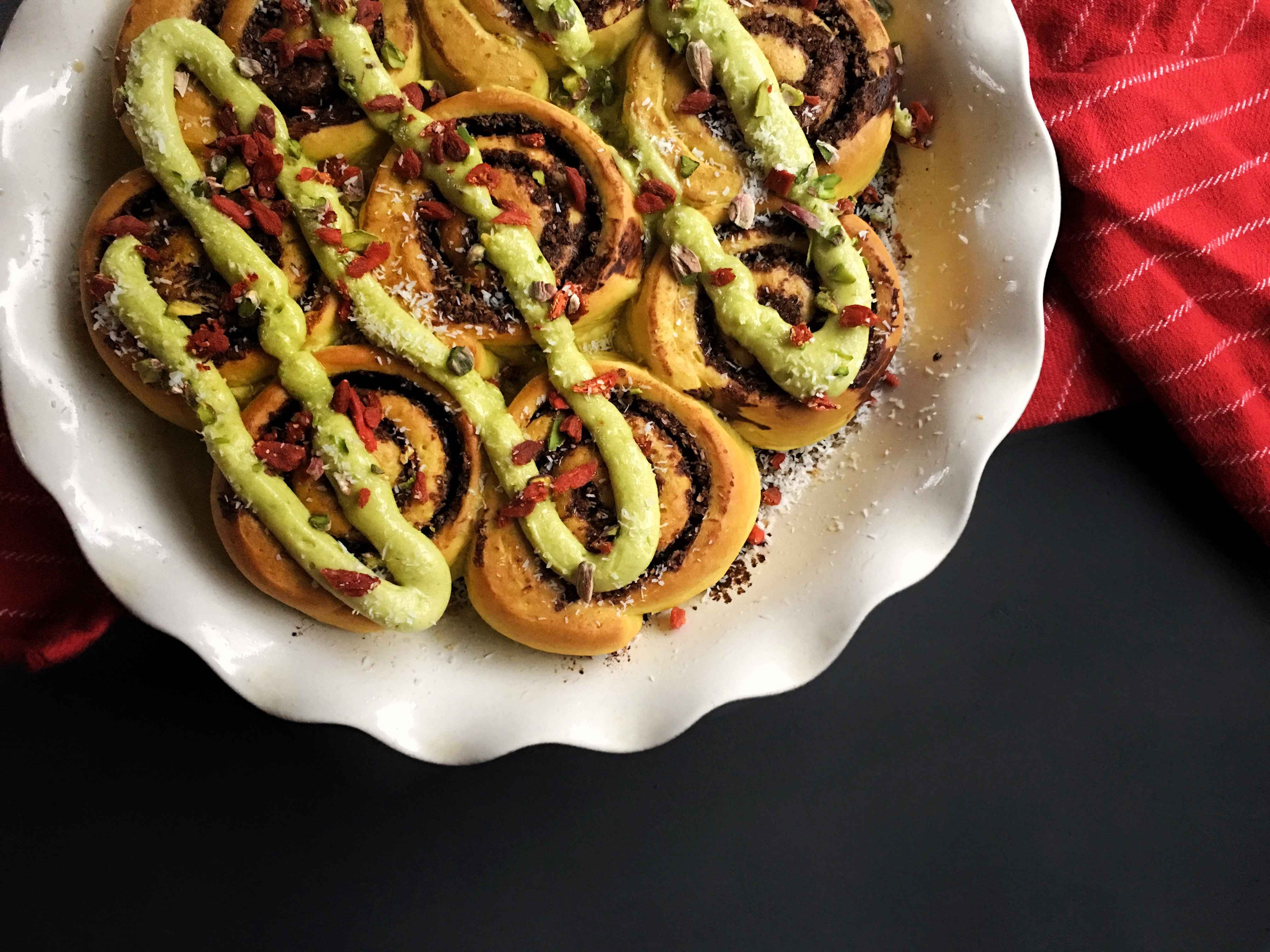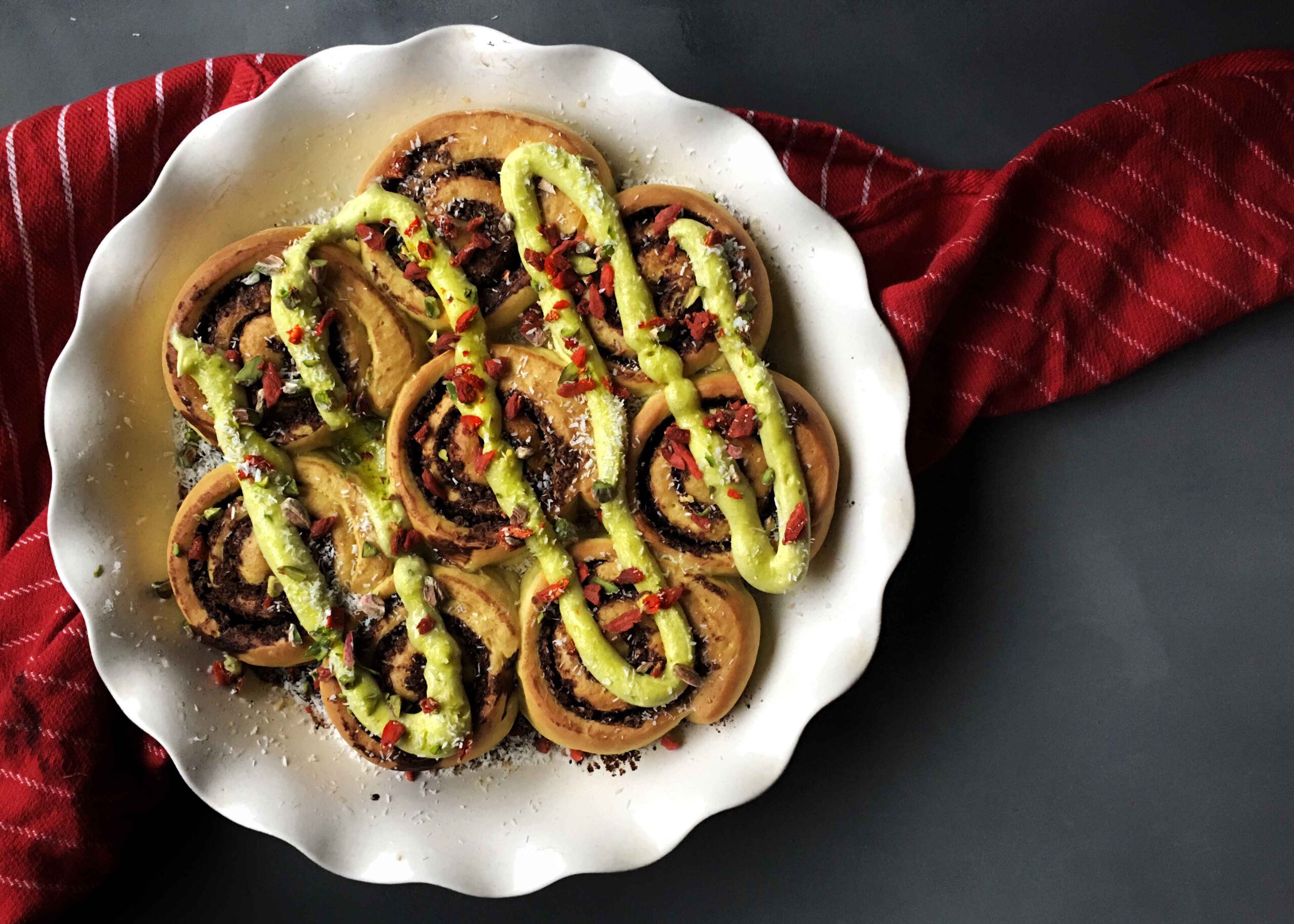 Bounty Rolls
Fluffy rolls filled with coconut and cacao, it's a crowd pleaser!
Ingredients
Rolls
1

cup

non dairy milk

2

tbsp

sugar

1

pack

instant yeast

3

tbsp

coconut oil

2 1/4

cup

flour

this can vary

turmeric
Filling
1/4

cup

coconut oil

1/4

cup

desiccated coconut

1/4

cup

cacao

1/2

cup

raw cane sugar

could also use brown or coconut sugar
Instructions
Start by blooming the yeast by adding the sugar and yeast to warm plant based milk. Note that the milk has to be warm and not boiling hot. After about 5 minutes the yeast should bloom and at this point you can add the melted coconut oil, turmeric and flours. When adding the flour add half a cup a time and kneed until you get a nice and firm dough that doesn't stick to your hands. Now place the dough ball in a bowl and cover it so it wont dry out while we're letting it rest for about 45 minutes or until it has doubled in size. Let it sit at a warm place.

Once the dough has doubled in size you can make the filling. Melt the coconut and add all the ingredients to a bowl, mix it well and set it aside. Now roll out the dough into a rectangle and spread the filling mixture on top, leaving an inch from the bottom empty, this will make it easier to close. I also sprinkled some extra desiccated coconut on top of the mixture. Roll it up into a log and cut it into even slices. Grease a baking dish and you can optionally dust the bottom with sugar and then cacao. Now place the rolls in the dish and cover it to let the rolls rise for another 45 minutes on a warm place. Now preheat your oven to about 175 degrees celcius

After the rolls have doubled in size you can pop them in the oven to bake them for about 18 minutes, or until the tops are golden brown. You can easily eat them as is or top them with a frosting. Enjoy!