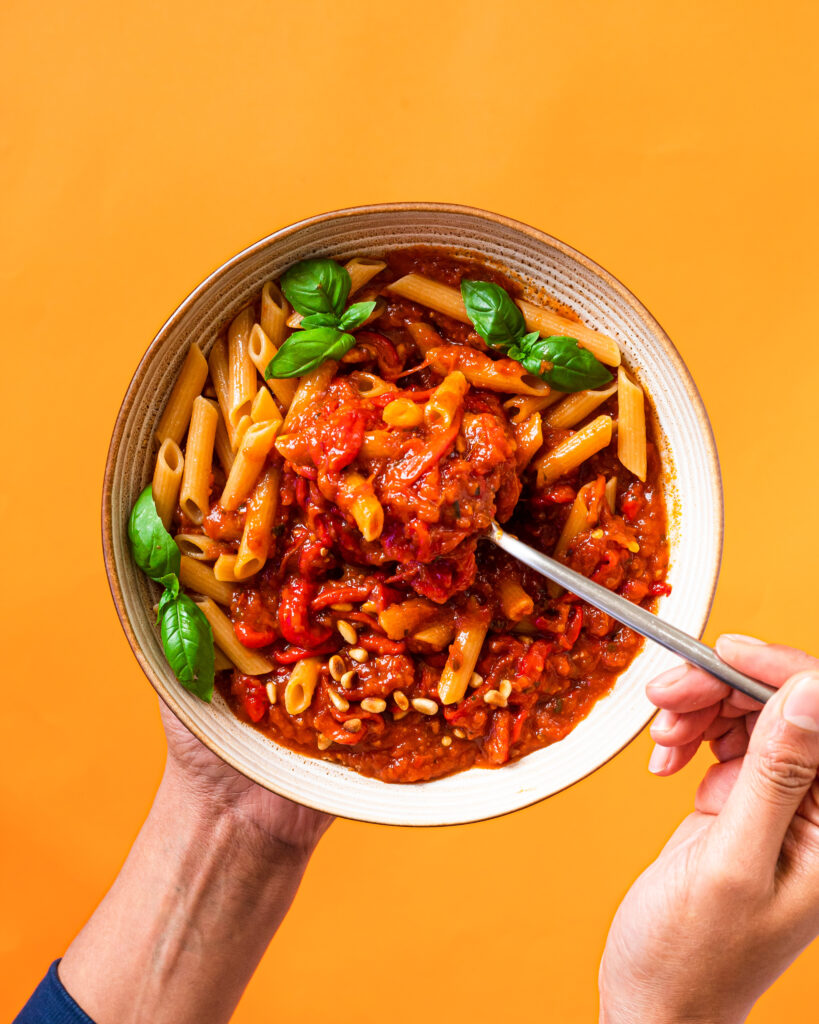 I've got a comforting sauce ready for you to eat. This roasted bell pepper sauce is warming and perfect with your next pasta or rice dish, or for instance as a dip with some bread.
A base to any good meal is a comforting sauce, this sauce does exactly what it is meant for. The sweets bell peppers mixed with tomatoes adds a bright red colour to your dish. It's a base you can build on and in this post I'll explain exactly how. And if you love bell peppers you should try this recipe for bulgarian kyopolou, it's a smoky bell pepper and eggplant dip.
Pictured above I'm breaking a piece of bread to dip into the roasted bell pepper sauce. Whenever I make a thick sauce I love putting it on the table as something to dip with bread. This is something I learned from my sister in law who moved here from Morocco. She has taught me a lot! There's something extra comforting sharing a bowl of food at the table.
Another way to eat the roasted bell pepper sauce is with pasta. Pictures at the beginning of the post I used a lentil pasta to turn this sauce into a meal. To add even more protein you could add more legumes or plant-based protein of choice like vegan "chicken" pieces.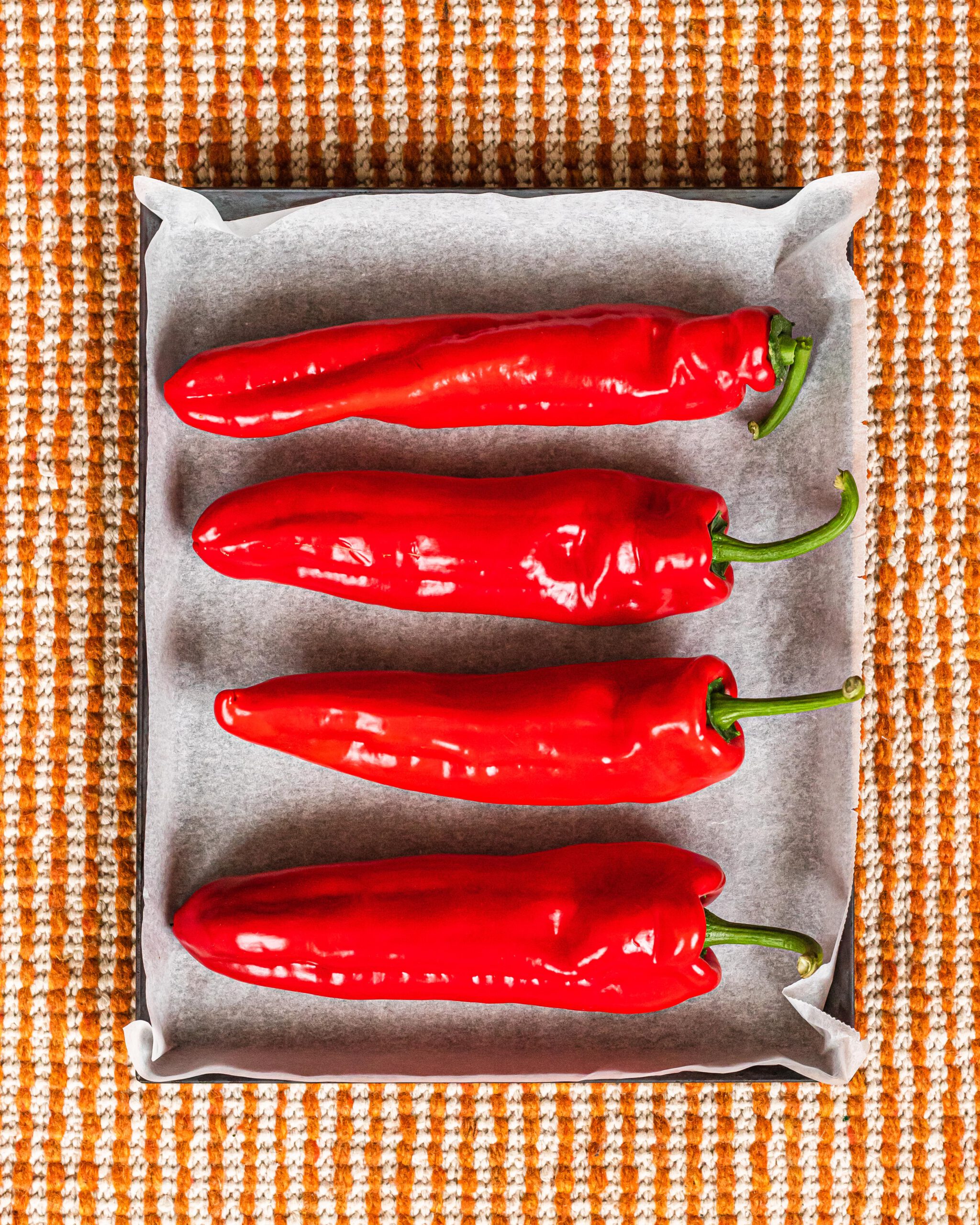 Roasted bell peppers to get an amazing sauce.
Here I have an oven tray with bell peppers ready to go into the oven. If you don't have an oven you can roast them on the stove over and open flame, flipping them until the skin is charred. I prefer using the oven when I'm doing multiple.
Be sure to follow me on Instagram to stay updated on all new recipes and find my cooking videos on my highlights. You can also find me on Pinterest to find more vegan food inspiration.
One Love, Jason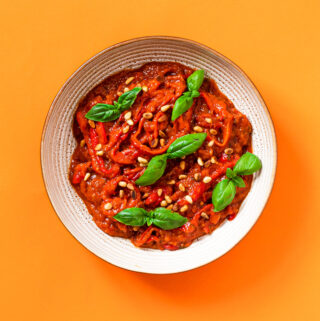 Roasted Bell Pepper Sauce
A warming roasted bell pepper & tomato sauce to use as a dip or sauce.
Ingredients
4

bell peppers

roasted

1

red onion

finely chopped

5

cloves

garlic

minced

2

tomatoes

chopped

1

Raw Jalapeno

chopped

1

tbsp

tomato pureé

1

vegetable boullion cube

1

tbsp

fresh oregano

chopped

1

tsp

smoked paprika

powder

1

tsp

garam masala

400

ml

tomato sauce

20

grams

pine nuts

roasted

to taste

salt and pepper
Instructions
Turn the oven broiler on its highest temp. Place the bell peppers on a parchment paper lined oven tray and place it in the oven. Leave them here for about 40 minutes. Check on them every 12 minutes or so to turn them so they evenly roast. When the skin is dark charred remove from the oven en place in a bowl, cover the bowl to let them steam. Once cooled down you can easily peel away the skin, deseed and cut in strips. Try to save the liquid they release.

While roasting the bell peppers you can start making the sauce. Warm a pan over medium heat. Add a tbsp of oil, onions, garlic, tomatoes, jalapenos and tomato puree. Cook this until most of the moisture has evaporated for about 7 minutes. Add the remaining ingredients including the bell peppers and cook this for about 15 minutes. You are ready to serve. Eat as a dip with bread or use it as a pasta sauce. Garnish with basil & pine nuts. Enjoy!