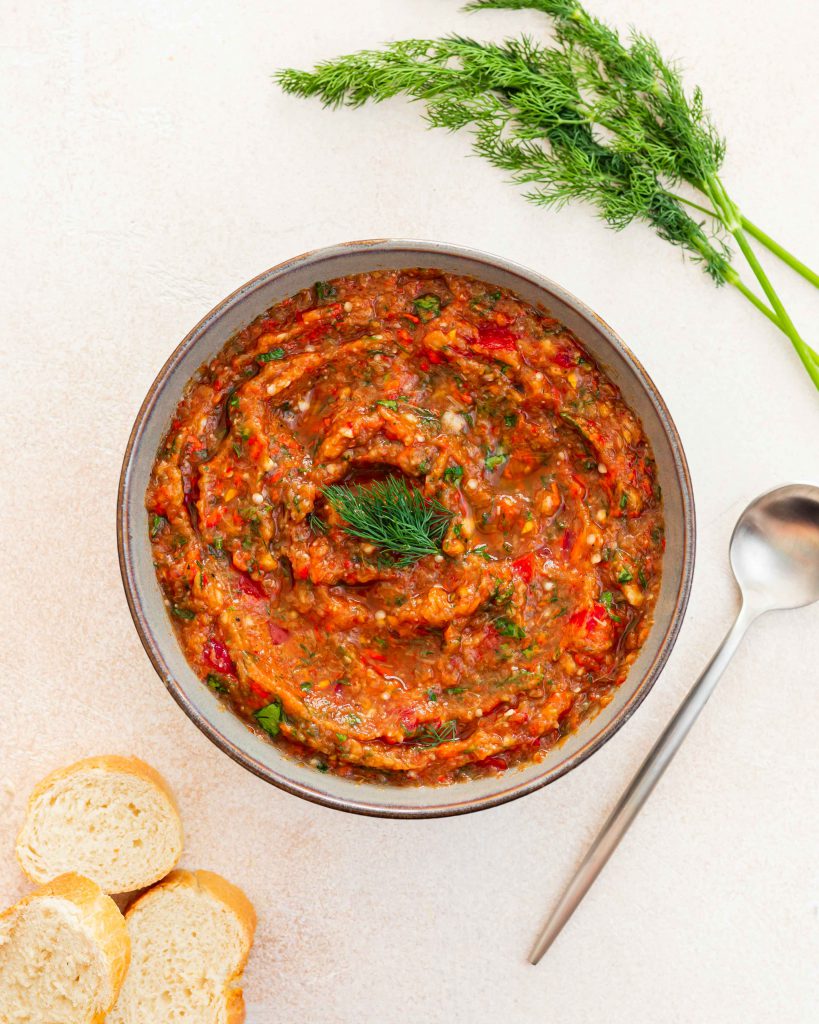 You can't go wrong with a comforting dip and bread. When my boyfriend showed me how to make this popular Bulgarian eggplant dip I was completely hooked. It reminded me of the morrocan eggplant dip my sister in law would make. Time to start dipping!
You can easily make this dish ahead of time. I find that it is one of those dishes that gets better over time. You can store it in a container in the fridge, this way you can easily grab it to use as a spread on bread,
Roasting eggplant and bell peppers for the dip.
To make this dip we need to roast our eggplants and bell peppers. Below in the recipe I've decribed how I do this using an oven. If you are a bit more experienced in the kitchen you can also roast the eggplants over an open flame. I do this using my stovetop.
By placing the eggplant on the stove fire and flipping it once the fire blackens the skin, until the entire eggplant is black I get some extra smokiness to the final dish. But of course, the oven version is still very delicious.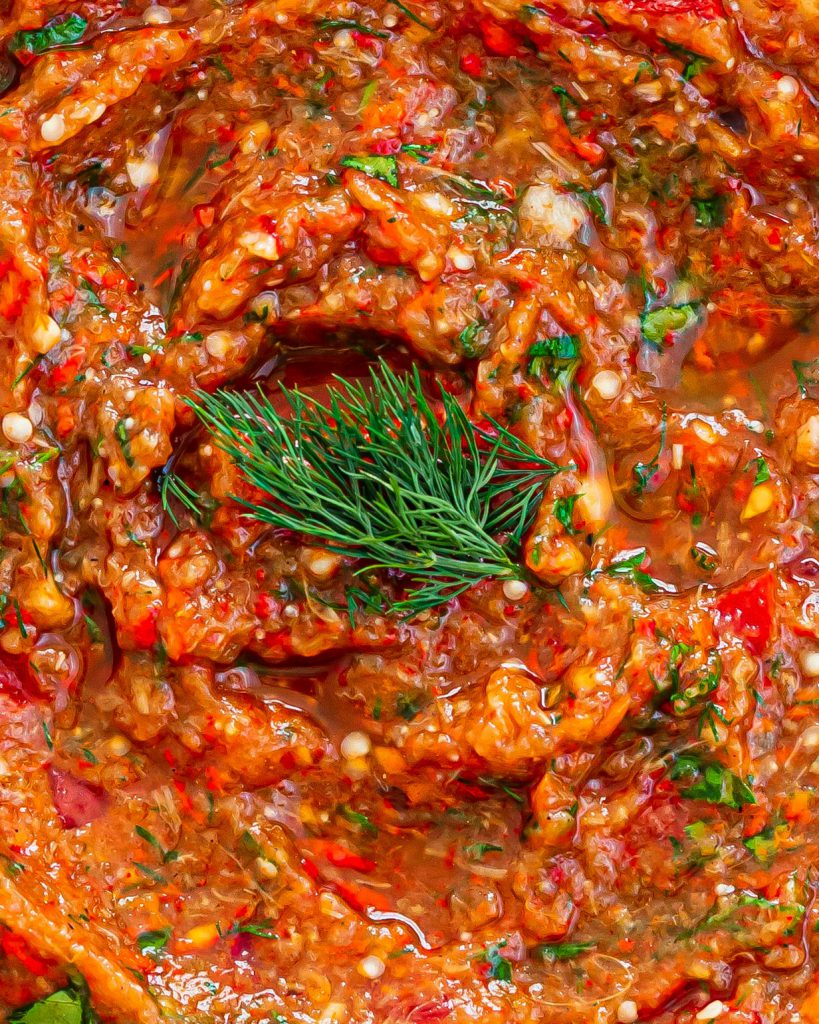 If you love roasted bell pepper you should definitely try this recipe for roasted bell pepper hummus.
You can make your own version of this Bulgarian eggplant dip. You can for example skip the dille and just add the parsley. And you can choose to add roasted garlic or fresh ones. I love using fresh garlic because it has a sharp almost peppery taste. My boyfriend would say "the more garlic the better", so feel free to add to taste.
Be sure to follow me on Instagram to stay updated on all new recipes and to find my cooking videos on the story highlights. You can also find me on Pinterest to find more vegan food inspiration.
One Love, Jason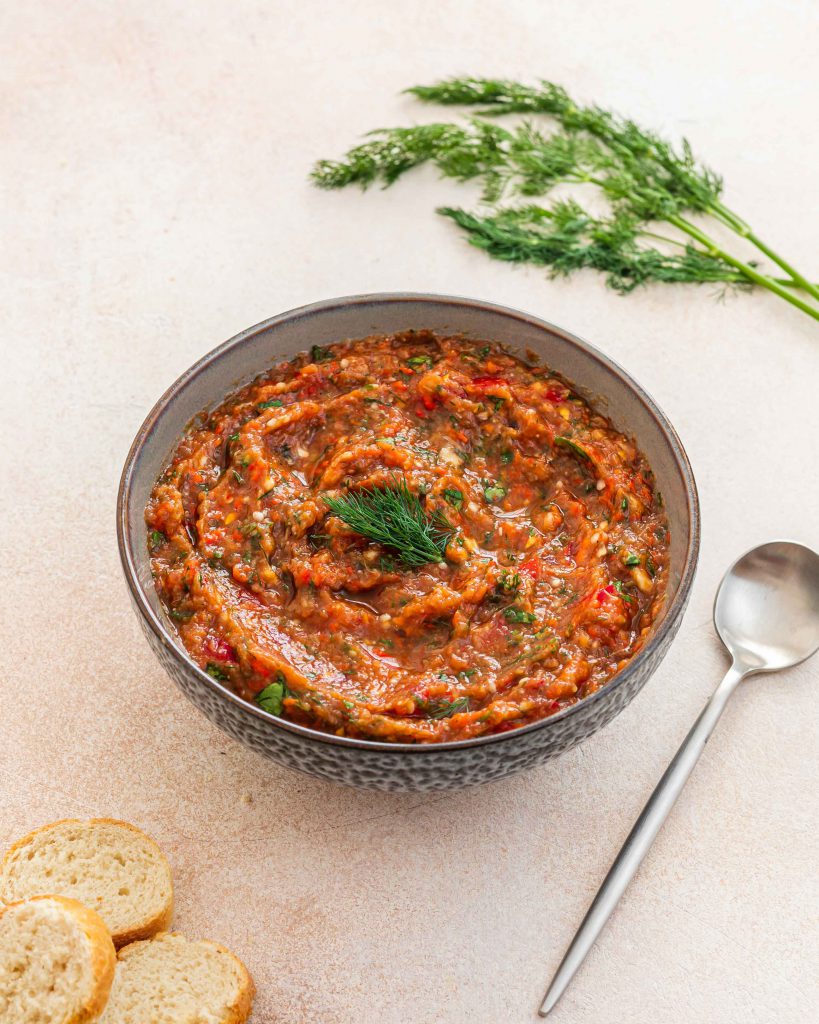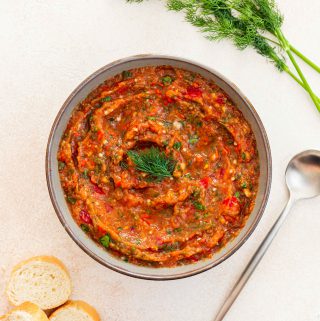 Bulgarian Eggplant Dip
This Bulgarian eggplant dip is a must try. It is easy to make and very comforting. You can store this delicious vegan condiment in the fridge.
Ingredients
3

eggplants

roasted

3

red bell peppers

roasted

3 to 5

cloves

garlic

minced

3

tbsp

parsley

chopped

1

tbsp

dille

chopped

1

tbsp

red wine vinegar

1

tomato

chopped

1

tbsp

olive oil

1/4

tsp

salt

or to taste

1/4

tsp

black pepper

or to taste
Instructions
Heat the oven with the grill setting on. Place the eggplant and bell pepper on a parchment paper lined baking tray. Broil them in the oven until the skin blackens. Flip them and do the same on the other side. It takes about 25 minutes to roast the eggplants. Remove them from the oven and place them in a bowl, cover this so the vegetables can steam which makes it easier to remove the skin.

After the veggies have cooled of a bit you can remove the skins and seeds of the bell pepper. Add the bell pepper, eggplant and garlic to a food processor or blender and pulse until you get a course dip. If you don't have these equipments you can also chop everything very finely and mix in a bowl.

Add the remaining ingredients and mix well. Serve this with bread or as a salad. Store in the fridge.