Curry dishes must be some of my all time comfort foods, I grew up eating curry on a regular base, the perks of coming from a multi cultural family, and every time I eat a delicious curry it takes me back. One thing I just can't seem to ignore is that (in my opinion) the most delicious curries are not shy on oil. Now I'm not gonna nit pick and say I'll never eat oil again, cause this will be a lie, but there ain't nothing wrong with cutting back a bit, right!?
Not gonna lie, when deciding to make this dish without oil, I was a bit skeptical, because normally I'd sauté the onion and garlic in oil, and if I'm feeling a bit extra might even fry the eggplant and potatoes before adding them to the dish, but nothing's more fun than playing around in the kitchen.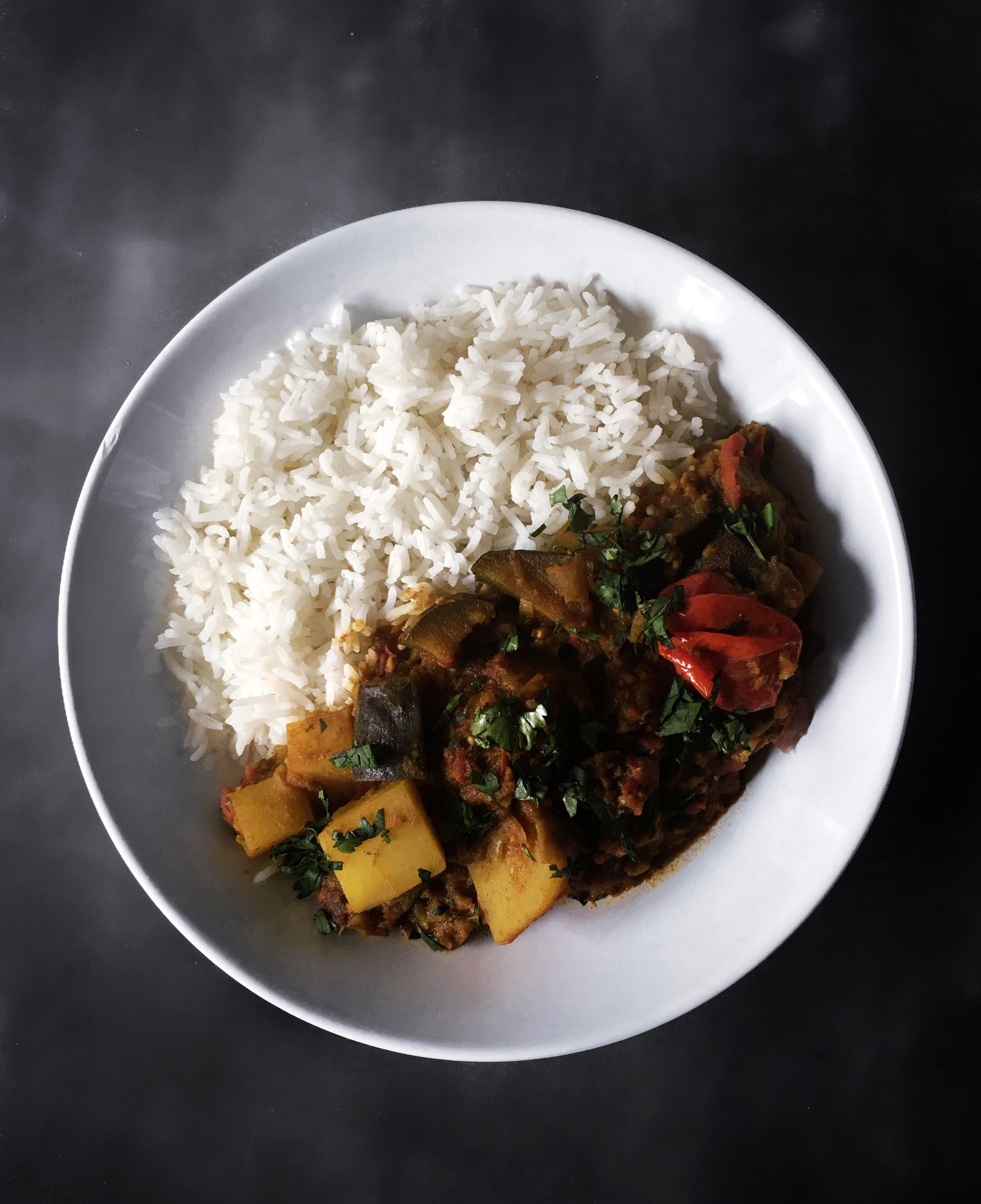 The recipe came out quite delicious, if I say so myself. It can't compete with its oily counterpart, but that's just my personal preference, and to each their own. Still this dish is a success in my books, it's comforting and if you're strict on your oil intake and want an easy & delicious oil free eggplant curry, this will be exactly what you need!
Eat this with some rice, flatbread or however your heart desires. You can even go all out and add a dollop of cashew cream, who knows you might take this dish to new levels! And if you don't care even the slightest about your oil intake, then why not use some oil, remember this is your dish, no judgments.
Let me know if you liked the recipe in the comments below and if you decide to recreate this dish feel free to tag me on Instagram as I'd love to see your creations!
One Love,
A.J.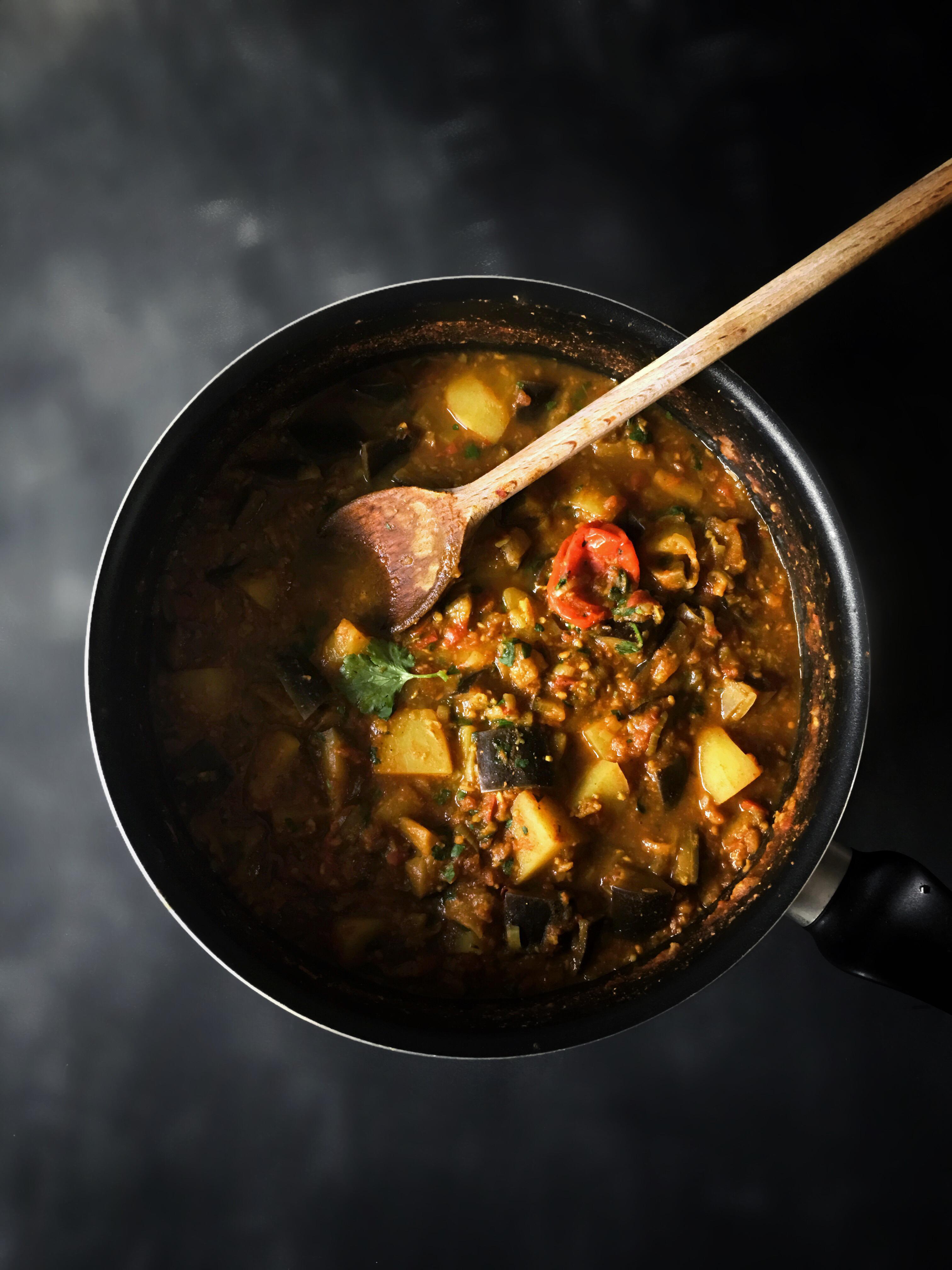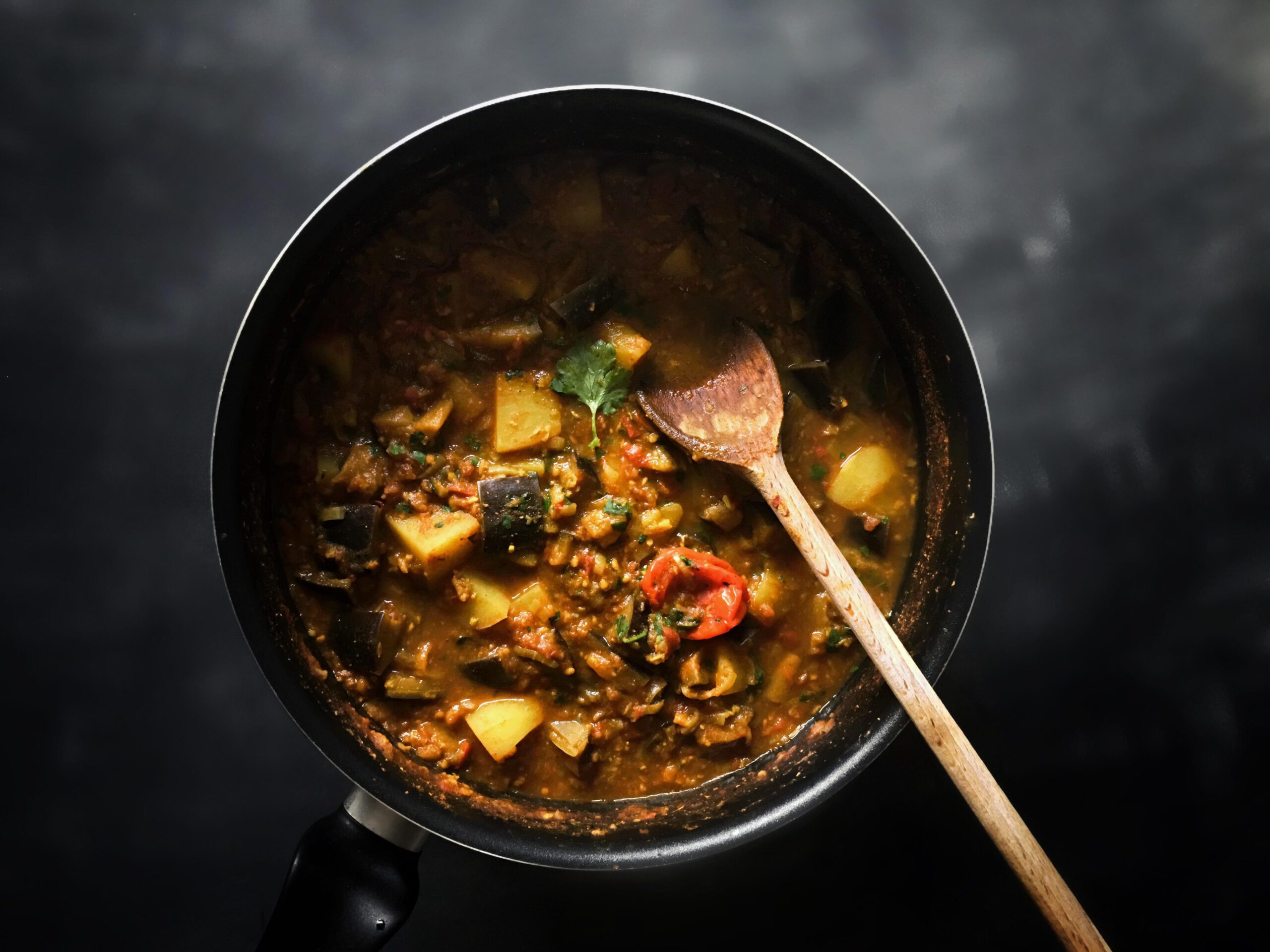 Oil Free Eggplant Curry
A warming and delicious curry recipe, without any oil!
Ingredients
1

eggplant

cubed

1

onion

chopped

5

cloves

garlic

minced

3

tomatoes

minced

2

medium

potatoes

cubed

1

habanero/adjuma pepper

or whatever hot peppers you like

2 1/2

tbsp

curry powder

to taste

salt
Instructions
Start by adding a little layer of water or veggie stock to your pan and turn the heat to medium/low. Once the pan is hot add the onions and garlic. Keep adding water or veggie stock when most of the water is evaporated, to scrap down the brown bits and prevent the onions and garlic from sticking until they're brown, not burnt.

Add the tomatoes and curry spices to the browned onions and cook this with the onions and garlic for about 5 minutes. Now add the remaining ingredients and cook for another 5 minutes, you might want to add a but of water.

Now add enough water to cover all the ingredients and let it simmer until the potatoes get soft. Add salt to taste. tip: If you want you can cook the potatoes down until they get mushy, this will thicken the sauce. Enjoy with some rice or flatbread.