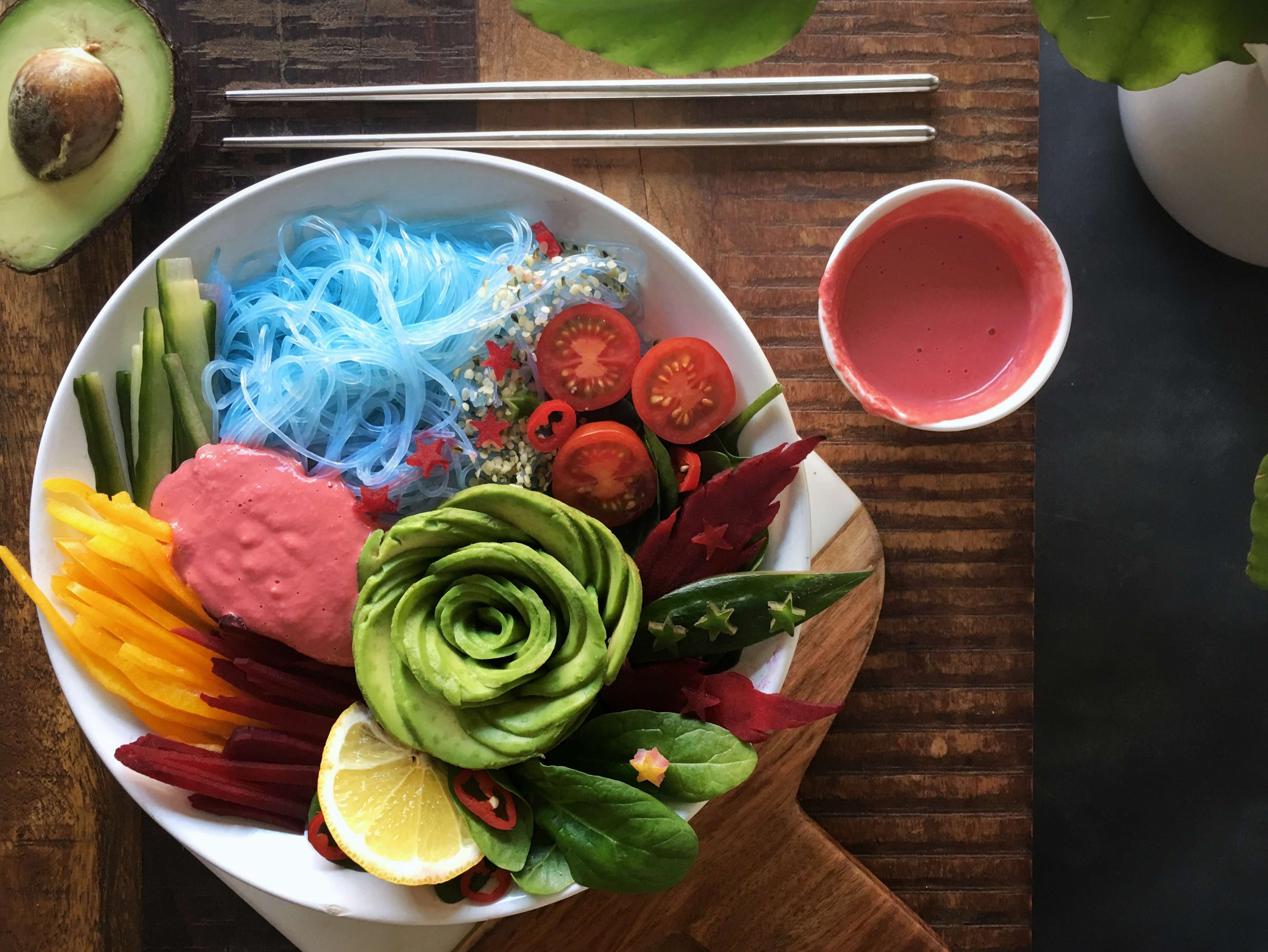 Rainbow bowl, my latest and greatest obsession! I could eat them every day, but as much as I like a dish I can't eat the exact same meal too many days in a row, or I'll start disliking it. Since I think it's important to eat as simple and vibrant as possible I decided to make some variations on one of my favorite type of bowls. You can use any type of noodle to make this bowl with, but trust me nothing beets unicorn noodles, thats a fact! To find out how they are made go over to this post.
This bowl is especially great when you're feeling a bit beat, get it? Puns aside the miso/beet sauce really takes this bowl to another level. As a former beet hater I understand it if you have your doubts about this sauce, don't worry so did I, but rest assured knowing it turned out creamy, cheesy and delicious, without an intense beet taste.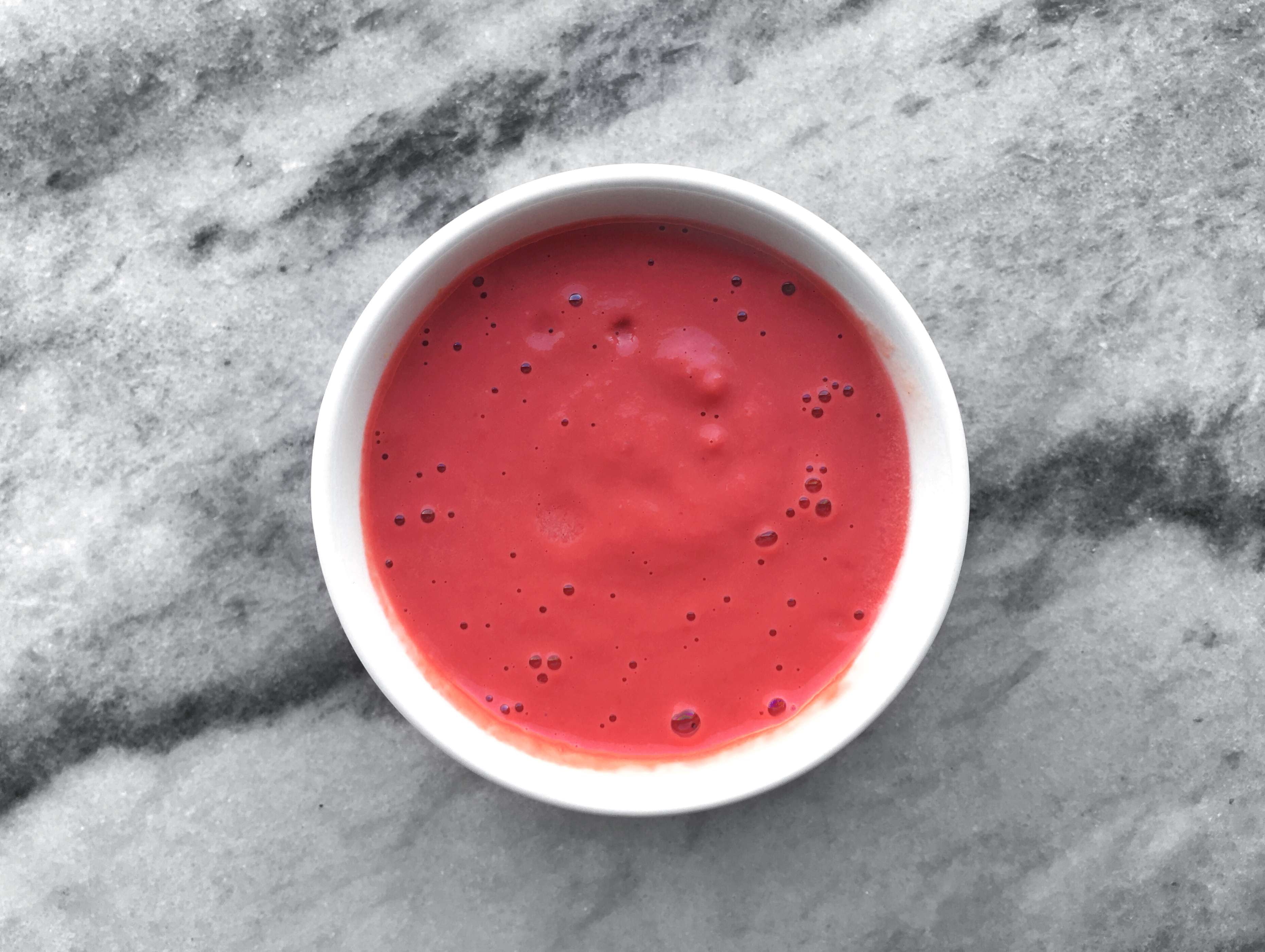 Ok let me share a little secret with you! As you might know I used to hate beets, right? Let me tell you how I went from hating them, to loving them. It started with me buying beet powder to use as a food colouring, I was a bit skeptical because I feared it would make the food taste like beets, but it didn't. The taste of beet was present, but only very slightly, just enough for my taste buds to actually start appreciating it.
Now I'm not telling you to go and buy beet powder, its pricy, just take some regular beets and sneak a little bit into your dishes and maybe one day even you will grow to love them! And if all fails, try this recipe, if you won't like beets after that, they might just not be for you, and thats also fine! The moral of the story is to never judge a food because of one or maybe two bad experiences, because given a change it might actually start growing on you!
Just remember that like most of my recipes you can simply adjust this one to taste, If you really can't stand beet, don't add it or add less. Maybe you want to use different veggies, or really dislike avocado's, I don't judge, this is your salad!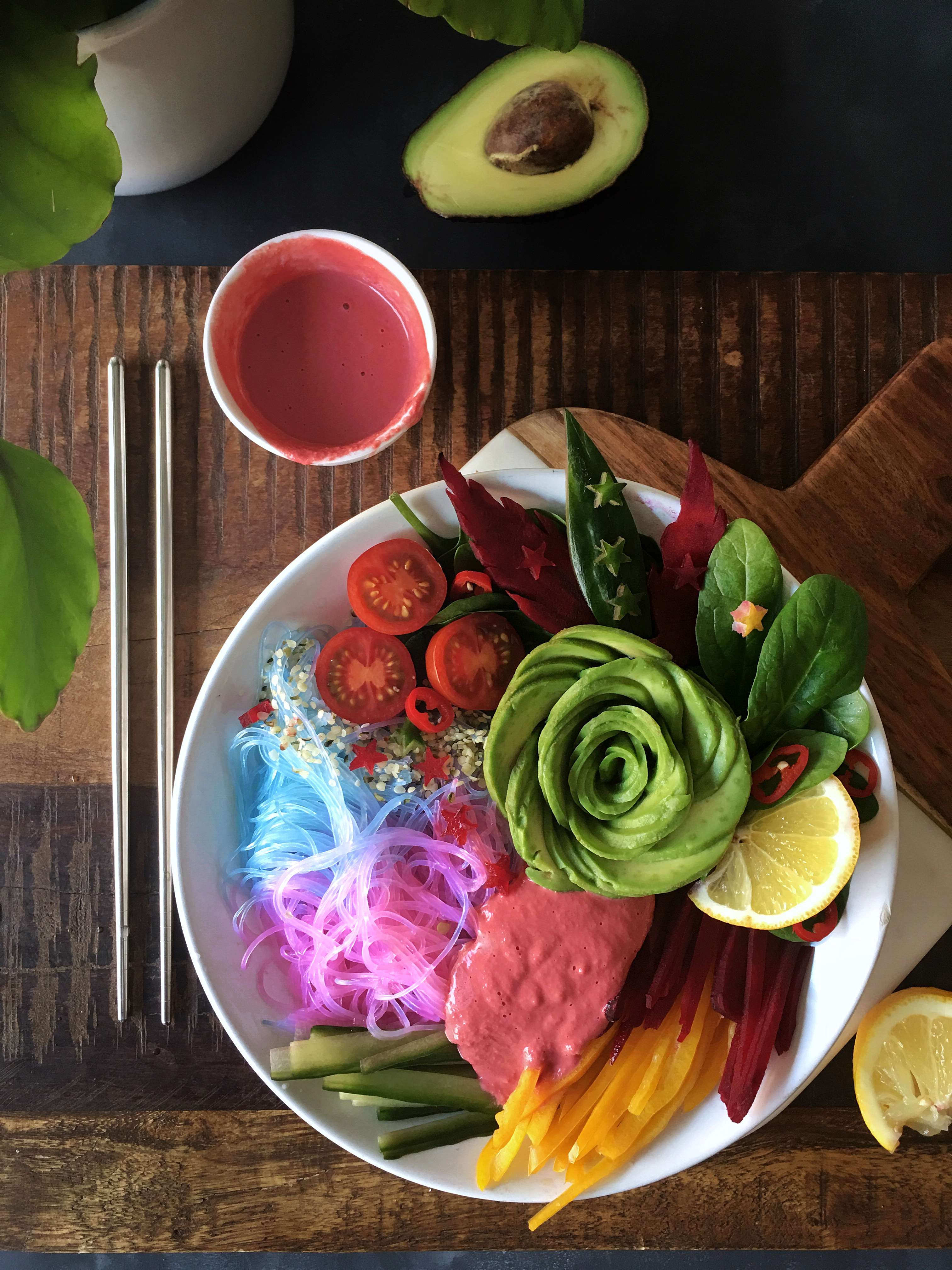 Let me know if you liked the recipe in the comments below and if you decide to recreate this dish feel free to tag me on Instagram as I'd love to see your creations!
One Love,
A.J.
Miso Beet - Rainbow Bowl
Feeling a little beat? Eat this easy and delicious vibrant noodle salad bowl, I'm sure it'll uplift your spirits! Treat your self!
Ingredients
Miso/Beet Sauce
1/3

piece

beet

chopped

2

handful

cashew nuts

2

tsp

miso paste

1

chili pepper

2

tbsp

nutritional yeast

1

clove

garlic

few

squeezes

lemon juice

water

to taste

salt and pepper
Rainbow Bowl
1

serving

unicorn noodles

or any other noodle

1

serving

cucumber

julienned

1

serving

beet

julienned

1

serving

bell pepper

julienned

1/2

avocado

1

serving

(cheri) tomatoes

1

serving

baby spinach
Instructions
Miso Beet sauce
To make the sauce start by adding the beets and cashew nuts to a (bullet) blender and add just enough warm water to cover the nuts and beets. Now add the remaining ingredients and blend until you get a smooth and creamy sauce.
Rainbow bowl
Add all you favourite bright veggies to a bowl and add the sauce. Enjoy!