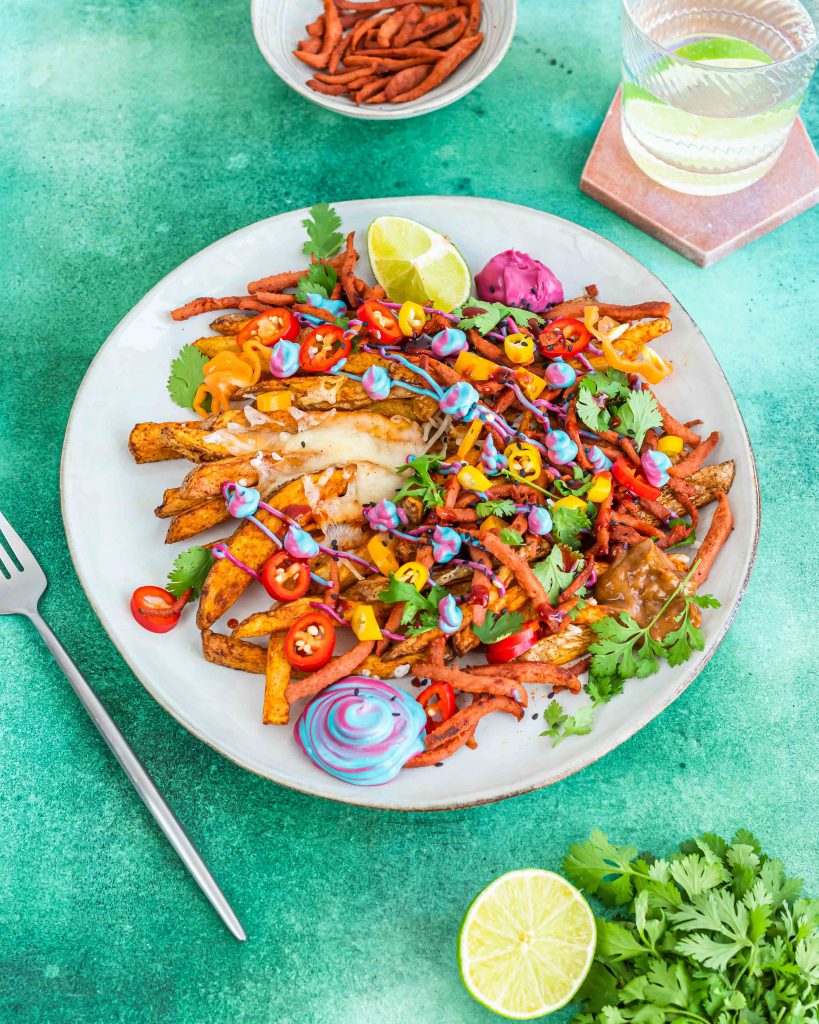 Ever since I've started using my airfryer I've been looking for ways to make healthier versions of my favourite deep fried foods. One of those foods are fried potatoes. You can never go wrong with these and combining them with vegan cheese create the ultimate comfort food. These cheesy air fryer fries are patiently waiting for you.
I personally reserve deep frying foods for special occacions. It requires you to focus, get the right temperature and results in the most delicious foods. The only down side is that you use a lot of oil.
The reason I love the air fryer for these kinds of recipes is that it requires a little amount of oil. You also don't have to be present. You can shake the basket once and let the air fryer do it's thing while you do something else. In the meantime you could make these sweet potato cakes. You can't have too many potatoes in one meal, right!?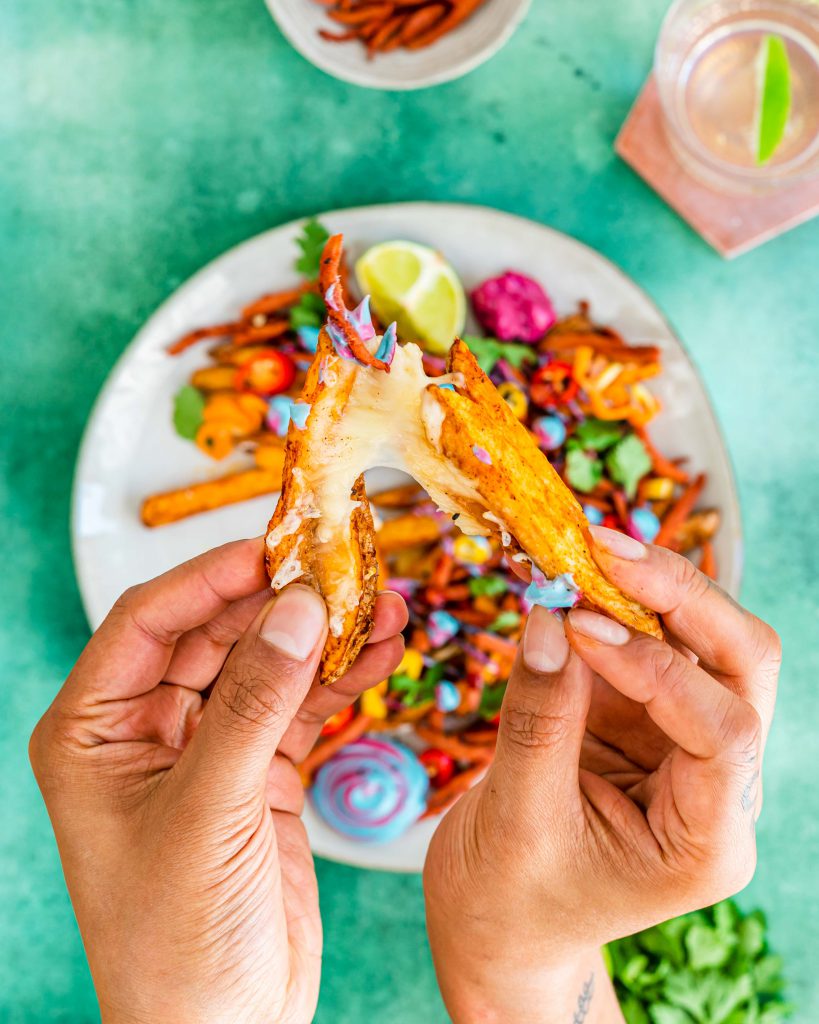 How do you make crispy air fryer fries?
The secret too making crispy air fryer potatoes is that you first soak the potatoes. Soaking them will remove excess starch making them less sticky and extra crispy. You can easily soak them in the morning and just let them chill in the water. This way you'll safe time in the evening. After soaking we will rinse and dry them. Drying the potatoes is essential, we don't want any moisture because this will make them soft.
We will also use some oil. For the oven fryer recipes I like to use a oil spray, this ensures even distribrution, maximum crisp and still less oil than when deep fried. And be sure to evenlty distribute the cheese and eat it as soon as possible. The vegan cheese introduces moisture which makes the fries softer. But of course you can make these without the vegan cheese. For these fries I used violife cheese.
Another tip is to not over crowd the pan, let them chill on their own. You can overlap them but make sure theres enough space for the air ventilation. This means you might do multiple batches. In the end when their all crisp just add them all to the air fryer for a minute or so.
For these fries I used the smart air fryer from princess (not sponsored). So far I'm really happy with the results.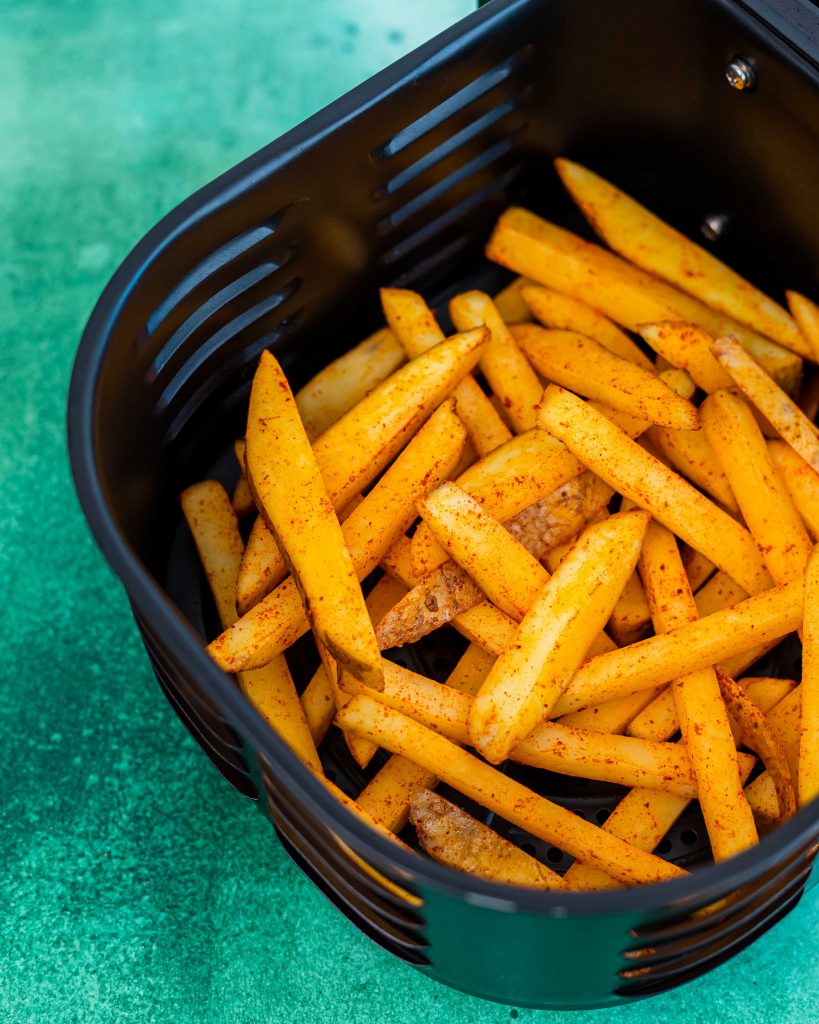 Turn these Cheesy Fries into rainbow fries
You know me, I take every opportunity to make something extra colourful. Just like this tempe protein bowl or this comforting peanut spinach stew. Both recipes are super comforting and full of colour. All of this is of course optional, so feel free to skip, but if you wan't to take it all the way, here is what I did.
For the tempe bowl I used blue spirulina to make a blue tahini. For these cheesy air fryer fries I'm using the same principal. I'm turning my mayo blue and purple using blue spirulina and acai powder for some contrasting colours. I also added different coloured hot peppers, you can obviously skip this if you don't like any heat.
Another way to add some colour is by adding herbs and veggies. Think about cilantro, spring onion, micro greens and colourful pickles. A squeeze of lime also adds some extra freshness to the dish.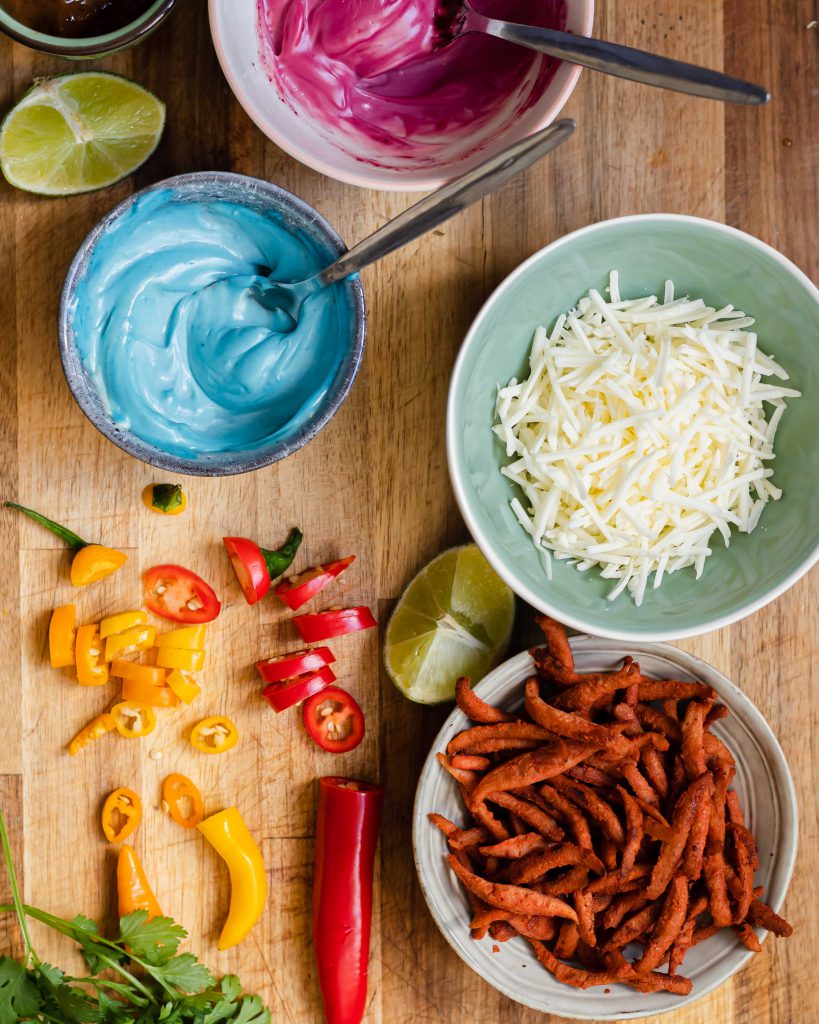 Be sure to follow me on Instagram for daily vegan updates and recipe videos which you can find on my story highlights. I also have a Pinterest account where you can find more food inspiration.
One love, Jason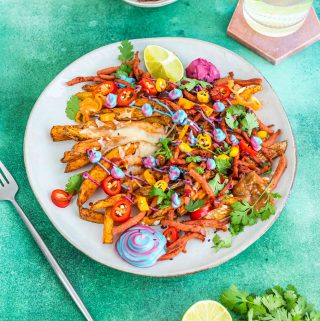 Cheesy Air Fryer Fries - Loaded Cheese Fries
If you're looking for crispy air fryer fries I've got the perfect recipe for you.
Ingredients
600

gram

potatoes

2

tsp

olive oil

1/4

tsp

smoked paprika

1/2

tsp

cayenne

50

gram

vegan cheese

I used violife

10

gram

cilantro

1

chili pepper

cut in rings

salt

to taste

30

gram

vegan bacon

optional
Instructions
Cut the potatoes in match stix the size of a fry. Place them in a bowl of cold water and let them sit for 60 minutes. Halfway through you rinse the potatoes and add new water.

Remove the potatoes from the water and place them on a clean kitchen or paper towel to make them dry. Once dry add them to a bowl and add the oil, cayenne and smoked paprika powder. Mix well and add them to the air fryer basket. Make sure to not crowd the pan, they can overlap a bit.

Air fry them for 25 minutes on 200 Celcius. After 15 minutes you give it a good shake. The last minute you sprinkle the vegan cheese on top so it melts. Serve with sauce and toppings of choice. Here I added a garlic mayo sauce, chili peppers and cilantro. You can follow the instructions in the post to make them rainbow fries. Enjoy