Soup, I can have it no matter the season, I'm a person who mostly craves warming and hot foods, so soups are almost always on the menu, and today I'll be sharing one I simply adore. It's so simple yet packed with so much flavour! Whenever I make this soup it ends up being a meal prep because one of the things I love about soups is that the flavours somehow get better with time, well until it starts smelling, then you should toss it, but it never comes to that!
It's also freezer friendly, just throw a batch in the freezer and forget all about it!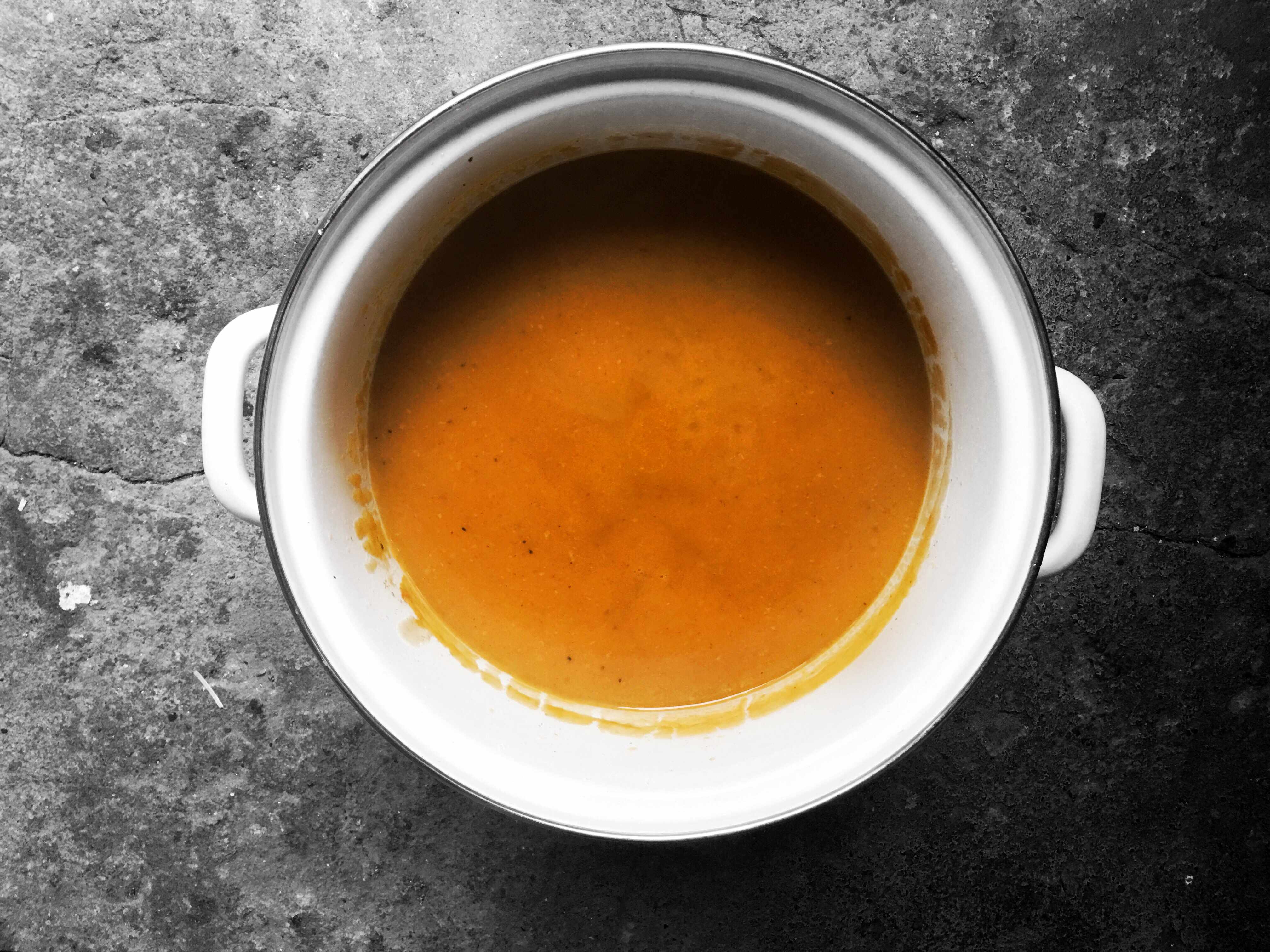 Another reason why I love soup and especially this one in general is that every time I make it, it tastes different, in a good way of course. You can also add additional spices live cumin, or garam masala, maybe some herbs if you prefer. Just like many of my other recipes I highly encourage you to experiment, how much fun is that!? But don't feel pressed to do so, the soup as it is works just perfectly.
Now when it comes to serving this soup I sometimes like to go a little bit overboard. Pictured below you can see I topped it with some of my raw vegan purple "sriracha" hot sauce, chopped cilantro, peanuts, nigella seeds and purple cabbage sprouts for some additional nutrients. Of course feel free to keep it plain and simple, this way I often enjoy it myself. Or simple topped with some nuts or seeds for some added texture.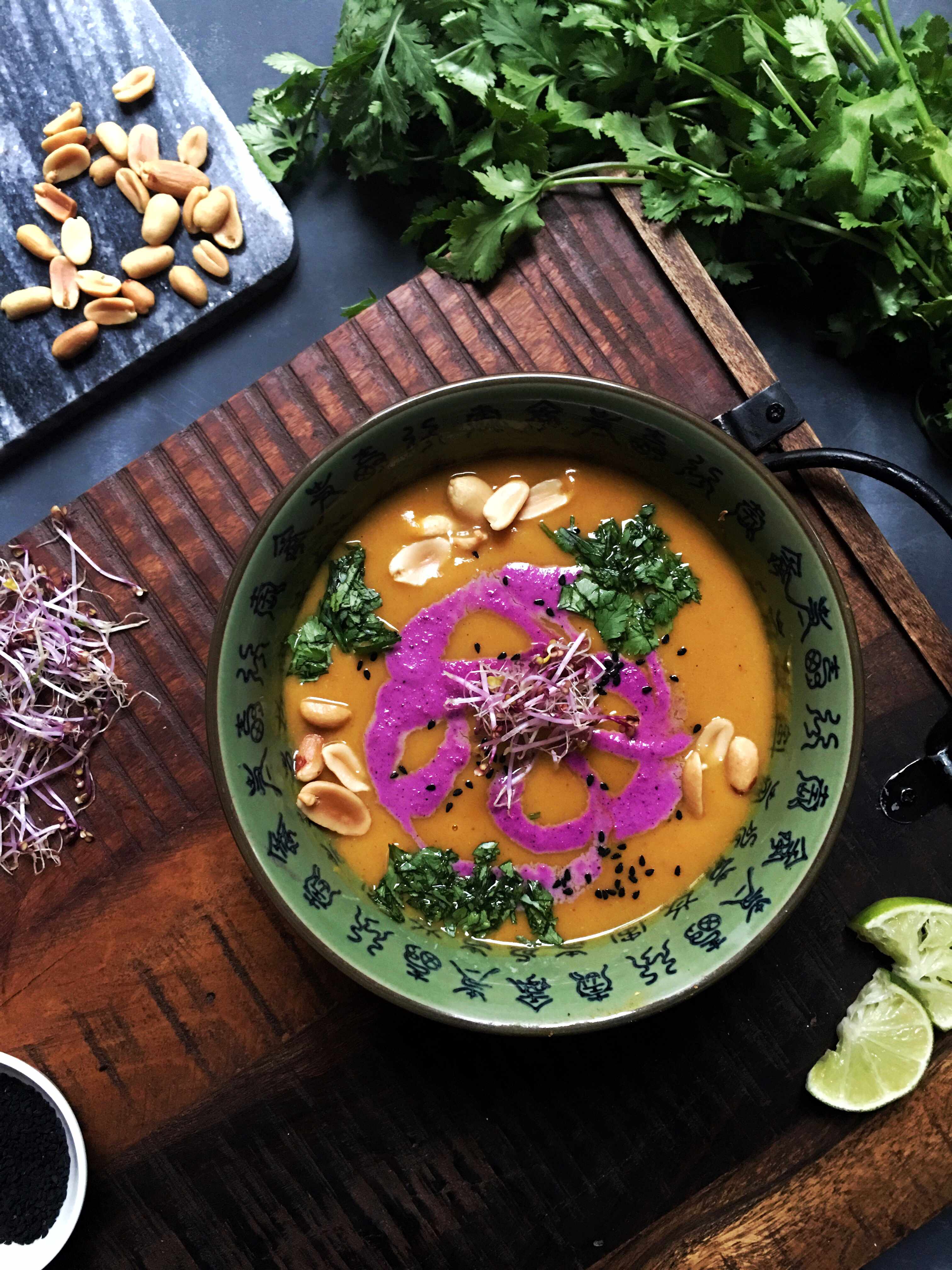 Let me know if you liked the recipe in the comments below and if you decide to recreate this dish feel free to tag me on Instagram as I'd love to see your creations, and find me on Facebook!
One Love,
A.J.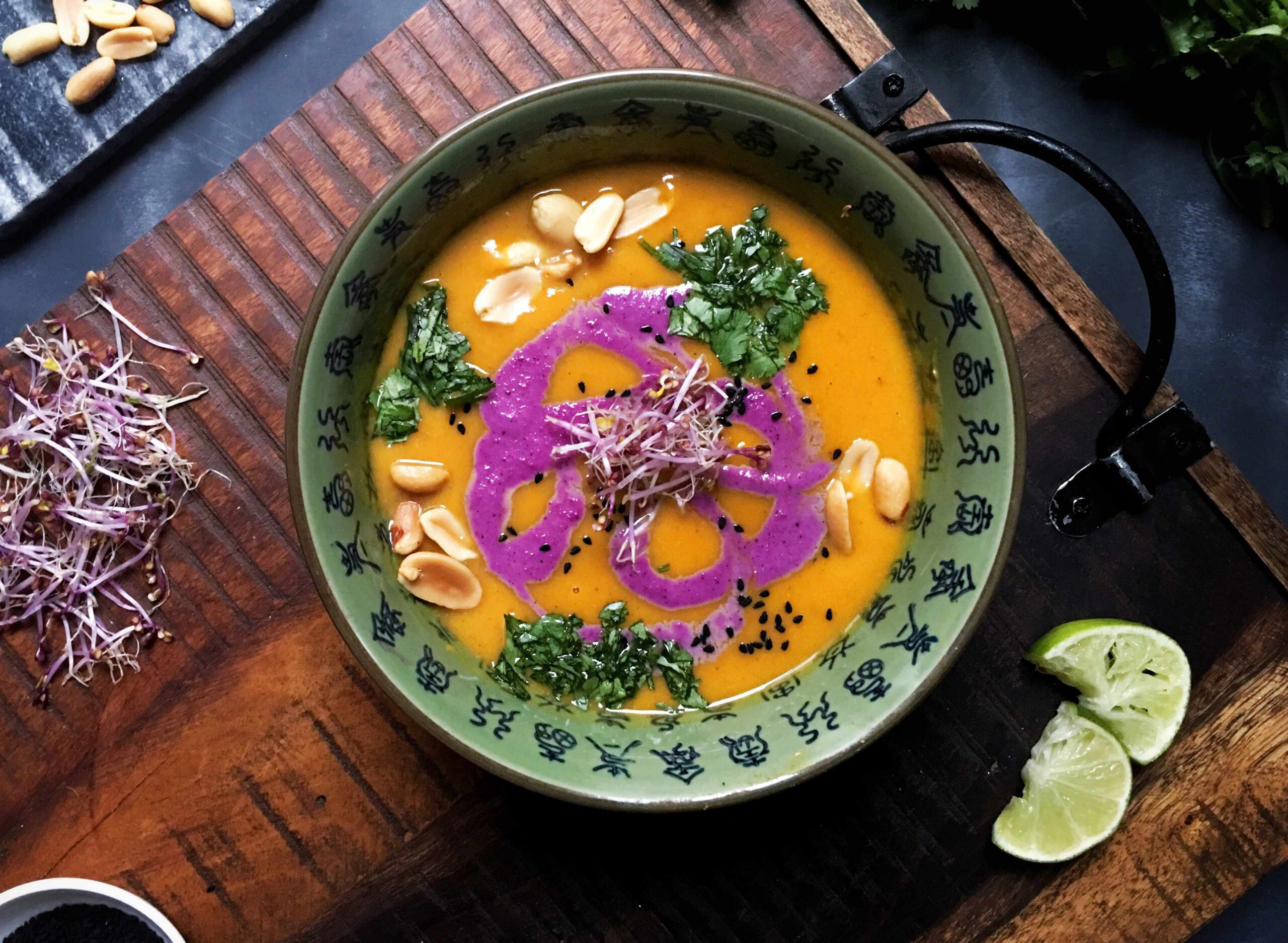 Creamy Sweet Potato Curry Soup
Ingredients
1

kilo

sweet potatoes

diced

1

can

full fat coconut milk

2

medium

carrots

diced

1

onion

1

bulb

garlic

or less

3

tbsp

curry masala powder

1

tbsp

cayenne powder

or whatever pepper (powder) preferred

1

tsp

smoked paprika

(optional)

1/3

cup

nutritional yeast

(optional)
Instructions
Start by (water) sautéing your onion and garlic, after this add the remaining ingredients and top with enough water too cover all the ingredients. Now add two cups extra and a can of coconut milk.

Bring the pot to a boil and let it simmer on low until the potatoes get soft. Blend with an hand mixer (immersion blender) or in a regular blender in batches, just make sure when blending hot soup the blender it isn't airtight or it can explode, we don't want that! Enjoy!