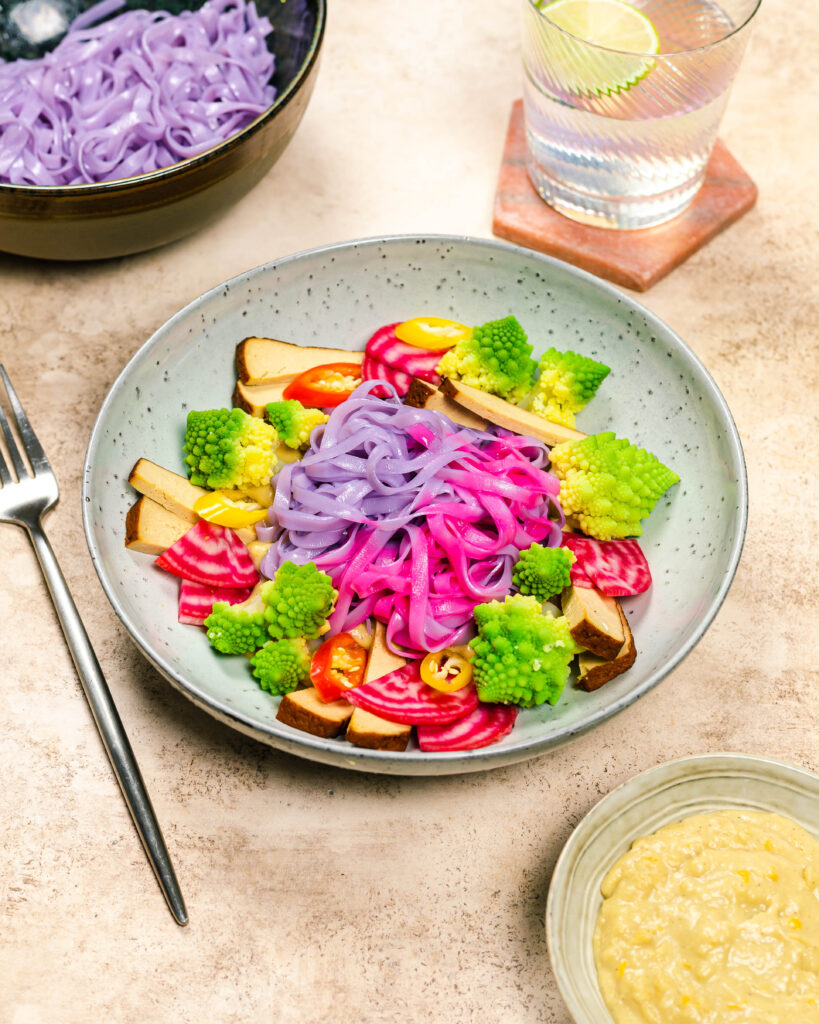 As you all know, 7 years ago I started eating vegan, so joining the Vegan Challenge from Flora Plant this Veganuary was a piece of cake. Are you eating vegan this January as well? Then I have a delicious recipe for you in which their salted plant based butter is used. You don't want to miss out on this creamy cheesy miso sauce!
I've been using Flora plant butter since they started selling it in the Netherlands, and I love it! It's just as smooth and full as the traditional sticks of butter I used when I was younger. Most importantly the butter is 100% plant-based! The past few months I've been testing it in many recipes and today I'll share a super easy one for everyone looking for simple recipes during veganuary.
This noodle dish draws its flavour from the creamy white sauce with some added richness from the Flora Plant butter. The miso, garlic and nutritional yeast add a nice dose of umami and aromatics to the sauce while the pepper adds some heat. Since we got the depth of flavour covered you can experiment by adding your favourite herbs and spices.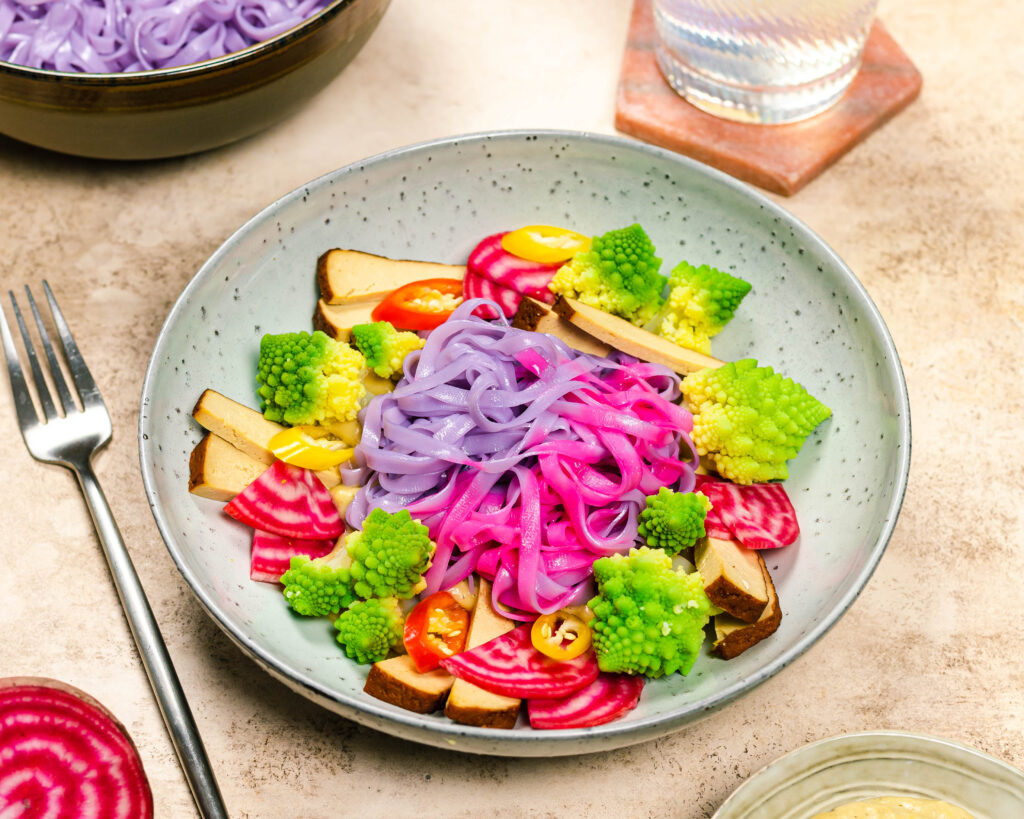 Variations on the creamy cheesy miso sauce.
To give you an example of nice combinations you can try adding some fresh herbs like thyme, basil or oregano. Or maybe you'd like to make it spiced with some cumin and coriander seeds. I've also tried a version with a tbsp of gochujang and tomato puree. This adds a nice red/orange hue and deeper flavour profiles. You can also add some additional vegan cheese for an extra cheesy sauce.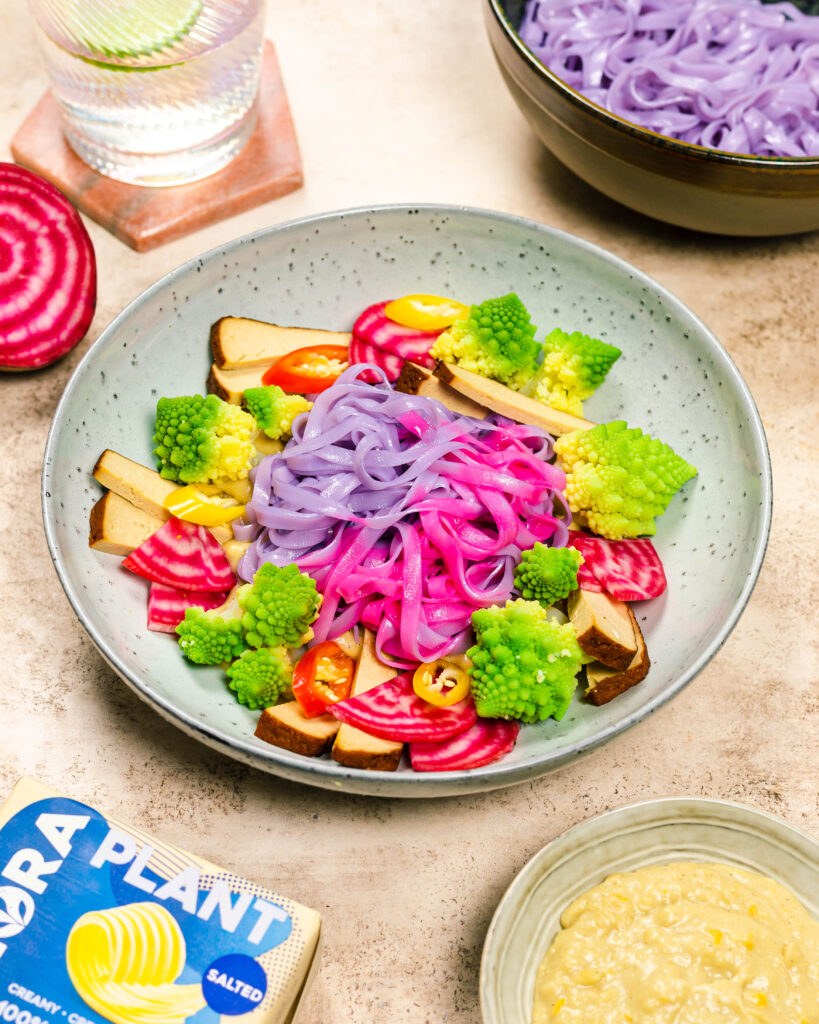 When it comes to finishing the dish you can go with the vegetables I've used or try other veggies like cauliflower, carrot or sugar snaps. And while I chose smoked tofu, you can also use fried tempeh with a nice glaze or edamame beans as your source of protein instead. The options are endless.
Be sure to check my Instagram stories for a demo video where I show you exactly how I made this. While you're at it you can support me by dropping a like :D. Now it's time to make this creamy cheesy miso sauce.
Enjoy!
Soso Lobi,
Jason Tjon Affo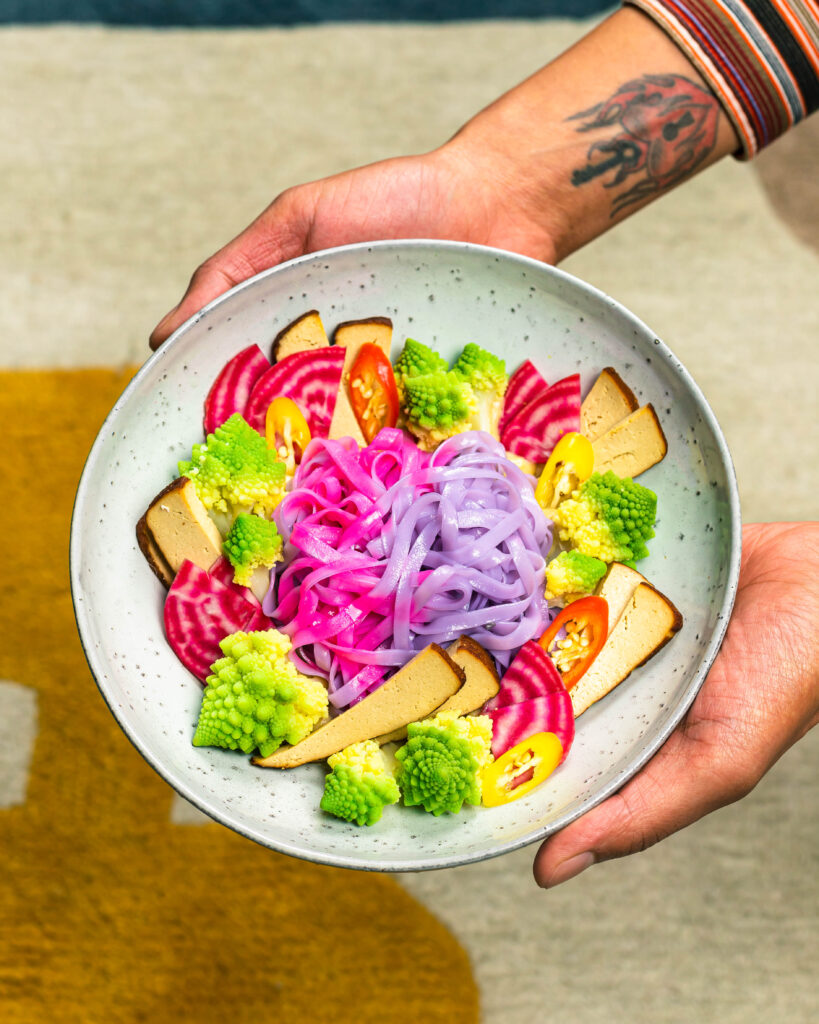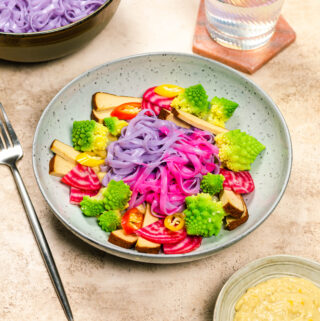 Creamy Cheesy Miso Sauce
A vegan creamy and cheesy miso sauce with rice noodles and vegetables.
Ingredients
4

tbsp

flora plant butter

4

tbsp

flour

2

tbsp

shiro miso

5

cloves

garlic

minced

1

chili pepper

minced

550

ml

plantbased mylk

I used unsweetened oat milk

5

tbsp

nutritional yeast

1

tsp

black pepper

to taste

salt

rice noodles

1

romanesco

boiled or roasted

1

block

smoked tofu

1

chioggia beet

1

chili pepper

optional as garnish
Instructions
Melt your butter in a large saucepan over medium heat. Once melted add the flour and mix well. Now add the miso, garlic and pepper and stir for a few minutes or until it becomes fragrant and it's starting to brown.

Poor a little bit of the plant mylk and mix it well, this will prevent clumping. Now slowly, while whisking, add the remaining mylk and mix in the nutritional yeast. Turn the heat to medium/high

At this point you taste for salt and pepper, you can also add some extra vegan cheese to make it more cheesy, or fresh herbs/spices for some extra flavour. Mix until it begins to bubble. Keep in mind that the sauce becomes thicker as it cools. In the meantime you can start cooking your noodles and preparing your vegetables.

Serve with rice noodles and vegetables of choice, I used romanesco, chioggia beets, smoked tofu and peppers.