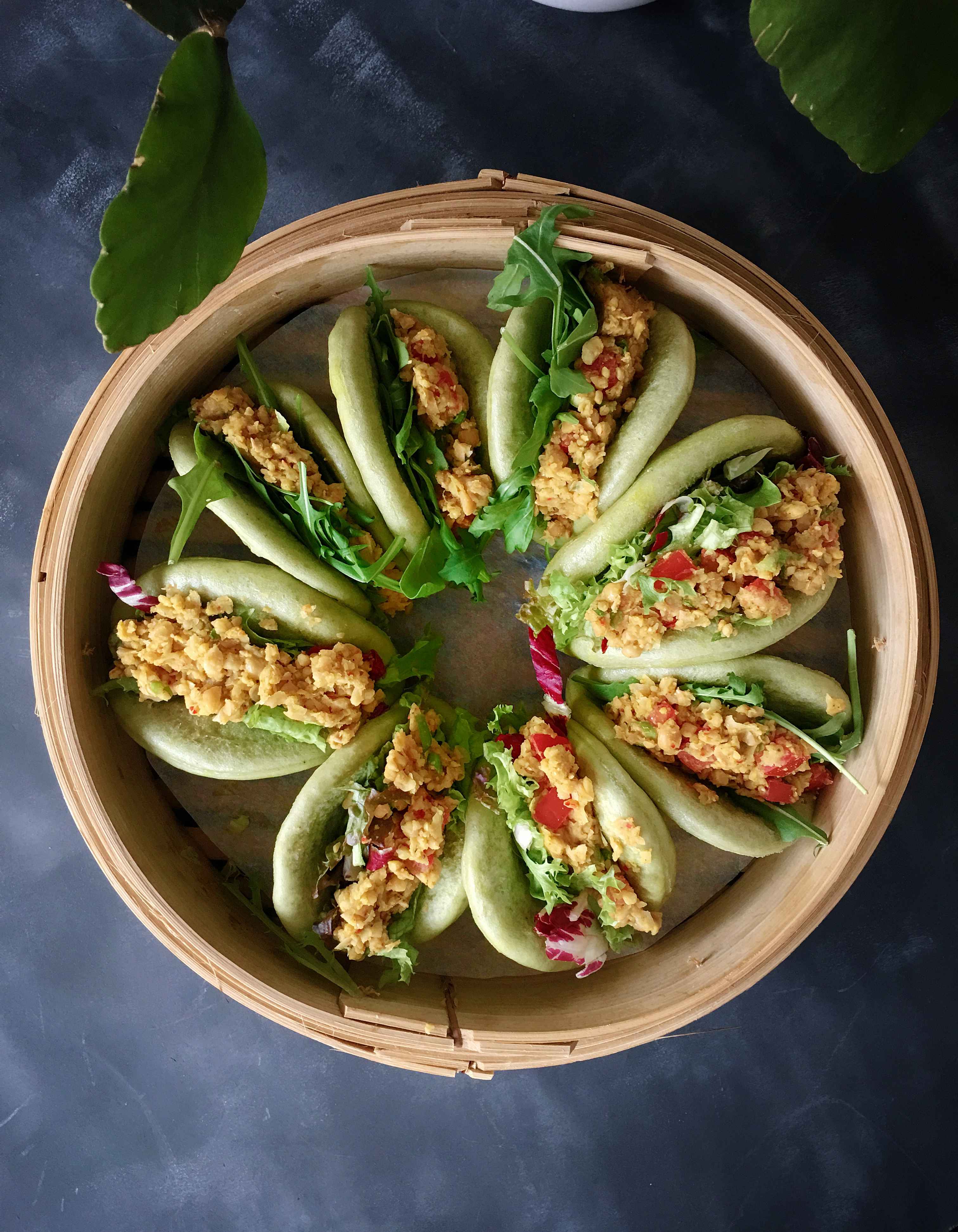 From now on we'll have a new bao bun recipe every month! Let's call it the Bao Of The Month and let's make it colourful! I could easily make a sandwich of the month but I definitely prefer steamed buns over sandwiches, they're like little clouds filled with deliciousness, who doesn't want to eat clouds? This months bao is a green one, filled with some greens and a chickpea mash spiced with garam masala.
These buns are actually super easy to make, especially since I've started using my food processor to make the dough. We only need to rise the dough once, and let the steam do the rest, voila!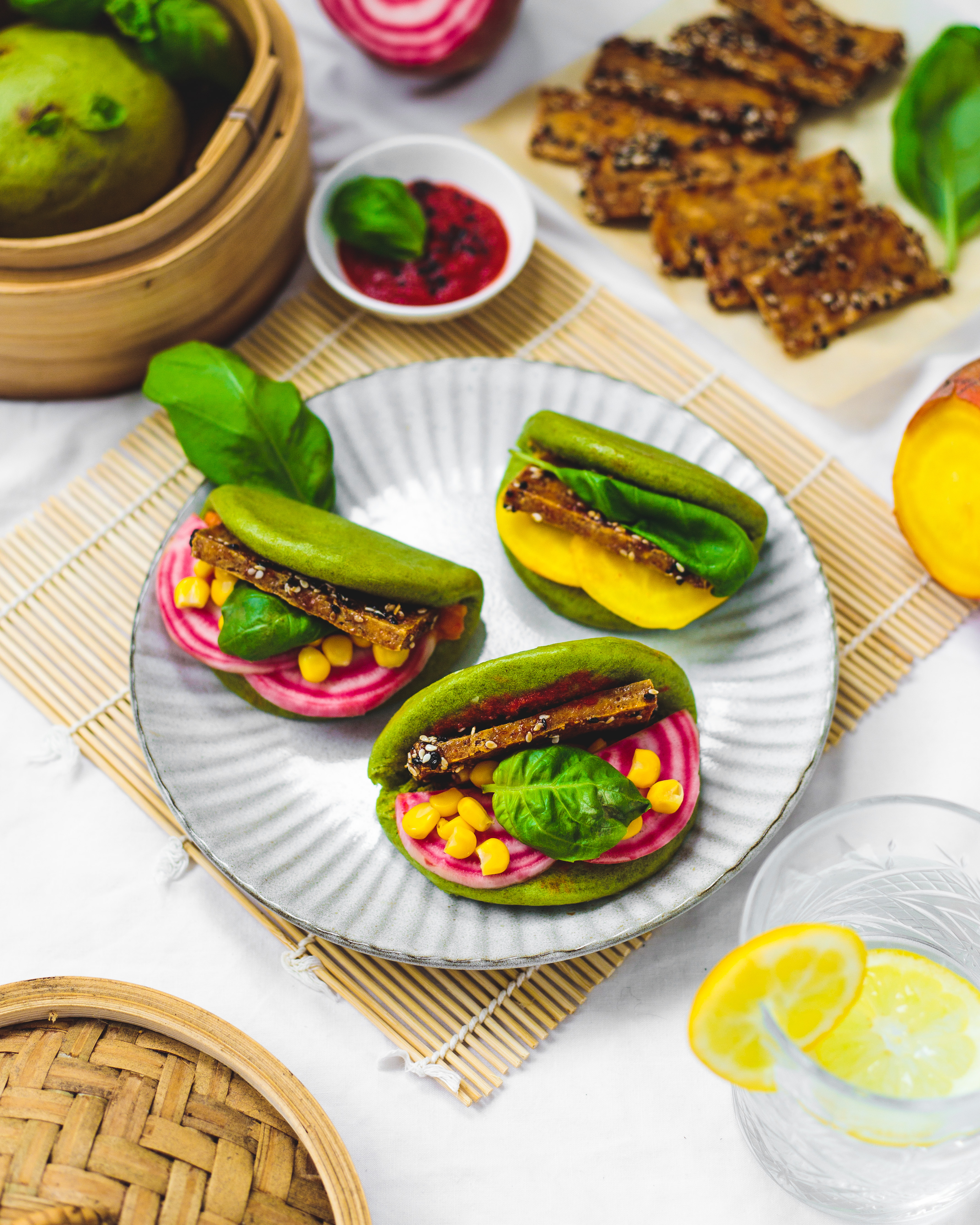 You can honestly stuff this bao with whatever your heart desires. Add some sesame tofu or skip the chickpeas all together. I love adding sriracha to these buns but can also imagine these buns being topped some mango chutney, which sounds like a match made in heaven, I might actually get some as soon as I'm done writing this post. If you can't handle the heat just add whatever sauce you do love, or skip it all together, remember, there are no rules! Ok maybe there are some rules as to making the buns themselves, since bread making is basically chemistry.
I really hope you like these recipes and feel free to leave a comment below or to tag me in your recreations on Instagram and don't forget to like my Facebook page.
One Love,
A.J.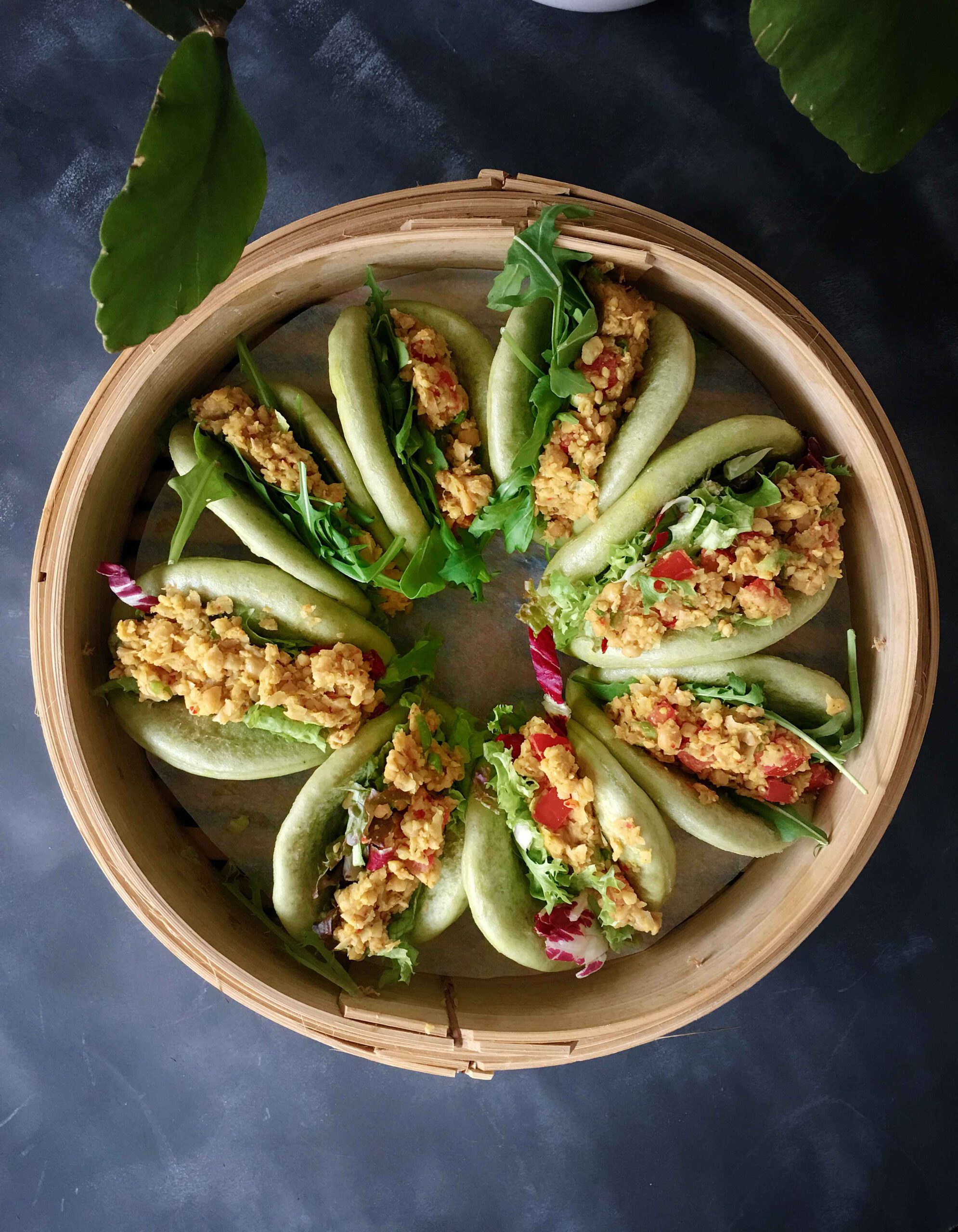 Green Steamed Buns w/ Chickpea Filling
An easy and simple recipe for steamed green buns that are as soft as clouds. Who doesn't want to eat clouds!?
Ingredients
Buns
150

ml

water

warm not boiling

3

tbsp

cane sugar

or other sweetener

1

pack

instant yeast

1

tsp

backing powder

3

tbsp

vegetable oil

1

tsp

spirulina

and a pinch of turmeric

290

grams

flour
Filling
220

grams

chickpeas

or 1 can

1

tsp

garam masala

1/2

piece

lemon

juiced

1/2

tsp

garlic powder

1/2

tsp

chilli powder

1

tsp

sriracha

or other hot sauce

1

spring onion

chopped

1

tomato

chopped

1

handful

cilantro

finely chopped (optional)
Instructions
Buns
To make the buns we start by activating the yeast. Take a bowl and add the warm water and sugar and add the pack of yeast. Now let this bloom for about 5 to 10 minutes in a warm place.

Once the yeast has bloomed add the oil, spirulina, backing powder and flour to the bowl and mix until you get a soft and dough. I let the food processor mix the dough for about 15 minutes or so. You can also kneed it by hand. Now add the ball of dough to a bowl, cover it and set it somewhere warm to let it rise for about 60 minutes.

After this roll out the dough till its about half an inch thick and cut out circles using a cookie cutter or a big mug. Cover the tops with a bit of oil and fold them in half.

Now place them on a piece of parchment paper in a steamer, cover it with the lid and steam the buns for about 15 minutes. Remove them from the steamer and they are ready to be filled with whatever your heart desires.
Filling
To make the filling start by rinsing the chickpeas and adding them to a bowl. I used a fork to mash the chickpeas. After mashing the chickpeas you can add the remaining ingredients and mix it well, after mixing it you can add salt to taste.