This will be my third steamed bun recipe and I'm not even close to being finished. Now since where in the middle of the holiday season I'd like to give a twist to the regular bao buns with some sweet potato bun with a spicy bean filling, this one's a winner! These buns are different from the other two recipes, which you can find here and here, instead of being open, these buns are closed and filled with a delicious spicy bean mixture.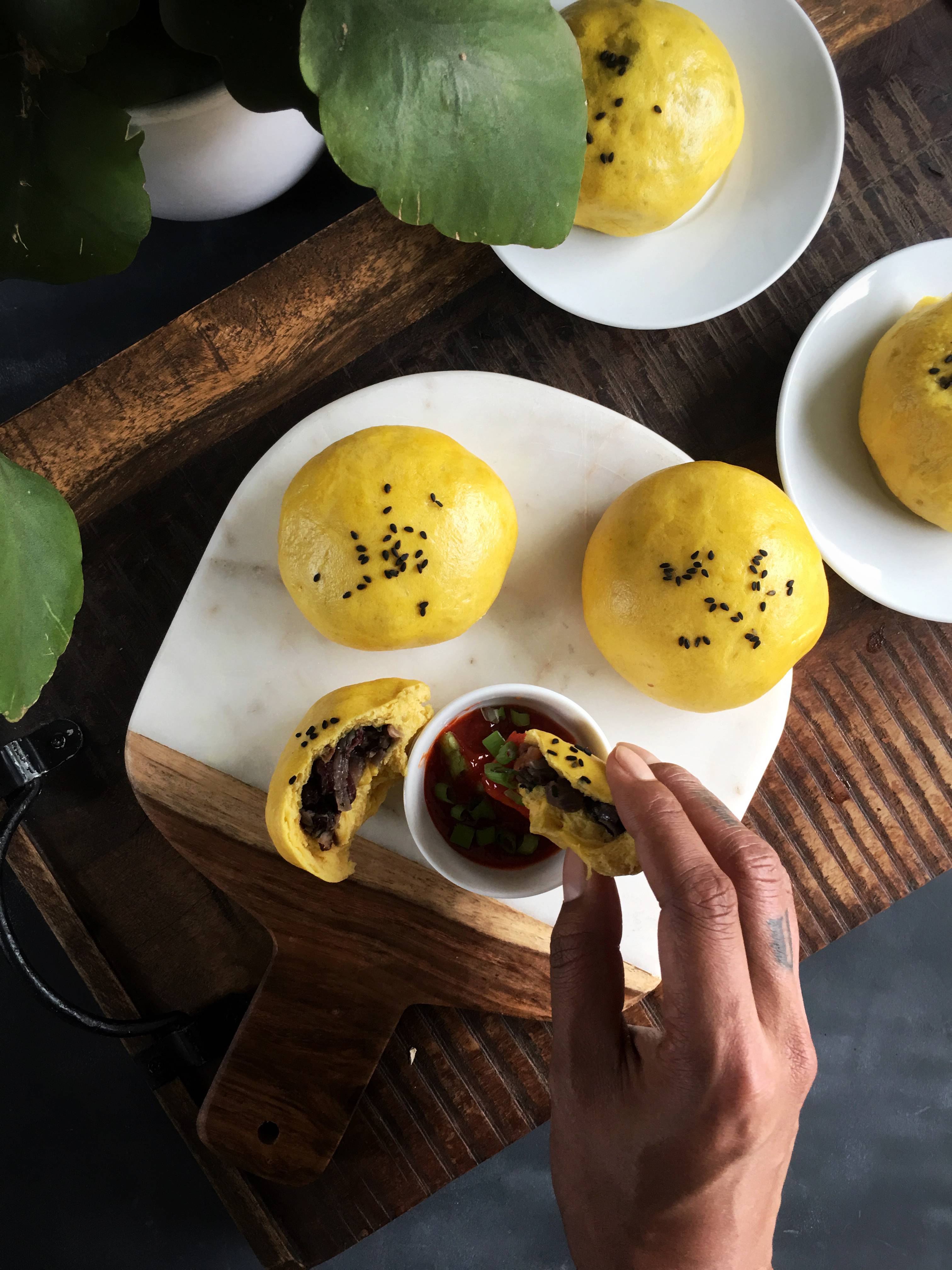 One of the reason I love steamed buns is because of the texture of the bread, it's so soft and fluffy and because of the steam gets a nice and smooth "skin". Adding sweet potato to the dough makes the dough a little sweet and adds a nice colour to the buns, to enhance the colour I also added a bit of turmeric, not only does this give the buns a lovely golden colour, it also adds to the nutrition of these buns, they're basically super foods now, just kidding, or am I? All jokes aside my family loved these buns, and anytime a non vegan can't deny the deliciousness of a vegan meal you know you did something right!
With these buns I'm paying homage to my Creole and Chinese roots by fusing the idea of Chinese steamed buns with a filling inspired by Surinamese cooking. The filling has celery leaves and adjuma peppers which are two ingredients often used in Surinamese cuisine and two ingredients I love working with. One to thing keep in mind if you can get your hands on the peppers and decide to use them is that they are very spicy so you might want to use chilli pepper instead or skip it all together.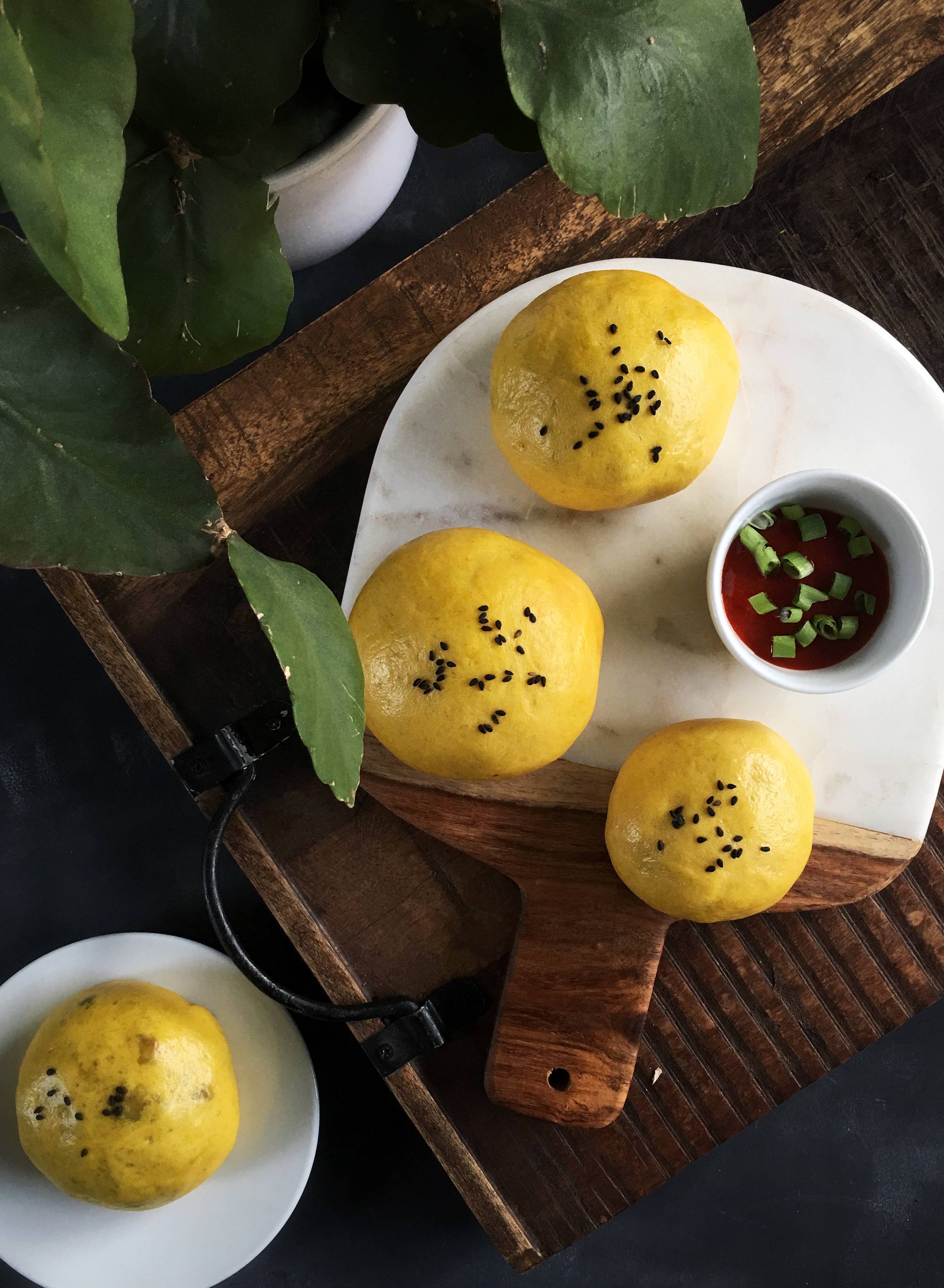 To simplify the recipe I just made simple round balls, but you can play around with the design while closing the bun to create a more authentic look. You can also play around with the filling and even the colour of the dough by adding different natural food colourings. But no matter what you'll do these bao buns will definitely have you asking for more!
I'm currently storing a batch in the freezer and fridge to see how long they'll stay good and if they're freezer friendly, so once I'm done testing I'll edit my findings in this post.
For now go ahead and make some yourself, let's get to it!
I hope you enjoyed this post, and feel free to leave a comment below, or to tag me in your recreations on Instagram and don't forget to like my Facebook page.
One Love,
A.J.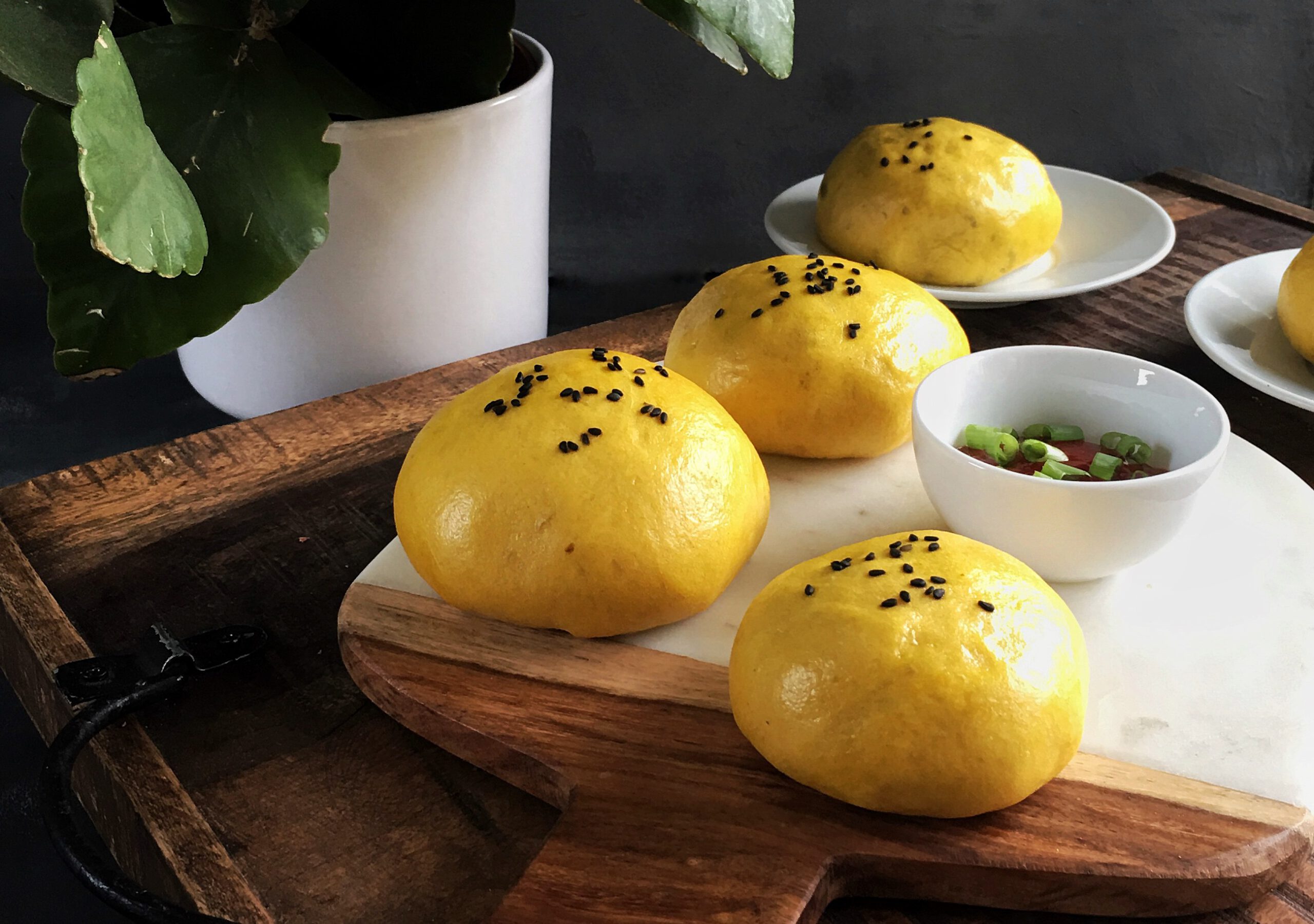 Sweet Potato Steamed Buns
A festive bao with a spicy bean filling.
Ingredients
dough
1

cup

non dairy milk

2

tbsp

raw cane sugar

1

pack

instant yeast

1

medium

sweet potato

2

tbsp

vegetable oil

1

tsp

backing powder

3 1/4

cup

flour

turmeric

optional
Filling
250

grams

kidney beans

1

large

red onion

5

cloves

garlic

1

carrot

1

handful

celery leaves

1

tsp

5 spice

1/2

tsp

ginger

1/2

adjuma pepper

(optional)

to taste

salt + pepper
Instructions
Filling
Start by chopping the onion, garlic and carrot. Sauté these in some oil on a medium/low heat for about 5 minutes (If you don't eat oil try using water). Now add the remaining ingredients and cook for about 10 minutes while mashing some of the beans in the process, this will make filling the buns a bit easier, while adding a nice texture to the filling. Add salt and pepper to taste and let the filling completely chill.
Buns
To make the dough we start by activating the yeast. Take a bowl and add the warm water and sugar and add the pack of yeast. Now let this bloom for about 5 to 10 minutes in a warm place.

Once the yeast has bloomed add the oil, mashed sweet potato, backing powder and flour to the bowl and mix until you get a soft and dough. I let the food processor mix the dough for about 15 minutes or so. You can also kneed it by hand. During this process you can add turmeric to enhance the colour. Now add the ball of dough to a bowl, cover it and set it somewhere warm to let it rise for about 60 minutes.

Once the dough has doubled in size take kneed the dough a little and separate the dough into little balls. Using a rolling pin flatten them out until about 1/4 of an inch and add a small table spoon of the filling in the middle. Now pinch to close the tops and roll it into a little ball.

Add a piece of parchment paper in your steamer and place the buns on top. I used a large steamer so i steamed about 5 buns at the time, keep in mind that they grow inside the steamer. Steam the buns for about 15 minutes and they are ready to be served. Enjoy.