Every once in a while I like to explore my honor my Chinese roots by exploring the Chinese cuisine and veganising my favorite dishes! Today we'll be making steamed buns also called Baozi or Bao. Since the only thing not vegan about these steamed breads are often the filling it's not that difficult to veganize, no today we'll be spookifying (I know it's not a word, bear with me) these buns.
It all starts by making the buns from scratch and adding in a bit of black tahini, yup you can expect a lot of dishes using black tahini this month. You could also use charcoal but I find black tahini to be more cost effective when it comes to natural food colouring (if you make it from scratch of course) find the recipe for the black tahini here. These buns are soft and light, like little clouds, but at the same time dark and spooky.
As for filling It's all up to you, I used a marinaded tofu which I pan fried a bit with some fresh veggies; beets, cucumber, carrot, tomato, brocolli cress, bean sprouts, tomato and avocado, and as for sauce I used a home made kimchi hummus, which you'll find a recipe for later this week.
You can honestly fill these buns with whatever you want, you can use a black hummus to make it even more creepy or fill it with a mini burger patty to make these the perfect party sliders, scratch that, no matter what you stuff them with these buns make a perfect addition to your (halloween) party menu!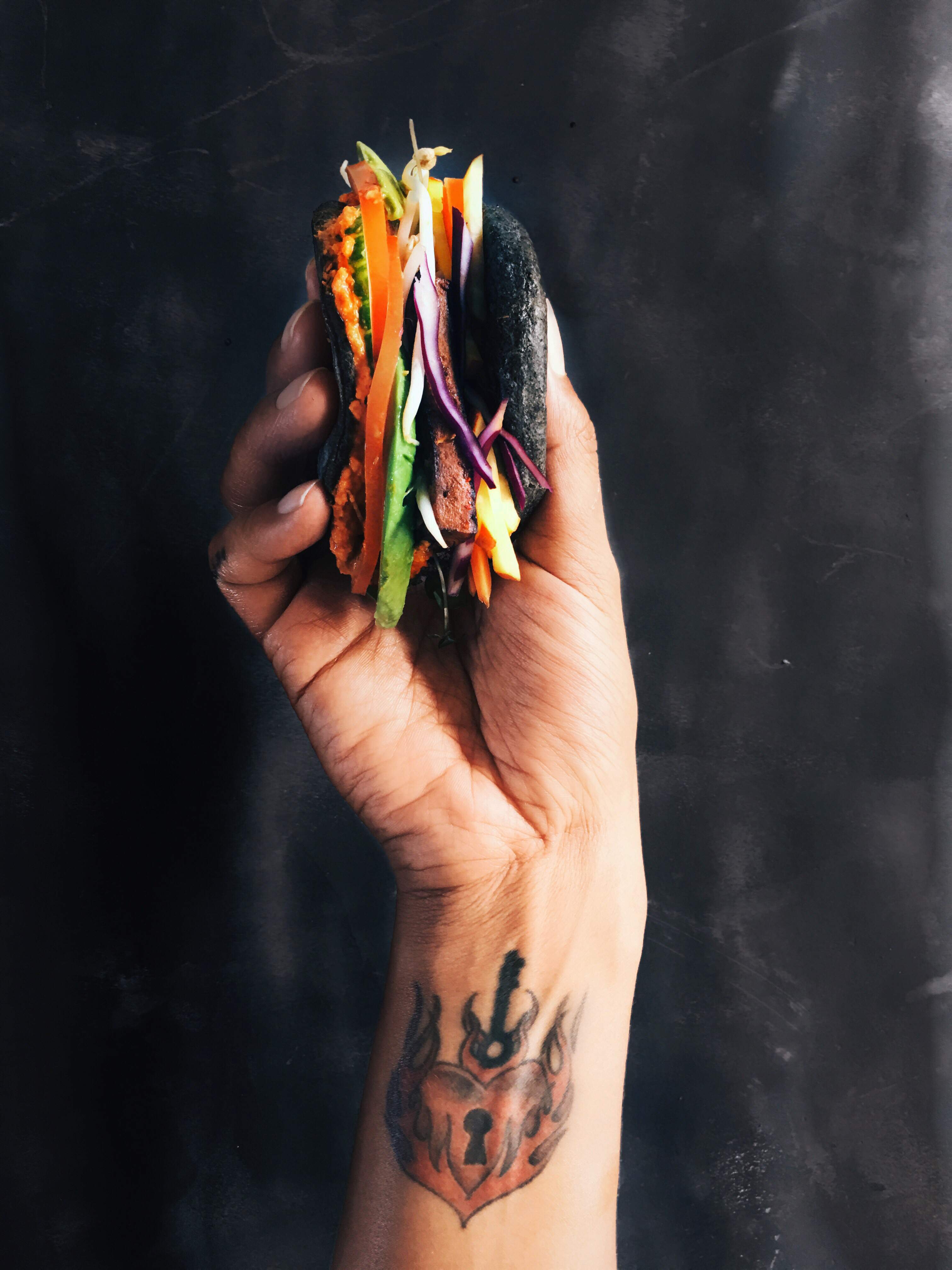 Now lets start cooking! And as usual feel free to leave a comment below or to tag me into your recreations on Instagram, I'd love to see you're spooky creations. Bon Appetite!
One Love,
A.J.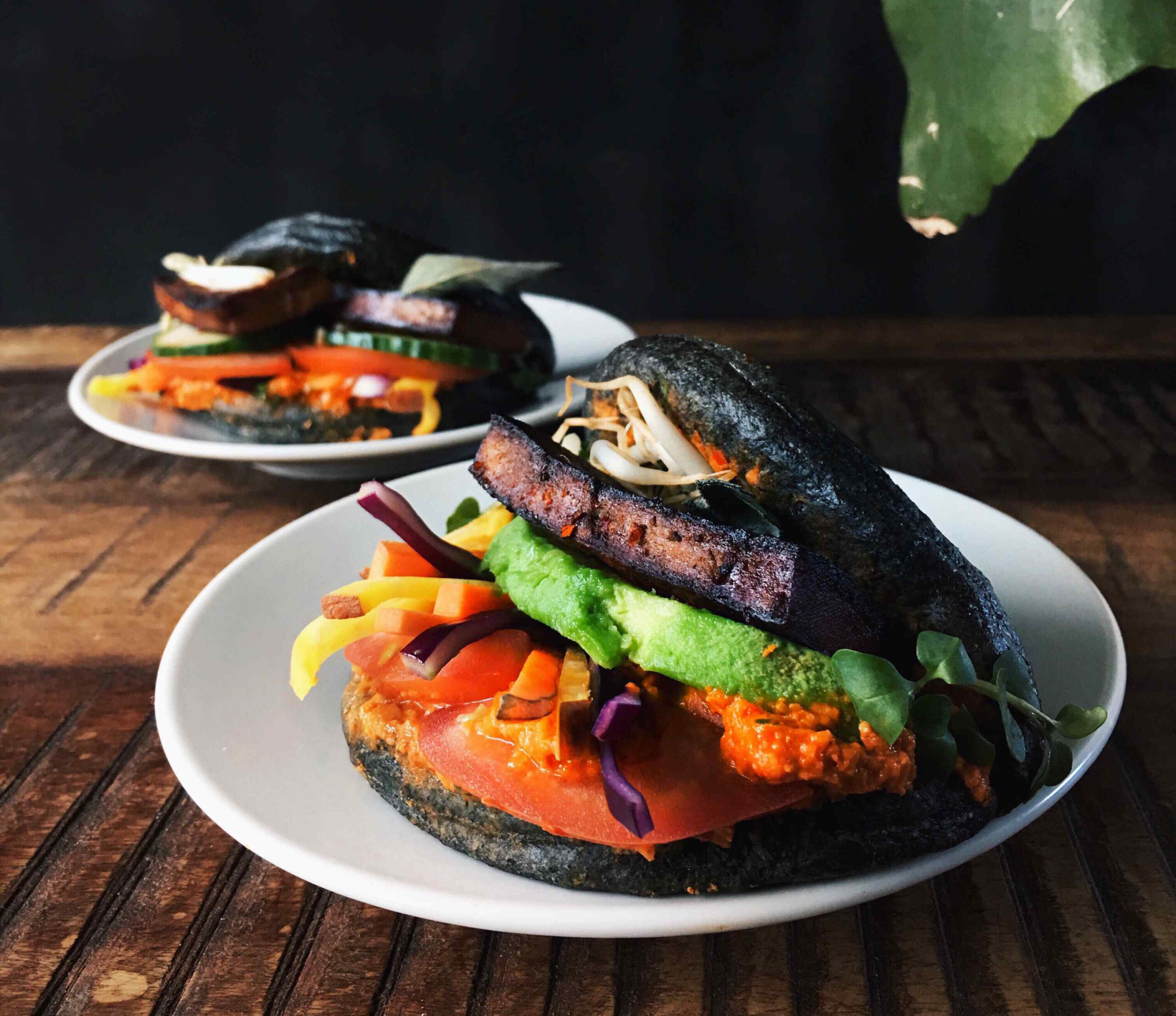 Black Steamed Buns - Halloween Edition
Ingredients
Black Steamed Buns
1/2

cup

warm water

2

tbsp

sugar

1

pack

dry yeast

2

tbsp

vegetable oil

2

tbsp

black tahini

1

tsp

backing powder

1 1/2

cups

flour
Marinaded Tofu
1

brick

tofu

cut in squares

4

cloves

garlic

finely minced

1

pinch

sugar

1

tbsp

soya sauce

1

tbsp

gochugaru

1

tsp

onion powder

5

tbsp

water
Instructions
Buns
To make the buns we start by activating the yeast. Take a bowl and add the warm water and sugar and add the pack of yeast. Now let this bloom for about 5 to 10 minutes in a warm place.

Once the yeast has bloomed add the oil, tahini, backing powder and flour to the bowl and mix until you get a soft and dough. I let the food processor mix the dough for about 15 minutes or so. You can also kneed it by hand.

Now add the ball of dough to a bowl, cover it and set it somewhere warm to let it rise for about 60 minutes. After this roll out the dough till its about half an inch thick and cut out circles using a cookie cutter or a big mug. Cover the tops with a bit of oil and fold them in half.

Now place them on a piece of parchment paper in a steamer, cover it with the lid and steam the buns for about 15 minutes. Remove them from the steamer and they are ready to be filled with whatever your heart desires.
Marinaded Tofu
Add all the ingredients to a bowl and whisk it all together. Now pour them over the slices of tofu you've put in a container or sip lock bag, give it a good shake and set it in the fridge to grill or cook whenever you want to use them.