Another curry recipe!? Is that even a question? Of course there will be another curry recipe, heck there might even be a hundred if it were up to me. If you've seen/read my previous curry recipe you might know that I grew up eating tons of it, and if you didn't, well now you know. A dish so complex in flavour, deserves as many variations as one can imagine, when it comes to curries I don't stick to any rules, you could call me a curry rebel.
As usual feel free to play around with this recipe. If you hate sweet potato you could easily swap this for normal potatoes or maybe you want to add carrots. To this dish I also added some sweet corn for texture and taste and some baby spinach at the end for some colour and added nutrition, but feel free to leave these out. You could also add some cilantro or coconut cream, remember there are no rules to this dish!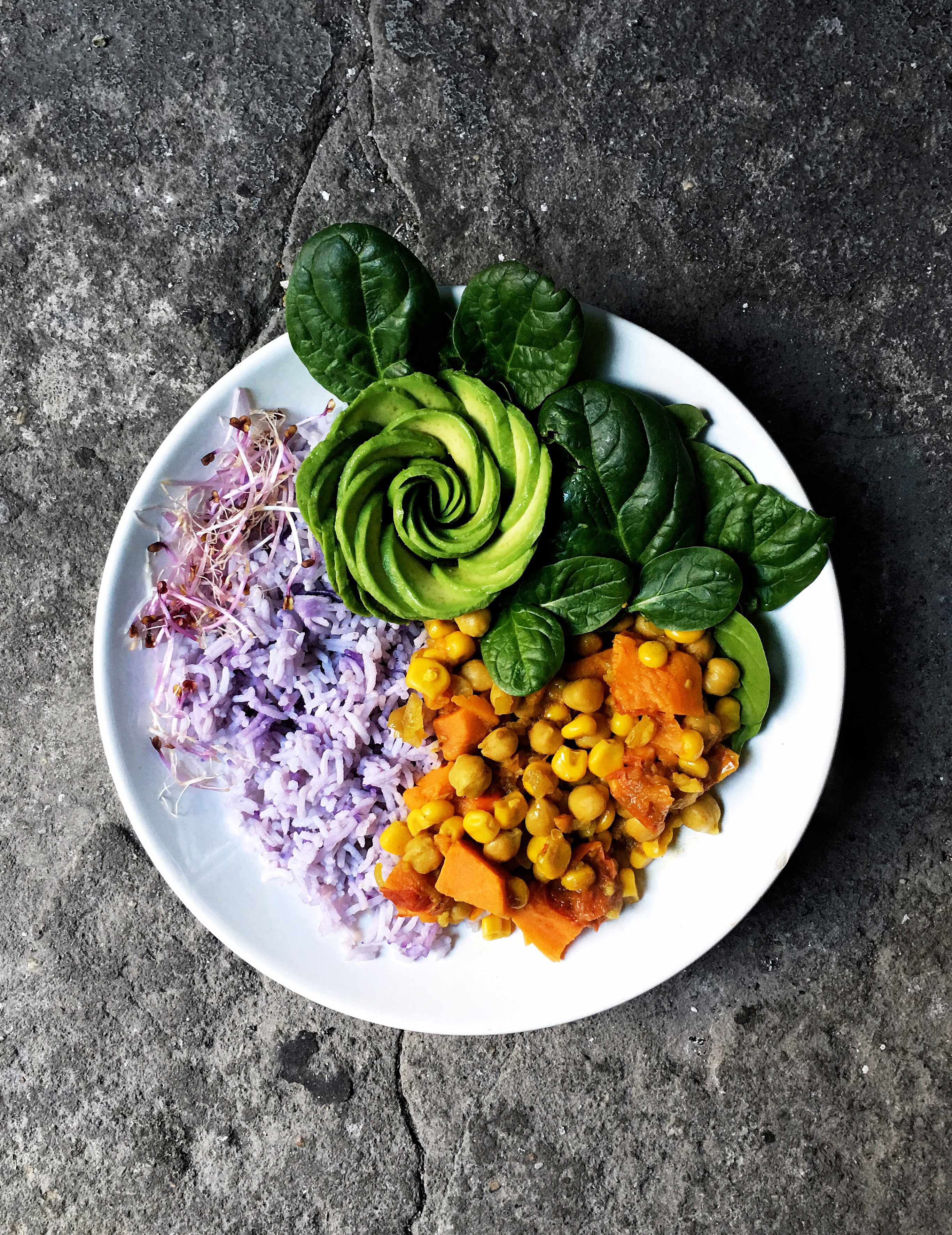 When it comes to finally eating the curry you could choose to have it over rice, or maybe you'd like to eat it with some roti or other flatbread, it's all up to you how you'll enjoy it. I decided to be a little extra and made some purple rice, added some fresh spinach, an avocado rose and some purple sprouts for some extra nutrients and colour.
Now let's go ahead and make ourselves a delicious dinner, and don't worry about making too much, you know leftovers are the best right!?
Let me know if you liked the recipe in the comments below and if you decide to recreate this dish feel free to tag me on Instagram as I'd love to see your creations!
One Love,
A.J.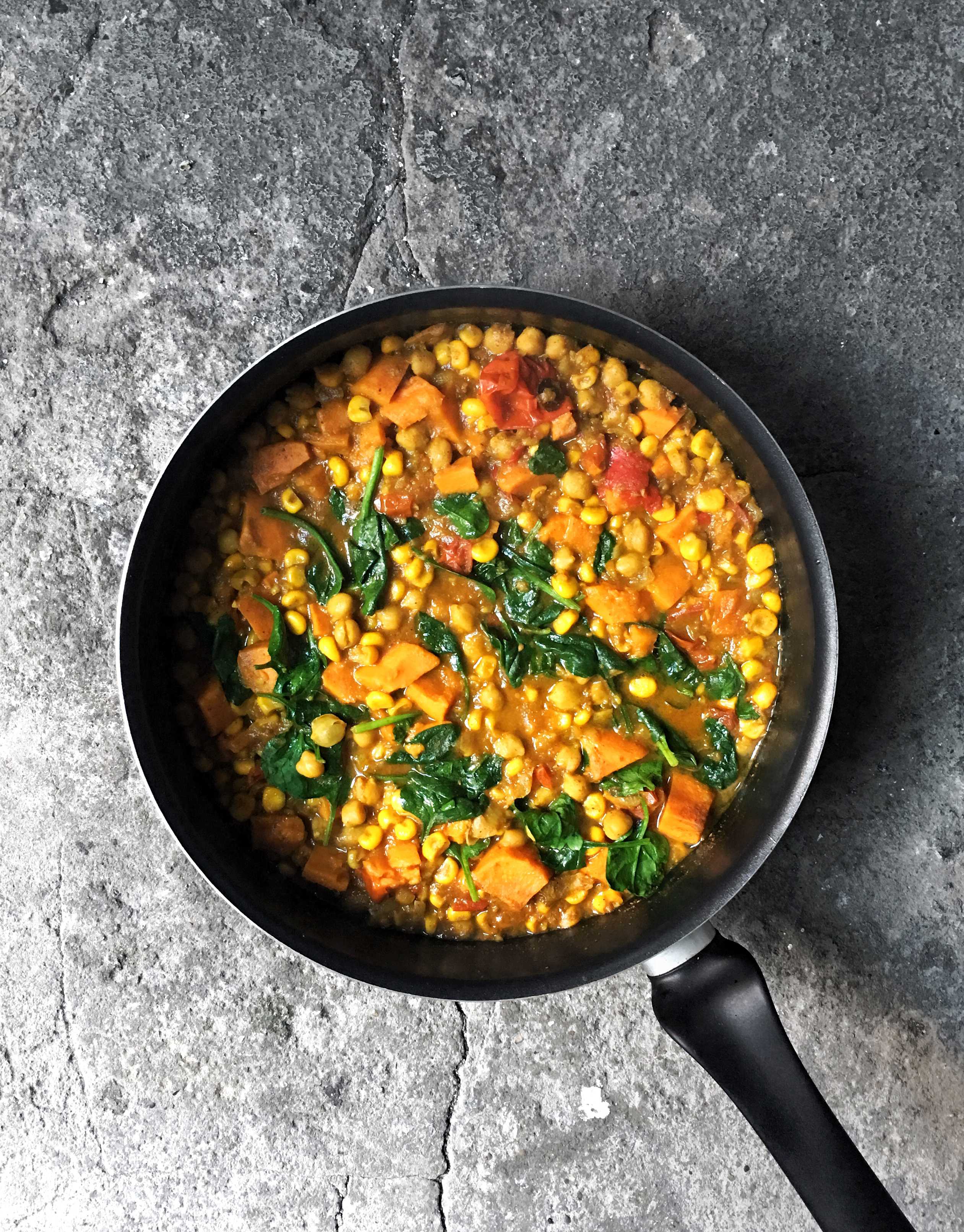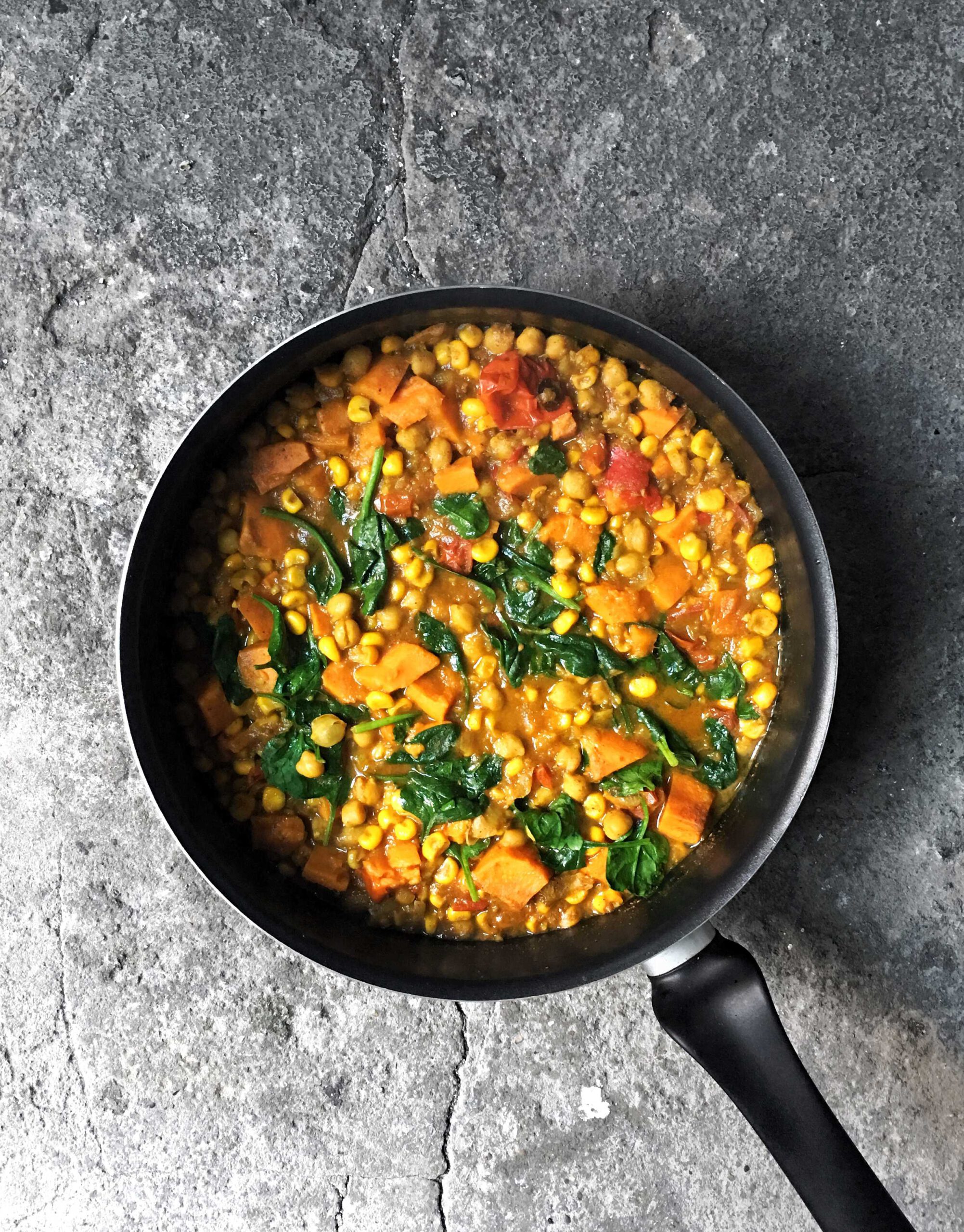 Chickpea Sweet Potato Curry
Ingredients
1

big

onion

4

cloves

garlic

2

big

tomatoes

2

tbsp

curry masala powder

1

tbsp

veggie bouillon

1

can

chickpeas

1

big

sweet potato

cubed

1

can

corn

(optional)

1

habanero/adjuma pepper

(optional)

1

handful

baby spinach

(optional)
Instructions
Start by sautéing the onion and garlic and if you want to keep this oil free you can try water sautéing them. Once the onions are browned you can add the chopped tomatoes and spices, cook this until the tomatoes are completely broken down and almost turned into a paste.

Now add the remaining ingredients and cover with water (if you're using baby spinach add this at the end). Let it simmer till the sweet potatoes are done and until you reached your favorite consistency. If you'd like more sauce you can add water and if you'd like it to be thicker you can break down some of the sweet potatoes. Enjoy over rice or with roti, or whichever way you prefer.