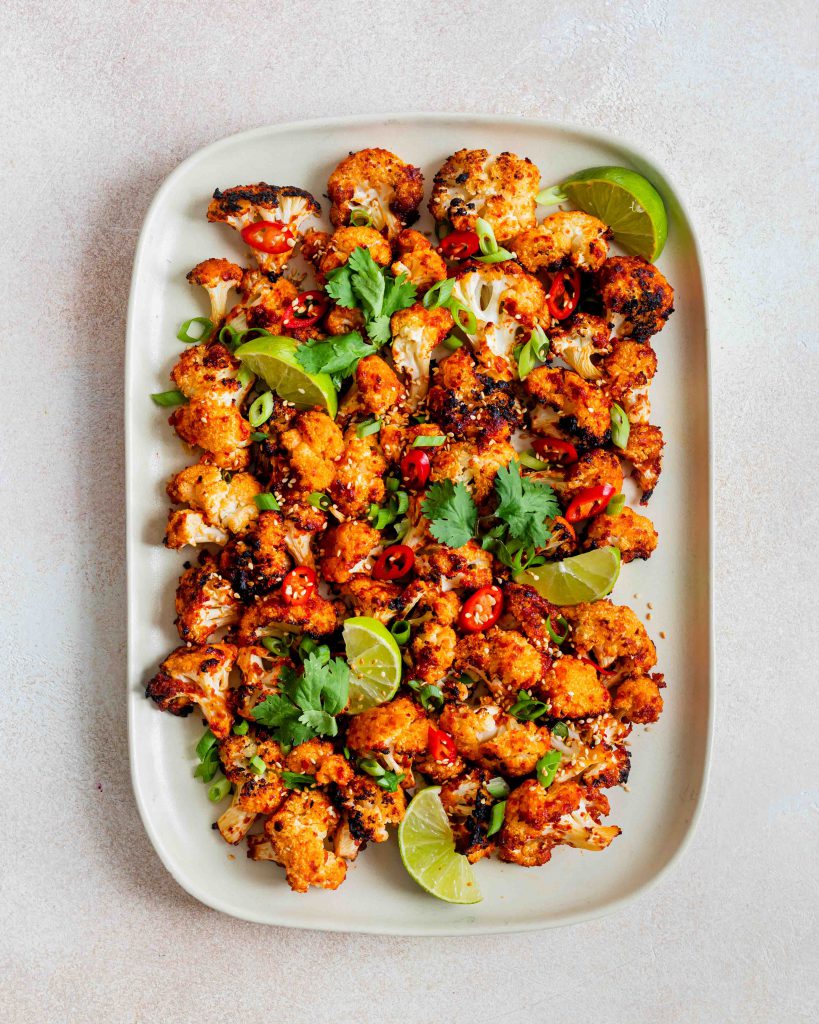 You know those kind of dishes that are half way finished before they reach the dinner table? Well this is one of them. Every time I make these miso garlic roasted cauliflower bites I end up eating most of it. "Just one bite" I tell myself. Jam packed with umami, and rich in flavour, these will make a perfect addition to your lunch, dinner or party.
This is one of those recipes that I would make if I'd have dinner guests or a party. It's such an easy recipe and shows how delicious vegan food can be. The marinade is what makes it extra comforting, full of rich ingredients.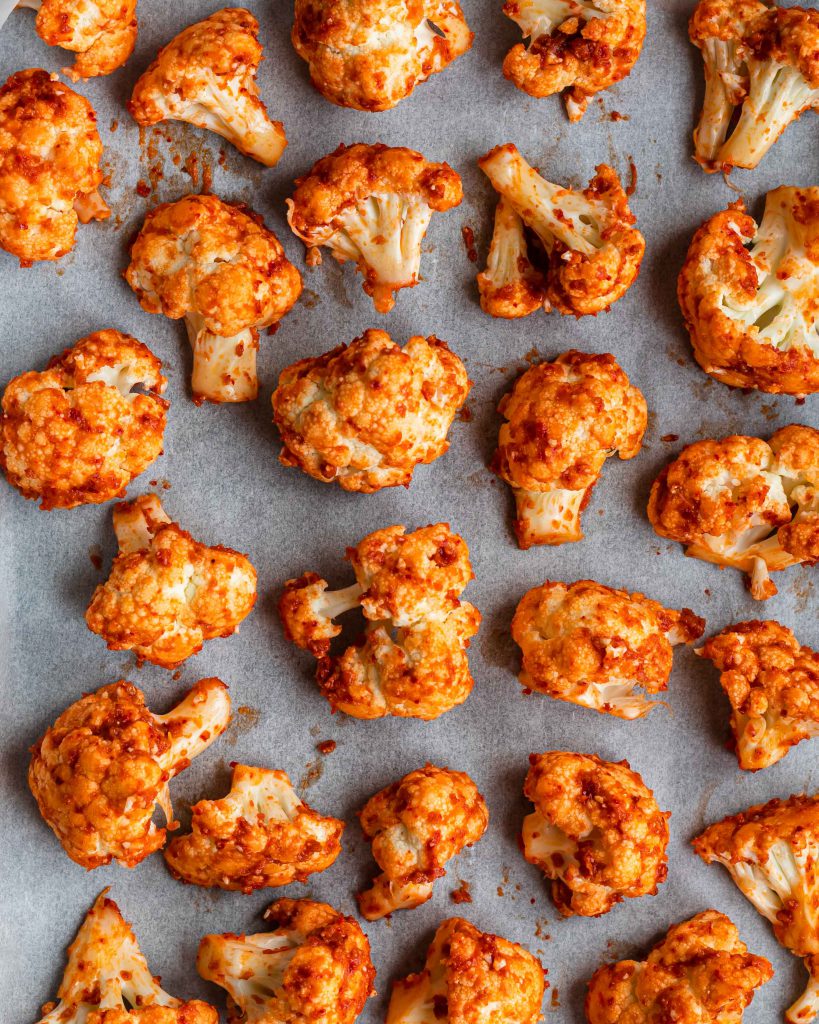 These miso garlic roasted cauliflower are great as a side with rice or in a salad. I love serving these as a snack. If you have leftovers you can store them in the fridge and just quickly bake them in the oven before serving once more. They would also be really tasty with this classic tofu scramble or with this smoky pasta salad.
What is miso paste? And what kind do you use in thise garlic cauliflower?
Miso paste is a paste is a fermented soy bean paste. This makes it is rich in minerals and a good source of various vitamins. You can often find this ingredient in Japanese cuisine. For example in miso soup, a very comforting and rich broth.
There are different kinds of miso paste. For this recipe we'll be using a light miso paste, also known as white or sweet miso. This miso paste is a bit sweeter because it has a higher rice content. Not every white miso paste is the same, you have different outcomes depending on the fermantation time, quality of the ingredients and proportions. You also have darker miso pastes that are, for example, more intense in flavour.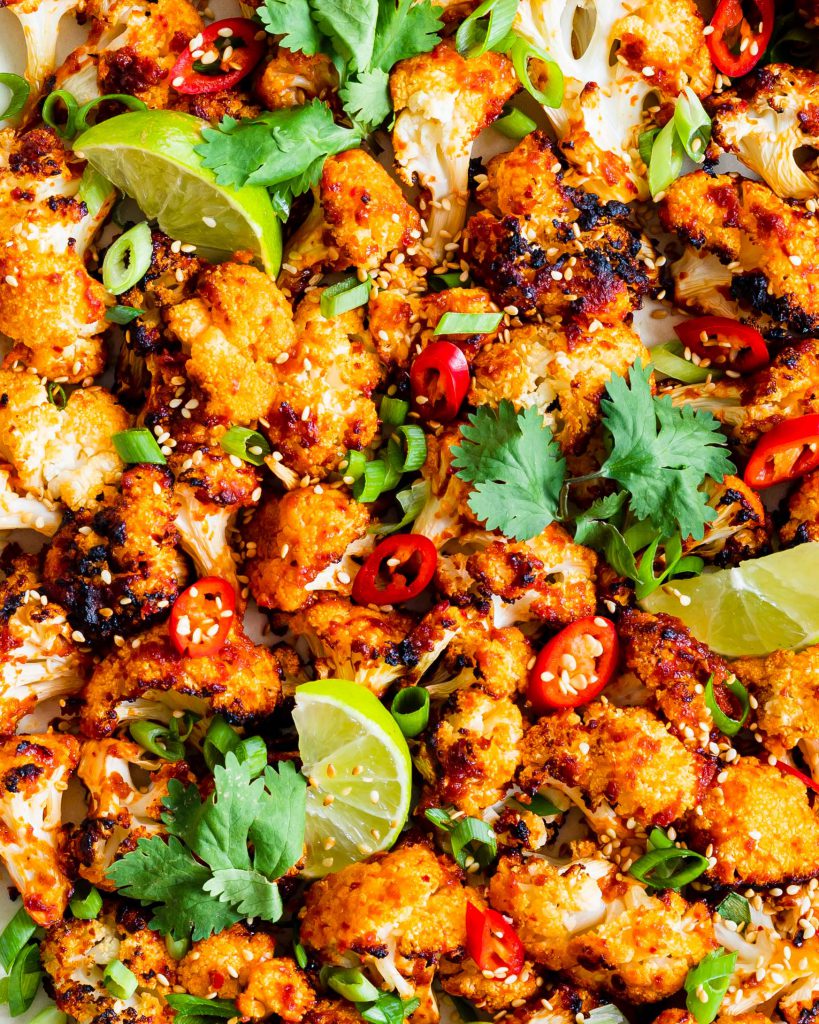 If you like recipes like these be sure to follow me on Instagram where I share new and colourful recipes. Here you can also tag me in your recreations :D. Enjoy these comforting miso cauliflower bites.
One Love, Jason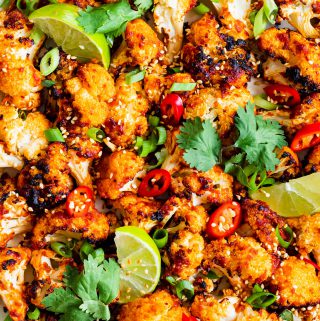 Miso Garlic Roasted Cauliflower
These cauliflower bites are little umami bites. They are super easy to make.
Ingredients
1

cauliflower

not more than 1 kilo

2

tbsp

light miso paste

2

tbsp

olive oil

1

tsp

sesame oil

2

tsp

garlic powder

1

tbsp

tomato pureé

1

tbsp

gochugaru

korean chili flakes

1

tbsp

soy sauce or tamari

2

tbsp

nutritional yeast

2

tbsp

rice vinegar
Instructions
Start by preheating the oven to 175 celcius or 350 farenheit. Take a large bowl and make the batter by adding all the ingredients except for the cauliflower and mix well until combined. Now cut the cauliflower into bite size pieces and add them to the bowl. Toss them around until they're coated with the batter.

Place the cauliflower bites on a parchment paper lined baking sheet and bake them until the sides are crisp and dark. This will take about 30 minutes. Once done remove them from the oven and enjoy as a snack or with rice, in a salad or however else your heart desires. Enjoy!