If you've been following me for a while or even a short moment you might have seen me using "unicorn noodles" in most of my dishes, well there's a new unicorn in town and this ones about to steal the crown! You obviously already read the title or seen the thumbnail, but let me introduce to you, unicorn rice, yes hear me unicorn rice! The fun part about creating recipes is being able to name it whatever the heck you want, so yes this is Unicorn rice, why? Well it's blue/lilac and has the ability to transform it's pigment to hot pink… Sounds like a unicorn to me.
But seriously though, how much fun is this? Also the rice might have the same ability as the noodles but they both deserve individual posts. You can do this with whatever rice you like, but using the technique on short grain rice has to be my favorite! But enough chit chat, you didn't come for my hype, but rather for joining me on the hype train, so let me share some instructions so we all can have our unicorn rice.
---
1 Cup rice of choice (short grain is my fave for this)
1 chunck of purlpe cabbage
water
Directions:
Start by putting the purple cabbage in a small (sauce) pan and add about 2 cups of water. Turn on the heat to a low temperature and let the cabbage simmer until the water turns almost deep blue. Once the water turned deep blue turn off the heat and remove the cabbage, use it for a salad or stir fry, or maybe for the bowl!
Now wash your rice and add it to a pot, instead of cooking this with regular water add the deep blue water. Ok now comes a very important note! Make sure that when you cook the rice it's on the lowest heat possible, it might take a little longer, but if the heat is too high the colour will change and might even turn out light brown (yuck). Now cook it until the rice is done, this will take somewhere between 15 and 20 minutes.
Once the rice is done you can use it for whatever dish you like, but wait here is where the magic comes in.
To make the rice turn from lilac/blue to hot pink all you need it some lemon juice or any other form of acidity. It's basic science actually, since the pigments in the cabbage have been transferred into the rice.
---
Now we've figured out how to create the rice, let's put it into action by creating a delicious bowl using this rice. You know what, if you're not feeling like making this rice you can use whatever rice or grain you want! Find the recipe below. As a sauce I used my Miso beet sauce and a drizzle of sriracha, but feel free to use any other sauce I can imagine this would be delicious with this Satay Sauce.
Keep in mind that when you're making this rice even the slightest interaction with acidic food will make it change colour as you can see on the picture above. I pushed the mango down and it reveals a more lighter almost faded colour because of the slight acidity in the mango.
Let me know if you liked the recipe in the comments below and if you decide to recreate this dish feel free to tag me on Instagram as I'd love to see your creations!
One Love,
A.J.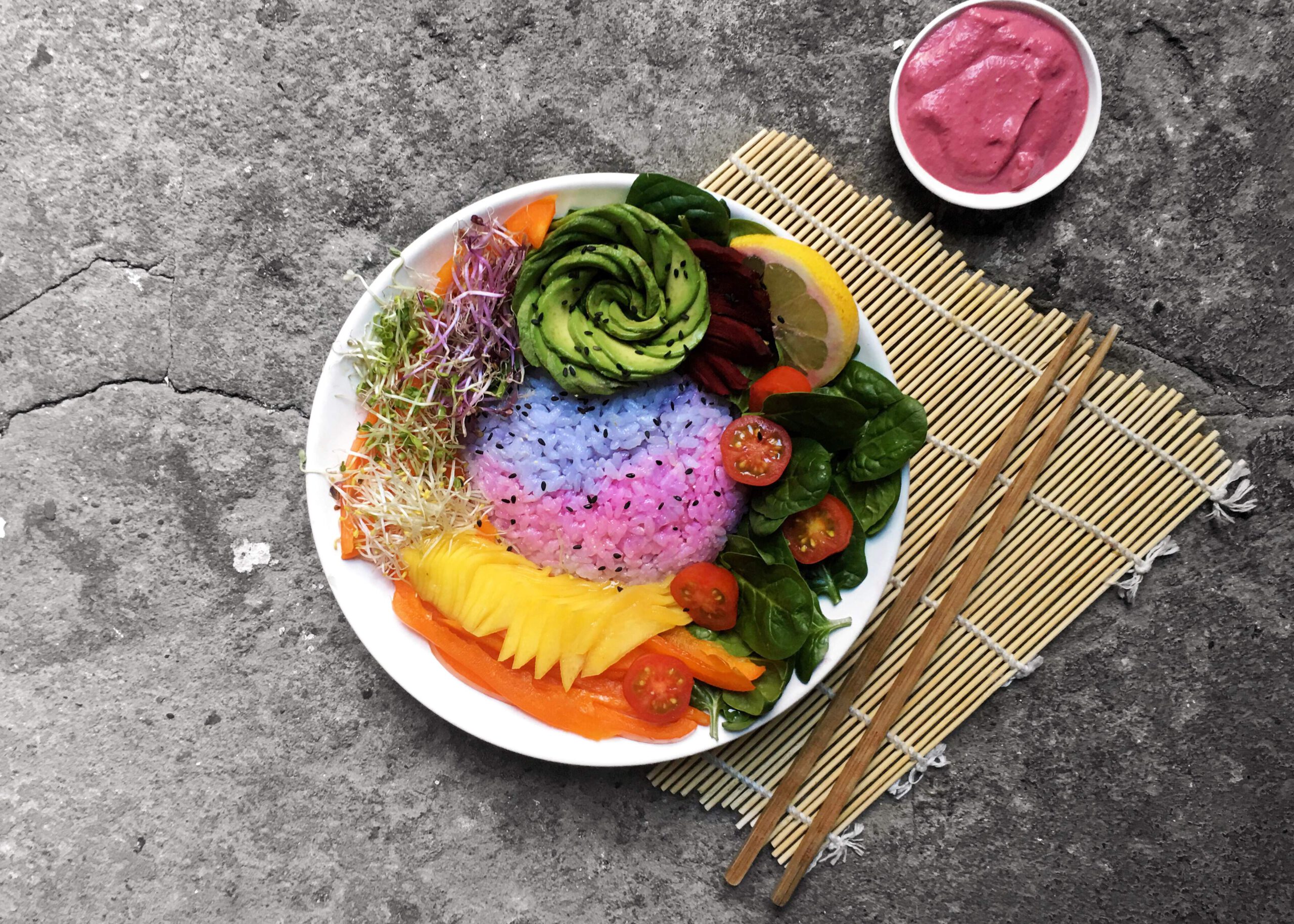 Unicorn Rice + Rainbowl
This is the most magical rice on the block, with some simple science and a hint of magic you too can create colour changing rice!
Ingredients
1

serving

(unicorn) rice

1

serving

bell pepper

1

serving

sporuts

1/2

avocado

1

serving

mango

1

handful

baby spinach

1

serving

(cheri) tomatoes

1

piece

lemon

1

serving

sauce of choice
Instructions
Cut all the ingredients in bite size pieces and simply assemble the bowl the way you like. Or toss everything together, it's your bowl. Enjoy!