Don't throw away those nasty looking bananas that have been hidden away in your kitchen maybe even growing some mold on the skin. As disgusting as these bananas might look, they make a delicious component in this crunchy recipe. But not only this dish thrives from using over ripe bananas, you should try them in more baked goods such this banana bread or try making your own baked good using these gross looking bananas.
The reason why these bananas are so delicious in baking is because all the starches have been converted into sugars, that's also the reason they are so soft and slimy. This will work out in our favor as we won't be adding any extra sugar or sweeteners, oh did I forget to mention we're using dark chocolate in this granola, whoops, well beside that and the banana no more sugar ok! To be honest we won't be using a crazy amount of chocolate and I used really dark chocolate, so this recipe is pretty low on the sugars.
I decided to make this granola nut and gluten-free, you might think "but oats contain gluten right?", well that's true they can contain gluten because of cross contamination, but they are naturally gluten-free, so if you're allergic or intolerant just make sure the package mentions the oats are gluten-free.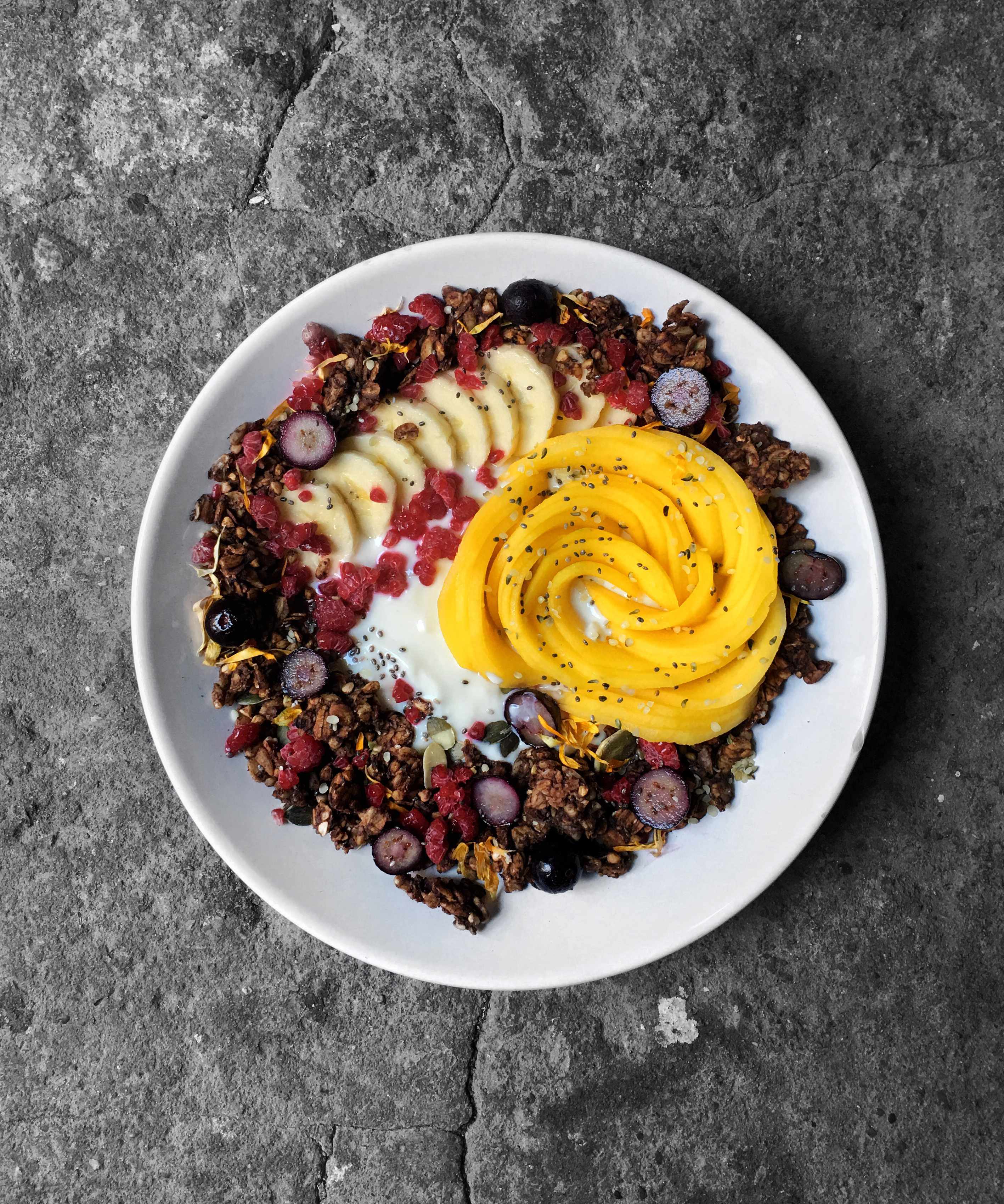 This granola is delicious to eat out of the hand, but also makes a great topping for smoothie bows, plant-based yoghurt, or maybe on a chia pudding. Well actually don't let me tell you how you should eat your granola, go ahead throw it on a cupcake, go wild!
Let me know if you liked the recipe in the comments below and if you decide to recreate this dish feel free to tag me on Instagram as I'd love to see your creations!
One Love,
A.J.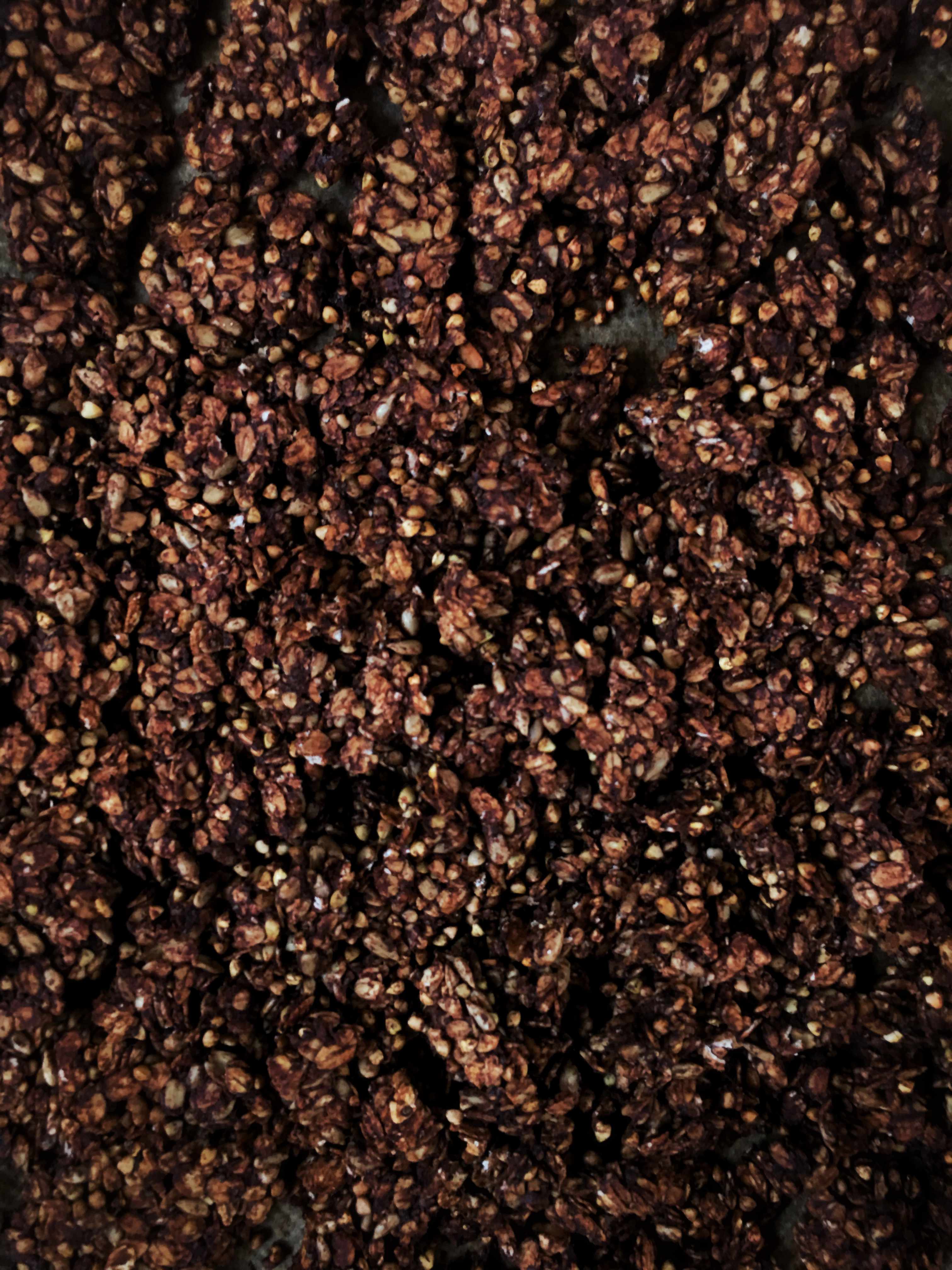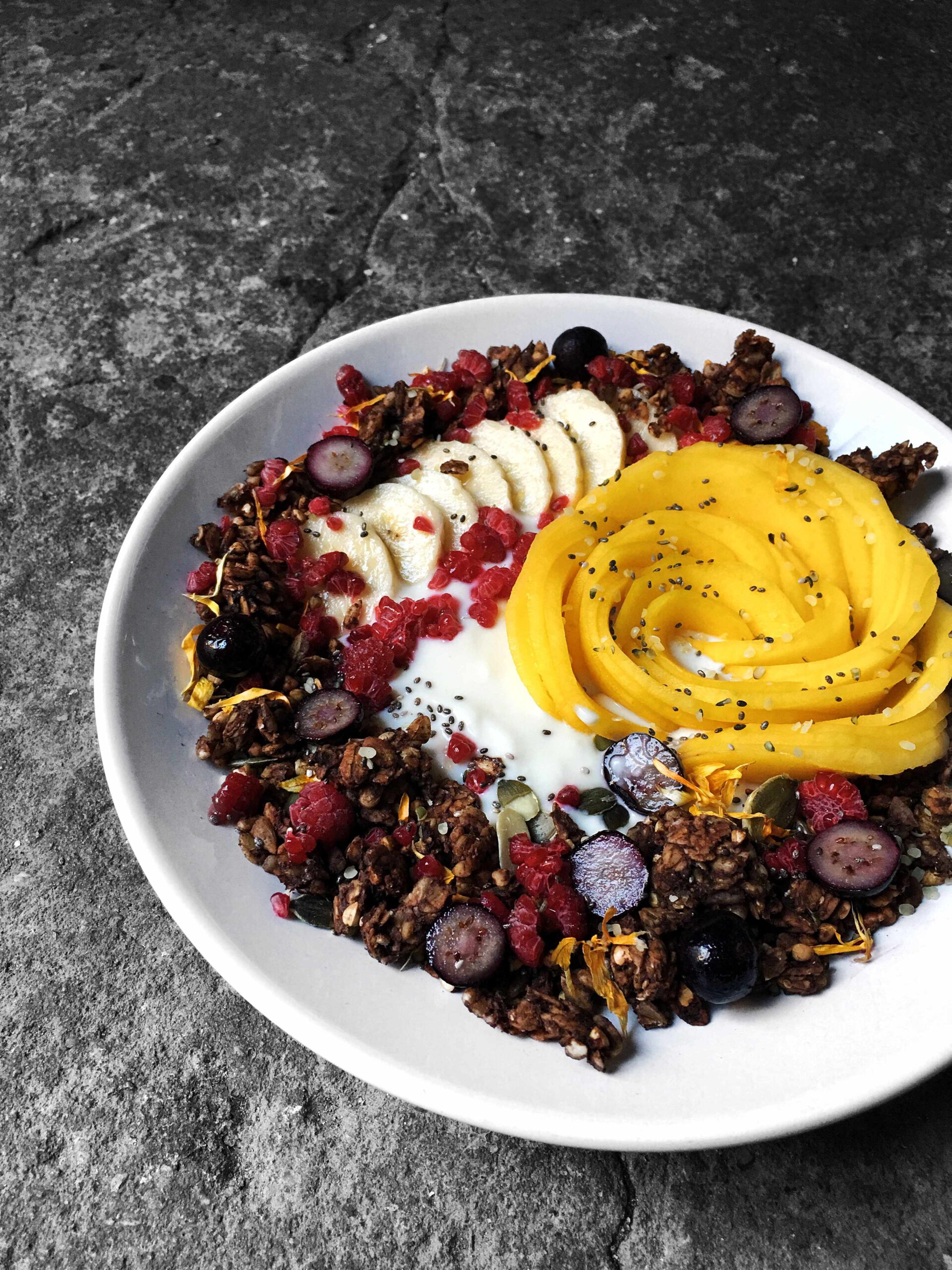 Chocolate Banana Granola
Ingredients
2

bananas

very ripe

2

tbsp

coocnut oil

melted

1/3

cup

dark chocolate (chips)

melted

1

tsp

vanilla extract

1

tbsp

chia seeds

1/2

cup

sunflower seeds

1/2

cup

raw buckwheat

2

cups

oats
Instructions
Start by preheating your over to 175 Celcius or 350 Farenheit. Add the ripe bananas to a bowl and mash them. Now melt the coconut oil and chocolate and add it to the mashed banana. Add the remaining ingredients and mix until everything's combined.

Now place the mixture on a baking tray and press it together to create a big rectangle. Bake for 15 minutes on 175 and then turn the heat down to 125 Celcius or 250 Farenheit while breaking the big piece into chunks. Now bake it for another 30 minutes.

Once down remove the granola from the oven and let it cool down completely. Store it in a airtight container and enjoy!