"Raw vegan sriracha?", "And what's up with the colour?" Are some of the questions I'm come to mind to some of you, well let me answer those! First of all I love cooked sauces, I adore them, but since my body is giving me signs (eczema) that something's off I am trying to eat as "clean" as possible. To be honest I don't even know what that means anymore, to eat "clean", but one thing that comes to mind are raw foods, so even though I won't be going fully raw or raw for a month, I will be implementing more raw foods into my diet, which is why this is a fun play on sriracha, but them raw. And if you've been following me for a while you might know I have a thing for colour, so that's why it's purple!
For many of us sriracha has become a staple, sorry ketchup you're just ain't spicy enough, or at all! The thing with sriracha though is that even though I'll still be using it occasionally I believe that making your own (whatever it is) is always the healthier option.
This sauce can be made as hot as you please, I like mine extremely hot, but know not everyone will enjoy this kind of heat, so I used rawit peppers (aka bird's eye chili) instead of adjuma peppers in this one, even though adjuma is my fave. The rawit peppers are a bit milder in heat (I still added 4 though) but feel free to add however much you can tolerate, maybe try using chili peppers, which are traditionally used in sriracha. You can also chose to skip the purple cabbage if you don't care for colour, I mean the cabbage definitely doesn't add to the taste. Having said that I don't find it an unpleasant taste, and it does add some nutritional value, and that colour, I love it!
As you can see I used it as a topping for one of my rainbowl, which by the way are a staple in my diet, if you haven't noticed yet. Since I don't want to get bored with eating them I create a different (raw) sauce to go along it almost every week, click on these links for the miso/beet sauce or peanut sauce. There will be many more where these came from! There's something so fulfilling about eating a vibrant and colourful food, yup these kind of meals are good for body, mind and soul!
Don't get intimidated by the noodles you can find a super easy recipe for those noodles, over here and whatever else to add, that I leave up to you. Let your imagination run wild!
Let me know if you liked the recipe in the comments below and if you decide to recreate this dish feel free to tag me on Instagram as I'd love to see your creations, and find me on Facebook!
One Love,
A.J.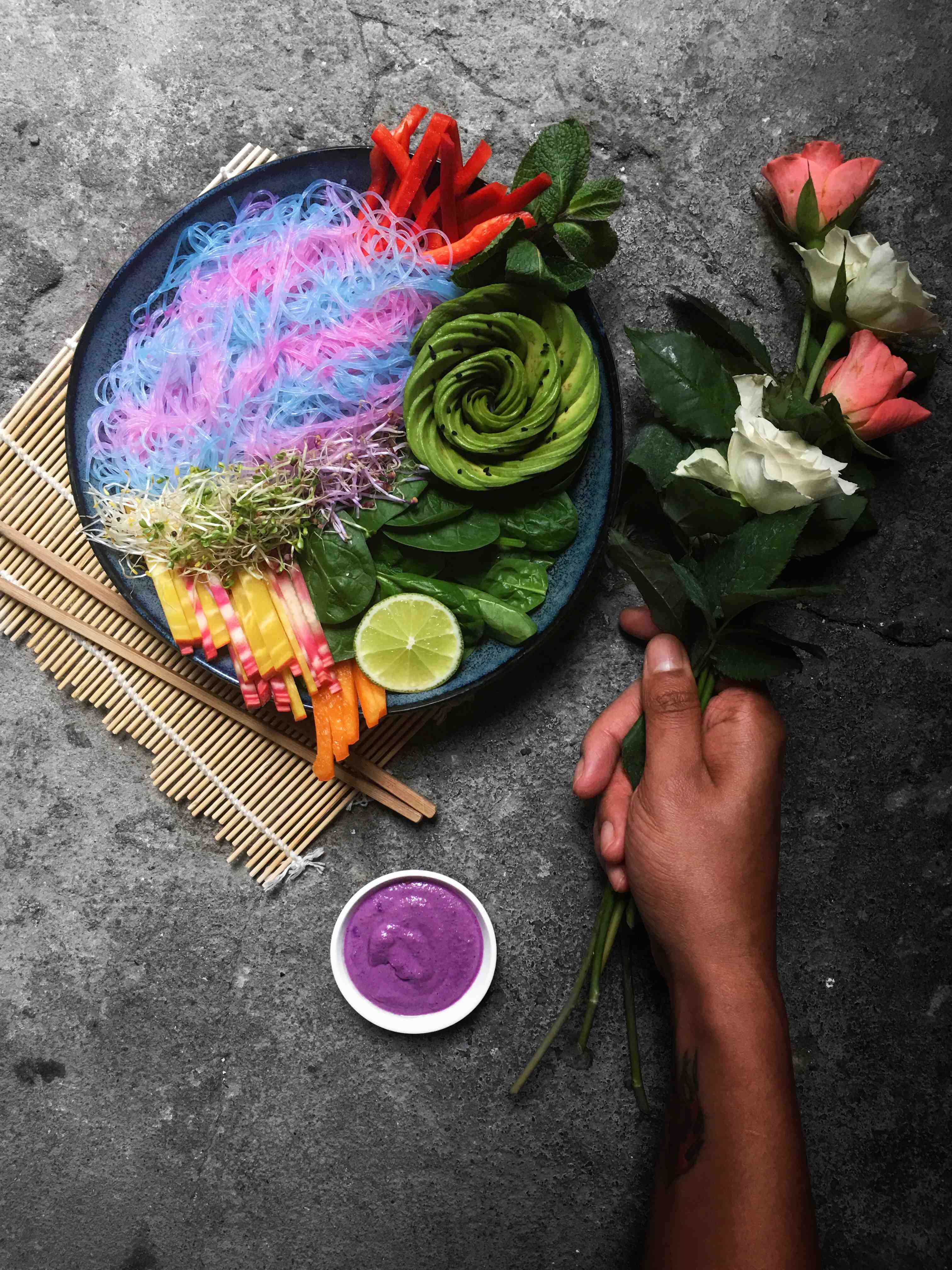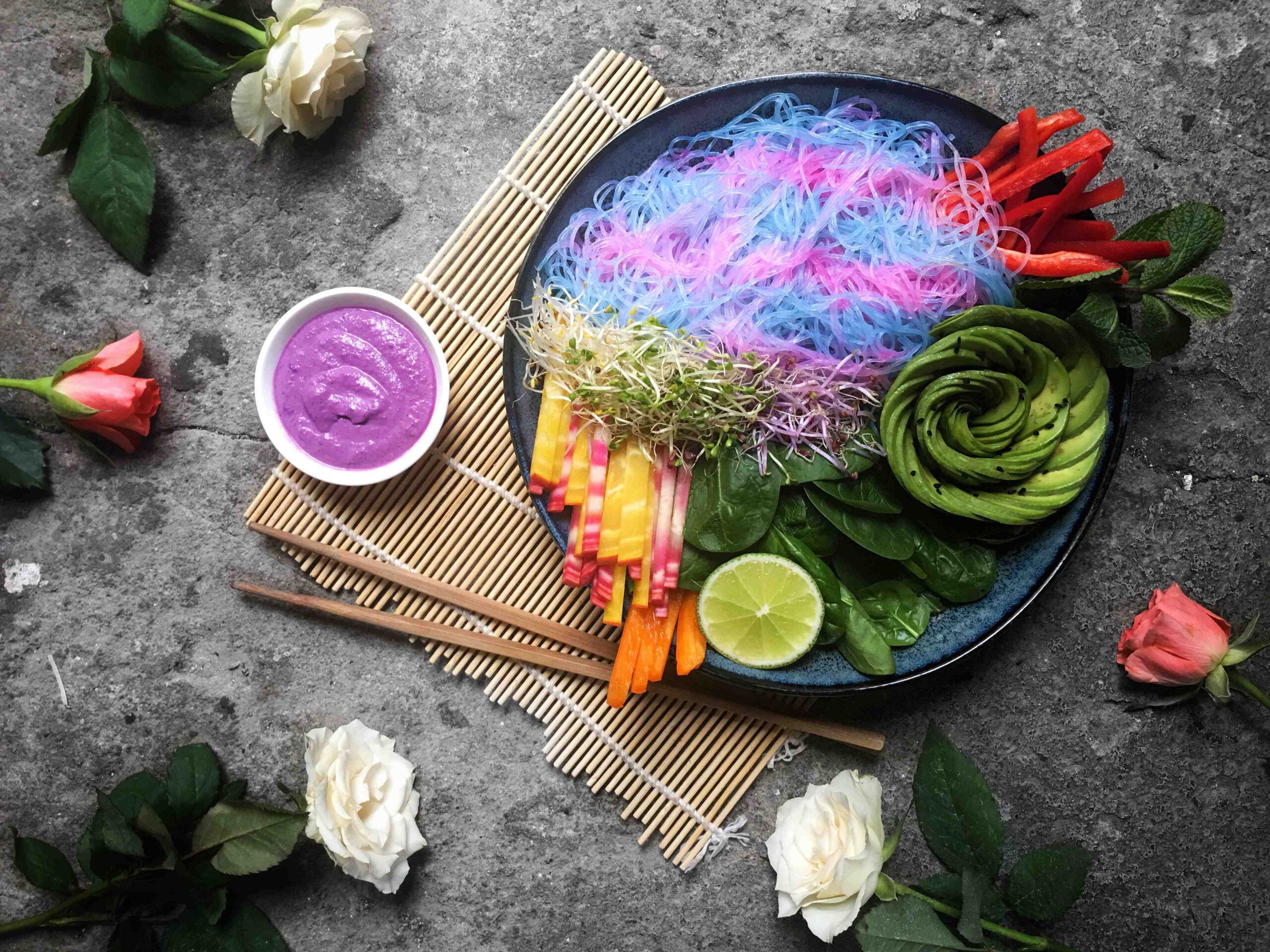 Purple Sriracha - Raw Vegan
Ingredients
1/2

cup

raw cashew nuts

2

cloves

garlic

4

rawit peppers

or whatever, however much pepper you prefer

1/4

cup

purple cabbage

roughly diced (kinda optional)

1

date

or two small dates

1/2

lime

juice

1/4

tsp

nigella

hot water

to taste

salt
Instructions
Start by soaking the cashew nuts, I forget to soak them ahead of time so always do a quick soak by adding the cashew nuts to my bullet blender, adding just enough hot water to cover the nuts, letting them soak for 15 minutes. In the meanwhile you can do the dishes or something else.

After the 15 minutes I add the remaining ingredients and blend it until smooth. I also add about 3 small splashes of hot water, one splash at the time until I reached my desired consistency. Keep it in your fridge, It should stay good for at least a week. Enjoy!