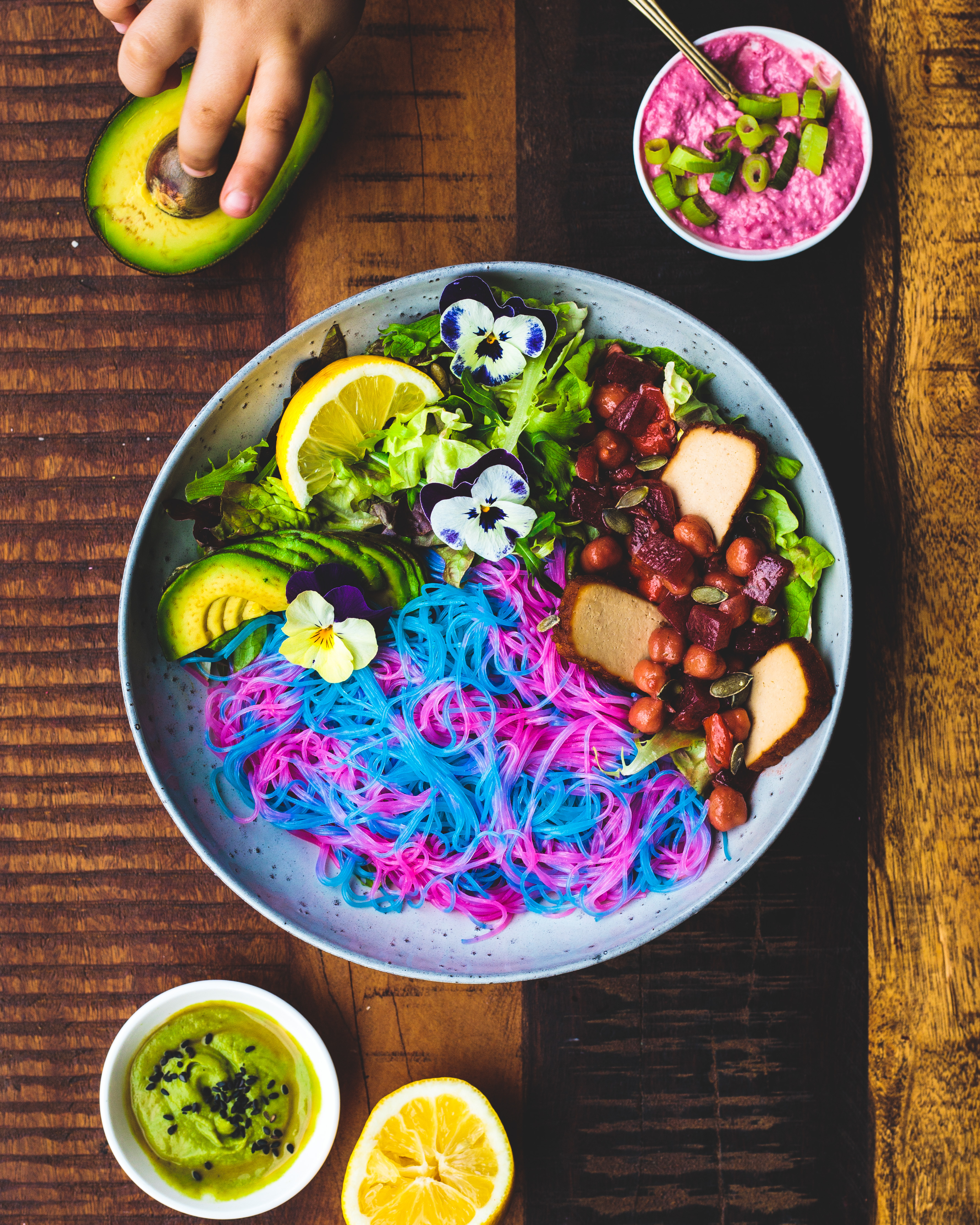 You might have seen these noodles pop up everywhere, you can find many examples on my Instagram account. These noodles will turn from blue to pink in front of your eyes, pure magic, well actually it's chemistry but let's call it magic!
As you might or might not know I never use artificial food colourings, so we won't be using anything crazy for this little project/recipe, just simple, wholesome foods. All you need are these 3 simple ingredients:
clear or white noodles
purple cabbage
lime or lemon juice
How to make these Noodles.
First we start out with a piece of purple cabbage, yup purple cabbage, this is gonna be the main component for making these noodles. We start by cooking it for five minutes in a pot with some water, the amount of water used and the time you soak the noodles will affects the shade of blue your noodles will be.
The next step will be to turn of the heat and add the noodles. You can use basic white or clear noodles, my preference is mung bean noodles aka glass noodles because I like the taste and the effect the glassiness of the noodles add final dish.
Now let these noodles soak for about 5 to 10 minutes, depending on how deep you want the colour to be. Remove the noodles and place them in a bowl.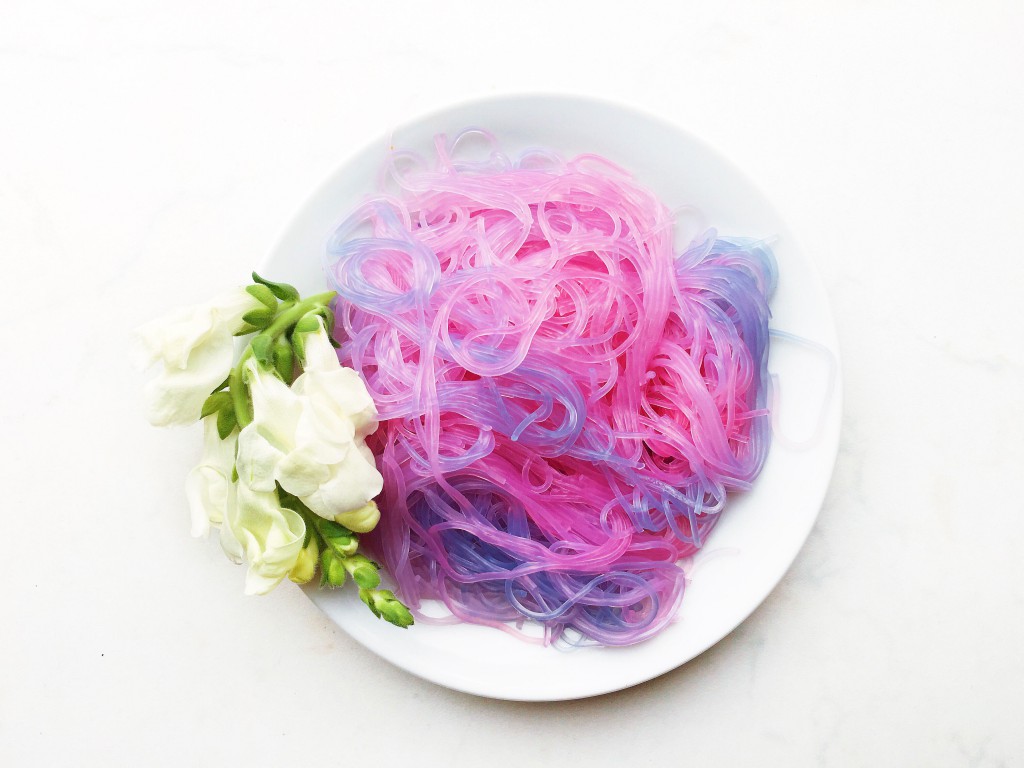 These noodles where soaked in a pot half filled with water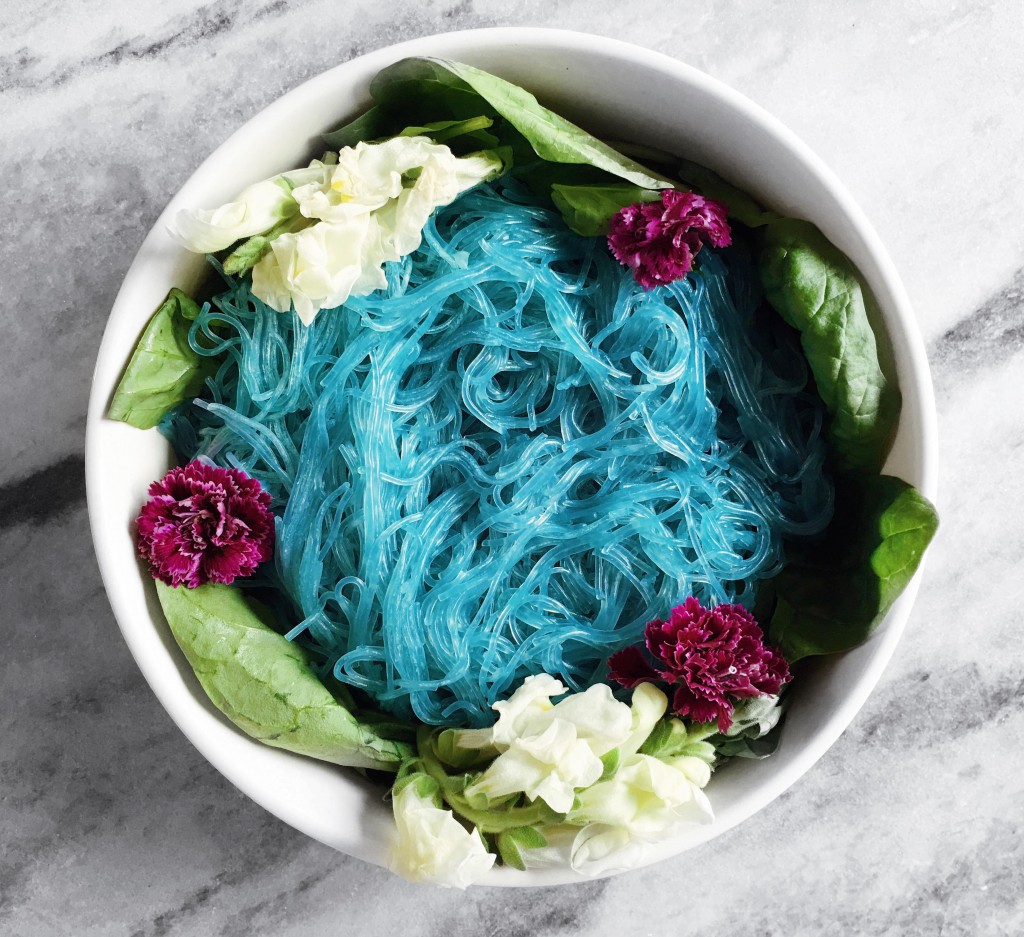 To get a darker shade I used half the amount of water so the noodles can absorb all of the soaking water
The last step is where the magic comes in, we are gonna turn these already beautiful blue noodles into a noodle dish everyone will be mesmerised by, we are gonna turn them into unicorn noodles! Take a lime or lemon and squeeze some of the juice wherever you want it to be pink and watch the noodles change colour in front of your own eyes.
How does this works.
Lets talk about the chemistry behind this fun dish!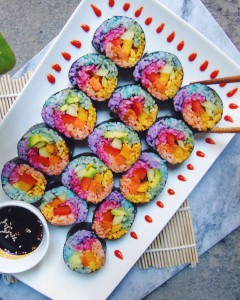 Purple cabbage has a pigment called anthocyanin, which is a pigment that changes colour when it makes contact with something acidic or alkaline. This makes purple cabbage an indicator to tell if something is acidic or alkaline.
When you cook a few pieces of purple cabbage for a short time in some water you'll get a nice blue shade, cook it for bit longer with a bit more purple cabbage will give you a nice purple shade. Now when you add something acidic (lemon or lime juice) to the blue coloured noodles the pigment from the purple cabbage will react and takes on a bright pink colour.
Now if the pigments were purple and you'd like to turn them blue or green you would add something alkaline in the form of baking soda. You can see this affect in my sushi recipe which you'll find over here
I will make a whole post dedicated to natural food colouring where we will look at all the colours of the rainbow and how we can add them to food naturally. But until then you have to make due with these unicorn noodles!
Recipe Ideas.
You can have these noodles with whatever your heart desires, this might be a delicious satay sauce with vegetables or with some curry, stir fry vegetables or maybe use it in a salad, the options are endless.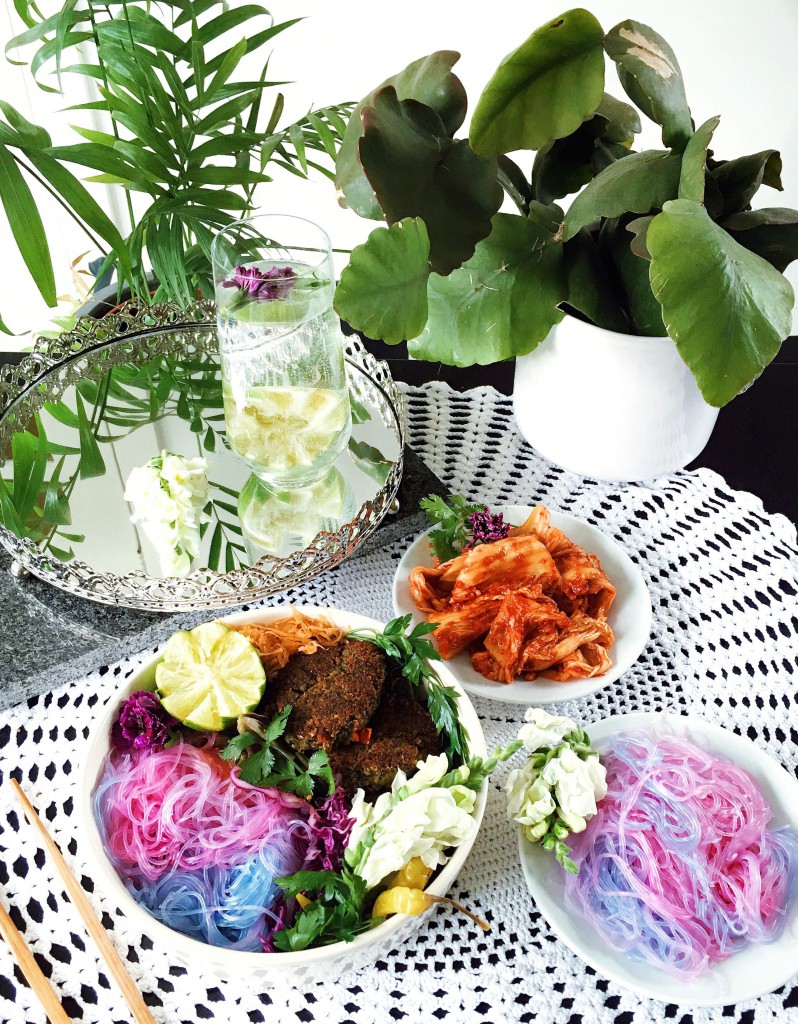 These were with falafel and kimchi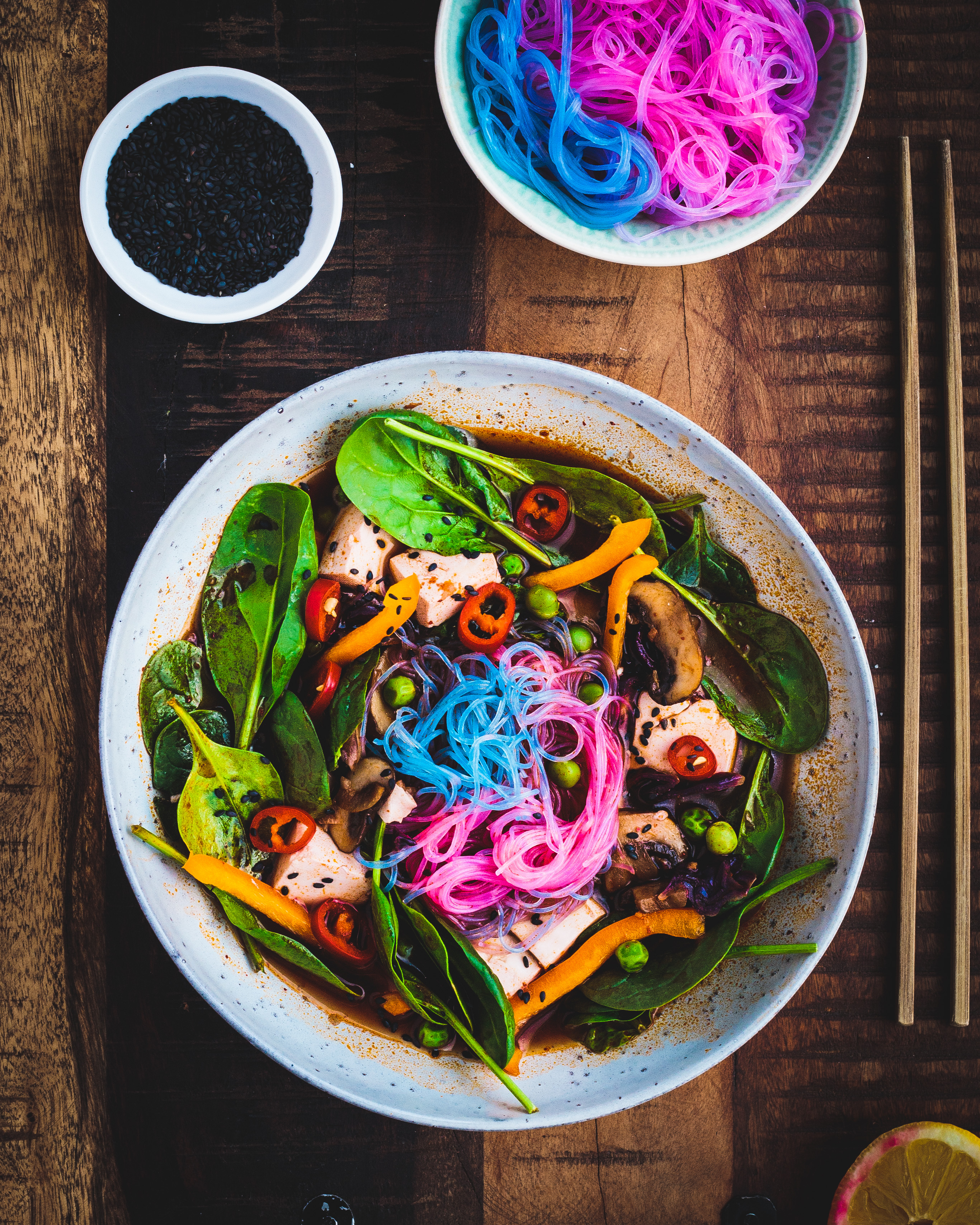 These I had with a rich miso vegetable broth.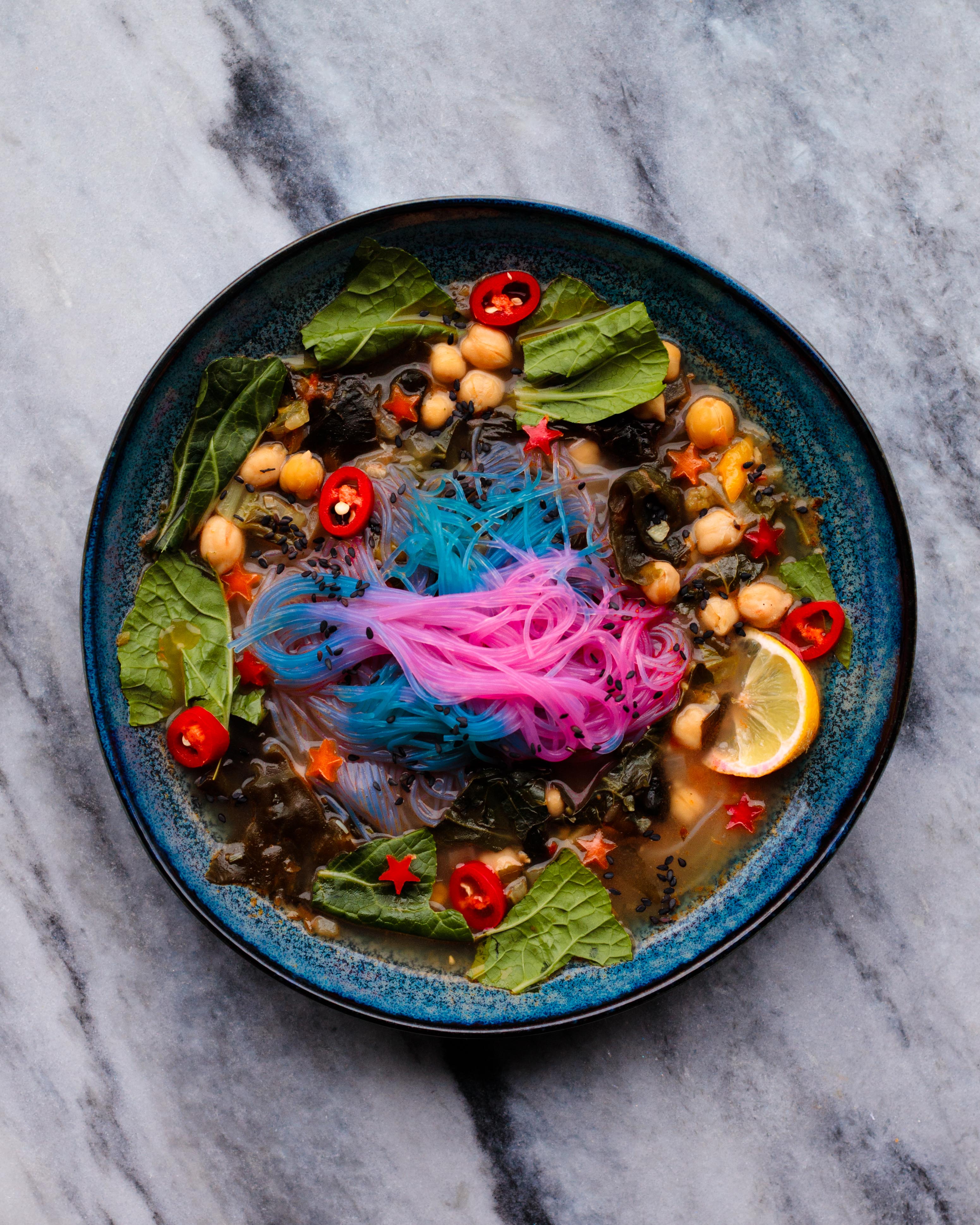 Find the recipe for this pepper soup over here!
If you recreate this recipe don't forget to drop a comment down below and feel free to tag and follow me on instagram and facebook.