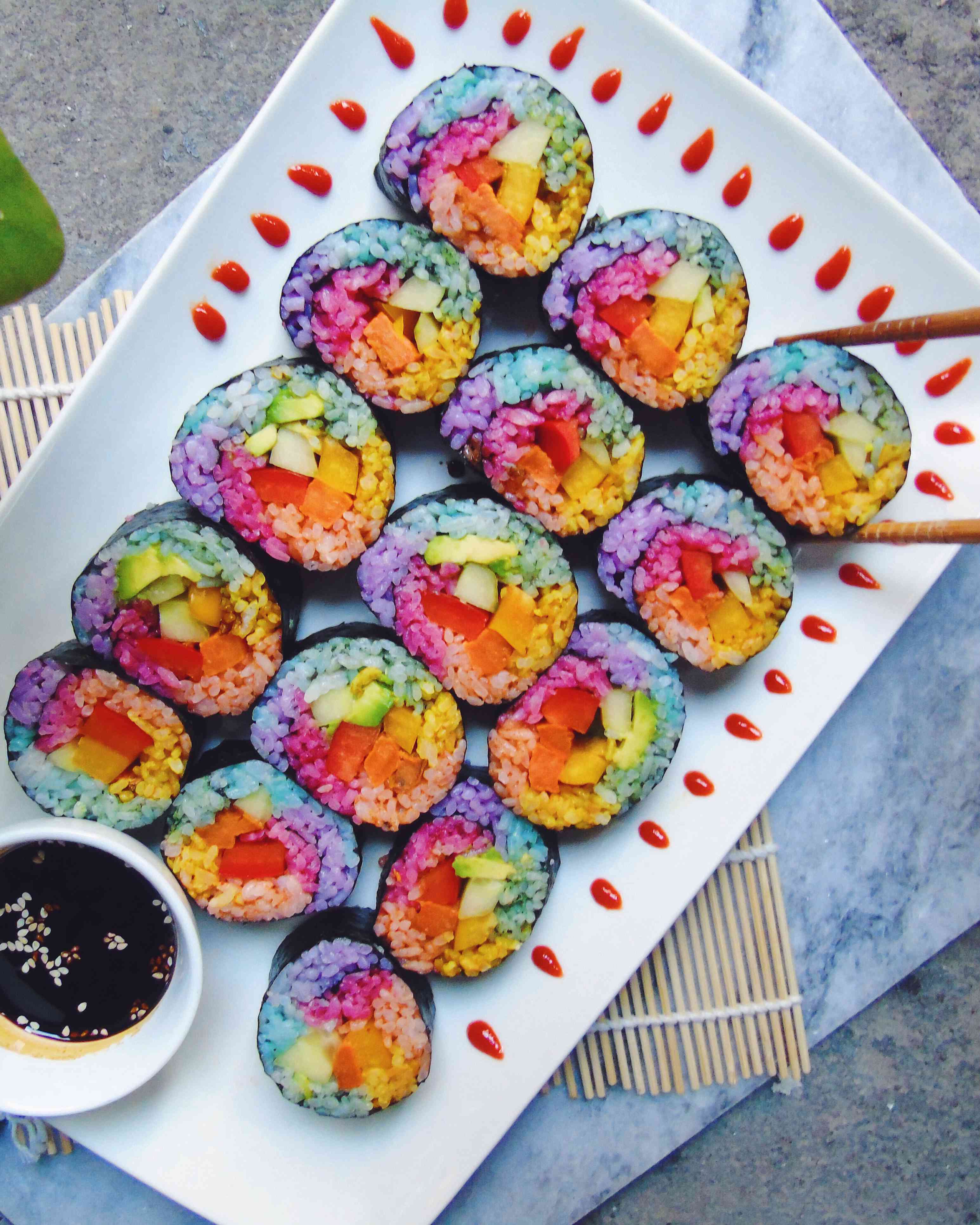 If you've been following me for a while you might know I like colourful food, and I made a "rainbow" sushi before, but this time I decided to go all out and make real rainbow sushi! One requirement the sushi had to meet was that the rice had to have all the colours of the rainbow, without having to use any artificial colourings (yuck). Well mission complete! This sushi is so colourful and stunning that I'm sure you'll impress whoever you decide to make this for, or yourself, which is totally ok since I devoured all of these rolls by myself…
This brings me to another point, although the whole process can be a bit time-consuming, just make a big batch, this will last you a couple of days. You can easily store the prepped rolls in the fridge for a couple of days, keep in mind that this depends on the fillings u used, if u use things like avocado then I don't recommend storing it to long. This is why I made some rolls with and some without avocado.
tip: If you cover the slices of avocado (or other veggies) with some lemon or lime juice it'll keep longer as the acidity will keep it fresh for longer, this way you can keep it in a fridge for at east two days.
You can also store the sushi rice for a couple of days, just make sure you cool the rice as soon as possible when it's done cooking and place it in containers and keep it in your fridge so you can have some more sushi the next day, awesome right!?
Now lets talk fillings! Whenever I tell an "omnivore" that sushi is one of my favourite foods I often get the response "but sushi isn't vegan right?!", to which I respond with "of course it is, just fill it with plant based foods". There are a million different ways of making sushi vegan, just use your imagination, there are no limits.
For these rolls I used bell peppers, avocado, cucumber and roasted sweet potato, but feel free to fill the rolls with whatever your heart (aka stomach) desires. You can use tofu, tomato, tempeh, pickled daikon radish, carrot and whatever else you can think of, be creative. I've even filled sushi with humus and green asparagus, just to name one strange combination.
I didn't want to use any artificial food colouring, but chose to go for all natural food colourings, such as:
Spirulina powder to make green, you can also use matcha powder
Turmeric to make the yellow (if you combine a bit of turmeric with spirulina you get a light greenish colour)
Beet powder (or juice) to create a red colour (and combining this with a bit of turmeric makes orange)
Gochujang although red makes a nice orange if u use a little
Purple cabbage make a nice purple and adding baking soda to the purple cabbage water turns it blue.
Now you don't need to use any artificial junk and keep the sushi clean and healthy.
Now its your turn to make rainbow sushi! I promise you, this will impress your friends, family or bae (no not the Danish bae!). The whole process can be a little time-consuming (not too much though), and it's definitely worth it! Make these for a party, take leftovers to impress your co workers or just have them for the fun of it!
Be sure to let me know if you liked them!
Bless,
A.J.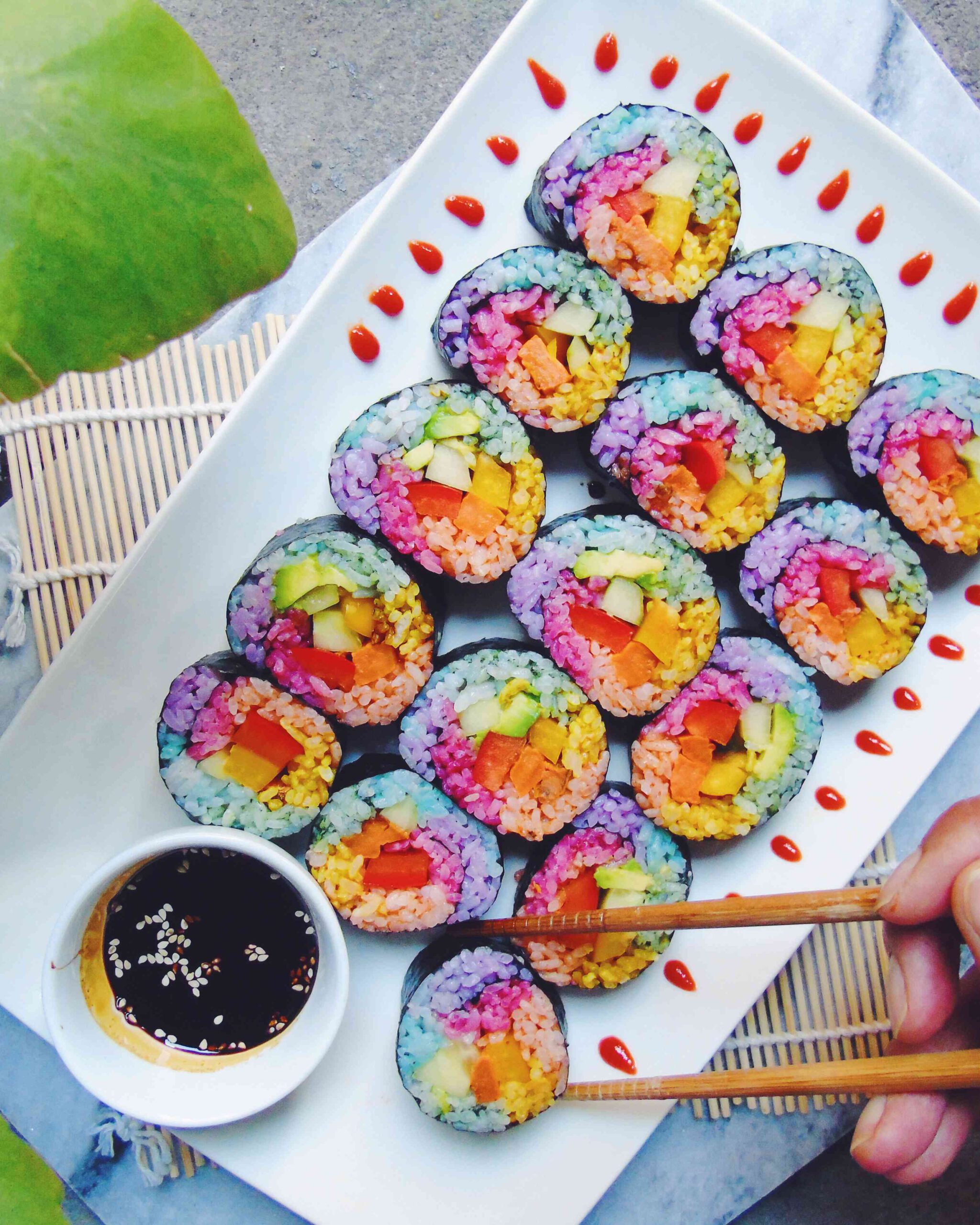 Rainbow Unicorn Sushi
If you want to have truly magical sushi you should try this rainbow sushi. This is real unicorn food which will feed your soul. A true feast to the eyes.
Ingredients
2

cups

uncooked sushi rice

1

avocado

1

bell pepper

1

cucumber

1

sweet potato

turmeric

beet powder

spirulina

1/2

tsp

baking soda

1/4

piece

purple cabbage

5

sheets

nori

1 or 2

tbsp

sugar

1/4

cup

rice vinegar

1

tsp

gochujang

(optional)
Instructions
Sushi Rice
Cook the sushi rice and place it in a bowl to cool and add the rice vinegar and sugar to your own taste. Mix it in using a wooden spoon (this will help prevent the rice to break)

To make each colour you take a shallow bowl and put about half a cup of rice and mix in the food colouring. *keep in mind that you just want to colour the rice so don't add to much of each food colouring so you don't alter the taste to much. For red use a bit of beet powder For orange use a mixture of turmeric and beet powder or a small amount of gochujang (for this batch I used gochujang) For yellow add a little bit of turmeric For green use a little bit of spirulina and a pinch of turmeric For blue and purple read descriptions below
Purple & Blue Rice
Boil 1/4 piece of chopped cabbage in about 3 cups of water for about 30 minutes or until you're left with about 1 cup of water. Use this water to cook 1/2 cup of sushi rice and save about 3 tbsp of the purple water to make the blue food colouring. Now you've got your purple rice use some of the remaining white rice you made to make blue. Add about 1 tsp of baking soda to the purple water and it will turn blue, now add this to the sushi rice and mix it well.
Assembling the sushi
Chop your sweet potato in stripes and roast these in a preheated oven on 200 degrees for about 20 minutes. Now chop the remaining ingredients into strips.

Now get a bamboo roller and cover it with some plastic wrap to keep it clean. Add a sheet of nori and place strips of rice until you've got all the colours and top this with the filling. Now roll the suhsi and wet the end with a bit of water to make it sticky and place it on a platter or chopping board. Once you've rolled all your rolls, wet a sharp knife and slice your rolls to reveal a beautiful rainbow sushi!
Notes
If you wet your hands while placing the rice on the nori it won't stick as much.
If you wet the knife before slicing the rolls it will make it easier to cut.
Feel free to use whatever fillings you prefer.